TOTO Washlet Reviews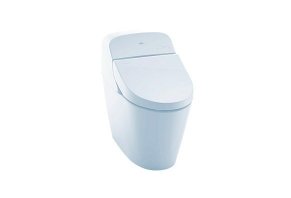 TOTO Washlet bidet seats combine essential features like variable spray patterns and heated seats with cutting-edge technology like automatic sensors and electrolyzed water.
What Is TOTO Washlet?
Depending on the model, the TOTO Washlet line of electronic toilet seat bidets comes with standard features like specially designed, contoured seats heated to between 82°F and 97°F, lids that use sensors to automatically open and close, along with adjustable temperature and water pressure settings, to provide a hygienic, hassle-free, and eco-friendly experience.
Other compelling features in the lineup include electrolyzed water (called Ewater+) to act as a natural, proven disinfectant, pre-mist to improve waste elimination by up to 80 percent, specialized front and rear wash patterns, a self-cleaning wand, and powerful filters to deodorize.
While bidets have increased in popularity within the US over the last few years, it remains far behind Japan and some parts of Europe and South America.
But, are you really missing out by having one, and will their often high prices deliver meaningful value? And if so, how can you choose whether or not a TOTO Washlet—or a completely different brand—is the right option for you? Let's start with some basics.
Are Bidets More Sanitary & Eco-Friendly Than Toilet Paper?
While bidets are commonly thought of as more sanitary and hygienic options than using toilet paper (after all, there's no touching involved), the surprising truth is there's very little clinical research to support this claim.
In fact, we found almost no studies on the National Institutes of Health's PubMed website looking at the relationship between bacteria—and more specifically, illness or infection—and bidets, when compared to using toilet paper.
On the other hand, it appears widely accepted that bidets are considered a more eco-friendly option than toilet paper. In fact, according to an analysis reported in Scientific American, the amount of water used by bidets is trivial compared to the "473,587,500,000 gallons of water [used] to produce [toilet] paper and 253,000 tons of chlorine for bleaching," along with "about 17.3 terawatts of electricity annually."
Whether you're considering a bidet toilet seat like a TOTO Washlet for the ecological benefits, the added comfort, or both, are there meaningful differences between each of their models?
TOTO Washlet Model Comparison
All Washlets (available in Cotton or Sedona Beige colors) install using basic tools, without any advanced processes involved. Simply remove the old toilet seat, install the mounting bracket, slide your TOTO into the bracket, connect the water hose, and turn the device on.
Important note: However, Washlet's are not battery powered. In other words, all models must be plugged into a 120-volt outlet with a grounded fault that meets local electrical code. If one isn't already in place, be sure to factor installation costs into your overall budget.
A100
Features a front and rear soft spray, front and rear warm water cleanse, heated seat, and self-cleaning wand.
A200
Adds warm water cleansing, as well as oscillating or pulsating spray pattern functions for maximum comfort. About one inch shorter than the A100 model, with a maximum water temperature of 104˚F/40˚C.
For maximum comfort, take advantage of the oscillating or pulsating spray patterns.
C100
This Washlet model features a hands-free warm air dryer with adjustable temperature between 86ºF/30ºC and 140ºF/60ºC, a pre-mist water spray that wets the bowl before use, and a filter that deodorizes and purifies the air.
C200
All the same features as the C100, in addition to warm water cleansing with adjustable water temperature and pressure, as well as oscillating or pulsating functions.
S300e
Adds wide front spray, as well as Ewater+ that's advertised as "eco-friendly, electrolyzed water spray that keeps the bowl cleaner."
S350e
Adds warm water and adjustable water temperature and pressure, along with an automatic, sensor-operated lid.
S500e Classic
Adds oscillating or pulsating functions, but doesn't feature the same auto open/close lid as the 350e Washlet.
S500e Modern
Features a universal height "that allows for a more comfortable use across a wide range of users."
S550e Modern & Classic
Offers almost all available features and the same dimensions as previous models, just with different lid shapes.
G400
Adds 3D Tornado FlushSuperior flushing technology that allows you to choose between a 0.9 or 1.28-gallon flush, CeFiONtect Glaze that "prevents visible and invisible waste from sticking to ceramic surfaces," as well as ADA compliance.
How Much Does Each TOTO Washlet Model Cost & Where Can You Buy?
TOTO's Washlet models come with the following MSRPs:
A100: $499
A200: $599
C100: $599
C200: $699
K300: $1,165
S300e: $1,404
S350e: $1,560
S500e Classic: $1,499
S500e Modern: $1,499
S550e Classic: $1,650
S550e Modern: $1,650
G400: $3,300
However, Washlets are also sold through independent retailers, as well as online marketplaces like Amazon. For the latter, we found several of the above models for 50 percent off (and even more) the MSRP.
All models come with a one-year limited warranty from TOTO, except for the G400 model, which comes with a three-year residential warranty and a two-year commercial warranty.
If you live in parts of CA, GA, HI, IA, NV, NY, and TX, you can visit different locations to try a TOTO Washlet in person before handing over your money.
What Can We Learn From TOTO Washlet Reviews?
On Amazon, we encountered well over 1,000 combined customer reviews among TOTO's Washlet's, who had given them an overall average rating of about 4.5 stars. Common compliments related to ease of installation and use, quality materials and construction, and refreshing feel after use.
What few complaints there were tended to reference quality concerns (primarily leak-related), as well as apparently used merchandise, although TOTO emphasized that individual sellers are responsible for distributing their products in the U.S.
TOTO's Washlet's seemed to have a similarly positive professional reputation at the time of our research.
The Scientific American article above reported that "60 percent of Japanese households today have high-tech" TOTO Washlet bidets in their homes," while the C200 model won Wirecutter's 2017 toilet seat bidet comparison, since it has "the most settings for water pressure and temperature, allowing you to customize the stream to your preferences."
They add that "the C200 has the best control panel design, too; it features a simple layout and affixes to your bathroom wall, giving the place a subtle futuristic look. And when you sit down on the toilet, the C200 mists the toilet bowl with water, so a flush is less likely to leave anything behind."
In fact, TOTO's C100 Washlet fell in close behind as runner-up, with this to say:
"The main difference is that this model has [slightly less sleek display] and a white plastic side control panel attached to the seat, as opposed to the C200's gray remote, which attaches to the wall. This seat also has two fewer options for water temperature, and no programmable user settings."
From a company perspective, TOTO USA, Inc. is based out of Morrow, GA and has been in business since 1990. They held an A+ rating with the Better Business Bureau, based on one customer review and four closed complaints, as of 4/4/18.
Only one had details available, which referenced a defective product. A company representative responded with a solution.
Are There Other Electric Bidet Toilet Seats Like TOTO Washlet?
Searching online marketplaces like Amazon, you'll find dozens of different toilet seat bidet manufacturers out there, each with at least a handful of models available.
Here were some of the most popular models competing with TOTO's Washlets at the time of our research, many of which also included core features like heated seats, water pressure and temperature control, variable spray patterns, air drying, automatic sanitization, and deodorization capabilities:
| | | | |
| --- | --- | --- | --- |
| Brand | Price | Avg. Amazon Rating | Standout Features (select models only) |
| TOTO Washlet | $300 - $3,000+ | 4.5 stars | Ewater+ electrolyzed water for sanitation, automatic sensor-based open/close lid, pre-mist to improve disposal and maintain freshness |
| BioBidet | $200 - $1,700 | 4.2 stars | Bubble-infused spray patterns; posterior, feminine, and vortex washes available |
| Brondell Swash | $250 - $380 | 4 stars | Includes many core features at an ultra-competitive price |
| Duravit Sensowash | $1,000 - $1,250 | 3 stars | Power actuated lid, quick release removal and attachment |
| Kohler Bidet Seats | $300 - $600 | 4 stars | UV light sanitization, touchscreen remote, heated seat w/5 temperature settings |
Where does this leave you when it comes to the TOTO Washlet lineup? Let's roll the information above—along with everything else we've covered—together and help you take the best next step.
Our Bottom Line About TOTO Washlets
As with most consumer electronics, it's largely the case that you'll get what you pay for when it comes to electric bidet seats.
However, compared to a computer or a car (as but a couple of examples), you'll have to strongly consider whether or not the extra money you pay for high-end features like electrolyzed water, bubble-infused spray, power actuated lids, or touchscreen remotes found in many of the models above will deliver at least as much value.
This is because many standout features among electric bidet seats largely fall among their top-of-the-line models. Whereas, it's possible to pay much less for must-have features like seat warmers, temperature and pressure-controlled water, nightlights, automatic seats, and variable spray patterns, if these high-tech niceties aren't at the top of your list.
The bottom line is that you probably can't go wrong with an electric bidet seat, especially a Washlet model from TOTO, as they come with fairly competitive prices and ultra-high feedback from most of their customers.
But as Farhad Manjoo wrote for the New York Times' Gadgetwise, "even the basic electronic bidet seat feels luxurious — and once you start using one, you'll never want a toilet without it."