TouCan Reviews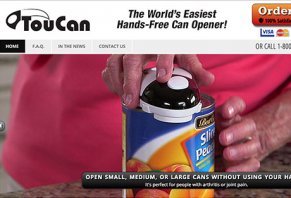 The TouCan Can Opener claims to feature 1-touch, hands-free operation that allows you to open any can, regardless of shape or size, in a matter of seconds.
About TouCan
Billed as "the world's easiest hands-free can opener," the TouCan Can Opener features 1-touch operation, the ability to work on any shape or thickness of can, and an ultra-strong, built-in magnet to keep your lid in place and make disposal a snap. All you have to do is place the TouCan on top of the can, press the button, and your can will be open in seconds, making it an ideal option for those with arthritis or joint pain.
In order to accomplish this, the TouCan Can Opener's unique outside blade clamp is claimed to use 100 pounds of force to penetrate the can's seal at precisely the right place and angle, which leaves edges that are smooth and safe (this also allows the lid to pop back on for refrigerator storage). In addition, the TouCan also features a "bottom beak" that can be used to open jars, cans, and bottles
And once you're finished using your TouCan, the manufacturer claims the can opener is easy to clean and fits into any drawer for easy storage.
If you regularly strain your hand trying to open cans, or find the process too painful, can the TouCan Can Opener help you enjoy everything cooking has to offer, but without the pain? Consider the following:
Hands-On TouCan Test
For more product tests: Click here to subscribe to HighYa's YouTube channel
When It Comes to Hand-Free Can Openers, You Have Options
If you've ever encountered an "As Seen on TV" product before, you know that the manufacturers create intensely interesting infomercials to draw you in, and hype their promises with big claims. It's almost like you can't look away.
Despite this, the fact is that many ASOTV products are simply slightly different versions of products already widely available on the market, and the TouCan Can Opener appears to be no different. You can see just how many options you have by typing the phrase "hands-free can opener" or "electric can opener" into your favorite search engine.
In fact, the TouCan Can Opener used to be sold under the name Smart Touch fairly recently, so it appears to be a rebranded version of one of the company's other products.
On top of this, considering the TouCan's steep, non-refundable S&H charges (more about this shortly), many of these options will likely end up less expensive.
Non-Hands Free Can Opener Options
In addition to hands-free options like the TouCan, keep in mind that a countertop can opener might be a viable option for you, especially if you open a lot of cans on a regular basis.
Granted, many of these options will be too big to store in a drawer, will take up permanent space on your countertop, and won't be completely hands-free, although they should still provide easy operation, even for those with grip issues or with painful hands.
In other words, there are a wide variety of options you can explore before making your decision. For more information, we'd also recommend reading through EBay's Complete Can Opener Buying Guide and About.com's list of Arthritis-Friendly Can Openers.
TouCan Can Opener Cost
As of 2/22/2020, The TouCan Can Opener is only available on Amazon, for $23.50 + applicable tax with free shipping.
Can the TouCan Can Opener Help You Avoid Painful Hands?
When it comes down to it, the TouCan Can Opener's 1-touch operation and hands-free capability could really help you keep going in the kitchen, without having to worry about painful, throbbing hands—but so can dozens of similar products.
In other words, because you'll almost certainly have many local options available that are nearly identical, we'd recommend searching local retailers before placing your TouCan Can Opener order. At the very least, this could save you some hard-earned money in lost S&H charges, as well as make the return process as easy as hopping in your car.
Limitations of my TouCan

By Bob K.

,

Rochester, NY

,

Oct 10, 2019
Verified Reviewer

My TouCan works about 75% of the time. My recommendation to a friend is 3 stars and it would come with these provisos.

1) The can top must have a lip (some don't!).

2) It fails on SMALL cans (8.5 oz).

3) It stops at ANY defect in the can's lip - small dent for example.

4) Even when the machine works, you may not think it did. The cut is very fine and the lid does not automatically "fall off." A knife blade inserted in the cut will lift off the lid, and the result is then indeed awesome.

Bottom Line: Yes, I would recommend this to a friend

---

TouCan can openers are a piece of JUNK

By David F.

,

Longmont, CO

,

Jul 22, 2019
Verified Reviewer

We have two TouCan can openers. When we first got them, they worked okay. Now after little use, neither one will open a can.

We feel that TouCan can openers are a piece of JUNK. We definitely would never recommend them to anybody.

Bottom Line: No, I would not recommend this to a friend

---

Advertisement

---

I give it 6 stars

By Candis C.

,

Oregon

,

Jan 8, 2019
Verified Reviewer

I have had a TouCan for about 6 years. It has finally said it is tired. I have a condition where using conventional can openers is very painful. I just purchased new TouCan to have on hand when the first one no longer works. I use the can opener on an average of 2-3 times a day. It has NEVER failed. This is one of the best purchases I have ever made!

Bottom Line: Yes, I would recommend this to a friend

---

Great can opener

By Doug F.

,

Oklahoma

,

Dec 12, 2018
Verified Reviewer

I have been using this opener for over two years. The only time it didn't work was when the batteries went dead! You can't rush it. Lids can be put back on the can to store unused in the fridge. Draining water is tricky but not impossible.

Bottom Line: Yes, I would recommend this to a friend

---

Advertisement

---

Piece of junk. Opens nothing.

By Tom U.

,

Indiana

,

Sep 24, 2018
Verified Reviewer

I owned an opener like this in 2001 and it worked perfectly. I wish I could remember the brand.

I bought the TouCan last Christmas. We are going to stick with a hand opener. One of my worst purchases.

Bottom Line: No, I would not recommend this to a friend

---

China thing

By Sullivan

,

Texas

,

Apr 11, 2018
Verified Reviewer

Made by China, looks like China, quacks like China, and yes, breaks like China. I admit I must have had a weak moment at the "Impulse Buying Counter" when I was sucked into buying this one.

Bottom Line: No, I would not recommend this to a friend

---

TouCan

This is the best can opener I've ever owned. If you put it on the can properly, I think others would agree. No more sore hands for me! I am going to get one for my arthritic brother for Christmas.

Bottom Line: Yes, I would recommend this to a friend

---

Love this can opener/jar opener

By Connie Pender

,

Shreveport, Louisiana

,

May 9, 2017
Verified Reviewer

I was hesitant at first getting one, but this product is awesome. I'm 64 years old and has had surgery on both of my hands. This can opener is a life saver with opening cans and opening jars. It just pops the lids on jars so you can open with ease. Also, it is so helpful when the electricity goes out. I want another one for the RV. Thank you TouCan.

Bottom Line: Yes, I would recommend this to a friend

---

TouCan can opener

By Lloyd Harter

,

Oakdale, PA

,

Apr 27, 2017
Verified Reviewer

I bought this can about a month ago, and I used it about five times. It started to open the can about an inch then quit. I took it off and started again, but the same thing happened, it quit. This is the worst product on the market. I wouldn't recommend this can opener to anybody; it is a waste of money.

Bottom Line: No, I would not recommend this to a friend

---

Not worth your money

By Betty

,

Rancho Cucamonga, CA

,

Apr 7, 2017
Verified Reviewer

I wish I would have read reviews first. As others have said, it worked great for a few months, then stopped. It sits on the can and does absolutely nothing. What a waste of my hard earned dollars!

Bottom Line: No, I would not recommend this to a friend

---

TouCan can opener, very dangerous product

After the first two cans I opened using the TouCan can opener for soup, I got poked by "razor blade" sharp metal shaving from the can. Upon looking into the cans further, I found more metal shavings as long as 0.1 to 1.2 inches inside the cans. Had my wife and I ate the soup, we would have ingested the metal shavings.

This product should not be anywhere for sale. It may potentially harm someone, maybe even fatally.

Bottom Line: No, I would not recommend this to a friend

---