Tough Trimmer Reviews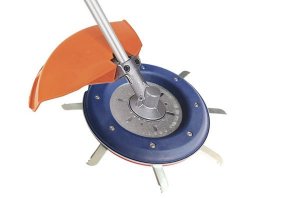 Tough Trimmer's eight replaceable, spring-loaded blades claim to cut through grass and other light debris faster and easier than traditional string-based universal attachments.
What Is Tough Trimmer?
With a total of eight powerful, specially treated stainless steel blades, the universal Tough Trimmer device promises to help you quickly obliterate grass, leaves, tree sprouts, and other tough debris.
And because the website advertises these blades are also spring-loaded, they retract after coming in contact with fencing, decking, or rocks, giving you a precise trim right up to the edge. It also features a meaningfully larger diameter regular trimmer heads, so you can get any job done much faster.
The blades are claimed to never need sharpening and are guaranteed to last all season long, while the device is reversible so that you can turn any trimmer into a Tough Trimmer. Finally, its lightweight design means you can trim your entire yard without breaking a sweat.
With all of these advertised benefits, it might be easy to see why more than one million Tough Trimmers have been sold. But can it really help you get any job done, with any trimmer?
Let's start by taking a look at its basic functionality.
How Does Tough Trimmer Work?
Tough Trimmer features a fairly straightforward design: a series of eight evenly spaced elongated blades are sandwiched between two metal plates that come together and create a doughnut-like shape.
These blades are held in place with a single screw to allow for a pivoting motion at one end, with a spring underneath. This way, the blades can quickly retract inside this metal shell to deliver protection whenever they strike a hard object.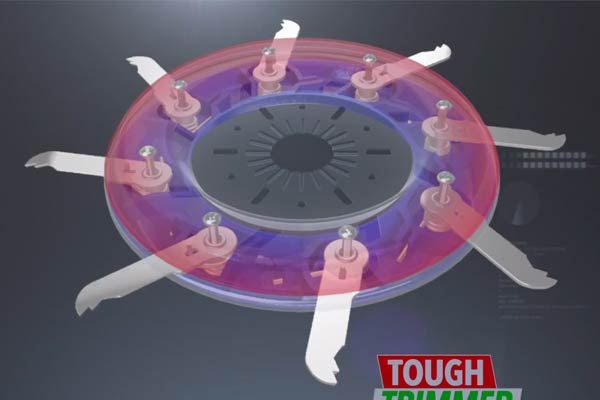 In this screenshot taken from the Tough Trimmer website, we can see its eight spring-loaded, retractable blades halfway inside their doughnut-shaped protective shell.
From a compatibility standpoint, Tough Trimmer is said to work with most gas powered straight shaft trimmers, including those from popular brands like Makita, Echo, Honda, Ryobi, Bilt, and Husqvarna, to name just a few. It will also work with Stihl trimmers, although you'll need to purchase additional parts (more soon).
Exact installation instructions can vary depending on the model, but in general, it works like this:
You'll start by completely removing the existing trimmer head, which can vary by model and could require different tools.

Then, preassemble Tough Trimmer, which mostly involves attaching the top piece using the included screws.

After placing the plate washer back onto the trimmer and securing it using the appropriate tool, you'll insert the proper nut into Tough Trimmer's hole, and then push it all the way in using the included spacer.

Rotate the device until it's tightened. Remember to remove the spacer afterward. Note: If you have a model that requires this important spacer, make sure you place it somewhere you'll easily remember for later removal and reinstallation.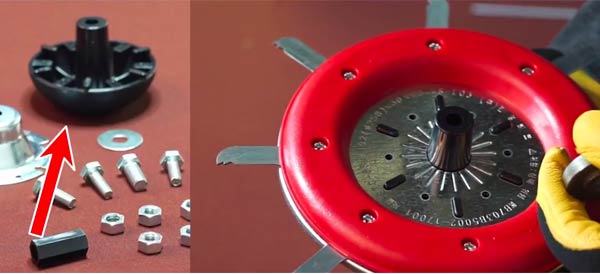 Before placing Tough Trimmer onto your straight shaft gas powered trimmer, it will require some minor preassembly.
From a safety perspective, the manufacturer emphasizes that Tough Trimmer should never be used with electric trimmers. Furthermore, you should never exceed 8,000 RPM, operate it without the protective shield in place, use near glass (despite the video of Tough Trimmer hitting a glass bottle in the commercial), or operate the device if a metal blade is damaged or bent.
As with any other powered yard maintenance device, you'll want to wear eye protection when using Tough Trimmer, as well as gloves, closed toe shoes (work boots, ideally), and close-fitting pants and a long sleeve shirt.
How Much Does Tough Trimmer Cost?
The universal, reversible blue and red-colored Tough Trimmer attachment is priced at $39.99, plus free S&H. A set of eight replacement blades is $6.95 plus $2.95 S&H, while the Lock Nut, Flat Washer, and Cup Washer required for Stihl trimmers is priced at $6.95 as well.
All Tough Trimmer orders come with a 30-day 100% satisfaction guarantee, which you can request by reaching out to the company via the contact form on the device's website.
Grass vs. Brush Blades: Are There Other Yard Devices Like Tough Trimmer?
While we didn't encounter any eight-blade gas powered trimmer attachments designed exactly like Tough Trimmer during our research, we did come across some meaningfully similar options that featured compatibility with most gas powered straight shaft trimmer brands, easy installation, as well as spring-loaded, retractable, and replaceable blades that are ideal for grass and light brush. These included:
Rino Tuff Push n' Load 3-Blade Head ($20, Amazon) – Features three plastic blades that cut a 9.6"-wide path. Weighs 11.2 oz. A 12-pack of replacement blades costs $5.50.

Amkor Trading Inc. Tri-clone Trimmer Head ($50, Amazon) – Comes with three slightly curved metal blades. Weighs 1.2 lbs. No dimensions are available.

Weed Warrior Push N Load 3-Blade Trimmer Head ($12, Walmart.com) – Comes with three plastic blades and a total of six replacements. 6.5"-wide cutting path. $3 for 12-pack of replacement blades.

Orbitrim ($19.99) – Uses hardened steel blades with a patent pending safety ring on the outside that's said to provide protection. No dimensions are available.
With these details in mind, while most models competing in the same category as Tough Trimmer are designed for grass and light brush, if you're looking for something with a little more oomph, you might want to consider heavier-duty brushcutter blades.
These typically feature more robust designs to effectively cut down larger debris—even small trees. In many instances, we found options under the $40, which puts them relatively in line with lighter-duty options, depending on your specific needs.
Ultimately, which way should you go?
Our Bottom Line About Tough Trimmer
While we didn't test any grass cutting heads during our research, Tough Trimmer seems to come with a unique eight-blade design, a competitive price (including for replacement blades and accessories), and a 30-day satisfaction guarantee. However, keep in mind that you'll have to pay to send it back to the company if you're dissatisfied, so it's not a completely risk-free transaction.
In addition, with no phone number to contact or live customer support available, we were left with some important thoughts and unanswered questions about the device:
How much does it weigh?

What's the cutting diameter?

At what pressure do the blades retract? If it hits an object, such as a light rock or gravel, we might imagine these blades could have a tendency to fling objects meaningfully farther than a string trimmer head. This is perhaps why the manufacturer recommends that people and pets remain at least 50 feet away when Tough Trimmer is in use.
Along these same lines, while the commercial shows Tough Trimmer making contact with a glass soda bottle, the website emphasizes it should never touch glass during operation. These blades also aren't advertised as ideal for edging, which means that you might need to swap out heads again to tackle this task.
Finally, while Tough Trimmer's reaches it maximum safe speed at 8,000 RPM, keep in mind that many gas-powered trimmer models can spin their heads at 15,000+ RPM. As such, you'll need to pay close attention that you're not over-revving the engine during operation.
» Related: 5 Tips For Achieving the Greenest Grass on the Block