Tovnet Reviews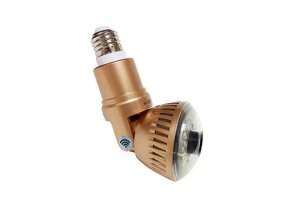 The Tovnet light bulb security camera combines Android and iOS connectivity with features like a discreet design, Wi-Fi functionality, a 120° wide angle lens, and 960P HD resolution.
About Tovnet
Tovnet is a full-featured, remotely operated security system that promises to combine all the best features of an LED bulb with an independent wireless camera. Simply install in any outlet like a traditional light bulb—whether in your office, garage, backyard, shed, or storefront—and immediately begin recording.
For convenience, all video is accessible via an iOS or Android app and can be recorded directly to its micro SD card, or to your desktop as well.
But does it really represent the latest in security technology? Are there any important considerations to keep in mind? What about the competition?
Before handing over your hard-earned money, take a few minutes to read what we learned during our research, so you can make the most informed decision possible.
How Does the Tovnet Camera Light Bulb Work?
Tovnet's threading fits al E27 or E26 sockets, although because it lacks a hinge to adjust direction (more about this soon), it seems it would primarily work best in overhead sockets. For ease when setting up on a peer-to-peer network, each one has its own ID and password printed on the box.
The peer-to-peer camera comes with a 120° wide angle lens that records 960P HD video, which is compressed using H2.64 technology, so you don't have to worry about running out of space. While there's no cloud storage for the device, all footage is stored on the attached SD card, the iOS or Android smartphone app (via Wi-Fi), or your desktop.
Note: The website emphasizes that the security camera light is not compatible with ADSL/VDSL Wi-Fi routers.
The sensitivity of Tovnet's built-in infrared motion detector can be adjusted between low, medium, and high (no ranges listed). The night vision allows daytime and nighttime recording, while the included remote control can manually turn it on and off. An email alert will be sent once motion is detected.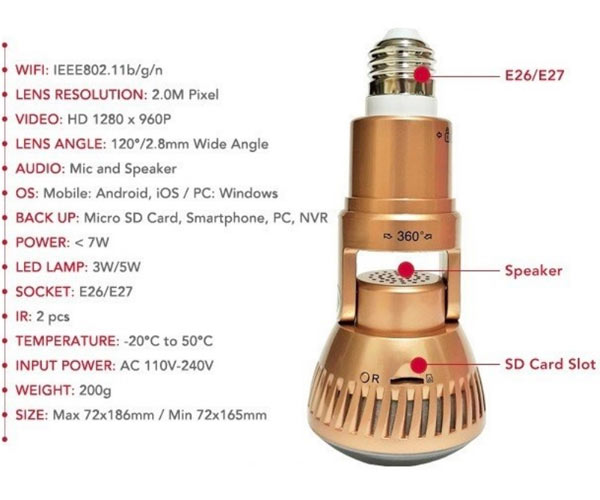 Tovnet's core specifications. Credit: Tovnet
After you receive the alert and check the live footage, Tovnet's two-way audio capability can record any sound you choose and then and remotely project it into the area, if you feel the need.
Together, the company advertises the camera light can be used in a variety of scenarios, whether in the front or back yard (important: there's no indication Tovnet is weatherproof, so by all indications, it will need to be well-covered when used outdoors), inside a daycare center, monitoring storefronts, and so forth.
Taking a Closer Look at the Tovnet (aka BulbCam) App
Tovnet's security camera operates via a free iOS and Android app, which is available under two different names: TovnetCam and BulbCam.
According to their brief descriptions, it appears each of these offers the same core functionality, such as the ability to view real-time footage, record video and take pictures, monitor multiple channels and cameras, recognize audio, and set resolution.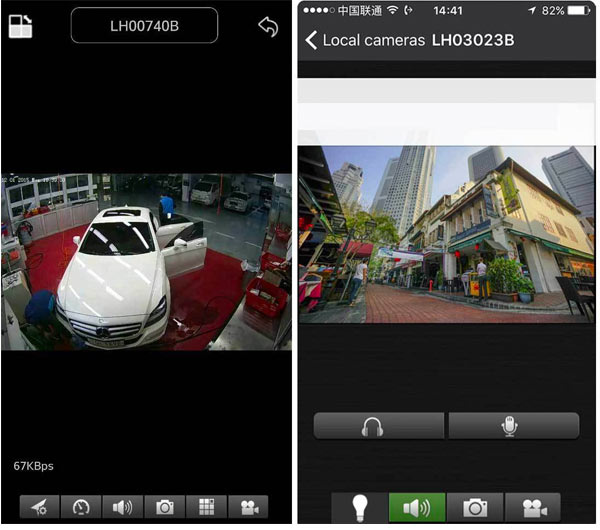 Between the Tovnet (left) and BulbCam (right) Android and iOS apps, we can see functionality largely appears the same, although the displays are meaningfully different. Credits: Google/Apple
How Much Does Tovnet Cost & Where Can You Buy?
The Tovnet wireless LED camera is currently only for sale on Amazon at a price of $130, with free shipping. The micro SD card is not included.
It appears the camera was previously available on the Indiegogo Marketplace for $109, although it was listed as 'out of stock' at the time of our research.
Comparing the pictures in each listing, it appears that the Tovnet security camera light sold through Kickstarter and Indiegogo (see image below, left) features a meaningfully different design than the one sold through Amazon (center).
Primarily, it seems the manufacturer replaced its pivoting arm with a flexible socket extension (right).
There are some meaningful design differences between the Kickstarter and Indiegogo Tovnet versions (left), and the one currently available through Amazon (center, right).
What Can We Learn from Tovnet Customer Reviews?
On Amazon, the Tovnet camera light had six customer reviews, who had given it an average rating of 1.4 stars. Most complaints referenced quality and functionality concerns (e.g., poor network connection, less-than-stellar instructions, difficult to use, etc.).
Between the TrovnetCam and BulbCam listings on iTunes and Google Play, we encountered more than 100 customer reviews for the device's apps, who had given them an overall average rating of about 2.5 stars. Complaints often related to functionality and usability concerns. Similar reviews and ratings were left by customers on the company's Facebook page.
As a company, Tovnet is based out of New York, NY, and got their start during a 2017 Kickstarter campaign, which raised more than $77,000.
Although the first units were shipped to customers in October 2017 (only a couple of months behind schedule), based on the 2,000+ backer comments on the campaign, it appears many original backers still haven't received theirs. And many have complained of poor functionality.
In addition to the lack of a pivoting arm, it appears the Amazon model doesn't feature the reflective mirror cover promised to Kickstarter backers as part of their stretch goal.
Are There Other Security Camera Bulbs Like Tovnet?
Browsing marketplaces like Google Shopping and Amazon, here were some of the most popular competitors at the time of our research, all of which included E26/E27 compatibility, Wi-Fi, app connectivity, micro SD card recordability, 1080P resolution, motion detection, infrared night vision, H.264 compression, two-way audio, and 1080p resolution:
| Brand | Price | Avg. Amazon Rating | Standout Features |
| --- | --- | --- | --- |
| Tovnet | $130 | 1.4 | 120° camera |
| Smyrfy Bulb IP Camera | $55 | 4.4 | Identical design to the Kickstarter and Indiegogo Tovnet versions, but with a 180° camera |
| Nucam HD Light Bulb Camera | $95 | 2.9 | 720p resolution only |
| HD Pixel Pro | $69.99 | N/A | White, teardrop-shaped |
| Hayful Security Camera Light Bulb | 29.99 | 3.8 | White, teardrop-shaped w/up to 64GB TF card |
Taking this information and combining it with everything else we've learned in this article, what can we surmise about Tovnet?
There appears to be some fairly large design differences (primarily, lack of a hinge and reflective cover) between the version listed on Kickstarter and Indiegogo, and what's currently available on Amazon.
Furthermore, at well over $100, Tovnet was meaningfully more expensive than any other model we encountered during our research. In fact, the Smyrfy bulb was identical to the original Kickstarter/Indiegogo versions, but at nearly one-third the price.
From a customer feedback perspective, Tovnet seemed to come with an exceedingly negative reputation based on the comments left on their Kickstarter campaign, as well as (on a much more limited basis) on Amazon.
Bringing all of this together, it seems like Tovnet's competitors tend to offer many—if not all—of the same features, but at much lower prices, in addition to meaningfully higher average customer ratings on sites like Amazon.
Does that mean that any of these is necessarily your best option? Let's discuss individual needs as we wrap things up.
Our Bottom Line About the Tovnet Security Camera LED Bulb
From a security camera perspective, LED bulbs like Tovnet seem as easy to install as any traditional light bulb. So, if you're looking for a quick plug-and-play option, they might do the trick (factoring in their meaningful price differences, of course).
But this ease of use comes with some potential drawbacks. For example, in the instance of Tovnet, the company has no plans to release an open API, so it will never integrate with any of your other home automation devices.
In addition, there's no cloud storage available, so you'll have to make sure you have plenty of free space on your computer's hard drive. And while it features micro SD card backup, by all indications, the camera will record over previous material once it runs out of space. Which could be problematic if you need to view footage from several weeks back.
These lights aren't exactly discreet, either, and unless they're connected to a circuit that's permanently powered, they can be turned off with the flip of a switch. And even then, once someone notices it, they could simply unscrew it from its socket.
Finally, there's no indication that Tovnet or any of these competing models are weatherproof (or even weather resistant), so it seems to require a fair amount of protection from the elements if kept outside (such as in an entryway, on a porch, or over a covered patio).
If this is your preferred placement, you might want to explore models that look like traditional outdoor lights and are often available locally.