TrackR Reviews
Claimed This company has claimed this profile, is getting alerted on any new customer reviews entering this page, and may engage in dialogue with its customers to address their matters.

Companies cannot pay money or provide goods in order to remove or alter customer reviews.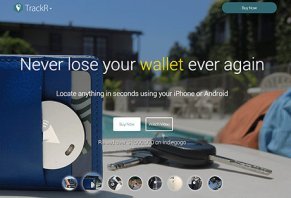 Located in Santa Barbara, CA, TrackR is a company that manufactures low-energy Bluetooth dongles that are to claimed to help you find just about anything.
About TrackR
Although you may have difficulty finding your wallet or your keys, in today's market, you definitely won't have any problem finding products that can help you address this problem, one of the most popular of which is TrackR.
Originally founded in 2009 as Phone Halo, TrackR is a tech startup that specializes in manufacturing low-energy Bluetooth dongles that can attach to an item, which can then be located in seconds using your iPhone or Android smartphone. In fact, with a variety of TrackR devices available, the company claims that they can help you find your dog, wallet, laptop, purse, bike, or nearly anything else.
By claiming that their thin, durable devices offer the simplest way to track all your items, and that you'll "never lose anything again," TrackR has managed to raise more than $1.2 million online through Indiegogo crowdfunding campaigns, which have greatly fueled their success. But when it comes down to it, do TrackR Bluetooth dongles have a reputation for working well, or for being rushed to market? Let's find out below.
The Details Behind How TrackR Works
Currently, TrackR offers 3 different Bluetooth-based dongles:
StickR TrackR – A coin-sized device (smaller than a quarter) made of plastic that uses an adhesive to attach to whatever you need.
Wallet TrackR – About the size of a credit card, this is an ultra-thin, plastic device that can slip inside your wallet or can be attached to any other commonly misplaced item. Fully customizable, including sound alerts and more.
TrackR bravo – TrackR's newest device, this small, coin-sized device constructed of anodized aluminum attaches to your valuable items. Can be looped through a keying, placed in your wallet, stuck to a laptop or bike, or even worn around your dog's collar.
Whichever option you choose, your TrackR dongle with work in conjunction with the TrackR app, which is available for iPhone and Android smartphones. Once connected, your phone will attempt to connect to the TrackR dongle via Bluetooth, and will then notify you once it's been found, as well as its approximate distance. If you're still unable to locate the item, you can "ring" it by instructing it to emit an audible "beep." In addition, if your phone gets too far from whatever you have the dongle attached to (e.g. keys, wallet, etc.), TrackR will notify you so you don't leave it behind.
When compared to the competition, TrackR is attempting to differentiate themselves by implementing "Crowd GPS" technology into their dongles. Ultimately, this means that even if you're out of Bluetooth range, if another TrackR user comes within 100 feet of the item, you'll receive an alert of its approximate location. We'll talk more about this in the final section.
TrackR Pricing & Refund Policy
Each of the 3 TrackR dongles are priced as follows:
StickR (ships in 1-3 weeks):
1 Device Pack: $24.95
2 Device Pack: $39.95
10 Device Pack: $149.95
Wallet (ships in 1-3 weeks):
1 Device Pack: $29.95
2 Device Pack: $39.95
4 Device Pack: $79.95
Bravo (will not ship until 1/7/15):
1 Device Pack: $29
2 Device Pack: $49
5 Device Pack: $95
10 Device Pack: $99
For the TrackR bravo, you can also order custom laser engraving for $10, and an accessory pack (includes pet collar, metal loop, and waterproof shell) for $19. The bravo's default color is steel, although it's also available in black, rose gold, or sky blue for an additional $5.
If purchased directly through the company, TrackR dongles comes with free Standard shipping within the U.S.
What Do Other Consumers Have to Say About TrackR?
Although the TrackR bravo won't be released until January 7, 2015, the Wallet and StickR models appear to have a fairly evenly mixed online customer reputation, so you could probably expect much of the same for the bravo. Among those who were pleased with their TrackR devices, the most common compliments cited that they were easy to pair and to set up.
However, regardless of the device model (even some of the company's previous models such as the Cobra Tag), the most common complaints referenced:
Poor Bluetooth range (most users found it to be in the 10-20 feet range, versus the 100 feet advertised by TrackR).
Frequent disconnections (and the alerts that come along with it). In fact, some users reported having to turn this feature off because of the constant alerts, even if their phones were within a couple feet of the device.
That the location feature doesn't always work properly (e.g. the app may show your item as being several blocks away when it's actually in the same room).
Is the TrackR Helpful for Finding Lost Items, or Will it Make You Lose Your Mind in Frustration?
If you're prone to losing small, important items such as your wallet or keys, can TrackR devices help you remain a little more organized? Perhaps, but keep the following in mind before placing your order:
Limited Usefulness
First and foremost, depending on your needs, TrackR devices may not ultimately be very useful for you. This is because once you're out of Bluetooth range, the TrackR app will only show you the last known location of the item you're monitoring. As such, if the item was stolen and moved from its last known location, this information may not do you any good.
Speaking of Bluetooth range: When testing their devices, numerous customers claimed that it took the TrackR app several minutes to establish a Bluetooth connection with the dongle. This could mean that, even if you know the last general location of the item you're looking for, it could take a long time for the app to connect to it, and to send a "beep" to help you find it. As such, going room-to-room around your house looking for lost wallet or keys may turn into a very time-consuming process.
Crowd GPS Only Works with a Crowd
Next, the key differentiator from the competition is TrackR's Crowd GPS, which claims to alert you any time another user comes within 100 feet of your item, which could help you locate it once you're out of Bluetooth range. However, this first requires an enormous number of TrackR users in order to be even slightly useful.
To address this concern, the company recently released 100,000 of its devices to the public, although only time will tell the actual number it takes to be useful, and whether or not this number is attainable in the first place.
Bottom line: Will You Find Your Lost Wallet?
Like most technology products, "breakthroughs" such as TrackR can often take generations to be dialed in and to work as well as they're advertised. With this in mind, although the company appears to be constantly improving, TrackR devices may be ideal for tech-savvy early adopters, but the rest of us may want to wait until the technology is improved before handing over our hard-earned money.
Poor performance and poor customer service

I bought several of these to use as gifts, and they are a total joke. They work about 10% of the time and won't even detect it next to the phone most times. And their customer service (if you ask for a refund) is to totally ignore you. Don't waste your money on this.

Bottom Line: No, I would not recommend this to a friend

---

Not very helpful at all.

By Art Graham

,

Granbury, TX

,

Jan 27, 2017
Verified Reviewer

I thought this device would help me find my car if it was stolen, but unless the thief drives my car within about ten feet of my smartphone it is useless. Waste of money.

Bottom Line: No, I would not recommend this to a friend

---

Advertisement

---

Worthless

By Heather

,

Houston, TX

,

Feb 13, 2017
Verified Reviewer

I made the mistake of purchasing a multi-pack, and now I am stuck with three very overpriced novelty keychains. This product does not work well at all. The range is too small and the volume too low. I can't even find my keys in the next room. Useless!

Bottom Line: No, I would not recommend this to a friend

---

Let me join the chorus

By Glenn Davis

,

Knoxville, Tennessee

,

Feb 19, 2017
Verified Reviewer

If I could give a minus rating, I would.

The battery life seems to be minutes, and then there is the incessant ringing for the one that does work. Kenn (apparently the sole customer service tech) gave me all manner of things to try but nothing worked. I can honestly say this purchase was the biggest waste of money I can recall; ever!

I don't know anyone I dislike enough to recommend TrackR.

Bottom Line: No, I would not recommend this to a friend

---

Advertisement

---

Bought and returned

By Louis

,

Summit, MS

,

Jan 14, 2017
Verified Reviewer

I bought it and then returned it. They have no customer service, kept my $126.00 and refused to refund. Scam.

Bottom Line: No, I would not recommend this to a friend

---

TrackR bravo

By Collin Baker

,

Hastings, MN

,

Jan 27, 2017
Verified Reviewer

Do NOT buy. They are near impossible to hear a beep from. Also, they tell you that they have a satisfaction guarantee, but when you ask them what to do and if they want you to send them back, they ignore you.

They are a rip-off! Don't waste your time or dime.

Bottom Line: No, I would not recommend this to a friend

---

TrackR does not work

By Dale Koop

,

Bay Area California

,

Aug 13, 2016
Verified Reviewer

I purchased 8 of these and I am disappointed. Not only they do not work as advertised, but the company has never respond to my four requests for a refund. I put these on my cats' collars and they only find the cats if they are within 50 feet and direct line of sight, and the battery only lasts about a few weeks so you have to change the battery each time you need to locate it. Brilliant!

I put these on my keys and same issue. They have to be in the same room and in sight. They battery fails often and the Bluetooth needs to be reset each time you use it. How's that? If you want to locate you keys with this , first you have to find your keys and resent the device.

This is a waste of money and the company will not respond. I recommend you try another method.

Bottom Line: No, I would not recommend this to a friend

---

Useless novelty

By Jeff

,

Hubbard, OR

,

Dec 30, 2014

Range very limited. Much less than 100 ft. It's the new "Clapper".

Bottom Line: No, I would not recommend this to a friend

Aug 18, 2015

Hi Jeff, Bluetooth range can be limited by your phone's Bluetooth. Our support team is happy to help - support@thetrackr.com

---

Worked briefly, then quit. Waste of money.

By Kirsten G

,

Santa Cruz, CA

,

Aug 22, 2016
Verified Reviewer

Unable to choose, I ordered a Trackr set for me and a Tile for my husband. Set up 3 on my wallet, keys, and tablet. Worked fine in tests. I forgot about it until six weeks later, when I misplaced the wallet. Ensured Bluetooth was connected, opened app, and: nothing. Even with the tablet and keys in front of me, the devices didn't beep. Then I found the wallet: also dead. Last known location showed on one device as the airport where I'd been 5 days ago; my home showed on the others, which makes it seem less likely that all 3 batteries failed at the same time. More likely, it's a piece of junk. My husband's Tile, on the other hand, is working great. Buy one of those.

Bottom Line: No, I would not recommend this to a friend

---

Stay away

By Mike

,

Jan 10, 2017
Verified Reviewer

I made the mistake of purchasing several of these prior to looking at reviews. I found it difficult to accept all the negative reviews because initially, everything seems to be working well, the app downloaded and installed fine, and it paired easily and quickly with Bluetooth. Then the problems became evident.

First, after about 20 feet (with the phone and TrackR in line of sight) the Bluetooth connection was lost. As I moved back into the area where the connection was last known, the device would not reconnect. After waiting for a minute or so with no reconnection, I finally set the TrackR right next to my phone, and after maybe 15 -20 seconds, it would connect. This, of course, renders the device worthless. If I have to set my lost keys next to my phone for a connection to occur, then this device is non-functional. That is too bad, I really wanted this device to work. Surely the company knows this device does not work as advertised.

Secondly, the siren on the TrackR is far too quiet. It's loud enough where you could locate a lost item in a quiet environment if you were within 10 feet or so. Although this limits the usefulness of the product, if it would maintain Bluetooth connection at least you could use it.

Lastly, the map function is not specific enough. It's of no value. But I would have been happy if the product would maintain Bluetooth connection so I could at least attempt to hear the siren and locate my keys. Alas, this was asking too much.

A one-star rating is far too generous. This is a product that serves no purpose. It is a great idea that was poorly executed. I will now have to see if I can obtain a refund. From what I have read, no one responds from TrackR to requests for tech support or refunds.

Has anyone had a positive experience with this device? If so, how did you overcome the limitations mentioned above and malfunction?

Bottom Line: No, I would not recommend this to a friend

---

Garbage!

By Andy

,

Seattle, WA

,

Apr 14, 2017
Verified Reviewer

These are garbage! They don't work unless I'm standing right over the top of it, if it finds it at all. Garbage, a waste of money, time and hassle dealing with this company that has the worst customer service.

Get this; they never showed, and I wasn't even offered a tracking number upon shipment. After I FINALLY received a response from the company, it was like this: "Can you go to all your neighbors and check to make sure they didn't get your shipment first?" I was ticked off and told them what I thought. They didn't want to send it because they claim it was probably stolen, so I gave them a PO Box and asked for a tracking number when shipped. It took five weeks before I received them, and I couldn't get a tracking number until the 5th week when they shipped it, and it was in my mailbox already. Worst service ever! And then they didn't work as stated.

I wouldn't even give these one star, but it was the least I was allowed to give. I was in business over 20 years, and I know a good product and customer service. These guys don't have either. Don't waste your money, time or patience. Absolute garbage!

Bottom Line: No, I would not recommend this to a friend

---