Tracy Anderson Online Studio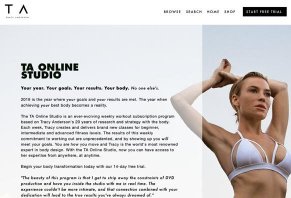 Celebrity Trainer Tracy Anderson lets you stream her studio workouts to your home for $90 per month so that you can achieve long, lean muscles and a stronger, healthier body.
Tracy Anderson Online Studio Review
Are you looking to follow the fitness advice of a celebrity trainer? Then the Tracy Anderson Method might be on your radar. Renowned for working with Jennifer Lopez, Victoria Beckham, Gwyneth Paltrow, and many others, Tracy Anderson is a fitness content creator and studio owner who promises to help women achieve long, lean bodies with her daily exercise routine that focuses on small muscle movements and elaborate choreography.
Those willing to pay the $12,500 annual membership fee gain access to Tracy's training within her eight studios, but for those at lower price points, she has released several series of workout videos, and an online streaming platform for streaming studio classes.
Is her method worth the investment? We'll look closer at the details to help you decide here.
Who Is Tracy Anderson?
According to her company website, Tracy Anderson struggled with weight gain while training as a professional dancer in New York City.
Despite overexercising and undereating, Tracy couldn't budge the weight until she met with a rehabilitation doctor in Puerto Rico. There, she learned about the value of strengthening small accessory muscles to improve the functioning of larger ones and prevent injury and threw herself into further research.
Building off these basic principles, Anderson lost weight and developed early versions of the Tracy Anderson Method by working with test groups of hundreds of women and monitoring their progress. She fine-tuned her custom workouts for five years to develop routines that made sense for toning up a variety of body types.
Per a Forbes interview with Anderson, she states, "My mission has always been to research, create and share tools that help women create balance in their bodies so they can create balance in their life."
Her innovative workouts caught the attention of celebrities, most notably Gwyneth Paltrow, whom Anderson helped to lose weight after giving birth.
The two eventually became business partners and developed Anderson's workout routine into a series of videos and eight studio locations in New York City, the Hamptons, Los Angeles, London, and Madrid.
What Is the Tracy Anderson Online Studio?
According to the company website, the Tracy Anderson Online Studio was developed as a way to connect more people with her innovative workout techniques.
"Members [of the TA Online Studio] receive brand new, weekly content delivered by Tracy Anderson for Beginner, Intermediate and Advanced fitness levels," Tracy Anderson Press Representative Steven Beltrani told us. "TA Online Studio members are on a clear, strategic journey with their body week after week alongside the guidance of Tracy, herself. Each week's class builds upon the previous week's class content."
We learned that each class offers a total body workout that averages thirty to ninety minutes in length.
Most require a workout mat and three-pound weights. The studio also uploads three breakdown session videos (one for each level) that are lead by senior trainers and demonstrate the proper form for each move within the workout.
New classes are offered on Wednesdays and are available for a full week before the next week's classes become available. Each class is filmed with the goal of giving subscribers the sense that they are working in the studio with Anderson.
Thirty-minute dance cardio workouts led by Anderson's trainers are also added to the member library each month, and these classes don't expire.
While the classes can't be watched live, they are filmed during real studio classes and uploaded a few hours afterward. The studio where the classes are filmed changes weekly, based on where Tracy is.
How Much Does a Tracy Anderson Online Studio Subscription Cost?
At the time of writing, access to the Tracy Anderson Method costs $90 per month or $808.50 per year (a 25% savings). All memberships begin with a free 14-day trial, and you will only be charged once your trial ends.
The Method's terms and conditions state that you can cancel at any time after a minimum enrollment of three months. You can use the company contact page or message them directly at tracy@customerstatus.com to cancel your account.
What Are the Tracy Anderson Method Add-Ons?
The TA Method Online Studio offers two add-on subscription options for maximizing your experience. You can purchase access to the Premium Studio for $39 per month ($440 per year), which lets you access additional content like special guidance and supplemental workouts. This content is designed to supplement a standard membership, not to act as a replacement for it.
The company also offers a teen streaming service for $29.99/month or $329 a year. Designed for ages 13–19, these workouts focus on full physical and mental health.
Teen subscribers receive a new exercise video each week that are led by a top Tracy Anderson instructor. Each teen workout utilizes a gentle format for growing bodies, and they put the focus on fostering self-confidence.
It's also possible to purchase Tracy Anderson workout series separate from a subscription service. The company offered a variety of programs at the time of writing that ranged from 90-day programs that focused on specific parts of the body (such as the glutes, abs, and hips), as well as teen programs and single-class DVDs. These options range in price from $12.99 to $96.97 on the company website.
If you're interested in the in-studio experience, it's also possible to sign up for a gym membership. Depending on the location, you'll need to pay up to $1,500 as a one-time enrollment fee, and you'll pay up to $12,500 for a year's membership. Where available, you can also take a walk-in class for $45 each.
A Look at the Reviews of the Tracy Anderson Method
From what we've found online, the Tracy Anderson Method is polarizing in the health community.
On one end of the spectrum, a significant draw for many online studio members is the community they form together on social media. Identifying themselves through the hashtag #tamily, these subscribers leave rave reviews about the workouts on Facebook and Instagram, and many people report that it causes them to tone up in ways that they never achieved through other exercise programs.
We also looked at reviews from Chic Family Travels and Calorie Bee, and in both cases, they thought the program gave them an effective workout that led to long-term weight loss.
While Chic Family Travels' founder Tamala Prickett reported that she struggled to learn the moves at first because of Anderson's signature silent teaching style, the effort it took to master them was worth it in the long run.
An article on Medium from Born Fitness CEO Adam Bornstein tells a different story. Bornstein challenges many of the health claims made in the Anderson program, which include that it's best for women to workout with light weights and that working smaller muscles is more beneficial than traditional exercises that give more of your body a workout.
Bornstein also notes that Tracy Anderson workouts value a specific aesthetic for women (the "dancer" build), rather than celebrating all body types.
He states that the program steers women away from lifting heavy weights that lead to healthy muscle growth and that much of the purported success of her program comes from its diet recommendations, a plan which is restrictive both in food choice and overall calorie allotment.
Overall, we found that the biggest complaint about the Tracy Anderson Method seems to be that the program is marketed as a smart workout plan for all women when in reality it defines success with narrow parameters.
Thousands of women are willing to share that the method helped them lose weight and gain "long, lean muscles." However, Bornstein reports in his Medium article that that's not necessarily what a healthy physique should or will look like for everyone.
» Recommended Reading: The Beginner's Guide to At-Home Workout Programs
Are There Comparable Options to the Tracy Anderson Online Studio?
There are more options than ever to stream workout programs at home. A few programs that are similar in scope to the TA Online Studio include obé Fitness ($27 per month) and Peloton Digital ($19.49 per month).
Both programs let you live-stream workouts from real studios or watch their extensive video collection on demand. This means that you will have access to a lot more content with either subscription, though you'll lose the star power of working out with a celebrity trainer.
The workouts offered from both of these subscriptions differ from the Tracy Anderson Method as well. Obé Fitness offers dance, HIIT and barre-style workouts that average 30 minutes or less, and Peloton digital content is based around their specialty spin bike and treadmill.
Two fitness options that are closer in price to the Tracy Anderson Method include Tonal and Mirror. Both offer sleek workout equipment that's designed to blend seamlessly into your home. Tonal is a fully contained weight lifting system, while Mirror lets you stream a variety of workouts that rely on little outside equipment besides a yoga mat and dumbbells. You'll pay $2,995 plus $49 per month for a subscription for Tonal, and $1,500 and $39/month for Mirror.
We can't tell you what fitness option is best for you because each of these companies is designed to appeal to a different customer base. Saying that, the Tracy Anderson Online Studio seems to be best suited to women who want a dancer body and the feeling of joining a supportive fitness community.
It's also a good choice for people who prefer to have fewer options available at a time, as Anderson only uploads one new workout a week. In contrast, Peloton Digital and Obe Fitness release dozens per week.
Our Bottom Line About the Tracy Anderson Online Studio
Now that we've laid out the research, do we think you should consider signing up for the Tracy Anderson Online Studio?
That depends on your budget. There's no denying that this subscription is one of the priciest we've looked at, though it's far cheaper than joining her gym or even taking one walk-in class each week.
If you're interested in trying out Anderson's innovative workout strategy for yourself, we recommend signing up for the free two-week trial or first buying one of her standalone programs. Her silent instructing style tends to be polarizing, and you won't know whether you like it until you try it out.
Meanwhile, we think that there are lots of other ways to lose weight that you might find suite your lifestyle goals better. Be sure to check our article about why walking is one of the best ways to start shedding pounds, as well as our comprehensive beginner's guide to losing weight and getting in shape.