TradeKing Reviews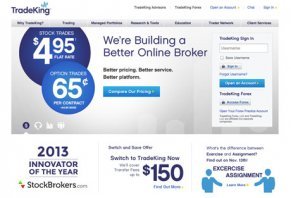 TradeKing is an online investing platform that combines top-notch customer support, flat-fee pricing, and access to an extensive network of other investors.
About TradeKing
Founded in 2005, TradeKing is an online trading company that's dedicated to empowering independent, self-directed investors through the use of low-cost, simple pricing, world-class client service, a suite of free trading tools, and the ability for investors to learn from their peers.
Whether you're going it alone or are looking for professionally managed investing, TradeKing claims to offer "honesty, fairness, great value and high-touch service" for all your trades, including options, stocks, ETFs, mutual funds, fixed income, Forex, and more.
Are you a trading newbie, or have you been in the game for years? Either way, is TradeKing the right option for you? We'll be sure to answer all your important questions in a moment, but first, let's take a look at some of TradeKing's important details.
How Does TradeKing Work?
Like many of the other top online trading platforms, TradeKing claims to provide a variety of benefits for their member investors. These include:
User Dashboard
First, your TradeKing user dashboard will provide the ability to closely monitor your assets, trading activity, tax obligations, and gain/loss, as well as to quickly access all your important records. Here, you'll also find the latest market stats, news, and detailed metrics, whether you need the information for the market as a whole, or only for specific companies you're watching. For more, be sure to read through TradeKing's Research page.
Tool Suite
Next, TradeKing offers investors a wide variety of award-winning tools to help you hone your trading, including:
Options Price Calculator – An intuitive tool that can help you "forecast theoretical values and compare them to current bid/ask prices. And change variables to reflect your market forecast."
Probability Calculator – Uses implied volatility to help you determine the probability of hitting your targets.
Profit & Loss Calculator – Helps you understand the profit and loss potential of your trade in advance, as well as to "see how outcomes may change based on changes in volatility and time."
Options & Strategy Scanner – Find the trades that meet your specific criteria (up to 25) among more than 150,000 individual option contracts. Once you find what you're looking for, you can place a trade from within the Scanner.
Stock, ETF, & Mutual Fund Screeners – Similar to the Options & Strategy Scanner, but specifically related to stocks, ETFs, and mutual funds.
In addition, TradeKing Live also provides access to streaming quotes, dynamic charts, and iDevice and Android apps for trading on the go.
For more details about all the investing tools available to TradeKing members, be sure to visit their Trading Tools page.
TradeKing Network
TradeKing Network gives member traders the ability to "connect, share, and learn from over 75,000 traders," including which stocks, options, and securities are the most actively traded, the reasoning behind specific trades, insights from other traders, to discuss hot topics, and more.
Research & Education
In addition to connecting with other traders, the TradeKing website also features a number of "intelligence reports" that can help you learn different trading ideas and strategies, technical analysis, or even just the basics.
You can browse TradeKing's Education section by security type, experience level, or market outlook. Here, you'll also learn more about the company's live events and webinars, gain access to on-demand videos, and more.
TradeKing's Trading Options
Overall, TradeKing provides members the ability to trade in 3 different ways:
Self-Directed Trading
As you might imagine, this is where you'll decide which trades to make, when to make them, and the overall strategy you'll be using. As we outlined above, TradeKing's tools can come in especially handy for self-directed investors.
TradeKing's Autotrade
While technically a part of self-directed trading, TradeKing's Autotrade feature allows the company to automatically place trades based on "your favorite newsletter recommendations and according to parameters you've pre-set in your account."
TradeKing Managed Portfolios
According to the TradeKing website, "Managed portfolios allow TradeKing to monitor your investments daily and automatically adjust, and to spread your investment dollar across a wide range of assets." This allows you to tap into TradeKing's experience and expertise in order to reach your investment goals.
Here, there are 2 managed portfolio programs:
Core – Targeted more toward long-term investing, your portfolio will be adjusted when needed in order to help keep you on track. Typically lower risk.
Momentum – In contrast, the TradeKing Momentum program is more responsive to market ups and downs, and is only reviewed monthly for new investment possibilities. Typically a more volatile option.
Important note: Keep in mind that your TradeKing account can only be self-directed or managed. In other words, unless you open 2 different accounts, you won't be able to do both simultaneously.
Know Your Path Before Trading
Regardless of whether you choose a self-directed or managed account with TradeKing, remember that, by its very nature, trading is volatile. As such, you could stand to lose a lot of your hard-earned money in the stock market, even with TradeKing's fairly large reference library.
With this in mind, if you're new to investing, it's important that you research all your options before making a decision (HighYa is a great place to start!). In addition, the SEC outlines 10 things you should consider before making any investment decisions.
Other Online Trading Options
Also, as we alluded to above (and as you likely already know), you have dozens of viable online trading options at your disposal, including EmpireOption, WealthFront, Interactive Brokers, and many more.
However, what one investor finds to be perfect, another might find to be the worst platform ever. This is because, like any other product, what works for you might be terrible for someone else, which heavily depends on your overall investing goals, trading style, experience, and much more.
As such, it might take some trial and error to find the trading platform that best suits your needs, especially if you're new to trading, whether online or off.
Customer Feedback for TradeKing
Overall, among professionals and amateurs alike, TradeKing appears to have a mostly positive online reputation.
StockBrokers.com gave TradeKing a 4-star rating and claimed that they "offer clients a well-rounded package at a competitive price." NerdWallet noted that TradeKing continuously fares very well against firms like Schwab and TD Ameritrade, and offers the same essential tools as the larger companies, but at a much lower price.
Finally, InvestorJunkie sung praises for TradeKing, and claimed that, "For a discount stock broker, TradeKing is hard to beat."
However, despite TradeKing's positive online reputation, it's not all roses. This is because one of the top complaints we encountered was that their website is difficult to navigate, and that many of their tools aren't exactly user friendly. As such, if you're a professional trader using the website and tools all day, every day, this could present a pretty big stumbling block.
Also, while many reviewers noted that TradeKing's fees are in fact lower than the competition, this isn't always the case if you're trading mutual funds or penny stocks. If either of these are one of your top strategies, this means you might want to think twice about TradeKing.
From an industry perspective, TradeKing has also been well received, having been rated 4 out of 5 stars by Barron's 2007-2014, rated #1 trader community by stockbrokers.com 2013-2014, and named Innovator of the Year by Stockbrokers.com for 2013.
TradeKing Pricing & Fees
From a price perspective, one of TradeKing's primary claims to fame is their flat fee structure, which includes a $4.95 flat rate for stock and ETF trades with no account minimums, $0.65 option trades per contract, plus $4.95 base, and no advisor fees for your first year.
On top of this, if you switch to TradeKing, they'll currently cover up to $150 in transfer fees.
As you might imagine, you'll want to know all you can about TradeKing's pricing before signing up for an account, so we'd strongly recommend reading through their Rates page.
In addition to pricing, TradeKing promises to provide traders with top-notch customer support, including friendly brokers, "super short" hold times, and fast email response. On top of this, their website uses "industry-leading encryption technology to ensure a safe and secure web experience," and all of your trades will be covered by SIPC protection, as well as additional third-party insurance.
Should TradeKing Be Your Next Online Trading Platform?
Chopping to the point: When it comes down to it, between their flat fee structure, ultra-low pricing, primarily positive customer and industry reputation, and access to a large network of other investors, TradeKing seems hard to beat. And if you're new to the investing world, TradeKing's extensive research library and proprietary tools might be especially useful for getting your feet wet.
However, as with any other product or service, what suits one investor well may be the worst thing ever for another. So if you're thinking about joining TradeKing, you may want to use their platform for a short period of time before committing all your money.
Have you used TradeKing? If so, what did you think? Tell us (and 1.2 million HighYa readers) all about it by writing a review below!
2 out 2 people found this review helpful

They will steal your money

By Chimwemwe

,

Zambia

,

Dec 9, 2017
Verified Reviewer

I opened an account and started trading, deposited many times, then when I tried to withdraw some funds, I couldn't because the withdraw featured stopped working. I tried sending numerous emails to them but got no response. Then I tried using the live chat feature on their website and it connected then disconnected after few seconds, and then that feature equally stopped working. I gave up after a year of being completely ignored by TradeKing and lost all the money I had deposited, included the over $1000 I had made.

Bottom Line: No, I would not recommend this to a friend

---

2 out 2 people found this review helpful

Recent changes are bad

By Jason

,

Moses Lake, WA

,

Mar 21, 2017
Verified Reviewer

I have been with TradeKing for almost a year. I was lured in by the cheaper trades, which they still have and it is nice; however, they seemed to have recently changed policies that have been detrimental to my portfolio.

They raised the minimum stock value requirement to be able to short sell, and are now very aggressive on making a house call on your stocks if you buy on margin and they go down. This recently lost me about $400 which isn't a lot, but is money that I wouldn't have lost at many other competing firms.

Paying a few extra dollars for trades with a competitor is worth the safety of them not forcing me to sell my stock at a low point instead of giving me time to wait for it to go up to sell it.

If you plan on using a margin account, I would steer clear. Otherwise, the cheaper trades are very attractive.

Bottom Line: No, I would not recommend this to a friend

---

Advertisement

---