Tranquilo Mat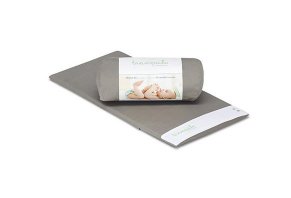 Summary
The Tranquilo Mat is a soothing tool for infants that mimics the feeling of being in the womb to help them transition through the "fourth trimester" of development.
Tranquilo Mat Review: Is It Worth It?
Tranquilo Soothing Mat strives to ease the first few weeks of a baby's life via a portable, vibrating mat meant to soothe your baby in her crib, car seat, and even in your lap.
A maternity nurse developed the Tranquilo Mat when she found that parents needed a better way to calm their infants during the "fourth trimester" of their development, which is defined as the first few months after birth.
The mat mimics the feeling of being in the womb for babies through three levels of gentle vibrations and two artificial heartbeat modes.
The Tranquilo Mat is meant for babies younger than four months. However, older children can still benefit from the mat when they are learning to sleep in a new crib or when away from home.
According to the website, this mat is battery operated and can last up to 60 hours. But, can the Tranquilo Mat really be used anywhere, and will it succeed in soothing fussy babies? Let's look at the facts to find out, starting with how to mat claims to calm them.
How Does the Tranquilo Mat Soothe Babies?
All babies go through periods of fussiness during their first few months, according to DevelopmentalScience.com. Newborns cry for three hours a day on average, and some are extra sensitive to sights and sounds.
The reason for this sensitivity is that fetuses develop in conditions where they are only exposed to low levels of noise from their mother's voice and heartbeat for months on end. Sounds in the outside world are less consistent, which can cause them distress.
Parents can help their infants feel safe and secure by swaddling them, holding them tightly, and taking other measures to limit stimulation. White noise is often helpful for soothing babies because it mimics the slightly distorted way that the world sounded to them while in the womb.
The Tranquilo Mat offers a more portable soothing solution than traditional measures, says the company website. The mat mimics the comfort that comes from other white noise machines, and it's designed to fit right in baby swings, strollers, and car seats.
But is it safe? Let's explore that next.
Is the Tranquilo Mat Safe for Young Infants?
According to the company website, the Tranquilo Mat is manufactured with phthalate-free, BPA-free, and lead-free materials and is entirely waterproof. It was thoroughly tested by a third-party laboratory in the USA and is designed to exceed all CPSIA testing and standards.
We want to note that the mat isn't designed for overnight sleeping because it adds extra bulk to cribs that can potentially lead to SIDS (sudden infant death syndrome).
Instead, the product website recommends that parents monitor their babies while they are on the mat and that parents wait for preemies to grow for a few weeks before letting them use it.
Are vibrations from the Tranquilo Mat safe for young children? The company states that there isn't clinical data available showing that vibrations could be harmful to babies, and vibrating baby products have been available for the past decade without any reported problems.
We can confirm from our research that their claim about a lack of clinical data (positive or negative) seems accurate.
Another potential concern is the noise generated from the Tranquilo Mat. The company contends that the mat produces white noise that's no louder than 65 decibels, while the sounds in the womb average 80 to 90 decibels.
How Much Does the Tranquilo Mat Cost?
At the time of writing, the Tranquilo Soothing Mat comes in two sizes: small for $69.99 and large for $89.99.
The small mat is specially designed to fit inside strollers and car seats, and it can be packed inside a diaper bag. The large mat is designed for cribs and playpens.
The company's return policy accommodates refunds and exchanges within the U.S., minus shipping costs and a $5 restocking fee.
To qualify, the product must be returned within 30 days of delivery and be in like-new condition with original packaging and all accessories, including the instruction manual and cardboard sleeve.
You need to contact the company directly if you want to initiate a return for a return authorization form.
Beyond the traditional sleeping mats, Tranquilo also sells a massager designed for babies. This massager is designed to calm infants with three rotating massagers that stimulate a mother's fingertips.
You can use the massager with or without the included wraparound belly band. The device will shut off after ten minutes of use, and it requires two AA batteries to run. At the time of writing, it's available on the company website for $39.99, including shipping.
What Do Customers Think of the Tranquilo Soothing Mat?
On Amazon, the Tranquilo Mat averaged about 3.5 stars after more than 160 reviews between both models. We found that users left mixed reviews.
Some reviewers mentioned that the vibration was too aggressive for their children and left them crying. Others said that their children stopped fussing when placed on the mat, and they fell asleep quickly.
There are also numerous positive reviews of the Tranquilo Mat on parenting blogs.
For example, on Simply Clarke Blog's review, writer Marquise Clarke mentions that her baby loved the mat, that it was convenient for traveling to relative's homes, and that older children seemed to like it as well.
Likewise, a review on Romper.com found that the mat's noises were far more pleasant to listen to than the songs that come from baby toys.
However, the reviewer expressed concern that babies might get too accustomed to falling asleep on the mat and might struggle to sleep without it.
Also, the Tranquilo Massager we mentioned earlier earns 4.2 stars after more than 80 reviews on the company website.
Many customers credited it with soothing their colicky babies, while others thought it didn't address the separation anxiety that was the real root cause of their baby's crying.
How Does Tranquilo Mat Compare to the Competition?
When it comes to helping newborns sleep more soundly, there are numerous products available to make the process easier.
White noise machines, swaddling clothes, and comforting stuffed animals are all solutions we found recommended on websites like Parenting.com, Babycenter.com, and TheBabySleepSite.com.
Each of these products is designed to mimic the conditions of the womb in some way, either by muffling outside noise or making the baby feel secure.
We didn't encounter any products precisely similar to Tranquilo Mat in our research. To make a meaningful comparison, then, we chose to look at the Marpac Hushh For Baby Portable White Noise Sound Machine and the Cloud B Sleep Sheep, because both products are designed to make noises that help babies fall asleep faster.
The Cloud B Sleep Sheep sells for about $24 and is a stuffed animal meant to soothe babies through eight different sound variations, including nature sounds, a heartbeat, and "Twinkle, Twinkle Little Star."
This toy has an almost five-star rating after 2,400 reviews on Amazon and is designed for newborns and older.
Online, parents raved about how quickly this toy put their children to sleep, though others found it difficult to replace its batteries.
Also, while the sheep was reported to work well for cribs, many customers stated that it wasn't practical for fitting in car seats, which made it inconvenient for getting babies to sleep while traveling.
Unlike the Tranquilo Mat, the Sleep Sheep doesn't vibrate, which might make a difference in how quickly it puts young children to sleep.
The Marpac Hushh For Baby, Portable White Noise Sound Machine sells for $27 and is a baby product that provides soothing sounds to an entire room.
This portable sound machine has three audio options to help block outside noise and ease the process of falling asleep. The device comes with a child lock to prevent kids from changing the volume, and it has an LED light to gently brighten a room.
The 2,800 Amazon reviews left from purchasers show that most parents are happy to have a noise machine that isn't directly touching their newborn, which can reduce the risk of any injury, and they appreciate the USB charging system.
However, others report finding it ineffective for soothing very young children.
When you choose a sleep system for infants, it's important to remember that other factors like nighttime routines, daily naps, and feeding schedules play a significant role as well.
If you're struggling to get your newborn to sleep consistently, the best idea would be to talk with your pediatrician to see if a tool like the Tranquilo Mat would be helpful.
The Bottom Line
Our research on the previously mentioned parenting websites has led us to believe that the Tranquilo Mat might be a good option for getting infants to sleep better because it safely mimics some conditions of the womb.
We didn't encounter any clinical studies during our research that prove the effectiveness of vibrations and white noise for putting babies to sleep.
However, we did find plenty of parents offering anecdotal evidence that devices like this can make a difference, especially in the first few months after birth.
At $70 and $90, the Tranquilo Soothing Mat is at a higher price point than the other products that we looked at.
However, it is the only product that can work in both cribs and car seats, and it provides the physical comfort that noise machines don't. If these factors are important for you, this mat might be an excellent product to try for your baby.
Customer Reviews