Transform :20 Workout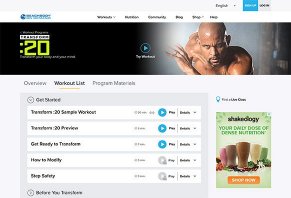 Is Shaun T's Transform :20 workout series worth signing up for VIP Early Access, or even an annual Beachbody on Demand Subscription? HighYa looked at the details to help you decide whether this workout program will help you meet your fitness goals.
About Transform :20 Workout
Offered by Beachbody on Demand, Transform :20 is a high-intensity, six-week workout and nutrition program designed to give you long-lasting results to tone your body and improve your fitness in just 20 minutes a day.
This step-based fitness program is led by Shaun T, a personal trainer who Beachbody on Demand claims has helped millions of people get in better shape through high-energy fitness programs such as FOCUS T25®, INSANITY®, CIZE®, and many others.
Transform :20 wasn't available at the time of writing, though the company website stated that VIP Early Access for the program would open on January 14, 2019, and that it would be available to all subscribers by April 1, 2019.
Is this a workout program worth committing to early? Let's look closer at the details to find out.
What is Beachbody on Demand?
The Transform :20 workout series is exclusively offered by Beachbody by Demand, a streaming service that provides hundreds of workouts from award-winning programs like P90X, Insanity, 21 Day Fix and more for streaming from your laptop, phone, Roku, Amazon FireStick, Apple TV, or other supported devices.
Beachbody on demand also offers subscribers access to program nutrition guides, workout calendars, and Beachbody On Demand exclusives like healthy eating cooking shows.
According to the company website, you can download up to five workouts at a time, though VIP early access (available for Transform :20 through April 1, 2019) only allows you to access one video each day.
How Does This Fitness Program Works
Beachbody on Demand tells us that the Transform :20 workout plan provides you with more than 40 different workouts designed to get results in minimal time each day. The program also offers a workout calendar and tracker to help you stay on top of what you've accomplished and maintain your progress, as well as a Beachbody Nutrition Guide to help you achieve your goals with a simple eating plan that contains easy recipes for cooking nutritious meals.
What are Transform :20 Workouts Like?
According to the company website, the six-week Transform :20 workout program is designed to boost your physical and mental fitness through high-intensity workouts that you are meant to complete six times a week. The plan provides you with a different exercise routine each day, and each is designed to work your core, legs, upper body and glutes.
This six-week program is split into three chapters: Commit, Climb, and Conquer, each of which lasts for two weeks. There are also two bonus workouts per chapter and six bonus weight-based workouts for those seeking extra challenge.
Beachbody claims that these workouts are less dance-focused than old-school step aerobics routines and instead focus on functional moves that sculpt glutes, chisel abs, and improve muscle definition.
When followed correctly, Beachbody on Demand states that you can expect the first five minutes of a Transform :20 workout to leave you breathless and that ten minutes will make you sweat and start watching the clock.
To push you to the max each day, each Transform :20 workout offers the opportunity to complete three 1-minute challenges to push yourself further, and the program provides behind the scenes extras each day to keep you motivated. While Beachbody recommends using a specialized tool known as 'the Step,' the program includes modification you can follow if you don't own one.
What does Transform :20 Cost?
The Beachbody website told us that the Transform :20 workout series will be available to all Beachbody on Demand members by April 1st, 2019. Membership for this service costs $99/year or $160/year with a 30-day supply of Shakeology portion-controlled workout shakes (more on Shakeology later).
Those who want earlier access can stream the program as soon as January 14, 2019 for an additional cost with VIP Early Access.
Not a Beachbody on Demand Subscriber? At the time of writing, Beachbody on Demand offered approximately a dozen purchasing options for the program, each at a different price point and with varying add-ons beyond the basic workout package. At the time of writing, the pricing ranged from $160- $444.95.
The company website states that buying any Transform :20 offer provides you with VIP Early Access to the Program as well as the program's full collection of digital materials (get Started Guide, Nutrition Guide, Six-Week Transformation Tracker, Wall Calendar and Hybrid Calendar).
Some bundles also include the Step, which comes with two sets of risers and is designed to help your body reach its full potential through each Transform :20 workout. At the time of writing, the Step wasn't available as a standalone purchase. While each exercise is designed to utilize the Step, a modifier is included for those to follow along who don't have it.
For those who are already subscribers to Beachbody on Demand, the company offers member add-on options for enhancing their Transform :20 experience, from VIP Early Access to opportunities for committing to Shakeology or Performance Supplements for additional subscription pricing. Those who want just the program without add-ons can sign up for the digital version of VIP Early Access to Transform :20 for a one-time cost of $49.95.
Transform :20 Return and Exchange Process
According to the company website, Beachbody on Demand is an annual subscription service, meaning that you will be billed $99 every twelve months for access to the program. This subscription can be canceled at any time, but you won't get a refund for any payments you've made.
For those who purchase the Transform :20 VIP Early Access membership or another program bundle, the brand offers a 30-day Money-back guarantee for all orders. All non-digital items must be returned to the company for refunds to be honored.
To cancel your subscription, you can make changes to your online account or contact the company directly at 1 (800) 470-7870.
What is Shakeology?
The Beachbody website also offers a health shake subscription program known as Shakeology, a premium superfood shake subscription that contains a daily dose of dense nutrition in the form of protein, vitamins, minerals, antioxidants fiber, probiotics, and other beneficial compounds.
At the time of writing, the company offered monthly Shakeology subscriptions for $129.95 (retail price) plus $2 shipping and handling. This provides subscribers with 30 shake servings, and their proprietary blend is meant to help you curb cravings, boost your energy and support weight loss. Subscribers can choose between numerous flavor options that range from single flavors, alternating flavors, combo flavors, 'Challenge Packs' and more.
Which Programs are Similar to Transform :20 By Beachbody?
There is no limit to the options for streaming workout videos today, so how does Beachbody on Demand compare to the competition? We contrasted the program with DailyBurn and FightCamp to see how each program stands out.
As we previously wrote, DailyBurn is a fitness website that claims to help you reach your fitness goals through expert-led workout videos, nutritional information, and personalized health information. The company offers over a dozen varieties of workouts, and you can gain access to the base program for subscription pricing between $12.96-$26.96 per month (the first thirty days are free).
This makes the workouts more expensive than Beachbody on Demand's price of $99/year, but the program seemingly offers more personalization for establishing an overall healthy lifestyle beyond exercising.
FightCamp, in contrast, is a workout series that focuses exclusively on boxing and other punch-based workouts. Subscribers gain access to all FightCamp content $39 per month, though other equipment like boxing gloves, a workout mat, and free standing bag are strongly recommended.
Which program is best? That depends on what you're looking for. Beachbody on Demand provides you with access to the broadest range of workout videos at the cheapest annual pricing, but you'll need to pay more for most features, including early access to the Transform :20 workout series.
A program like FightCamp is perfect for those who want to focus exclusively on boxing, but it might be cost prohibitive for those who only have a passing interest in the hobby. For those who want to sign up for a fitness subscription on a month-to-month basis, DailyBurn might be a better idea than Beachbody on Demand because you won't be locked into an annual pricing plan.
Our View: Does Transform :20 by Beachbody Sound Like a Good Workout?
While Beachbody's Transform :20 workout program hadn't yet been released at the time of writing, we found enough information available about the program online to conclude that it seems like a solid workout option for those who appreciate the Beachbody workout style. This six-week program promises to deliver a difficult workout, and the comments on the company website seem to demonstrate that early users got results.
While the program will be available for all Beachbody subscribers in April, those eager to make headway on their New Year's resolutions can access it as soon as mid-January 2019. If you're on the fence about whether this program makes sense for you, consider trying out the provided sample workout to determine whether it's a workout you want to commit to.