Transform It Reviews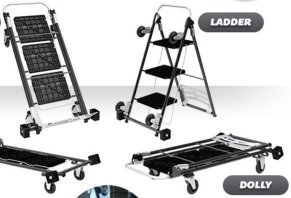 With 4-in-1 functionality and a 400-pound weight limit, Transform It is a multifunction pushcart and hand truck that makes moving, lifting, and climbing easier.
What Is Transform It?
Using a patent pending flip and fold design, along with ANSI certification for safety, Transform It is a 4-in-1 "do-it-all, move-it-all" wonder tool that promises to convert into a handcart, ladder, trolley, and dolly in seconds.
This way, the manufacturer tells us that Transform It is a versatile option that can hold up to 400 pounds and can make moving, lifting, and climbing around your home safer and easier than ever before.
And when you're done, simply fold it up for easy storage, and it'll take up less space than a broom.
All of us experience times when we need help lifting and carrying heavy items around the house, or a little boost for reaching high places. But can you expect Transform It to eliminate the hassle better than the competition? Is it really best in class?
You're here because you want more insight into Transform It before committing to a purchase. We'll help you make a more empowered decision by outlining what we learned during our research.
A Closer Look at Transform It's Functionality
Exactly how does each of Transform It's four functions work?
1. Four-Wheeled Dolly
Here, Transform It sits completely flat and rolls on high-end casters that promise to work well on wood, carpet, and concrete. We're also told in the commercial that it turns on a dime, so you can easily move around corners.
In this configuration, Transform It is ideal for transporting larger or heavier items like a couch or long, large pieces of lumber.
2. Four-Wheeled Trolley Cart
Similar to the four-wheeled dolly configuration, but with a handle. This makes it ideal for transporting bulky items like large bags of pet food, mulch, bricks, or potted plants.
3. Two-Wheeled Hand Truck
A heavy-duty upright configuration allowing you to move large, heavy items like water jugs, filing cabinets, banker's boxes, and larger appliances, even in tight spaces.
If you need to take a break, Transform It rests upright at what the manufacturer calls a "super convenient resting angle." This way, you might be able to start, stop, and take a break, without losing your load.
4. Three-Step Ladder
Finally, Transform It also works as a convenient three-step ladder with wide, deep steps for reaching closet shelves or cleaning high places. The built-in stabilizer bar prevents tipping.
Here, we can see each of Transform It's four configurations: handcart, ladder, trolley, and dolly. Image credit: Allstar Products Group
How much will you pay for all of these combined features?
How Much Does Transform It Cost?
Transform It can be purchased for three easy payments of $39.99 plus $29.99 S&H, bringing your total to $149.96. This is available as a single payment option as well.
All orders come with a free bonus collapsible carrying bag, along with a 30-day money back guarantee, less S&H, and a 10-year warranty against manufacturer's defects.
In order to learn more about Transform It's weight, as well as how much it might cost to ship it back to the manufacturer should you request a refund, we called Allstar Products Group's customer service at 866-708-6789. We were told their computer system didn't indicate a weight.
Now that we've outlined Transform It's functionality and pricing, how does it stack up against the competition?
Transform It vs. Other Convertible Hand Trucks & Multifunction Push Carts
Looking for something identical to Transform It? One that features all the same functionality and design aspects? We didn't encounter it during our research.
However, you can find several options that might offer relatively similar features and usefulness by searching online for different variations of terms like "convertible hand truck" and "multifunction pushcart." The HighYa team has even reviewed some of these, such as Worx Aerocart and Little Giant Xtreme Ladder.
Given all of these options, how can you choose the right option for your needs?
Since not all of these models feature the exact same functions, you'll want to start off by asking:
Which features are most important to you?
For example, if you can foresee yourself using it mainly to reach high places, a ladder-oriented design like Little Giant might suit you well. On the other hand, if outdoor gardening is your focus, something like Aerocart might fit better.
What about built quality and sturdiness?
When speaking with customer service, we also confirmed that Transform It's 400-pound weight limit applies in all four configurations.
Although we were sure to confirm this detail with the representative more than once, we might imagine this 400-pound weight limit applies only when in the four-wheeled dolly and trolley modes. Why?
Remember the competing "convertible hand trucks" and "multifunction push carts" we talked about earlier? Looking at a much bulkier model like this Multi-Function 5-in-1 Convertible Hand Truck, its hand truck position only delivers a 300-pound capacity, while the platform and dolly positions offer 400-pound.
Taking a look at something with perhaps a similar build level as Transform It, this Vestil Hand Truck only features a 225-pound limit, while this Cosco 2-in-1 model tops out at 300.
What's the point? If you're looking for something that can carry a decent amount of weight, Transform It might provide a solid option. But if load capacity is your number one factor, other options might deliver more bang for your buck.
What about the budget?
Speaking of which, you'll need to know how much you want to spend.
At about $60 (not including shipping), the Cosco model above is more than 60% less expensive than Transform it, although it features 50% fewer configurations. But again, if your main needs are a dolly and trolley, this added savings might be worthwhile.
In fact, even the Multi-Function 5-in-1 Convertible Hand Truck mentioned earlier comes in at $140, or $10 less than Transform It. And while it doesn't appear to be as compact as Transform It (we didn't test any of these models firsthand), it certainly appears much beefier, which could be ideal if longevity and load capacity are most important.
Our Final Thoughts About Transform It
Based on what we learned on the product's website and after speaking with an APG customer service representative, it seems like Transform It's 4-in-1 functionality and 400-pound weight limit in all configurations could provide a lot of value for your money.
But again, as we mentioned in our buyer's guide above, the value is highly dependent on your needs.
Given this, along with the fact that you'll immediately lose $30 in S&H if you're dissatisfied with Transform It's performance for any reason, it might make sense to explore all your options—both locally and online—before committing to a purchase.
Never got order

I ordered two of the Transform Its from the TV infomercial for an upcoming move, and two weeks after we ordered. We were sent an email that they were canceling our order because they did not make enough to fulfill their orders. How ridiculous! I better not be charged! Feels like a scam to me.

Bottom Line: No, I would not recommend this to a friend

---

Advertisement

---