Travelmate Suitcase Reviews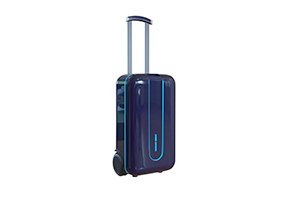 Featuring motorized wheels, artificial intelligence, and app connectivity, the feature-packed Travelmate Suitcase promises to help you travel easier.
What is the Travelmate Suitcase?
Called a "fully autonomous suitcase and robot," the TSA-approved Travelmate Suitcase wants to bring the same type of innovation experienced in the cell phone industry to suitcases—all aimed at making travel easier. How?
Combined with an intuitive smartphone app, the Travelmate Suitcase utilizes a whisper-quiet motorized system and Omni wheels that allow it to follow you around, whether vertically or horizontally. It can even carry or push your other luggage!
And with its dynamic artificial intelligence, Travelmate claims their suitcase can perform precision, on-the-fly adjustments that allow it to avoid objects or people who might not be paying attention (such as in a busy airport).
The multi-color LEDs on Travelmate's exterior also help signal to others what it's doing, along with an external speaker and audio cues. The integrated scale can tell you the weight of your luggage (before getting to the counter!), while the two USB ports can power your electronics and the magnetic smart lock can keep out prying eyes.
Clearly, from its artificial intelligence down to its ergonomic handles, the Travelmate Suitcase is feature-packed. But does this necessarily mean it's your best option? Is it worth the price—and the wait?
Before you order Travelmate Suitcase, be sure to read about what we learned during our research. After all, we're here to help you make an informed decision!
Let's start with the specifications.
The Nitty-Gritty Details About Travelmate Suitcase
Which Travelmate Models Are Available?
The Travelmate Suitcase is available in three sizes:
S Model – At 15.7" x 7.9" x 21.7", this model is sized to allow you to take it onboard a plane.
M Model – A medium-sized suitcase (19.3" x 11.4" x 27.2") that can be used for everything from road trips to flights.
L Model – At 20.5" x 12.2" x 29.5", this is the biggest Travelmate model.
Interestingly, no weights are listed for any of Travelmate's models. One person asked on their Facebook page, but there was no response from the company as of writing.
Regardless of the model, Travelmate Suitcases are made from ABS and polycarbonate and feature multi-colored LED lighting that acts as directional turning indicators (like a car's blinkers) and even signifies your suitcase's battery level. These lights can be customized or turned off through the app.
Whether in vertical or horizontal autonomous modes, Travelmate's suitcases roll on Omni wheels for use on many different types of terrain.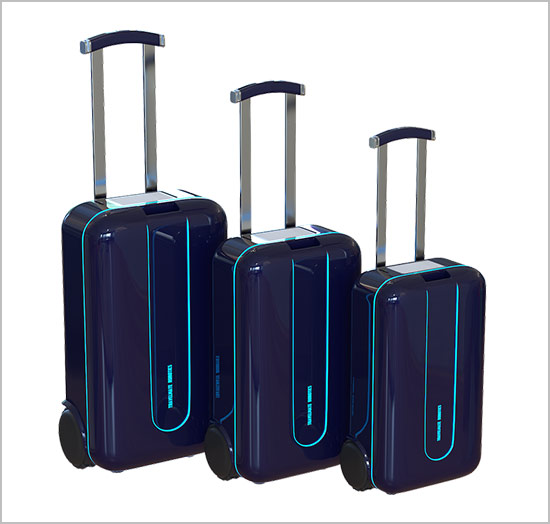 Upon release, the Travelmate Suitcase will be available in three sizes and six different colors. Image credit: Travelmate Robotics
What Will You Find on the Inside?
Travelmate tells us their Suitcase's removable 5V Lithium-ion battery can be charged quickly. You'll achieve about a 4-hour run time in full autonomous mode or 100 hours in standby.
The battery can be used to charge almost all electronics via a USB port, as well as a standard electrical outlet.
By communicating with your iOS (8.0 or later) or Android (4.4 and above) smartphone via Bluetooth, Travelmate's 4G/3G GPS chip shows you the location of your items at all times. Its GPS chip can even be removed and attached to other suitcases, or whatever else you please.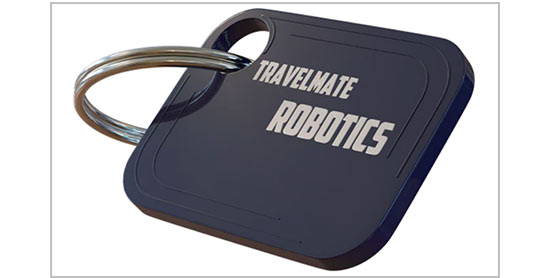 Travelmate includes two additional GPS chips with all Suitcase orders. Image credit: Travelmate Robotics
Finally, we're told that the electric motor and internal components take up almost no space in the Travelmate suitcase and account for less than 5% of its volume.
Despite this, it can move up to 6.75 mph (3.1 mph is the average walking pace), while the built-in accelerometer and gyroscope can dynamically adjust to the speed of the user, move through crowds, and navigate uneven terrain.
What Software Does Travelmate Use?
In addition to its initial programming, Travelmate tells us their Suitcase will constantly improve through machine learning; it will "essentially become smarter and smarter as time goes on and more people have Travelmate suitcases."
Eventually, Travelmate would like to add additional app features like travel suggestions, airport information, and gate information.
All code for Travelmate's software is completely open source, which means it can accommodate user modifications and eventually improve the suitcase "in ways that we can't even imagine."
Additional Travelmate Features
A mount is included in all Travelmate Suitcases that allows you to attach cameras or virtual reality-ready video hardware. And since its proximity sensors will follow you around, it can act as your very own camera operator. Here's a quick video outlining this feature:
Travelmate's handle isn't just ergonomic; it also turns into a portable desk that you can use for laptops, books, and documents.
Lastly, Travelmate added a speaker to their Suitcase that will (optionally) inform you of obstacles in its path.
Now, how much will all these technological features cost you?
How Much Does the Travelmate Suitcase Cost? What Are the Release Details?
At the time of writing, the Travelmate Suitcase was only available for preorder through the company's Indiegogo campaign:
S Model: $399
M Model: $495
L Model: $595
There were other combinations available, with perks as expensive as $1,195. All Indiegogo backers will receive the VR and standard camera holder at no additional charge.
After the campaign, the company notes they'll send an email to backers and request color preferences. Estimated delivery is June 2017 for Indiegogo backers and July 2017 for general retail.
We reached out to the company to learn more about refund and warranty information and will update this article as soon as a response is received.
Have additional questions? The company can be reached at info@travelmaterobotics.com.
How do these prices compare to the competition?
Travelmate vs. Other Smart Suitcases
While the Travelmate Suitcase certainly has many competitors, none currently feature the same robotic technology or artificial intelligence. Outside of this, how do they compare?
| Brand | Price | Dimensions | Weight | Features |
| --- | --- | --- | --- | --- |
| Travelmate | $399 - $595 | Smallest: 15.7" x 7.9" x 21.7" | Unknown | 3 sizes, AI, quiet motor, battery w/2 USB ports, polycarbonate shell, GPS tracking, LED lighting |
| Bluesmart One | $225 | 21.7" x 13.7" x 9" | 7 lbs | Unbreakable, 2 compartments (clothes/toiletries), battery w/1 USB port, nylon laundry bag, TSA-approved, combination lock, Hinomoto wheels |
| Away Carry-On | $225 | 21.7" x 13.7" x 9" | 7 lbs | Unbreakable, 2 compartments (clothes/toiletries), battery w/1 USB port, nylon laundry bag, TSA-approved, combination lock, Hinomoto wheels |
| Raden The A22 | $295 | 22" x 14" x 9" | 8.4 lbs | Polycarbonate shell, GPS location, built-in scale, battery to charge devices, TSA-approved, waterproof seal, combination lock |
Of these, only the Bluesmart (100-day return policy, 2-year warranty), Away Carry-On (guaranteed for life), and Raden's The A22 (free shipping and returns) are currently available.
What Do We Know About the Company Behind the Travelmate Suitcase?
Based on its features and design, the Travelmate Suitcase has rightly received a ton of press, having been featured in USA Today, CNN Money, The Huffington Post, and Yahoo Finance.
Since it's pending release, though, these were little more than reiterations of what's listed on Travelmate's Indiegogo campaign.
Speaking of which, Travelmate tells us that—unlike many other crowdfunded projects—their Suitcase isn't just a concept. Instead, what you see in the commercials is a real working model and the company is now raising money for distribution and large-scale production.
While this could reduce your chances of experiencing delays, this certainly doesn't eliminate it.
From a company perspective, Travelmate robotics is headed by President Leo Ryzhenko. Leo is currently also the CEO of SMP Robotics Systems Corp based out of San Francisco, CA, who specializes in autonomous unmanned ground vehicles.
Is Travelmate Suitcase Worth the Wait?
Although the Travelmate suitcase is priced meaningfully higher than many other smart luggage options, by adding a motor (along with the ability to follow you) and a camera mount, it seems like it could feasibly provide a different take on what it means to be a "suitcase."
Are these features worth the wait? Will it deliver on all its other promises? Like so many other crowdfunded projects, will you experience repeated delays?
While the Travelmate Suitcase is certainly tempting, only you can answer these important questions.
SCAM

By Alina G.

,

London, United Kingdom

,

Sep 19, 2019
Verified Reviewer

My father has placed an order over a year ago now (Summer 2018) as a present for me. The support team has been delaying the shipment for a year now saying that it will be shipped in 2-3 weeks but it never actually happened. Now they have stopped replying at all. The website only has an email and no contact number, which makes it impossible to reach to them. The bank is declining a refund. This is over $1k purchase and thus is so frustrating. I am really disappointed and did not even imagine that this can still happen in 2019. AVOID THIS SELLER AT ALL COSTS!

Bottom Line: No, I would not recommend this to a friend

---

Want money back!

By Del T.

,

United Kingdom

,

Feb 16, 2019
Verified Reviewer

Shame I have to even give a star! I have been waiting for my Travelmate Robotic since March 2017 and have lost the amount of times release dates have come and gone, keep getting the same story and no truth. I would love to get my money back if only I could get in touch with someone who works there, with no real way of contacting it's hard. Nothing but lies upon lies.

Bottom Line: No, I would not recommend this to a friend

---

Advertisement

---

Delayed more than 20 times. I have all the emails to confirm it.

By Chad W.

,

Sarasota, FL

,

Jun 7, 2018
Verified Reviewer

Travelmate has delayed the shipment of my suitcases more than 20 times now. At this point, I consider it a scam. Even if they eventually ship my units, their customer service is the worst I've ever dealt with.

A company that lies and doesn't deliver on promises will not be in business for long. Stay as far away as possible!

Bottom Line: No, I would not recommend this to a friend

---

Scam

Every month they promise that shipping is going to happen and then they slip it to the next month. They go to conferences, and I suspect they are faking the demos. You still can't get access to their open source software, which is very unusual for a product that is about to go live. You would want to make sure other programmers can give feedback. The fact that none of the machine learning software is available and yet open source is another red flag. It has been over one year and delays.

Bottom Line: No, I would not recommend this to a friend

---

Advertisement

---

Impossible to get in touch with customer service

The only contact is the info@travelmaterobotics.com email address, and there's no phone number to reach them. Once you pay for the item you wanted, there's no way to get a hold of them. Makes me wonder if this business is legit or a scam!

Bottom Line: No, I would not recommend this to a friend

---

Delay, delay, delay, oh delay

By Andi

,

London, England

,

Nov 3, 2017
Verified Reviewer

I was excited about this at the start, so I read about delays in crowdfunding projects, so I waited until May before paying, as June was the delivery date. Then delay, promise, delay, promise etc. Now I have been informed the delivery of November. What I'd put my last pound on, it will be a delay.

Bottom Line: No, I would not recommend this to a friend

---

Advertisement

---