Trim Reviews
Claimed This company has claimed this profile, is getting alerted on any new customer reviews entering this page, and may engage in dialogue with its customers to address their matters.

Companies cannot pay money or provide goods in order to remove or alter customer reviews.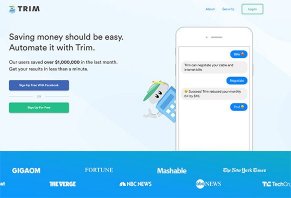 Consumers looking for a platform that can help them track spending and cut costs will enjoy the variety of data tools and bill/car insurance negotiation that new app Trim provides for its users.
About Trim
Trim is a financial tool that tracks your spending and subscriptions and will use their in-house methods to negotiate your cable bills and save you money.
The platform is very similar to Clarity Money in the sense that it provides you a good overview of what's happening with your finances. The main differentiator is the bill negotiation, something we'll talk about later in this review.
Trim was launched in 2015 by Thomas Smyth and Daniel Petkevich. Before Trim, Smyth worked at a couple of investment firms that focused on start-ups. Petkevich worked for The Climate Corporation, Octane Lending, and popular home-listing site Redfin.
According to an article from The Penny Hoarder, Smyth said he started Trim as a way to automate saving consumers money.
His mother had a Comcast account and he found out Comcast had been slowly raising her rates. Smyth talked with Comcast and saved his mom almost $40 a month.
That experience led him to believe he could build a bot that could negotiate with cable companies on your behalf, mainly because Comcast's online chat reps used scripted responses to negotiate with customers who were unhappy with their bill.
"My grandmother was overpaying by $35 a month for Comcast, because they had raised her rate a little bit each year for the past decade," Smyth said. "I negotiated my grandmother's bill (saving her $420 per year) and wondered if there was a way to do that automatically."
Does Trim really live up to the claims that it can save you money? How does the platform work? Those are questions that we wanted to answer in an effort to help you understand how Trim can help you.
Signing Up for Trim
Getting a new account with Trim is very simple. You can do it in less than three minutes and all you need to provide is your name and address, then sign into the financial account you want to link to Trim.
Using Trim: The Most Important Features
Your account page is split up into three different sections: tools, Your Wallet and Transactions/Monthly Charges.
Tools
In the tools section of your Trim account, you'll find three tiles that offer the platform's services. First, you have what's called the Comcast Defense tile. This is the tool you'll use to see if Trim's negotiating bot can lower your cable bill.
To use this tool, you'll have to provide Trim with your login information and the card you're using to pay for your cable bill.
According to Trim, they'll work on your behalf to negotiate your price. If they are able to win you a discount, then they'll take 25% of what you save each month. We signed up for the service but had not heard any updates when this review was published.
Here is a list of some of the cable companies that Trim could negotiate with at the time of publishing:
AT&T
CenturyLink
Comcast
Cox
DirectTV
Dish Network
T-Mobile
Verizon
Time Warner
Sprint
Google Fiber
As you can see from the list, Trim will negotiate with more than just cable companies. They'll also try and talk mobile and internet companies down.
Another tool Trim offers is a car insurance optimizer. This works in the same way that a car insurance aggregator functions. It searches various insurance companies to find you the lowest rates.
In order to get Trim to find your best rates, you'll have to provide Trim with the login information for your auto insurance account.
The final tool in this section is the ability to customize your "Personal Alerts". This section is similar to the alerts you set up with your credit card or bank account. You have the option of choosing which alerts you get and the transaction amount that triggers the alert.
Here are the following transactions that can trigger alerts:
Payday
Overdraft fee
Late fee
Balance update
Credit card usage
Large transactions
Trim also gives you the option of sending alerts when your checking account balance drops below a dollar value you set.
Your Wallet
This section is where you keep track of your checking, credit card and savings balances associated with the bank account that you linked.
Each one of the balances included in this section has a sub-menu where you can check out the account's balance over time, spending on the account and the ability to hide the account from view.
Keep in mind that the "balance over time" feature won't pull up balances from before you started your Trim account. It needs a few days of data to populate the graph.
When you click on "spending on this account", you'll be moved to the Transactions/Monthly Charges section.
Transactions/Monthly Charges
This section shows you all the recent transactions you've made because it defaults to the Transactions tab. The Monthly Charges tab shows you the recurring charges you have: Netflix and Hulu are examples.
The real power of this part of Trim is the "See More" button, which takes you to a pop-up that allows you to see your transactions one of four ways: most recent, largest, merchant and category.
When we clicked "Category", we saw a five-category list: other, shopping, groceries, restaurant and income. We appreciate that Trim separated shopping from groceries but we think the categories are still too broad.
Granted, Trim isn't meant to be a budgeting tool which is why, in our opinion, the Category section is pretty basic.
Pro tip: Trim also gives you the ability to cancel a subscription.
Public Opinion About Trim
Much of what we read about Trim came from other review sites. Since the platform doesn't have an app, there was no wealth of consumer information available through iTunes or Google Play.
The other sites we browsed repeated the information we have here – that Trim tracks your spending, can negotiate your cable bills and has the ability to cancel unwanted subscriptions.
How Trim Compares to Clarity Money
As we mentioned in the beginning of this review, Trim is very similar to another spend-tracking platform called Clarity Money.
The two apps basically offer the same types of tools for tracking your spending. They let you know which transactions have taken place, which categories those transactions were a part of and which accounts you used to make the purchases.
In our opinion, the main differences between the two platforms are:
Trim does the automated bill negotiation for you
Clarity has a better Dashboard – you can access more metrics
Clarity has an app
Trim's notifications are more customizable
Trim claims to find you lower car insurance rates
Our Final Thoughts About Trim
We live in a time when most consumers want an automated, easy way to track their finances. A new crop of financial tech companies has sprung up offering apps that do just that.
Trim is one of those apps and, based on our research, we think it does a great job of offering consumers an easy-to-use platform through which they can see where their money is going, which subscriptions they have and how much they're spending across a variety of categories.
As we said earlier, Trim isn't meant to be a budgeting app. So, don't expect it to offer you an intuitive tool for organizing your spending.
Trim is more like a doctor telling you what your overall health is at any point during the day, whereas a budget is like a dietician who is telling what types of food you need to eat, which foods you need to cut back on and what's possible for you if you can make changes in what you eat.
The advantage to Trim giving you an overview of your finances is that it combines a lot of different tools into one platform. You don't need a car insurance site and you don't need to haggle with your cable company. You don't need to log into your bank's website to check your balances on your checking savings and credit cards. Everything is in one place.
As for downsides, Trim doesn't have a mobile app and this could be a deal-breaker for some consumers. If it is, then we suggest checking out Clarity Money. The app won't negotiate your cable bill or find you lower car insurance rates, but it has pretty much everything else.
Updated review

2/14/2020 UPDATE

By Erinn W.

,

California

,

Feb 16, 2020
Verified Reviewer

Trim decided to respond to the above review 10 months after I posted it and this is my response to them.

For everyone to see, they posted the same crap answer they gave me when I was having issues with them of basically to give it time to take effect.

When I was discussing everything myself with Sprint, the price lowering happened IMMEDIATELY, not several months later. I had everything in transcript form with Sprint that verified there was no record of any negotiation that happened anywhere near the time frame that Trim had claimed there to be. In fact, the only negotiation on record was the same date and time that I had spoken with Sprint.

Trim thought it necessary to respond to this review not only 10 months after I posted it, but also still continuing to claim that they were valid in trying to charge me more money for services not provided (adding up to $60 total). They have awful customer service and this is exactly why I had them refund all my money in the first place and cancel my account because they were not honest.

There were conversations with Trim where they said one thing in one email and then within the next few emails, they claimed no one had said it. If I didn't keep the detailed records of every conversation I had with both Trim and Sprint, and if I didn't check my bank account as often as I did, I would be screwed out of at least $60, plus I would be paying more for my phone bill on top of it. I literally had to send screen-shots of "their own emails to me* that I had highlighted what they had said to me.

TL;DR Amendment to my original review would be to FLAT OUT to not use this service.

Bottom Line: No, I would not recommend this to a friend

Previous review
Apr 24, 2019

Fraudulent charges

I signed up for Trim and the service surprisingly worked for lowering some of my smaller bills, which was great. Then it moved on to "save" me money on Sprint, $120 for the whole year, and charged me $30. I was ok with that, until I realized they were going to charge me another $30 for the same savings 4 months later. I looked into all of my accounts and found out they didn't save me anything on that first sprint bill. I got transcripts from Sprint, bank statements, previous emails, receipts of charge, etc. to prove they didn't do anything and were fraudulently charging me. Two weeks of back and forth emails and me threatening to take them to court, and the issue was resolved and my account was deleted.

If you use this service, you still need to be COMPLETELY aware of your current bills, bank statements, and charges. It can help to some extent, though.

Feb 14, 2020

We completed a negotiation for this user on October 11, 2018, but found out that the savings promised by Sprint was not honored. We became aware of the issue when the user wrote to our support desk on March 14 for the first time, and we refunded the fee we charged on the same day that she let us know about the issue.

We heard from the user again on April 6 after sending a notification that we needed her to update her payment method on file for a more recent negotiation. The user let us know that she negotiated the savings on her own. We communicated with her that it could happen that we negotiate something (sometimes the same thing) at the same time or shortly after a user makes changes on their own. Whether the user negotiates, or Trim does on their behalf, it often takes the provider a little while to process the changes to the account so the reps that helped us both may not have known about a recent, already-negotiated rate or promotion that was already given. We requested some more information from the user to verify what happened and we waived the success fee on the second negotiation on April 15.

The user also asked us to delete her account which we have done.

(

read more

read less

...)

---

Messed up Comcast bill, charged me, and wouldn't reverse it

By Tim S.

,

Cottage Grove, MN

,

Dec 17, 2019
Verified Reviewer

They attempted to renegotiate my bill with Comcast and messed it up, causing unwanted equipment to be sent, which I had to go return. I had to call Comcast myself and fix my account. That's fine. But when I contacted Trim's customer support to tell them that, they wanted documentation that Comcast never sent. Any attempts to tell Trim that were met with silence. Next thing I know, Trim is claiming they saved me $400 and are gonna take $100 of it. I've disputed the charge with my credit card and filed a complaint with the BBB.

DON'T USE THIS SERVICE!

Bottom Line: No, I would not recommend this to a friend

Feb 11, 2020

This user sent in 5 emails to our support desk since November 19 regarding a negotiation we completed on his Comcast bill recently. He let us know that the savings we reported back to him was incorrect and said that he had to call Comcast to undo the changes we made. The agent assisting the user responded on November 21, requesting that all we needed to resolve the issue was a confirmation (or a screenshot of the changes) so that she could request approval for a refund. We did not hear back from the user.

The agent followed up again on Nov 22, Nov 25, Nov 27 and on Dec 2 let the user know that we are closing the ticket for no response. The user opened a new support request on Dec 2 letting us know again that Trim messed up the account and we responded on December 3 with details about the negotiation, showing the user what we negotiated and also that we stayed within the user preferences selected when the user enrolled the bill. We also let him know that all we needed to conclude the issue was something showing he has made changes since our negotiation. There was again no response from the user, and the agent closed the ticket again on December 9 to which the user responded in his ratings feedback that we were not getting his responses.

The user opened another support ticket on December 9. At this point, first we first established that the user was receiving our messages, and once we were sure he did, showed him screenshots of our previous messages to him and again let him know that all he needed to do was to forward confirmation that the plan had been changed after our negotiation.

The user sent the screenshot we first requested on November 21 to us on Wednesday, December 11 and we processed his refund the following day.

We trust the issue has been resolved, but the agent that has been assisting the user throughout will touch base again next week to make sure that the refund has been received.

---

Advertisement

---

Raised my phone bill and charged me for the privilege

By Nathan W.

,

Virginia

,

Nov 11, 2019
Verified Reviewer

I signed up with Trim thinking it was a clever idea and a cool service. I have used account managers for some of my businesses with similar business models (they get you reimbursed and take a portion of the recouped amount for themselves).

I was pretty happy when they informed me they lowered my Verizon family plan by about $40/month, charging me $160 or so for the fee.

Until I realized they hadn't actually saved me anything. They basically switched us to a new plan that was $40 more expensive but with a $40 discount applied. So basically it is a wash (actually the bill is about $2/month higher) and stole the $160 fee from me.

Absolutely disgraceful company.

Bottom Line: No, I would not recommend this to a friend

Feb 12, 2020

We negotiated $483.12 worth of yearly savings on this user's Verizon bill on October 11, 2019. The user wrote to our support desk on November 7 letting us know that his bill is higher instead of lower. We immediately escalated the issue but when attempting to follow up with Verizon, we needed additional information that the user refused to share. As a courtesy, we issued a full refund on the success fee.

---

Overcharges, ruined my wireless plan - spent money using Trim!

By Jonathan E.

,

Colorado

,

Sep 17, 2019
Verified Reviewer

I went with Trim to track down some recurring charges. If you're looking to wipe some forgotten monthly charges, DO NOT USE THIS SERVICE! I ended up letting them "negotiate" my Verizon plan, this is where it all went to crap.

Basically, they claimed to have saved me $16, so they charged me over $70 one month claiming that they negotiated my bill. Well, as it turns out, they didn't negotiate anything. They just called and changed my plan. Which invalidated a legacy promotion that can't be placed back on the account, and invalidated me from reentering at the old plan.

All in all, they raised my Verizon bill $32/month, which makes no sense. They saved me $16, but when I refuse their service, suddenly my bill goes up DOUBLE what was saved? Interesting.

I can't get any of the promotions back and am currently in the hassle of trying to get credits for the extra charges they incurred onto my account.

0/10, do not recommend.

Bottom Line: No, I would not recommend this to a friend

Feb 12, 2020

We negotiated a yearly saving of $219.56 for this user on April 9, 2019, but on April 30 he let us know that instead of getting savings, his bill will higher by $90 a month. In our follow-up with Verizon, they confirmed the savings we negotiated and confirmed the user's bill would not be higher. We communicated this to the user, who then let us know that his plan was downgraded. We escalated the issue again and reverted the user's plan and also refunded the success fee we charged in full. The user responded the next day asking us to stop making and further changes to his all associated accounts because we caused a $140 prorated charge. We followed up with Verizon again who assured us the user would not be charged $140.

Four months later, we heard from the user again on September 9 asking to be reimbursed for the extra money his Verizon bill would cost. We showed the user that we had already reimbursed him in full on April 16 and asked him to forward us his bill showing the additional charges. At that time, the user had already deleted his Trim account and we needed additional information to be able to follow up to get the issue resolved, but the user did not respond to our messages after that.

We recognize that things went wrong during this negotiation and apologized to the user. We would still like to invite him to reconnect with us through our helpdesk if the issue is still not resolved, with the information we need to move forward. His deleted account poses a hurdle that we can't overcome unless he helps us with some information so that we can reach out to Verizon again.

---

Advertisement

---

I know nothing about finance and Trim has educated me more in finance than 2

By Charles O.

,

Whitefish Bay, WI

,

Sep 5, 2019
Verified Reviewer

I have a million things to say that are positive about Trim but I'll only say a few. They have helped me understand how to budget even when I don't know what I'm looking at. Kevin, my personal finance advisor, has made budgeting simple. My schedule is very very busy and by utilizing Trim it has made life not so busy when I come home and not have time to manage anything except a shower, dinner, and bed.

The Trim team has guided me verbally and taken my interest to heart and have helped me come out of a bad slump I was in for years and just barely surviving.

They are a new company and there was an issue with the website I was having but they are in constant contact with me about the updates to see if the problem is fixed. Customer Service is serious to them and I do thank them for being responsible for their product unlike other companies who put you on hold when they find out you already use their product. (In those cases, I just hit the new customer button instead of waiting 40 minutes on the line to talk to someone named bob from India.) At Trim I get a response within 24 hours...actually sooner but it just depends on when I have time to get on my phone or the internet.

Either way; their customer service is outstanding; the staff is amazing and I am in a good position now financially even though life has thrown a curveball at me thanks to Kevin. I am now prepared to handle this storm. If you are reading this review, give it a chance and utilize the platform for what it is. I have and have been nothing but happier every day for making the decision to get help/advice.

Bottom Line: Yes, I would recommend this to a friend

Feb 12, 2020

Hi Charles, we're so glad to have been able to help. Thanks for leaving us a review. We look forward to finding you more savings!

---

Trim messed up my Optimum services big time

By Lee F.

,

Norwalk, CT

,

Aug 30, 2019
Verified Reviewer

Trim worked fine renegotiating my Optimum cable bill twice. Yesterday, however, they blew it. They lowered my bill by canceling services that I want and need, like my subscriptions to HBO, Showtime, and my TELEPHONE. So they wrote that they are saving me $56 per month, but they took away services to save money. It is IMPOSSIBLE to get hold of anyone in customer support, especially on a weekend, so it looks like I'm going to have to straighten it out with Optimum and then make sure Trim doesn't bill me for the amount they said they saved. I have no idea why they did not ask for my approval first and I can't find any settings in my account to account for this, but be very, very careful if you use this service - don't let them do anything without your permission.

Bottom Line: No, I would not recommend this to a friend

Feb 13, 2020

We completed a negotiation for this user on August 22. The user's preferences were set that we could accept plan changes on his behalf but we made no changes to his plan.

However, the user let us know the following day (a Friday) that there was a problem with the negotiation, but as the user noted, we have limited support over weekends, and we responded to the user on August 26 (Monday). The user let us know the same day that he has reverted any changes and we let him know on August 27 (the very next day) that we have waived the fee.

There are human beings on both sides of the negotiation process, and therefore there is always the potential for something going wrong. Although we can't guarantee that things will always go perfectly, we do work very quickly, as we did for this user, when a negotiation has errors. We hope that the user accepts our apology for the mistake and trust that the issue has been fully resolved.

---

My Comcast bill went up!

By Kim C.

,

Lancaster, PA

,

Aug 30, 2019
Verified Reviewer

I already have budgeting and account tracking, so I signed up for Trim for the bill negotiation. At first it seemed great - my Verizon charges were slightly reduced and I had a pretty nice credit to my Comcast/Xfinity bill. After a few months, Trim went for a second round of negation and my Comcast bill is now $20 more per month, with no change in service. Would have been better just leaving it alone!

Bottom Line: No, I would not recommend this to a friend

Feb 14, 2020

We are sorry to hear that this user experience increases in the Comcast bill. Unfortunately, we are not able to find any support requests in our system for the user but when looking into our system, we find three successful negotiations last year in which we were able to negotiate some one-time credits for the user in March and April.

We had more attempts to find some savings until the user deleted their Trim account last year.

Trim has no affiliation with any of the service providers to be able to control when they will issue increases and unfortunately we can't guarantee that we will find savings at every negotiation. What we do promise is that we work very hard to find savings and are always looking for ways to lower the bill.

We would welcome another opportunity to work on some savings for this user if she would like to enroll her bill into the service again.

---

Amazing!

By Melissa S.

,

Connecticut

,

Aug 21, 2019
Verified Reviewer

Amazing service. I just sit back and let them negotiate my bills. They have saved me hundreds of dollars! They monitor my spending and report to me daily. I am very happy. Love it. Great service, highly recommend!

Bottom Line: Yes, I would recommend this to a friend

Feb 12, 2020

Hi Melissa. Thank you so much for the positive review. We are thrilled that we have been able to save you some money!

---

Wish I would have read these reviews before I signed up

By L R.

,

Pennsylvania

,

Aug 7, 2019
Verified Reviewer

I'm very disappointed in this service. The credit card negotiation was completely useless, and I didn't receive any savings at all. First of all, I didn't see the success rates until after I paid which is unfortunate because I'm not sure I would have signed up knowing that this was the rates. I at least would have liked to know before choosing to pay.

Not only that, the advisor sent me a Google form to fill out which already contained all the information I put in the Trim app. I didn't want to waste my time refilling the information, but then when my advisor called, I had to tell her all the same info again. Really inefficient.

The noise was so bad on the call and my advisor spoke so quietly I could barely understand her, and neither could any of the banks. It was really embarrassing. She was basically reading from a script, that she then sent me. I was expecting more of a trained person who understands cards and knew the nuances of each company and was able to use that to remove fees or lower APRs, I could have called myself and read from a script.

Also, before she even called any of the banks, she warned me that asking for credit line increases or mentioning hardships can cause creditors to hit your credit score or close your card, neither of which were mentioned in the sign up process so that was 50% of the services I was interested in, gone.

I think there should be way more transparency in this service and product. Show the limitations and be honest with the level of expertise the reps have. Provide a quiet location for them to work. I was really excited for this service as I'm trying to aggressively pay down debt and it looks like I am better off on my own.

Bottom Line: No, I would not recommend this to a friend

Feb 13, 2020

We are very sorry to hear that this user had a poor experience. Without much identifiable information with the review, we can't look into this deeper to see what has transpired, but it doesn't sound like the type of experience Trim strives to create for our users. We are so sorry things went wrong.

We want to invite the user to write our support desk help@asktrim.com if there is anything more specific that we could assist with.

---

Worst experience ever!

By Steve L.

,

California

,

Jun 13, 2019
Verified Reviewer

There is NO customer service with this company...so if you have a problem (which I do) you can only email them and wait 1-2 business days. While I did that over 2 days ago, they still went ahead and "negotiated" a bill for me, after writing to them NOT TO. Now they've charged my credit card for their percentage, but the bill (Verizon) I had already negotiated myself. Now they seem to be taking credit for that. I DO NOT RECOMMEND Trim. So, now I've filed a dispute on my credit card, but who knows what will happen. I am about ready to hit the Better Business Bureau to see if there is any recourse I can take there. Bottom line: STAY AWAY.

Bottom Line: No, I would not recommend this to a friend

Feb 14, 2020

We completed a negotiation for this user on May 28 but heard from the user a few days later that he believed the credit was for some services they recently canceled. We received the request on a Friday and responded to the user the following Monday, letting him know how to proceed when we potentially negotiated at the same time or for the same credit. We didn't hear back from the user about the message we sent, but the user opened another support request a few days later, saying that he had disputed the charge. At that point, we had already established that the savings we negotiated were not related to the services the user canceled, and the negotiation was successful. However, as a one-time courtesy, we refunded the success fee a week prior to this review.

---

Careful with 12-month commitments. Immediate expense without savings.

By Ralph M.

,

Sunnyvale, CA

,

Jun 11, 2019
Verified Reviewer

Mixed results. Happy to pay the 25% for negotiated savings immediately effective, such as a discount for an internet outage.

Be careful if they "negotiate" a 12-month agreement. You will be billed right away before actually realizing the savings over 12 months. This means, additional expenses and no savings for a few months. I contacted customer service by e-mail but did not get a reply.

Bottom Line: No, I would not recommend this to a friend

Feb 14, 2020

We are very sorry to hear that this user had a less than ideal experience. Looking into our system, though, we are not able to find any support requests for this user. Unfortunately, without much identifiable information with the review, we can't look into this deeper to see what has transpired, but we are very sorry that the users didn't have a great experience using Trim.

We explained during the signup process how it works. In short, with Bill Negotiation, we negotiate savings on your behalf on an ongoing basis and if we manage to secure you some credits, we keep 33 % of the yearly savings. The success fee is charged to the credit card the user enrolled in bill negotiations, usually within a week after a successful negotiation and the credits will post to their account in the first two billing cycles following the negotiation.

We also include this information in the confirmation email the user receives after signup. We are sorry that the process was not clearer at signup. Should the user cancel their service with their service provider before getting the full year's savings, they just need to forward us the cancellation confirmation (or their final bill) and we will refund the appropriate portion of the success fee affected by recurring credits.

We want to invite the user to write our support desk help@asktrim.com if there is anything more specific that we could assist with.

---