Trimino Infused Water Reviews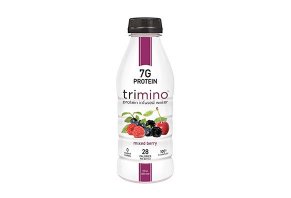 With 7g of protein per serving, along with a variety of amino acids and B vitamins, Trimino Infused Water claims to provide a delicious alternative to boring water.
What Is Trimino Infused Water?
Trimino Infused Water is a low-calorie drink that contains 7g of whey protein isolate, essential amino acids, and B-Complex vitamins the manufacturer claims can replenish muscle, boost your energy and endurance, reduce appetite, and deliver hydration that the human body needs to perform effectively.
And with flavors like Peach, Mixed Berry, Strawberry Lemonade, and Coconut Pineapple, the company tells us that drinking Trimino instead of regular water will help break the monotony. You also won't have to resort to caffeine or worry about gluten or lactose.
With their recent success, it's clear that Trimino's protein-infused water has found a largely untapped niche within the sports drink marketplace. But before handing over your hard-earned money, you want to know more, which is exactly what we'll help provide here.
Your Quick Reference Guide to Dietary Protein
What is protein? Proteins are complex molecules made up of hundreds or thousands of smaller units called amino acids, the sequence of which determines the protein's structure and function. Like what?
Why is protein important? Proteins are responsible for innumerable important functions within the body, related to the immune system, as messenger molecules, as structural components, and for the transport and storage of different substances.
How much protein do you need? For adults, the recommended dietary allowance (RDA) of protein is 0.8 grams per kilogram of body weight per day. So, if you weigh 150 pounds (68kg), you would need a little more than 54g of protein on a daily basis.
Is this what most Americans get? In other words, are we largely deficient in protein?
According to VeryWell.com, even in light of supplements and drinks like Trimino, "Many experts believe that most of us get more than enough protein daily. In fact, some believe the average sedentary American eats about 50 percent more than the recommended daily amount…"
Given protein's importance in the human body, if someone doesn't get enough, though, it can lead to side effects like fatigue, dizziness, irregular heartbeat, weight loss, and muscle weakness, which is something you'll certainly want to avoid.
What about Trimino Infused Water? Other than protein, what other ingredients does it contain?
What Ingredients Are Found In Trimino's Infused Water?
According to the nutrition facts labels posted on the product's website, each 16 fl oz bottle of Trimino contains:
Total Fat - 0g
Total Sugar - 0g
Sodium - 55mg
Total Carbohydrate - 0g
Protein - 7g
Vitamin B3 - 100%
Vitamin B5 - 100%
Vitamin B6 - 100%
Vitamin B12 - 100%
Phosphorus - 16%
Specifically: Purified water, whey protein isolate, phosphoric acid, malic acid, natural flavor wonf, acesulfame potassium, pantothenic acid, niacinamide B3, sucralose, pyridoxine HCl, cyanocobalamin B12.
Continuing with our example in the previous section, at 7g of protein per serving, Trimino Infused Water provides about 14% of your daily allowance (Note: Keep in mind this number will change based on your weight, along with your activity type/level).
Whether obtained through Trimino or another source, all eight B vitamins help process carbohydrates and play an important part in helping your body maintain energy throughout the day.
Specifically, vitamin B3, or niacin, plays a role in gland and liver function, heart and skin health, cholesterol maintenance, and overall brain and body health. Vitamin B5 (pantothenic acid) helps manufacture red blood cells, keep the digestive tract healthy, and synthesize cholesterol.
Vitamin B6 helps the body make neurotransmitters, maintain brain development and function, and manufacture the hormones serotonin and norepinephrine, while B12 plays and important role in nerve and blood cell health, as well as in making DNA.
Unlike what we learned about protein, the Environmental Working Group indicates that anywhere between 0.1% and 15% of the US population is deficient in at least one of the B-Complex vitamins (primarily among adults 19 and older). As a result, supplementing with something like Trimino might, in those instances, provide some tangible benefits—just be sure to speak with your doctor beforehand.
Could You Experience Any Side Effects From Trimino Infused Water?
We didn't encounter any side effects related to these ingredients and in the dosages provided in Trimino, although since we learned that most American already get enough protein, consuming too much over long periods of time could lead to calcium loss, weight gain, dehydration, and kidney problems.
Pro tip: To help, Trimino provides a fairly in-depth protein calculator on their website.
The National Institutes of Health tells us that taking too much vitamin B (as a whole) for a year or longer can lead to some fairly severe side effects like nerve damage, painful skin patches, sunlight sensitivity, nausea, and heartburn.
How Much Does Trimino Infused Water Cost & Where to Buy?
Trimino is available through dozens of different retailers in most parts of the country, where your exact price could vary. Directly through their website, though, you'll pay (all prices are for a pack of twelve, 16 oz bottles):
Coconut Pineapple: $23.99
Mixed Berry: $23.99
Peach: $24.99
Strawberry Lemonade: $23.99
Variety Pack: $25.99
Similarly, your refund policy can vary depending on the retailer. There weren't any refund details listed on Trimino's website.
Trimino's customer support department can also be reached at 203-453-0090.
Based on these prices, are Trimino's customers reporting a solid return on investment?
Trimino Customer Reviews
On Amazon, Trimino Infused Water had an average rating of 4.7 stars, based on nearly 400 customer reviews at the time of our research. There, most compliments appeared to reference great taste, beneficial ingredients for health, and ease of use when on the go.
Of the few complaints, most seemed related to high price and unfavorable taste.
Outside of this, we only encountered direct feedback on independent blogs who received free samples in exchange for a write-up. Most seemed positive, though, and mirrored many of the compliments found on Amazon.
From a company perspective, the product is manufactured by Trimino Brands Company, LLC based out of Branford, CT, a division of Miami Bay Beverage Company. Neither was listed with the Better Business Bureau as of 5.7/17.
According to the About page on their website, Trimino was founded by three fathers who bonded over their kids' lacrosse games, and "who had a desire to bring to the market a true functional beverage that not only is great tasting and refreshing but also healthier than the current alternatives on the market."
Does Trimino Infused Water Have Any Competition?
While protein-infused water might sound like a novel concept (it certainly did to us!), the fact of the matter is that there are several other popular brands on the market, including Protein2o Water, BiPro Water, Optimum Nutrition Protein Water, PROBALANCE, and TruSouce. How do these compare to Trimino?
| Product | Price (as low as) | Protein Content | Other Active Ingredients & Amounts | Calories |
| --- | --- | --- | --- | --- |
| Trimino Infused Water | $23.99-$25.99 (12, 16oz bottles) | 7g | Vitamin B3 100%, Vitamin B5 100%, Vitamin B6 100%, Vitamin B12 100%, Phosphorus 16% | 28 |
| Protein2o Water | $15 (12, 16.9oz bottles) | 15g | Sodium 100mg, Carbs 2g | 60 |
| BiPro Water | $54.99 (12, 16.9oz bottles) | 20g | Sodium 170mg, Calcium 2% | 90 |
| Optimum Nutrition Protein Water | $37.99 (12, 16oz bottles) | 20g | Sodium 20mg, Total Carbs 1g | 80 |
| PROBALANCE Protein Water | $44 (16, 16oz bottles) | 15g | Sodium 25mg, Potassium 150mg, Vitamin C 100%, Vitamin D 100%, Vitamin B12 1,250%, Chloride 2% | 70 |
| TruSouce | $8 (four, 16oz bottles) | 20g | Sodium 20mg, Total Carbs 1g | 80 |
How to choose the right one for you? It largely depends on your specific wants and needs. What do we mean?
For example, depending on where it's purchased, Protein2o water could provide the lowest per-serving price, while options like BiPro, Optimum Nutrition, and TruSource offered the most protein content.
Focused more on the lowest amount of sodium? At 25g, PROBALANCE was the lowest, while BiPro contained the most at 170mg. Calories? Trimino was way ahead of the competition, with Protein2o coming in a distant second.
Finally, from an availability standpoint, Protein2o could be found at many local Walmarts, Trimino at dozens of popular retailers, and many other brands through Amazon.com.
Competition notwithstanding, where does all of this leave us when it comes to Trimino?
Our Final Thoughts About Trimino Infused Water
For easier reference, let's break this section into individual thoughts.
Do You Need the Protein Found In Trimino?
Let's cut right to the chase. Interviewed for a WebMD article, Steven Heymsfield, MD, a professor of medicine at Columbia University in New York City and the Obesity Research Center at St. Luke's-Roosevelt Hospital, noted:
"There's no reason for healthy individuals to consume protein in amounts above the recommended levels."
Taking this advice and considering the fact that the vast majority of Americans already consume 50% more protein than we need from the foods we eat, authoritative websites like WebMD tell us that the inherent benefits for otherwise healthy individuals might be limited to hydration.
What About Trimino's B-Vitamin Complex?
As we discussed earlier, while we're told that many more Americans potentially experience vitamin B deficiency that protein deficiency, the latter's number is still limited to about 15% of the adult population.
So, if you're among the one in 15 who are experiencing side effects like weakness, a smooth tongue, vision loss, or depression, we'd recommend speaking with your doctor about whether or not vitamin B supplementation (whether through Trimino or another vitamin B-specific supplement) might help address them.
Despite its meaningfully higher price per dose cost than encapsulated vitamin B-only supplements, though, it seems positive that Trimino Infused Water is low in sodium and contains no calories or carbs.
Ultimately, Trimino's main claim is that their protein-infused water "replenishes muscle, increases energy & endurance, curbs appetite, and provides hydration." But based on everything we've covered in this article and learned from authoritative sources like WebMD, it seems that—outside of hydration—it might deliver the most prominent benefits for those who are deficient, with little-to-none for those who aren't.
Also, it's important to keep in mind that the whey protein found in supplements like Trimino is often absorbed the fastest, while casein is absorbed more slowly (great for repairing tissue while sleeping), pea protein might be idea for those who have allergies or sensitivities to dairy or egg proteins, and beef protein contains high levels of creatine and BCAAs, without fat or cholesterol.
Before you go, be sure to tell us (and consumers all around the globe) about your thoughts regarding Trimino Infused Water in your review below.
See Also: What's in Your Sports Drinks? A Guide to Ingredients and Who Should Be Drinking Them
Help with weight loss

Since I hit menopause my weight soared over 80 pounds. I have struggled to get enough nutrition, while keeping calories low and staving off hunger. Two of these a day between meals has been a huge help. I'm hitting my protein goals, and able to eat a healthy diet. They taste good and no nasty aftertaste. The monk fruit sweetener doesn't bother my system like sucralose did. Hooked on berry and citrus.

Bottom Line: Yes, I would recommend this to a friend

---

Helped when sick

By Ella L.

,

Massachusetts

,

Jul 22, 2019
Verified Reviewer

I recently became very sick and knew that I also had worked out a bit too much without eating well and probably was deficient in electrolytes, protein, and some other things. When I dragged myself to the store, I bought a number of things supposed to replenish. I got one of these on sale for about 2.50. It was the first one I tried, asking with some food, and it really did make me feel less dizzy, nauseated, tired, and sick quickly.

I don't get these types of drinks often, but I'm going to go buy a pack of these. I wouldn't drink them all the time but think when in need of these things and around workouts, they may be a good idea for me.

Bottom Line: Yes, I would recommend this to a friend

---

Advertisement

---

Great drink

By Rita S.

,

Rowlett, TX

,

Dec 13, 2018
Verified Reviewer

Looking for something to drink other than plain water, tea or soda, I came across this drink. I read the bottle and bought several flavors. The first one I tried was the mixed berry. It was great. I can't wait to try a different flavor tomorrow. This will be my go-to drink for now own. I am just glad there is something out there to drink other than plain water, tea or soda. I wish I had tried this sooner. I will highly recommend it to my friends.

Bottom Line: Yes, I would recommend this to a friend

---

Great taste

By Kelley O.

,

Syracuse, NY

,

Sep 14, 2018
Verified Reviewer

Like another reviewer, while waiting by the deli, I grabbed a bottle instead of the normal water. I'm not a big water drinker and know I should drink more, but the flavor of this (coconut/pineapple) was amazing. I wasn't thrilled about the price, but liked it so much I bought a 12-pack on Amazon. It's perfect with some, but not too much, protein and vitamin B. Great for a pick-me-up at work or to take to the gym. I hope it becomes less expensive and easier to find.

Thanks.

Bottom Line: Yes, I would recommend this to a friend

---

Advertisement

---

Trimino - great!

By Sandra T.

,

Wilbraham, MA

,

Jul 9, 2018
Verified Reviewer

In a hurry and standing in a check out line, I grabbed a bottle. It was cold and I had not seen it before. NOW, I can't remember where I bought it! But, I do want to add that I enjoyed the Strawberry Lemonade flavor and would like to get more. I have been on a low carb, low fat, low sugar (or no sugar) food plan since March 1, 2018. I have been enjoying a protein powder smoothie each morning with fruit and greens added, along with plain yogurt and almond or coconut milk. This is a great afternoon "pick me up" drink! This fits in with my food plan, I just need to get it checked out with my PCP because it contains Sucralose. I am not sure of the percent and if it will affect my A1C and glucose numbers. I have lost 27lbs on the food plan I have been following and would hope that I will be able to add this to my list of foods, in my FitBit Flex tracker.

Bottom Line: Yes, I would recommend this to a friend

---

Trimino is perfect for those who had the sleeve gastrectomy procedure.

By Rachel

,

Boston, MA

,

May 10, 2018
Verified Reviewer

I love Trimino! Recently I had a sleeve gastrectomy, and my doctor and nutritionists recommended I get 60 g of protein and 64 fluid oz in my diet daily. With a new stomach the size of a golf ball, I can't eat and drink together. Trimino helps me get my 64 fluid oz in and helps add up my daily protein quota. I have found that it can be a bit too sweet, but adding spring water helps.

Each day around the bewitching hour of 3-4 pm I drink my Trimino/spring water with ice, and it helps me say satisfied and full of energy until dinnertime. This also helps me only have to consume one Trimino bottle a day since they are pricey for water. I can only find them in CVS for $2.50 each, sometimes I can get them on sale $2.00. I would buy more if they had them in the grocery stores.

Bottom Line: Yes, I would recommend this to a friend

---

Yummy!

By Lynette W.

,

Oxon Hill, MD

,

Mar 27, 2018
Verified Reviewer

A coworker told me about Trimino and its benefits. One day she brought me the Peach flavor and I loved the taste. I read that it had zero sugar and was happy about that, so I plan to try some of the other flavors.

Bottom Line: Yes, I would recommend this to a friend

---

No longer available on Amazon?

By W J Flora

,

Norwalk, CT

,

Jun 15, 2017
Verified Reviewer

I purchased Trimino Protein Water from Amazon and received it last week. My daughter and I think it's great and I'd like to purchase more. However, I see this morning that it's no longer available on Amazon! What happened? Was the issue with the retailer, or with the product itself? If it's not an issue with the product itself, I'd like to know where to purchase. Thank you!

Bottom Line: Yes, I would recommend this to a friend

---