TripTogether Reviews
Claimed This company has claimed this profile, is getting alerted on any new customer reviews entering this page, and may engage in dialogue with its customers to address their matters.

Companies cannot pay money or provide goods in order to remove or alter customer reviews.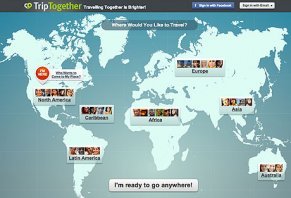 TripTogether is an online social travel website that allows users from all over the world to find a traveling partner, invite others to experience their hometowns, and to share their experiences.
About TripTogether
In business since 1993, TripTogether is a social travel site that helps you "meet a trip companion for every trip," and to share your travel experiences with the world. The company claims to have helped 300,000 travelers across 11,000 cities and more than 200 countries.
TripTogether is owned by Deroche Investments, though neither is listed with the Better Business Bureau, and online information about the company is essentially non-existent. Regarding the website specifically, the most common complaints we encountered during our research included fake profiles attempting to scam other users, and that using the website regularly can quickly become expensive. Despite this fact, TripTogether appears to be enormously popular in the social media sphere, and has more than 18,000 Facebook likes and 2,200 Twitter followers.
How TripTogether Works
With more than 50,000 current members, TripTogether is a website that helps you connect with travel enthusiasts just like you from all around the world. The site claims to help you "learn about the planet" right from the source—local word of mouth—which allows you to get away from your guidebook, and into the minds of the locals.
According to the website, TripTogether provides four primary services. These include the ability to:
Find a traveling partner, regardless of where you'll be visiting.
Entertain guests from around the world, and to show off your hometown.
Meet locals while you're visiting a new town.
Share your travel experiences, and help others to learn from them.
With this said, it's important to note that even though the website can be used for many different purposes, it's set up more like a typical dating site than one where you'd exchange traveling information.
To create your TripTogether account, simply enter your name and email address, and then choose a password. Alternately, you can set up your account by signing in through Facebook. Either way, you'll receive one free offline message, and three free minutes of live chat (see more about this in the Pricing section) after signing up. You'll also gain immediate access, and can begin listing personal information such as your age, nationality, gender preferences for travel partners, uploading photos, and more. If you're planning a trip, you can also list your destination and the dates under the "Trips" section. Because the ultimate goal of most TripTogether users is to travel to another country and connect with someone they met on the site, safety should be your number one concern. As a result, the company will not allow you to list your personal contact information in your public profile, and strongly recommends getting to know someone well before handing this information over. In addition, you can always contact their Travel Welfare team at support@triptogether.com for advice. Other than these relatively minor "safety nets," your personal safety is largely up to you.
After you've signed up for an account, simply click on the TripTogether home page, where you can begin browsing other users' profiles. You'll first need to click on the area of the world that you're interested in visiting, which will then list other users who would like to travel to the same region or country. At the top of the page, you'll see text that reads, "I would like to travel to [country] with a man or a woman 18 years and older." If you click on the "Change" button directly to the right, you can then filter which gender you prefer, their age, as well as individual countries within each continent.
After you've found a user that you're interested in contacting, there are two ways to accomplish this: offline messaging, and live chat. Either way, this will require credits, which are explained in the Pricing section below. Once you speak to another user via live chat, they'll be added to your contact list, so you can easily reach out to them again in the future.
Finally, if you're on the go a lot but would still like to have access to TripTogether, you can also download their mobile app. However, this is currently only available for iDevices.
TripTogether Pricing & Refund Policy
Similar to AnastasiaDate, signing up for a basic TripTogether account is free, but if you'd like to utilize the site's full potential, you'll need to purchase credits. As such, the pricing structure is as follows:
20 credits for $16 ($.80 per credit)
160 credits for $96 ($.60 per credit)
1,000 credits for $400 ($.40 per credit)
According to the TripTogether website, one credit will buy one offline message, or one minute in live chat. As soon as you run out of credits, your credit card will be automatically charged the same amount as your previous purchase. However, if you'd like to prevent this from occurring, you'll need to contact customer service at support@triptogether.com. Also, if you'd like to automatically receive updates whenever a new member joins, it will cost you an extra $5 per month.
Downloading the TripTogether app is free, though—just like the website—you'll need to purchase credit packs in order to get in touch with other members.
Pros:
Social website that helps you to find a travel partner, and to share travel information with users from around the world.
Claims to have helped 300,000 travelers in 11,000 cities, and across more than 200 countries.
Positive social media presence.
In business since 1993.
Cons:
While the site can be used for many different purposes, most members seem interested in romance. So unless you're also interested in this, there are probably better sites to meet traveling partners and to share your travel information.
As with nearly all other dating and social relationship sites, TripTogether has a reputation for including a lot of "fake" profiles – scammers looking to make money. In fact, you can just scroll through the profiles on the site's homepage and quickly identify which are likely scams, and which are real.
No phone number to reach company – only email.
All correspondence is credit-based, which can become expensive very quickly.
Excessive amount of "over-positive" reviews were received on our website for this product that were immediately red-flagged and blacklisted.
See also: Watch Out for These 6 Red Flags When Dating Online
Pimps paradise

By Maslo D.

,

Portland, OR

,

Jan 7, 2019
Verified Reviewer

All the models are fake. They have no jobs, no pictures, and no travel experience. As a traveler, these models are unknown in the areas they claim they're from. Not even the police know who they are. I've also seen triple profiles, with the same person.

I'm not sponsored by any competitor to say this, but the site is a disaster. Just create a profile with a woman and you get men making solicitations for sex instantly. The site is run by pimps who want to get women.

Bottom Line: No, I would not recommend this to a friend

---

Don't waste your money

By John H.

,

Canada

,

Sep 26, 2018
Verified Reviewer

All you have to do is ask any of these "models" to put up a quick selfie in a certain position, and 99% can't do it because they are all fake profiles. They just want your credit card.

Bottom Line: No, I would not recommend this to a friend

---

Advertisement

---

Clan of Ukrainian girls

Italy

,

May 13, 2018
Verified Reviewer

A real clan, very organized with photos of passports, false tickets, banks, all fully counterfeit. And after having jailed them, they will never come. One of these girls, Svetlana Shishova, is a true deceitful one. Attention to the Ukrainians.

Bottom Line: No, I would not recommend this to a friend

---

Stay away!

Gauteng, South Africa

,

Jan 18, 2018
Verified Reviewer

I was trying to sign up with YourTravelMates when somehow TripTogether's payment for membership popped up. I ended up signing up with TripTogether in error. I have now sent numerous emails to their support (since this appears to be the only way to cancel your membership) to cancel my membership and I haven't received one response as yet. There is an automatic monthly renewal on one's membership. If TripTogether so much as take one cent from my bank account after sending numerous emails to cancel my membership, I will investigate as to how I can proceed with legal action.

This is definitely a scam to get your banking details and continue deducting funds from your bank account! The payment page looks extremely legit but clearly isn't. STAY AWAY from this site at all costs!

Bottom Line: No, I would not recommend this to a friend

---

Advertisement

---

Scam

I joined the site to find people to travel with and was (shortly after me joining) told that I had won money and in order for me to get it I would need to pay shipping fees. Then I got one guy who sends me photos and when we Skyped, he sounded more like a Nigerian than a German. When I requested to see his face on video cam, he refused and said his Skype doesn't allow it! Don't trust this site whatsoever!

Bottom Line: No, I would not recommend this to a friend

---

Popular scammer place

Catfishing is very popular. I was unable to find a real Travel Companion. A lot of members are looking for marriage. As I log in, I receive hundreds of short messages from beautiful girls (in the picture) asking for email or hangout. Many of them are not girls but people from Ghana or Nigeria ready to send you the usual letter requesting money. Be careful, stay away from this site.

Bottom Line: No, I would not recommend this to a friend

---

I like it

By Ail Omar

,

London, England

,

Aug 31, 2017
Verified Reviewer

I like TripTogether to chat with people I am interested in. I'd like to go on a trip together with friendship and good personality. Any country, I don't mind. I just like to be friendly with people. I hope I can get someone in TripTogether. I will be happy.

Bottom Line: No, I would not recommend this to a friend

---

Total Scam

By Donny Walker

,

Seattle, WA

,

Jul 23, 2017
Verified Reviewer

I just have to reiterate what has already been said by just about every reviewer here, the website is a total scam.

As with most dating sites these days, this one is filled with bogus profiles from scam artists in Nigeria, Ghana, and the Ukraine who try to bleed you out of your money. As the old saying goes, "If it sounds too good to be true, it usually is" and this website is no exception. The site is filled with profiles of super hot females who will reach out to you as if they are interested in companionship, but ultimately at some point will ask you for money so that they may travel to where you live and be with you (Yeah, right).

Don't waste your time navigating this website and PLEASE, BY ALL MEANS, do not waste your money by subscribing.

Bottom Line: No, I would not recommend this to a friend

---

Fake profiles, beware!

By Wayne

,

Tampa, FL

,

Jun 29, 2017
Verified Reviewer

99% of profiles are in Ghana, Africa asking for money or getting into your accounts. Stay away from this site! Fake!

Bottom Line: No, I would not recommend this to a friend

---

Avoid this website

By D F

,

South Africa

,

Mar 31, 2017
Verified Reviewer

I didn't realize this was a dating site. The fact that it is a dating site doesn't particularly bother me, however, within a matter of hours I started getting emails from yourtravelmates.com, using the email I had signed up with on TripTogether. They were just handing my details out to 3rd parties. This is despicable!

Bottom Line: No, I would not recommend this to a friend

---

Avoid at all cost

By Stephen

,

Melbourne, Australia

,

Jan 28, 2016
Verified Reviewer

Registered, then presented with payment window preventing me from moving any further. Couldn't read the FAQ's, or policies, or what I'd be getting for my money. Emails to the help desk resulted in canned responses of no benefit whatsoever. Had to email to delete my registration. Have read multiple reviews of the site since and relieved I didn't waste my money.

Bottom Line: No, I would not recommend this to a friend

---