TripLog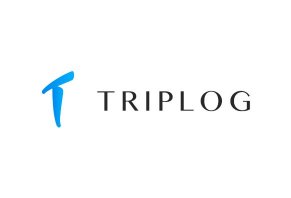 Summary
Employees, freelancers and business owners can use TripLog to track the miles they drive for business, business-related moves and medical-related trips. The app's low fees make it a great deal for the thrifty.
TripLog Review: Details, Pricing, and Features
TripLog is a mileage-tracking app specifically created to help freelancers, self-employed, and regular employees track the miles they drive for business.
The app is one of several in the mileage-tracking space that was created to make life easier on workers who, in the past, had to write down their mileage on forms and spreadsheets.
Because these types of apps are created specifically for tax purposes, they present a lot of value to anyone who drives for business and doesn't get compensated by their company for those miles.
The trick isn't so much getting a mileage app as it is finding the right one. This review of TripLog will help you figure out if the app is the right choice for you.
How TripLog Works
To understand how the app works, we tried the free version of TripLog.
Signing up for this app literally takes seconds. You provide them with your email address, password, name and where you are located.
That information is sent to TripLog's cloud and, once they receive it, you'll be asked how you want to track your miles. You have a few different options:
Magic Trip: In-app tracker that automatically detects trips
Bluetooth: Uses your car's Bluetooth to know when you're driving
Plug-N-Go: Plugs into USB; tracks when car is going faster than 5 mph
Manual: You tell the app when to start tracking
OBD-II: Syncs with phone and sends tracking data
iBeacon ($19.99): Tracking device you plug into a USB outlet in your car
TripLog Drive ($79.99): GPS-enabled tracker you plug into your 9V carport
The easiest option here is MagicTrip because you don't have to buy any extra devices. Tracking takes place through your phone.
Using a device that plugs into your car saves your phone's battery because it doesn't have to use resources to track your trip.
After you choose your tracking method, you'll be asked to enter the car you'll be driving and the odometer reading.
Once your account is set up, your trips will be logged. Within the app, you have the ability to view all kinds of data about your driving and your expenses. You also have the option of tracking your fuel consumption by adding how much gas you buy.
The app's menu even has a page where you can see the reimbursement/deduction rates for business, moving, and medical trips.
Test Drive
I took a few test drives to get a sense of how the app works.
First, it really is automatic. Once you start driving, you get a notification that the app is tracking your trip. Unless you've chosen to manually enter your trips, TripLog calculates your mileage, taking into account any stops you make.
For my test drive, I drove to a gas station and Dollar General near my house. The app notified me when the trip started.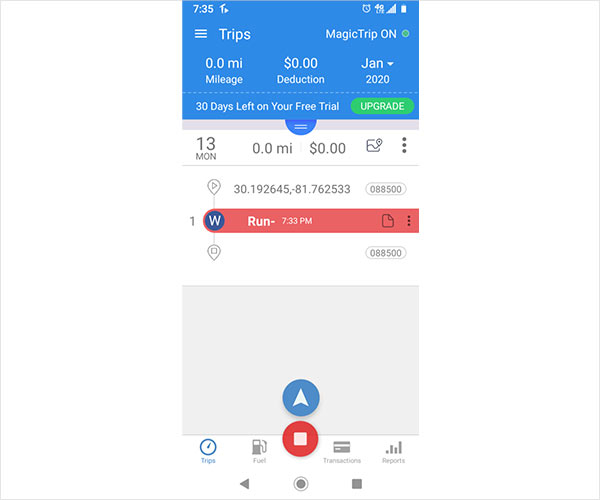 My first impression was that the trip classification is a bit confusing. Instead of using tiles that show the mapped trip you took, you get a list-style presentation that lists waypoints.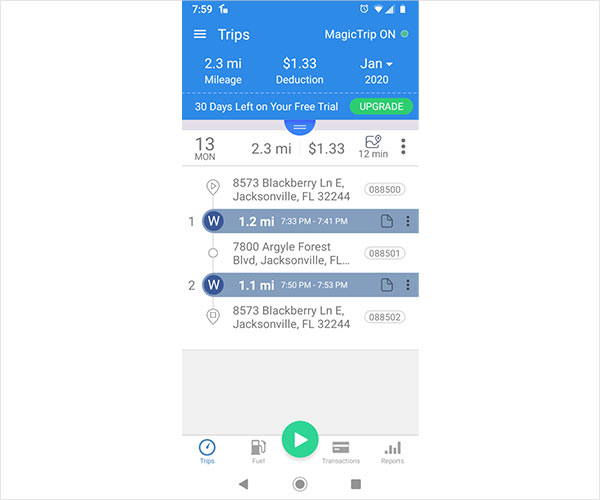 Once the trip is done, you classify it by tapping on one of a series of round buttons with designations like "Personal" or "Commute."
What's missing is the ability to swipe a trip left or right to classify it as a business or personal trip. This lack of a swipe function could be frustrating if you only take business or personal trips.
However, if your trips include non-work-related deductible things like charity, moving or medical, you'll enjoy how you can pick a specific category each time you classify a trip.
The second thing I noticed is that the app lets you make changes to your trip on the fly by tapping the "Edit" option you get when you expand the notification that tells you tracking has started.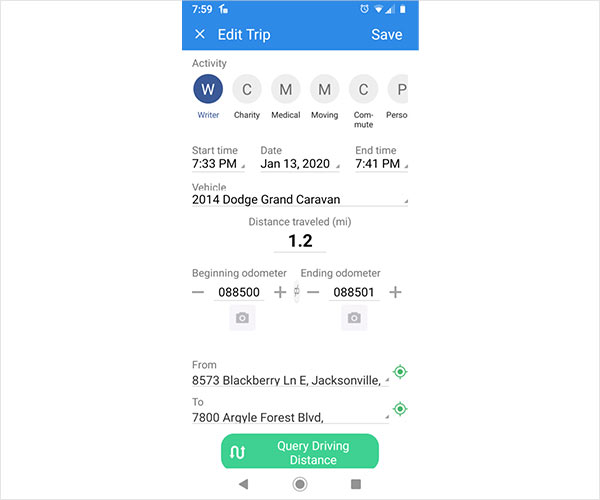 The edits available are: choosing the purpose of the trip (business, charity, medical, etc.), the vehicle you're using, the beginning odometer reading and adding tags and notes to further classify the trip.
Based on our experience, we believe that TripLog offers all the necessary edits and customizations you'd need to be as precise as possible about trip data, including mileage.
Pricing and Features
Free
The free plan allows you to add up to five vehicles to your account and does not limit the number of trips you can take. You'll get the ability to add expenses, too.
However, this version has some distinct limitations:
App only (no web dashboard)
No automatic tracking
No cloud backups
No receipt importing
No IRS reports
We see this version being good if you don't take many business-related trips and you aren't forgetful.
If you take dozens of business trips per month, you may forget to turn tracking on and off every time you start or end a drive.
Also, since you can't print IRS reports with this package, you'll need to record daily or weekly mileage totals via a spreadsheet or by hand. This is a distinct disadvantage if you need IRS reports of your mileage.
Professional: $4/month
With the Professional plan, you can choose from the six different tracking methods.
You also get the following significant upgrades over the free version:
Automatic daily backup to the cloud
Take photos of business-related receipts and store them in the cloud
Route planning
Customized IRS-compliant mileage reports
This package is excellent for you if you drive often for work. Your app gives you the ability to automatically track trips, which means you don't have to worry about forgetting to turn the tracker on.
Also, the route planning feature will give you recommendations for the fastest routes between up to eight destinations. This feature is useful if you're a delivery driver who has tight time constraints and often takes multiple deliveries at once.
Professional Plus: $6/month
Professional Plus gives you all the features of Professional plan and a series of tools that would be a great fit for business owners who want full business expense tracking:
An accountant dashboard
Transaction import from bank accounts
QuickBooks & Xero integration
We see this package being most effective if you don't have any accounting software and need a single solution for tracking your miles and expenses.
For example, the accountant dashboard is web-based and allows you to quickly edit trips and track expenses. Managing all this on your phone would be cumbersome, which is why the browser dashboard is key.
TripLog vs. MileIQ, Everlance, and SherpaShare
| | TripLog | MileIQ | Everlance | SherpaShare |
| --- | --- | --- | --- | --- |
| Free version | Yes | Yes (40 trips/mo) | Yes (30 trips/mo) | No (two-week free trial) |
| Paid version cost | $4–$6/mo | $5.99/mo or $59.99/yr | $8/mo or $60/yr | $5.99–$10/mo or $59.99/yr–$120/yr |
| Manual tracking | Yes | No | Yes | Yes |
| Expense tracking | Yes | Yes | Yes | Yes |
| Swipe-based trip classification | No | Yes | Yes | Yes |
| iTunes average rating | 4.7 | 4.6 | 4.9 | 4.5 |
| Google Play average rating | 4.7 | 4.4 | 4.2 | 4.4 |
Each of the mileage tracking apps has its own unique nuances but, in general, they have many of the same features. This can make choosing the right app pretty difficult.
As you work through your decision, consider the following factors, as they'll help you narrow down your choices:
Do you need expense tracking in addition to mileage tracking?
Could you be consistent with manual tracking?
How many trips do you take per month?
Knowing the answers to these questions helps you see if a free version would suit you best, or if you need a more complex set of features to fine-tune your business accounting.
» For Further Reading: The Best Mileage Tracking Apps
Analysis of Customer Reviews
TripLog gets an average rating of 4.7 stars from more than 6,500 reviews in the iTunes and Google Play stores. This overwhelmingly positive feedback should give you confidence that the app does what it claims to do.
In addition to the overall rating, we found specific trends in the reviews.
Common compliments:
Automatic tracking works efficiently
Helpful customer support
Easy to learn
Common criticisms:
Mileage tracking isn't always accurate
Automatic tracking can get glitchy
Takeaways
Based on our analysis of customer reviews, we believe that TripLog's automatic mileage tracking will be all that you need in order to track your trips.
However, if you run into problems with your app's automatic tracking or inaccurate mileage readings, try the iBeacon device. It circumvents your phone's mileage tracking and uses your car's movements to track mileage instead.
The Bottom Line
TripLog's affordable monthly fees and breadth of features make it an effective mileage and business expense tracker.
The app's strengths and weaknesses make it a great choice for some people and not a great choice for others.
Who It's Good For
You Want to Track Business Expenses and Mileage: The app's ability to upload photos of receipts, and import bank and credit card transactions on top of its mileage tracking means you'll have all your expense tracking one place. This can make life much easier for you during tax season, as you'll have all your deductible expenses at your fingertips.

You Only Need a Mileage Tracker: TripLog's free version gives you unlimited trip tracking, making it a great fit if your only goal is to track miles. Remember, though, that you'll need to keep track of the total miles you've racked up, as you'll need this number when you claim mileage deductions.
Who It's Not Good For
You Want Easy Trip Classification: The lack of a swipe-based classification system means that you'll need to tap on your trip, then search for the appropriate trip type and tap it. This classification method isn't quite as convenient as swiping left or right.
Customer Reviews
Posted on Mar 1, 2019
Outstanding app
The app is very easy to use. I have been using the app for the past three years to track my mileage, and it has been such a help, pricing for the mileage app is very reasonable, and has paid for itself multiple times. I enjoy that it is very easy to use. At the start of 2019, I started using the financial sync, and it syncs all of my credit card transitions so that I just have to mark business or personal, snap of a picture of the receipt and it is stored with the transition. It has become a very useful and very easy way to manage my expenses. I would recommend this to everyone that operates a small business.
Bottom Line: Yes, I would recommend this to a friend
Posted on Jun 21, 2018
iBeacon
Ok, here goes. I drive for Uber, Lyft, DoorDash, Postmates and Amazon Flex. When dealing with my tax accountant, my mileage was the biggest red flag for the IRS. So tracking devices here I come. I did like what Ted recommended and D/L'ed a few tracking apps. It didn't take long to realize that TripLog stood out, WAY OUT. Very simple, very user-friendly.
So I purchased an OBDii device. It works great. So much so that I have it connected to my card OBDii diagnostic port 24/7/365.
When my mechanic has to do an OBD diagnostic check, he unplugs my tracker. Now I have to pair it again. So I had a solution. On Amazon, I purchased an OBD "Y" connector, allowing me to plug two OBD devices at once. It works like a charm. My mechanic can now diagnose my car without having to remove my TripLog tracker. This was around 2016.
This year (2018), a text/email from TripLog told me about the iBeacon. I loved what I read and ordered two iBeacon. One for my son (delivering pizza while in college) and my daughter who just started working for WAGS (dog walking service). My bad! Two iBeacon is NOT enough. My wife wants one, and my friend wants one (Christmas gift).
Bottom Line: Yes, I would recommend this to a friend
Posted on Apr 5, 2018
Absolute need for Road Warriors
I absolutely love this app! I wish I had used this one when I first started doing Lyft/Uber/Amazon. Believe me, you need all the tax deductions count doing this kind of gig. I tried using Hur*** and Mi****. There were missing logs, and start/end were missing as well. All were used/activated the same way of using it.
I also liked the reporting of trips and expense tracking. It's absolutely great to see the stops along the way to help you remember/edit which trips apply.
For all drivers out there, you definitely need to keep track of your mileage to make all your hard work count. This one is really worth considering. I hope the developers continue to improve and maintain for the good of all. Be safe everyone.
Bottom Line: Yes, I would recommend this to a friend
Our Promise to You
In order to safeguard you and ensure helpfulness and relevance, our compliance team manually assess every customer review before it goes live.
We have a zero-tolerance policy for fake reviews, and companies cannot control or alter any reviews at any time.