Trov Insurance Reviews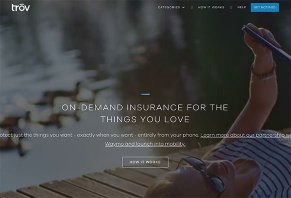 Trov Insurance uses a mobile app to insure only the personal property you want, against common causes of loss such as accidental damage, loss, and theft.
About Trov Insurance
Compared to blanket policies, Trov's smart, on-demand approach to insurance allows you to create a digital index of all of the physical things you own, while covering just the ones you want, when you want, and entirely from your phone.
The company's app also allows you to turn protection on and off against accidental damage, loss, and theft with just a few taps. And if a claim occurs, filing one is as easy as sending a few text messages.
Compared to traditional policies, Trov Insurance's simplicity and flexibility certainly make them seem appealing. But is their entirely mobile experience necessarily the 'smart' option for you? In just a few minutes, we'll help you find an answer to this key question.
Before diving in, though, let's make a minor—but important—distinction.
A Quick Lesson In Personal Property Coverage
Without going into unnecessary detail, all homeowners policies come with some level of coverage for 'personal property,' which is comprised of furnishings, clothing, and other miscellaneous items—including many of the property classes insured by Trov.
A good way to think of it is this: If you could pick up your house, turn it upside down, and then shake it, anything that fell out would likely be classified under personal property. However, not all personal property is insured against the same causes of loss, or up to the same dollar limit.
For example, while clothing might be covered up to the full limit on the policy, as well as on an all-risk basis (i.e., coverage is in place unless the cause is specifically excluded), jewelry might only be covered for up to $5,000—and only for perils like theft, loss, and misplacement.
However, a Personal Articles Floater (PAF)—which can work as an endorsement to a homeowners policy, or as a policy of its own—can broaden coverage for sub-limited property classes at an additional cost.
Pulling everything together, this is essentially what Trov offers: an insurance policy that provides broad coverage for high-value property classes that might not be adequately protected elsewhere. What kind of coverage, exactly?
Let's take a closer look in the next section.
How Does the Trov Insurance App Work?
Trov currently provides insurance in Australia and the UK (common electronics and photography equipment only), is coming to the US some time during 2018 (currently approved in 38 states), and is also listed as "coming soon" in Germany, with no dates noted.
With this in mind, the company will eventually be able to provide protection for the following classes of property:
Phones – Smartphone models from Apple, Google, HTC, LG, Motorola, and Samsung
Laptops – Includes Apple MacBook Pro, MacBook Air, Lenovo ThinkPad, and Asus Chromebook Flip (to name just a few)
Headphones – Apple AirPods, Bose QuietComfort, Bang & Olufsen BeoPlay, Sony MDR1000XSennheiser Momentum, etc.
Tablets – From Apple, Microsoft, and Samsung
Wearables – Models like Apple Watch, Samsung Gear, Fitbit, and Moto 360
Action Cameras – Brands such as GoPro, Olympus, Ricoh, Samsung, Sony, TomTom, Veho, and iSaw
Photography Gear – Popular cameras brands like Canon, Sony, Nikon, and Fujifilm
Other classes of property include appliances, speakers, sports equipment, musical instruments, and gaming.
Whenever you're ready, you can add items to your Trov account by taking a photo, searching their catalog of more than 20,0000 protectable items, or by scanning a photo of a paper receipt (all uploaded photos will appear in the main item view).
Trov's iOS and Android app allows customers to turn coverage on and off for different items in a couple of clicks or swipes, and adding or deleting items is just as efficient.
Once added, you can organize items by category, add details and associated documents (e.g., serial numbers, warranties/guarantees, etc.), and access any items in your account by tapping on the relevant field.
According to their website, if you have the Auto-ID feature enabled, Trov's app can automatically identify any items added and assign them an estimated value "based on proprietary processes, user data, and public records." However, they emphasize that their "estimates are not official appraisals and should not be used for any legal purposes."
Trov's Worth Dashboard also allows you track the value of your individual items, as well as view a large pie graph to see their total market value, along with a breakdown by category (including history) and value.
Items that you no longer own but want to keep track of for recordkeeping purposes can be manually archived, while others can be permanently deleted by swiping left, archiving it, and then swiping left again to remove.
If you're an Android user (this function currently isn't available on iOS), you can add a "Property" to your account, which inputs an address for your belongings. The same can be accomplished with vehicles by manually adding make, model, year, and features, or by scanning a VIN.
From there, the company instructs you to "use the slider to choose the condition that your vehicle is in (From Fair to Excellent), and enter how many miles or kilometers your car has on it. If data is available, the value of your vehicle will be calculated."
Finally, if a loss occurs, Trov reports that you can file a claim and get paid right away by answering a few simple questions in the app, such as what happened and when it happened. They'll handle everything from there.
How Much Does Trov Insurance Cost?
Just like any other type of personal lines coverage, what you pay for your Trov Insurance policy depends on a variety of factors such as the specific property you're insuring, along with its value and condition; your loss history (any past claims), where the property is kept, and potentially even your credit score.
We'll talk more about this in a moment, but The Telegraph provides some insight into the pricing aspect when writing, "While policies will be slightly more expensive on an equivalent basis than others on the market, the company says that the ability to switch off the cover when it's not needed will make up for this."
With this said, the Trov FAQ emphasizes that they're not the ones issuing coverage (in other words, they're not the carrier). Instead, "protection is issued by trusted global insurance partners," they say. "Product features, pricing and availability are subject to change and may vary by region."
In order to speak with a representative, you'll have to reach out via the contact form on Trov's website.
Does Trov Insurance Come With a Mostly Positive Online Customer Reputation?
Between iTunes and Google Play, the Trov app had more than 140 combined customer reviews at the time of our research, giving it an average rating of about 3.1 stars. There, most compliments referenced ease of use and an efficient claims process, while frequent complaints related to higher prices than expected and functionality concerns.
From a company perspective, Trov Insurance was founded in 2012 by CEO Scott Walchek and is headquartered in Danville, CA, with offices in NYC and London. They recently partnered with Waymo to provide insurance on the latter's self-driving ride-hailing service.
Scott provided some insight into the company's approach in a 2016 Forbes article, saying:
"Trov is an application that sits on top of a platform which seamlessly collects information on what someone owns," he explains. "It's a cloud-hosted piece of infrastructure supporting pricing, policy management, claims and calculation of risk to the second, all built up as an end-to-end solution to provide this unique service to consumers."
While not US-related, he also provided some insight into the company's insurance partners, citing Suncorp in Australia and Axa in the UK.
Finder.com.au also provided useful insight when reporting that the cost of a Trov policy "is based on a range of factors," including significant ones like:
How much the item is insured for. More expensive things will naturally cost more to protect. The costs might change at renewal periods as the insured value of items changes.
Your age and gender: This affects the statistical likelihood of a claim.
Your address: A risk of flood, theft, storms and other hazards all vary by address.
Item type: The category of item and its portability affect how at-risk it may be of different hazards.
Your chosen excess: You can go for a lower excess at the cost of higher premiums, or a higher excess for lower premiums.
Our Interview With Trov Insurance
To help provide additional insight, we had the opportunity to briefly speak with Jeff Berezny, Trov's Head of Growth and Design, who advised that while he couldn't provide a more concrete US launch date, he assured it would be this year.
Jeff emphasized that the company started with a blank page to create policies that are short and simple, cover a comprehensive list of perils, and contain few exclusions. What you see is what you get.
Munich Re will act as the company's US underwriter, joining existing underwriters Suncorp in Australia and AXA in the UK.
As we outlined earlier, Jeff emphasized that the cost to insure different items will largely depend on the category, but pricing will largely be in line with what they charge for coverage in the UK and Australia.
As a simple example, he noted that an $800 - $1,000 smartphone likely wouldn't cost more than $10 - $15 per month to insure on an all-risk basis. The ratios will change a bit for other property categories (photography gear, sporting goods, etc.), he said, but due to Trov's on-demand nature, it will still be less than when covered separately under a homeowners policy.
Along these same lines, Jeff explained the company will eventually launch additional classes of property in different regions across the US, starting with some of the most common (sporting goods, music, fashion, home elements) and phasing over to more bespoke items (e.g., jewelry) as time goes on.
If a claim occurs, everything is facilitated via the Trov app. Jeff emphasized that the company is "not in the business of passing customers onto others," so they're very involved in the process.
In the end, Jeff said that the automated, global insurance platform powering Trov is just the beginning, as they're looking to expand beyond direct-to-consumer coverage and support emerging insurance needs across the B2C and B2B industries (which is perhaps evident by their recent partnership with Waymo).
Are There Other Companies Like Trov Insurance?
Earlier, we talked about the fact that—like traditional Personal Articles insurance—Trov offers broad coverage for high-value property classes that might not be adequately protected elsewhere.
Their defining differences, however, are that customers have direct access to what's covered under their policy, which can be added or removed with just a few swipes or taps in the app. Are there competitors offering anything remotely similar?
While we found dozens of home inventory apps during our research, as well as insurance carrier-specific apps, we didn't encounter anything that combined Trov's mobile-only approach, automatic value calculation, on-demand coverage, documentation ability, and text-based claims process. So, if this is what you're looking for, it's currently your only option.
Does this necessarily mean it's your best option, though? Let's carry this question over to the final section as we wrap things up.
Our Final Thoughts About Trov Insurance
Unless you live in Australia or the UK and want to insure common electronics and photography equipment, Trov currently doesn't have coverage options for you.
However, their mobile-only, on-demand, and automatically-valued approach to personal articles coverage certainly seems unique, and appears like it might revolutionize how many of us cover items that might not necessarily be fully insured elsewhere (such as on a homeowner's or renter's policy).
But, whether or not they can actually cover "just about anything you can imagine," as advertised in the commercial—once they arrive in the US, Europe, and elsewhere—will largely depend on the specific class of property you're looking to insure, its value, as well as the carrier it's insured through.
Per the company's Head of Growth and Design, though, because they're focused on delivering worldwide, on-the-go coverage for personal property people likely don't have protection for (or, they may need extra protection to fully cover), you might have less of a reason to leverage Trov if you never take an insured item out of your home.