truCONTROL Reviews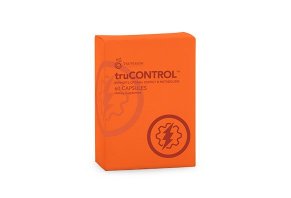 Using a blend of 18 different ingredients, the truCONTROL supplement promises to help you lose weight by suppressing appetite and optimizing body fat.
About truCONTROL
truCONTROL is a dietary supplement that uses only the highest quality natural ingredients to help spark metabolism, revive natural energy, suppress appetite, deliver clear focus, and optimize body fat, without jitters, feeling starved, or adhering to a special diet.
According to the TruVision Health website, all you have to do is take one capsule of truCONTROL per day, in conjunction with two capsules of another supplement called truFIX, which claims to "tune up your blood chemistry and overall health," balance your lipid profile, and stabilize your body.
Together, along with maintaining a healthy lifestyle, the company tells us these powerful tools will help you optimize your weight management in a healthy way.
Whether this is your first time losing weight or your 100th, you're here because you want to know if truCONTROL can deliver on the manufacturer's claims, before handing over your hard-earned money. Let's start answering your questions by looking at how fat accumulates, as well as how it's metabolized.
How Does the Body Lose Weight?
Let's quickly discuss some basics that can provide some insight into what the truCONTROL supplement promises to accomplish.
A simplistic explanation: When you consume more calories than your body can use, it's stored in the form of fat, which can be utilized later when energy is needed. But, if this fat is never used, and if a person continues consuming excess calories, it can accumulate to a point where it leads to a person becoming overweight, or even obese.
And of course, the opposite is true. According to Edward R. Laskowski, M.D., when "your body converts fat to usable energy for your muscles and other tissues through a series of complex metabolic processes," it "causes your fat cells to shrink."
Consequently, if you regularly consume fewer calories than your body expends when maintaining these metabolic activities (typically through a combination of a healthy diet and regular exercise), fat cells will cumulatively shrink to the point where you'll lose weight.
Given these quick basics, is there anything contained in the truCONTROL supplement that can prevent fat cells from filling up, or that boosts your body's metabolism to empty these cells faster?
Taking a Closer Look at truCONTROL's Ingredients
According to the supplement facts label listed on the TruVision Health website, truCONTROL contains the following:
Vitamin B6 2 mg
Iron 1.5 mg
Proprietary Blend: Green Tea Extract, Cocoa Powder, Octodrine, Caffeine, KinetiQ, Theacrine, Evodiamine, Ferrous Fumarate, Hordenine HCl, Microcrystalline Cellulose, Magnesium Stearate, Vitamin B6 (Pyridoxine Hydrochloric Acid), Flo-Gard, BioPerine, Dendrobium Extract, Yohimbine HCl, Embo Cap VG (contains riboflavin for color)
The bottom line is that no one on the HighYa team is a medical or clinical professional. Which is why we rely on the summarizations of the available evidence provided by sites like WebMD, the Natural Medicines Database, and Examine.com to determine whether or not an ingredient is 'effective' for a given claim.
According to these sites, none of truCONTROL's ingredients have sufficient clinical evidence showing them to be effective for boosting metabolism, increasing energy, improving fat loss, or for any of the manufacturer's other claims, in otherwise healthy individuals.
However, KinetiQ is a proprietary citrus aurantium (bitter orange) extract formulated by Novel Ingredients, which is said to have more than 20 clinical studies showing its efficacy and safety for delivering "powerful energy, thermogenic, and resistance training performance benefits."
What About truFIX's Ingredients?
Because TruVision Health sells truCONTROL alongside their truFIX supplement, it's a good idea to quickly cover its ingredients. While no supplement facts label was listed on the website, it did reference the following:
Alpha lipoic acid (ALA), chlorogenic acid, chromium, copper, magnesium, raspberry ketones, selenium, vanadium, zinc
According to the same authoritative sites referenced earlier, most of these ingredients have insufficient clinical evidence indicating they're effective for tuning up blood chemistry and overall health, balancing lipid profiles, or stabilizing the body.
However, taking 1,800mg of ALA daily for 20 weeks might be effective for reducing body weight in people who are overweight. ALA could possibly also (the data is reported as inconsistent) help improve blood sugar levels in people with diabetes. Eating more magnesium, while also showing conflicting clinical results, could help reduce the risk of developing diabetes.
Even for truFIX's ingredients that might have some clinically substantiated weight loss or blood sugar benefits, though, all of them are part of a proprietary blend. As such, we can't know if the supplement contains the same dosages found in supporting studies.
Could truCONTROL's Ingredients Cause Side Effects?
These same sites indicated that, if you experience any side effects from truCONTROL or truFIX's ingredients, it likely won't be worse than mild digestive upset (no specific dosages or circumstances noted).
However, it's important to emphasize that cocoa contains natural levels of caffeine, which, when combined with truCONTROL's additional caffeine content, could cause jitteriness, nervousness, and insomnia, especially if you're sensitive to stimulants.
Speaking of which, WebMD reports that octodrine could be unsafe when taken by mouth, since it could have "effects similar to dimethylamylamine (DMAA) which is another stimulant that might cause serious side effects, including heart attack and death."
They also indicate that bitter orange, "particularly when taken with stimulants such as caffeine or caffeine-containing herbs, increases the risk for high blood pressure, fainting, heart attack, stroke, and other severe side effects." And that "yohimbe has been linked to reports of severe side effects including irregular or rapid heartbeat, kidney failure, seizure, heart attack, and others."
Hordenine, which is similar in structure to bitter orange, is also reported to have some stimulant-like side effects and to be possibly unsafe when taken by mouth, due to its propensity to increase heart rate and blood pressure.
Finally, they report there isn't enough reliable information about ingredients like theacrine, evodia, and dendrobium to understand what possible side effects might be, or what causes them.
How Much Does truCONTROL Cost?
There are several ways to get your hands on truCONTROL:
7-day trial of truCONTROL and truFIX: $25 plus tax, with free U.S. shipping
Trial Kit (one-week trial of truFIX and truCONTROL, one rePLACE meal replacement shake, one pack of Heart & Hydration, and a shaker bottle): $29 plus tax
2-week trial: $50 plus tax
Monthly supply: $95 plus tax
Note: In order to purchase directly through the TruVision Health website, you'll either need a Sponsor Username or ID. However, we also found a one-month supply of truCONTROL and truFIX available through Amazon at a price of $89.45, plus $4.49 shipping, with no sign-up required.
What Are Customers Saying In Their truCONTROL Diet Pill Reviews?
We didn't encounter a lot of online customer feedback for truCONTROL during our research, although 18 Amazon reviewers had given the supplement combo an average rating of 2.6 stars.
There, most compliments referenced effective weight loss results and reduced appetite, while complaints frequently revolved around no results, as well as side effects like nausea and shakiness.
From a business perspective, TruVision Health is a multi-level marketing (MLM) company based out of Draper, UT and who's been in business since 2013. Two HighYa readers had given the company an average 2.5-star rating, with one reporting difficulty obtaining a refund, while another reported great communication with their distributor.
TruVision held an F rating with the Better Business Bureau, based on 11 closed complaints (three of which the company failed to respond to), as of 11/14/17. Most of these seemed to revolve around difficulty obtaining refunds, or problems stopping automatic shipments.
Are There Other Weight Loss Supplement Systems Like truCONTROL?
According to MarketWatch, weight loss supplements alone (not counting exercise equipment, meal plans and replacement shakes, and dieting centers) represent a multi-billion dollar industry. Given this, it's perhaps no surprise that there are literally thousands of other dietary supplements competing for the same customers as truCONTROL.
To quickly see just how many competitors there are, you only need to browse online marketplaces like Google Shopping, Amazon, and Walmart.com. Given the sheer scale of your options, how can you choose the best weight loss supplement for your needs?
First, according to organizations like the National Institutes of Health, the American Cancer Association, the American Heart Association, and the American Academy of Family Physicians (to name just a few), otherwise healthy individuals will not likely experience meaningful benefits by regularly taking a dietary supplement or multi-vitamin.
In other words, when it comes to dieting supplements as a whole, there is currently insufficient clinical evidence that they can improve weight loss results better than diet and exercise alone (remember the calories discussion earlier?).
Second, any time you're thinking about beginning a new weight loss program or taking a new supplement (truCONTROL, truFIX, or otherwise), the first person you should speak with is your doctor. They can help put you on a path to success by recommending options based on your diagnosis and overall goals.
If they advise that you continue your weight loss supplement search, based on our experience reviewing hundreds of different options, we'd recommend focusing on doing business with companies who:
Provide a reasonable refund policy, with realistic S&H charges (which are rarely refundable) and no restocking fees.
Have a solid amount of online customer feedback and a mostly positive reputation. Are there any common complaints or concerns that you encounter?
Provide complete supplement facts labels (or at least a full list of ingredients, including dosages) on their website.
Does all of this mean that a truCONTROL order is in your future?
Our Final Thoughts About truCONTROL
We already mentioned the importance of speaking with your doctor when it comes to new weight loss programs and supplements.
But given the fact that WebMD reports octodrine, bitter orange, yohimbe, and hordenine could have potentially dire side effects (especially when combined with other stimulants like caffeine), we think it's doubly important to speak with a healthcare professional before placing an order for truCONTROL.
Outside of this major concern, another potential setback is that TruVision Health only offers refunds on resalable products, so as soon as you try truCONTROL, you'll lose your ability to return it. As such, if everything else we've discussed falls into place, you might want to start by ordering a 7-day trial before committing to a full-size purchase.
Read next: Forget Diet Pills—Lose Weight by Changing Your Habits
truCONTROL and truFIX

By Gina M.

,

New Mexico

,

Mar 6, 2019
Verified Reviewer

I started taking these pills for the blood cleansing health benefits. After finding out that my blood pressure started creeping up, I started doing some research. I then consulted with my cardiologist and she gave me the go ahead and give these a shot. Although many people have experienced different side effects from this product, as everyone's body is completely different from the next, weight loss is one of the proclaimed perks. I have lost weight since starting the pills. I have also seen a smooth difference in elevated energy levels and mental clarity. I am currently a student, so that was a huge plus. I have only more recently changed my diet and exercise plans and have noticed even more of a weight decline. Is it because of these pills? I can't say that I am completely convinced of that, but perhaps that has had a hand in it. I do sleep better, and my blood pressure is on the decline, and I am on the right track of what I set out to accomplish in trying these.

If you are experiencing negative side effects in anything you are taking, stop immediately, listen to your body and go see your doctor. There are no magic pills, but I do know that many things work hand in hand. I would recommend these to anyone who has consulted their doctor before taking them!

Bottom Line: Yes, I would recommend this to a friend

---

truFIX and truCONTROL

By Tamara I.

,

Missouri

,

Jan 17, 2019
Verified Reviewer

After two weeks on the product, I love it! I have felt great and none of the daily headaches/migraines I've had for years! I feel no jitters or shakey feelings at all! Just energy, and I don't have the cravings throughout the day and can make healthier choices and only eat when I'm actually "hungry." I have two of my coworkers on it now as well, and they feel the same. We love it and look forward to out "truTransformation!"

Bottom Line: Yes, I would recommend this to a friend

---

Advertisement

---

Bad idea

By Diann B.

,

Kerrville, TX

,

Sep 10, 2018
Verified Reviewer

I saw this and thought it was worth a try. I ordered my first month and started taking it. I read the reviews and it was hard to find anything negative, which seemed kind of strange that there were no real negative side effects to taking the pills. After four days I developed a cough that lasts until today, which is about 45 days since I started. We found this triggered acute bronchitis in me. I discontinued the pills. Now I have another month I can't use.

And I never lost a pound after the one month of using as per directions.

Bottom Line: No, I would not recommend this to a friend

---