TrueCar
Claimed This company has claimed this profile, is getting alerted on any new customer reviews entering this page, and may engage in dialogue with its customers to address their matters.

Companies cannot pay money or provide goods in order to remove or alter customer reviews.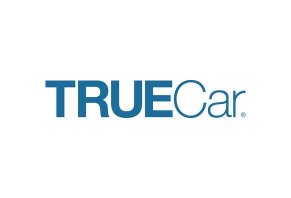 Buying a car at a fair price could be much easier with TrueCar, a company who uses existing car-sale data to create a price quote they believe accurately reflects how much you should pay for the car you want.
TrueCar Review: A Detailed Look at How It Works, Pros and Cons
TrueCar is a free online pricing tool for new and used cards that provides a "TrueCar Price Quote" based on local car sales data. In theory, you can use this price quote to take to the dealership and get the car for that price.
The website is unique in that it has relationships with around 25 percent of dealerships around the country, such that they can connect you with local car dealerships within minutes as you formulate a quote for the car you want to buy. This can be both good and bad, as we'll explain later.
The company is based in Santa Monica, CA, and has been around since 2005. Over the past few years, the company's services have become more popular and more controversial, a trend that's resulted in opinions from major publications and average consumers.
In this review, we'll highlight the good and bad of this service by talking about how it works, what customers and publications have said about it, compare it to other services similar to it and then end with a conclusion in which we weight the pros and cons of the service.
How Does TrueCar Work
The TrueCar service focuses on one thing: providing you a price for a car of your specific choice. What this means is that they'll give you the ability to choose the exact kind of car you want—make, model, trim, etc.—and then they run that specific car through their national sale-price database as well as local sale prices to come up with a price they believe reflects the true value of the car.
In order to get this quote, however, you'll need to provide them with a phone number. The only way you can set up an account and get a quote for the specific car you want is to enter a verification number that TrueCar texts to your phone. If you don't provide them with the right number, you can't set up an account.
This is a key factor behind one of the main drawbacks of the service, which is something we'll talk about in the customer reviews section.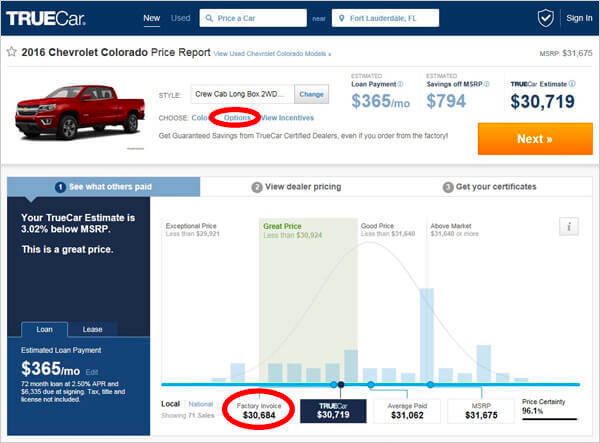 Image credit: CarBuyingTips.com
The quote includes estimates for monthly payments and such but, more importantly, gives you their estimate for what you should pay based on purchases of the same vehicle or similar vehicles in the area. They also offer a certainty rating for their price: the higher the rating, the surer they are your price is fair.
What's also important to note is that TrueCar provides a "Factory Invoice" price, which is the dollar amount the dealership paid for the car after all the fees the manufacturer charged them.
When you compare the TrueCar price to the Factory Invoice price, you get a sense of how close your price is to what the dealership actually paid.
Now, according to the TrueCar website, the company uses car-purchase data from companies who amass car-purchase data from dealerships across the country. Their TrueCar price also includes the following, per TrueCar's FAQ:
The configuration of the car you want
Customer/dealer incentives
Financing/loan data
Vehicle registration/insurance data
"We have 99.1% confidence that our projected Average Paid Price per new car sale in a given week is within $20 of the average price of all nationwide sales transactions during that week," their site reads.
They follow that quote up with a caveat that cars that aren't as popular and don't have as much sales information will have more deviations in how much you should pay for the car.
Basically, TrueCar does a bunch of behind the scenes calculations to come up with a price they believe is a fair price to pay for the car. You then take this quote to a dealership and, in theory, the dealer will say, "You've got a deal."
You can also use TrueCar to set-up a trade-in or a car purchase for a vehicle you own. You'll tell the website the type of car you have, the condition it's in and, if applicable, how much you owe on your auto loan or how much time is left on your lease.
At that point, they'll give you a list of dealerships who offer to buy your car, along with a price range for what they could pay. The fine print notes, however, that these prices are guaranteed.
» See Also: Comparison of 6 Popular Used Car Websites: A Comprehensive Guide
How TrueCar Makes Money
Ivan Chong, founder of Lazy Finances, said that TrueCar makes their money by charging dealerships "around $400" a month to get leads from the TrueCar website. Chong provided us with a link to TrueCar's SEC filings, in which the company explains exactly how they make money.
Based on the data we looked at, it seems that TrueCar makes around $333 for every car sold by a TrueCar dealership partner via a TrueCar quote.
TrueCar's Fine Print: Three Important Limitations
Our research indicates that using a TrueCar quote isn't quite as simple as walking into a dealership with your quote and leaving an hour later with your car.
TrueCar Sends Your Information to Car Dealerships
TrueCar's FAQ page says that they send the information you input for your quote to multiple dealerships and, as we'll show in a few minutes, that exchange of information could result in an onslaught of calls, texts and emails for local car dealerships.
TrueCar Price Quotes Don't Guarantee a Sale Price
Your TrueCar quote is not a guaranteed sale price. One of the interesting sections of their FAQ page reveals that dealerships aren't bound to the quote you bring in.
"Dealers generally will do their best to match the vehicle you have configured on TrueCar, but many times they will not have an exact match for the car you are looking to purchase," the page reads. "This is not the dealer's fault, but rather a challenge with the way cars and trucks are manufactured and marketed."
In other words, the quote you got for the exact car you want may not be valid because the dealership you go to may not have the car you want, even if TrueCar connected you with that dealer. What happens in those situations?
According to the FAQ page we mentioned above, you may have to buy a different car at a different price because a dealer isn't guaranteed to have the exact car you want.
"Ultimately this can affect your expectations when contacting a dealer, so it may be helpful to keep an open mind about what the dealer may be offering as an alternative," the site says.
Furthermore, the price applies only to vehicles that are in stock at a dealership. If they don't have the car you want, there's a good chance they aren't going to honor your TrueCar price if you try to use it for a car that's different from what's in your quote.
TrueCar Focuses on Dealer Relationships
Over the past few years, TrueCar has made a well-publicized move away from consumers and toward car dealerships. Their website notes that car dealerships pay fees to be connected with TrueCar users.
"We ordinarily receive fees from our Certified Dealers in connection with the services. In some instances, we also receive fees from automobile manufacturers and/or third-party service providers," TrueCar's FAQ page says.
An article from Forbes elaborates on TrueCar's move away from focusing on the customer and toward focusing on the dealerships.
"TrueCar made a name for itself by promising to get car buyers the best possible price, which made it an extremely attractive service. Now that the company is more focused on the dealer's bottom line, it offers significantly less value to consumers," contributor David Trainer wrote.
With this in mind, we think the research indicates that there's a chance TrueCar may be more interested in helping the dealers with your business rather than giving you a realistic chance of buying a car for the price TrueCar says you should pay.
We believe this conclusion is warranted not only because of what TrueCar's own rules say—a dealership isn't bound to your quote—but also because of what Tru Car customers say.
Customer Reviews of TrueCar
TrueCar gets an average rating of around three stars on Trustpilot. At the time of publishing, the company received 1,191 reviews on the site.
Of the 20 most recent reviews, three were five stars, one was four stars and the rest were one-star reviews. The five-star reviews seemed to focus on the dealership who sold them the car and not TrueCar's quote.
The one-star reviews, on the other hand, complained about some common themes:
Near instant calls from dealerships once you input your information
Users found better deals on their own
Dealerships wouldn't honor the quote
One review by the name of "N. OB" said, they received "no fewer than 10 phone calls, 15 texts and 10 emails within 30 minutes of setting up his or her account. Furthermore, when the customer called TrueCar to delete their account, the company told him or her, "they don't currently have a way to delete accounts."
Now, we made our own effort to reach out to people who actually used the service and found someone whose positive experience tempered the bad recent feedback on Trustpilot.
Mark Aselstine, founder of wine website Uncorked Ventures, told us he bought a car through TrueCar in 2016. He said the process was simple but noted something interesting. The dealer from which he ended up buying his car told him that the TrueCar Price Quote he received was, in reality, the price that the dealership told TrueCar was the cheapest they could sell it for.
In other words, in this case, it seems that TrueCar's Price Quote wasn't based on all the data their site claims but, rather, the lowest price a local dealership could offer.
"Overall, it was a good experience, it helped us cut through much of the usual frustrating aspects of car buying and helped us know almost immediately who was a reputable dealer and who wasn't," he said.
The Bottom Line: Pros and Cons and How You Can Make TrueCar Work to Your Advantage
Based on our research, we believe TrueCar's strengths are that it is a free service and there is a possibility that you can take their Price Quote into a dealership and close the sale quicker than you could without a TrueCar price.
We see the site's two main downsides being the onslaught of calls, texts, and emails you may receive once you submit your phone number when you set up your account, and the fact that the dealership does not have to honor the price quote you get from TrueCar.
With these things in mind, we think there is one very clear way to use TrueCar to your advantage. If you're the type of person who likes to bargain at dealerships, then you can leverage TrueCar's Price Quote because it's most likely based on hard sales data in your area.
If the dealership is asking for a price that they know people aren't going to pay, your quote can be a tool you use to bargain them down.
The second way you can leverage it is, assuming the dealership takes the price you bring them, then TrueCar is a simple way to buy the car you want at the price you want without having to deal with the back-and-forth that's common at car dealerships.
If you aren't the bargaining type and you don't want to go through a dealership experience but you want to deal with a fixed price, take a moment to read through our review of Carvana. The site provides you with straightforward pricing as well as a selection of primarily late model cars in ads that feature excellent photography. For additional options for buying a car, see our review of Vroom.
---
Buying my truck at Piehl Motors

By Jennifer P.

,

Illinois

,

Dec 16, 2019
Verified Reviewer

Overall Experience:

Bought my truck at Piehl Motors, gave the salesman the features I need on a truck and he worked hard to find it in such a short time frame. Found my truck and got a decent price with all the rebates.

The service is very good. I wanted a cover on the back, they immediately ordered and it was put on in 3 days. They even offered to deliver my truck home after the cover was installed. Very happy with the dealership.

Bottom Line: Yes, I would recommend this to a friend

---

I can understand their low rating

By Beth G.

,

Brooklyn, NY

,

Aug 20, 2019
Verified Reviewer

Overall Experience:

The workers are very friendly. The inside is inviting. The downside is that they don't put the problems with the car on their site, nor do they tell you the problems before you look at the car. My fiancé went to test drive the car and it had a flat tire, three lights on, a check engine light, and the hood didn't close or open. The interior was also falling apart. If they offer to fix the issues with the car, they up the prices by a decent bit. That car was $3,000 worth of repair.

Bottom Line: No, I would not recommend this to a friend

---

Advertisement

---

Honda Touring 2018 and 2018 RATTLING

By M H.

,

Owings Mills, MD

,

Aug 16, 2019
Verified Reviewer

Overall Experience:

Previously had an Accord for 12 years and loved it!

Purchased a new 2018 Accord Touring and within a couple of months experienced rattling in the dashboard HUD display region. Called American Honda and returned to 2 Honda dealerships for the issue. No one could figure out a fix.

One and a half years later corporate determined that the fix is to tape and Velcro area to reduce noise. That was done by service dept and the issue continued.

Tired of issue, traded it in for the new 2019 Touring and 3 wks later, unbelievably, the exact noise.

Wow. Now corp determines the issue is on both 2018 & 2019 Tourings and the fix is to pull out entire dashboard and apply additional tape. I didn't purchase a new car to have the dashboard pulled out after 3 weeks of ownership. Disgusted with the car and the lack of customer service skills my case manager, Alan, at Honda Customer Care as he was rude and lacked any compassion whatsoever.

Bottom Line: No, I would not recommend this to a friend

---

Not true price

By Leonard W.

,

Arizona

,

Jul 23, 2019
Verified Reviewer

Overall Experience:

Dealer addon was over 1400 nitrogen, and other junky stuff, really bad. Three different dealers, $8,000 car for $10,000. Don't bother using. Sales manager turned me over to a salesman who did not return calls after I agreed to buy the car for the true price plus tax and license.

Bottom Line: No, I would not recommend this to a friend

---

Advertisement

---

Waste of time

By Ernest G.

,

Texas

,

May 10, 2019
Verified Reviewer

Overall Experience:

The Good: Website was pretty easy and you get "guaranteed" prices of the vehicles from the dealerships you want.

The Bad: Dealerships don't honor the "guaranteed" prices and you basically have to start over at the dealership.

The Ugly: Even after you decline the higher prices they keep offering you, you kept getting calls, emails, and texts from the dealership, but the prices never go down.

Bottom Line: No, I would not recommend this to a friend

---

Useless and annoying

By Oliver C.

,

San Diego, CA

,

Apr 7, 2019
Verified Reviewer

Overall Experience:

Lousy prices and no way to stop the contacts from coming. You can get a better price by using Kelly Blue book for typical prices and using that to negotiate with the dealers. Since I'm sure TrueCar takes money from the dealers, you can get it for yourself by doing your own deal.

Bottom Line: No, I would not recommend this to a friend

---

Nonstop harassment, won't delete account

By Tom L.

,

Wisconsin

,

Jan 21, 2019
Verified Reviewer

Overall Experience:

I was looking at Fiats while researching them. Got calls from dealers as expected. I then logged out and changed to minis. Learning from all the calls, I did not use TrueCar's website. To my surprise, after browsing other car sites, I got a ton of calls about minis. Never did I click to contact me or do and minis from their website. But the calls were "here is your best TrueCar price" or related, mentioning it was TrueCar. One mini dealer called, texted, and emailed me and has been every day for almost a week now. I unsubscribed to emails, but the calls continue. I've had to now block the calls. The TrueCar price was higher than the price posted on the website, so there was absolutely no value in using them...unless you are lonely looking to talk to people all day. I tried to cancel account and they won't. They claim they only send my info to dealers on cars I can interested in. Well, I guess it is true since they use cookies and monitor every car you simply browse.

Bottom Line: No, I would not recommend this to a friend

---

It's a lead generated scam

By Ruben B.

,

Buford, GA

,

Jan 6, 2019
Verified Reviewer

Overall Experience:

At the end of 2016, I used the app to look for a Honda Odyssey. I searched the site for three months. Back then I would put the car info in and they would show me the price. After three months of research, it gave me an $8,600 below MSRP price.

I immediately went to a near by dealer and started to negotiate. First they gave a offer for for $3,500 below MSRP. I showed them the price on the app without even printing a certificate or not even the dealership on it and the salesman told me he will try. They came back to me with a printed paper with the exact info I had on my app and the only difference was they listed $4,000 below MSRP. I told him either give me the price that I showed them, if not, I will take it to another dealership. After a few hours of going back and forth they finally accepted the original offer and I bought it.

Now in December 2018, I logged on to look for another car. Now I had to log in and put all my info, so I did. Once I started searching it was not as I knew it. It didn't work like before and showed me dealers and all this nonsense. Next thing I know I start getting calls and emails from a bunch of people. I definitely don't recommend this app.

Bottom Line: No, I would not recommend this to a friend

---

Not all that

By Keith E.

,

Neosho, MO

,

Dec 22, 2018
Verified Reviewer

Overall Experience:

So I spend my time filling out I want to buy a new GMC Canyon with diesel and after all that, I get offers and they're all gas. So now I get my email full of trucks I'm not interested in.

Bottom Line: No, I would not recommend this to a friend

---

Pure scam

By Garrick G.

,

Michigan

,

Sep 20, 2018
Verified Reviewer

Overall Experience:

All I wanted to do was get information on a car. Now I'm being constantly harassed by random vultures constantly calling me, texting me, email, everything! They call about car loans, insurance, trade-in scams, even incomprehensible mumbling.

And the worst part is that I never received any information regarding the car I was looking into.

Truecar.com is a scam.

Bottom Line: No, I would not recommend this to a friend

---

Overall Experience:

TrueCar is probably just another good idea that doesn't work, they get good prices for buyers, everybody wins, but they get used by dealers like Hollywood Kia to lure potential customers through their doors. Once you get there, the car obviously no longer exists or was picked up by an out-of-state dealer, or some other lame excuse. Ah, the car still shows on the Hollywood Kia website, same stock number but the picture now shows a different car.

Bottom Line: No, I would not recommend this to a friend

---