TrueSignal Antenna Reviews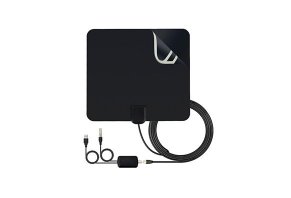 The indoor TrueSignal Antenna features an ultra-slim design that quickly connects to your TV using a coaxial cable and delivers access to over-the-air digital broadcasts from major networks.
About TrueSignal Antenna
Advertised as the only "super" HDTV antenna, TrueSignal promises to help you gain access to 100+ crystal-clear channels from up to 65 miles away in all directions, without paying for a cable subscription. According to the website, all you have to do is:
Plug one end of the coaxial cable into your TrueSignal Antenna, and the other into the appropriate input on the back of your TV.
Use your TV's menu to scan for channels.
In just a couple of minutes, they claim you'll be able to enjoy many of your favorite TV shows and movies, along with local news, weather, and live sports (NFL, NBA, MLB, NHL, NASCAR, Golf, NCAA, etc.), without paying a penny.
Together, the manufacturer tells us that more than two million TrueSignal Antennas gave been sold. But does that mean the technology it features will bring value to you and your family? That's the central question we'll focus on in this quick—but informative—article.
An Overview of How Digital Antennas Like TrueSignal Work
All antennas pull signals from the air and translate them into a suitable format for our enjoyment, whether this relates to radio or TV. The only meaningful difference is in the type of signal an antenna is designed to receive and convert.
In the instance of antennas like TrueSignal, they pick up digital over-the-air signals transmitted by major networks like CBS, NBC, ABC, PBS, The CW, and Telemundo (to name just a handful).
So, will antennas like these technically help you continue enjoying programming, without signing up for a cable contract or paying steep monthly subscription costs? Yes—but there's a huge asterisk next to this.
Why? Two core reasons:
Which Channels do Antennas Like TrueSignal Provide Access To?
First, as you can see from this shortened channel list, digital antennas only provide access to free OTA signals. So, unless your favorite programming is broadcast on one of these options, you could lose access to some (or all of it) once you ax your cable subscription.
Do These Antennas Always Provide Crystal Clear Reception?
Next, the exact number of channels you'll have access to with any digital antenna depends on the specific market you live in, your distance to transmission towers, and any surrounding geography.
Pro tip: Using sites like the Federal Trade Commission's DTV Reception Maps, AntennaWeb, and AntennaSearch to learn which towers you're close to, as well as their distance, can go a long way toward helping you maintain realistic expectations about which channels you might receive with a digital antenna like TrueSignal.
For example, if you live in close proximity to New York City, you're guaranteed to have more transmission towers nearby than someone who lives in rural Nebraska. Even within areas of the same general size, though, other factors can impact reception, such as geographic features like hills, mountains, and trees, and well as manmade ones like tall buildings.
Potential Digital Antenna Pros & Cons
According to the TrueSignal website, their antenna is multi-directional, which can receive signals from multiple directions, which could be a significant benefit if you live in the middle of multiple towers. Crutchfield's Steve Kindig explains that despite this potential benefit:
"Directional HD antennas are able to pull in signals from greater distances, and because they "see" in only one direction they are resistant to noise and "multipath distortion" (a problem created when an antenna receives reflections of the desired signal)."
On the other hand, he explains "Because multidirectional antennas "see" in many directions, they are more likely to pick up noise, interference, and multipath distortion."
We'll pick back up with some other factors to consider when purchasing a digital antenna shortly. In the meantime, let's quickly discuss TrueSignal's cost and the company behind it.
How Much Does TrueSignal Antenna Cost?
The TrueSignal Antenna is only available directly through the manufacturer at the following prices:
1 Antenna: $39.95, plus $6.93 S&H
2 Antennas: $69.90 ($34.95 each), plus $8.67 S&H
3 Antennas: $100 ($33.33 each), plus $10.48 S&H
4 Antennas: $130 ($32.50 each), plus $12.35 S&H
San Mateo, CA-based TrueSignal TV, Inc. provides a 90-day money back guarantee on all antenna orders, less S&H, which you can request by calling (855) 637-3249 or sending an email to support@truesignaltv.com.
TrueSignal Antenna vs. the Competition
Despite their marketing claim that TrueSignal is America's "most advanced HDTV antenna" that "leads its class in range and reception," we encountered dozens of flat digital indoor antennas boasting many of the exact same features during our research.
These included multi-directional and reversible reception, paper-thin designs, the ability to pick up signals from 65+ miles away, and quick and easy setup using coaxial connections.
Here were some of the most popular results on marketplaces like Google Shopping, Amazon, and Walmart as of this writing:
| | | |
| --- | --- | --- |
| Model | Price | Special Features |
| TrueSignal Antenna | $32.50+ | Up to 65-mile range |
| Mohu Leaf | $39.99+ | Several models to choose from, paintable, made in the USA |
| RCA ANT1650F | $30 | Includes removable amplifier, paintable |
| Magnavox MC325N | $19 | Includes amplifier |
| RCA Indoor Flat Antenna | $35 | UHF and VHF reception, black and white sides to match your décor, includes mounting tape |
| Antennas Direct Indoor Amplified Flat Antenna | $80 | VHF and UHF reception, includes USB input |
This is to say nothing of the generic branded options available on many of the same marketplaces, some of which were priced as low as $20 at the time of our research. Considering some of these models cost one-quarter the price of others, how can you decide if paying more money for a digital TV antenna will deliver a higher level of value?
Like any other product, no single model will work perfectly in every circumstance. Given many of the criteria we discussed earlier that can impact your reception (metro area statistics, distance to tower(s), geography and manmade structures, etc.), no single model will work perfectly in every circumstance.
As a result, if you're looking to replace major network programming without a cable subscription, it's up to you to start by learning 1) how far you are from broadcast towers, 2) which networks these towers represent, and 3) which direction they're facing.
Outside of this, returning to Steve Kindig's Crutchfield article, he points out that:
"Digital TV signals can be broadcast over two different frequency ranges: VHF (Very High Frequency) and UHF (Ultra High Frequency). The VHF channel range is 2-13 — "low-band" VHF is channels 2-6; "high-band" VHF is channels 7-13. The UHF channel range is 14-51."
Because "there are nearly 1,800 full-power TV stations across the U.S., including 1300+ UHF, around 450 high-band VHF, and fewer than 50 low-band VHF," he says, " you'll need a [combo] VHF/UHF antenna" if "some of the local stations you want to receive are below 14 — especially channels 2-6." Another important criterion to keep in mind.
Note: We reached out to several customer support representatives during our research, none of whom were able to provide any additional details beyond what was presented on TrueSignal's website (including if it receives UHF and VHF).
Another important consideration is whether or not you need a built-in amplifier (again, depending on distance and reception), which we also weren't able to confirm regarding TrueSignal. However, Crutchfield's Steve Kindig emphasizes:
"Most experts recommend only using an amplifier if you need to. The potential drawbacks of amplifiers are that they amplify noise along with the signal, and they can be overdriven by strong signals, which can make reception worse."
Let's go ahead an wrap everything up.
Should You Place an Order for the TrueSignal Antenna or a Competitor?
Based on what we can see from the popular competitors above chosen, the TrueSignal Antenna seems to come with a low price, many essential features that customers seeking to 'cut the cord' are looking for, along with a 30-day refund policy.
Just keep in mind that you'll lose your initial S&H if you're dissatisfied, and you'll also have to pay to ship your antenna(s) back to the manufacturer.
Also, as we outline in our Step-by-Step Cord Cutting Guide, don't forget that these antennas only provide access to free over-the-air digital signals transmitted by major networks.
So, if your favorite programming is broadcast on premium networks like HBO, Showtime, TNT, Discovery, Lifetime, or Nickelodeon (to name just a handful), you'll have to figure out a way of regaining access after canceling your cable subscription.
---
Don't recommend, there are better alternatives

By Gary T.

,

Rocky Hill, CT

,

Oct 13, 2019
Verified Reviewer

Overall Experience:

I purchase this junk before getting very ill, was in the hospital for three months with a heart attack and four major surgeries. When I was well enough when I got home I open up the package, tried installing it, there were no directions included in the order, the directions on the website are oversimplified three-step, plug in, scan for channels and enjoy free TV, I could not receive any channels. When I called customer support to discuss returning the product, I was three weeks past their 90-day return policy, they basically told me they can't help. They have off-shore customer support that you can barely understand and they are rude. I asked to speak to a supervisor, he told me he was a supervisor. I asked to speak to his supervisor, he said he was the best person to talk to. Good luck dealing with these clowns!

Bottom Line: No, I would not recommend this to a friend

---

HORRIBLE! STAY AWAY!

By Greg R.

,

York, PA

,

Sep 17, 2019
Verified Reviewer

Overall Experience:

I ordered this about a month ago, haven't received it yet. Told them to just refund my money. They said my info was given to the shipping department, they are waiting to get the tracking number. TOLD THEM, JUST SEND ME MY MONEY BACK!

Bottom Line: No, I would not recommend this to a friend

---

Advertisement

---

I knew it was too good to be true.

By Danny B.

,

Oregon

,

Jun 26, 2019
Verified Reviewer

Overall Experience:

You know what they say, if it sounds too good to be true, guess what? Well, I bought an antenna. I had no problem getting the antenna in the mail, it's when I installed it to my TV that the problems started. It just flat DID NOT WORK...nothing happened at all. So now I called for my money back. This part was the easy part of the whole thing, they said to expect to see my refund in 7 to 10 days and not to worry about sending anything back to them. "Keep it," she said. So now I wait. We will see what's going to happen.

Bottom Line: No, I would not recommend this to a friend

---

Scam

By Russell G.

,

Tennessee

,

Jun 21, 2019
Verified Reviewer

Overall Experience:

I purchased online without doing my due diligence. As others have stated once you give your credit card information and purchase the setup, the site upsells you on additional products as you try to finalize your purchase. First red flag that I possibly made a bad purchase. Second red flag, after not receiving a shipping confirmation two weeks past initial purchase, I sent an email to customer service asking the status of my purchase. I received an email with a tracking number. The product was shipped the same day I sent the email to customer service two weeks after the initial purchase. Third red flag, the tracking number showed a future delivery date with real-time status. The deliver date has come and gone and no update on progress. Very bad experience and I do not recommend doing business with TrueSignal Antenna.

Bottom Line: No, I would not recommend this to a friend

---

Advertisement

---

Never received product

By Louis M.

,

St. Louis, MO

,

Jun 17, 2019
Verified Reviewer

Overall Experience:

Ordered three units on 5/26/19 and so far have not received anything. Tried their website and got nowhere. Looks like I am out $151.14.

I definitely would not recommend this to anyone.

Bottom Line: No, I would not recommend this to a friend

---

Antenna doesn't work

By Russell S.

,

Standish, ME

,

May 24, 2019
Verified Reviewer

Overall Experience:

Tried the antenna on 2 different TVs, no signal, or weak and not able to watch. Maybe too far from TV stations. Tried in all postions, no reception. Please send refund. Both TVs were less than 10 years old.

The weather has been bad but on good days still no signal.

Bottom Line: No, I would not recommend this to a friend

---

Issue with purchasing

By Melvin M.

,

Maryland

,

May 21, 2019
Verified Reviewer

Overall Experience:

The ad says you can get the antenna at a discounted price of $34.95, then the next page tells you the actual antenna, the page after that sells you an HDMI cord, and the final sells something else, and your $34.95 deal turns into $126.06. If I only knew that would happen I would not have given my credit card number to kickstart the order. They just kept adding all these things you need to get the complete deal. Sounds like a ripoff. I guess I'll learn what the others know when it and if it actually comes.

Bottom Line: No, I would not recommend this to a friend

---

Piece of garbage

By Ralph J.

,

Portland, OR

,

Apr 8, 2019
Verified Reviewer

Overall Experience:

Their antenna is garbage. Just buy something else (anything) on Amazon. Also, their website includes total scam reviews. Have a look at the site using a VPN and try viewing from another country like Canada - lo and behold, all the same reviews are now magically from Canadians. It's a scam company and you should be incredibly wary.

Bottom Line: No, I would not recommend this to a friend

---

Love it

By Cynthia J.

,

Buffalo, NY

,

Mar 2, 2019
Verified Reviewer

Overall Experience:

My experience with this product was excellent. I would recommend this product to all my friends who are seeking to get rid of cable. Upon ordering, I was a little hesitant and no longer doubtful.

Bottom Line: Yes, I would recommend this to a friend

---

RIP OFF

By K B.

,

Minnesota

,

Feb 26, 2019
Verified Reviewer

Overall Experience:

Total rip off. Ordered, received, and decided to return the unopened item as was told after I ordered that it does not work. Lost my tracking number and now, of course, they have not received the return because I have no way of tracking the package...what a joke! I called the telephone number and got the address and return instructions from them. Just going to take this one as a loss because companies like this are not worth the energy it takes to try and recoup your money. BEWARE if you are thinking about trying this product!

Bottom Line: No, I would not recommend this to a friend

---

Bait and switch

By Nancy G.

,

Missouri

,

Feb 17, 2019
Verified Reviewer

Overall Experience:

I ordered three antennas in January for a total of $114.00. I never received the TrueSignal Antennas. I received three boxes of ClearView antennas. Each antenna is 1/4 the size of the ones I ordered. I receive 10 channels in the bedroom and 12 channels in my living room. You can buy ClearView antennas on Amazon for $15.00. According to reviews, the return process is a hassle and you have to pay shipping. Basically I would have to pay to return. I'm just taking this one on the chin. It was not an accident that I received the wrong antennas. Guess I'll never know about the TrueSignal Antenna.

Bottom line, I was charged twice the price for antennas I didn't order, which is poor customer service. I contacted the company by email and informed them the TrueSignal was never received. They insisted they were delivered. They were not. I received ClearView.

Bottom Line: No, I would not recommend this to a friend

---