TruGreen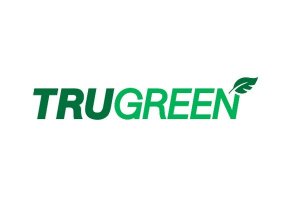 Summary
TruGreen is a national lawn care company whose services span all the facets of grass, trees, shrubs and soil, and can be booked online with discounts for those who can pay a year's worth of lawn care at once.
TruGreen Review: Is It Really Worth It?
TruGreen is a lawn care company whose website provides an extensive list of full-care and standalone services that can help your yard look green and healthy.
The company's differentiating factor is that they claim to provide top-notch yard experts who combine science and experience to make your lawn as green as possible.
And, if you aren't satisfied with their work, you can have them repeat the treatment or you can cancel your remaining treatments and get your money back.
In addition to these characteristics, the company has been around for more than 40 years and is a well-known, national brand.
In this review, we'll help you understand how TruGreen's services work, what they cost, and what consumers are saying about their experiences with TruGreen.
We'll finish up with the company's pros and cons, and we'll provide a quick tip for narrowing down your lawn care search.
How TruGreen Works
TruGreen claims to be "America's #1 lawn care company."
They provide regularly scheduled maintenance visits that take the complexity out of lawn care while improving its health and overall beauty.
First, TruGreen will send a local specialist to your home, who they claim is trained by agronomic experts through their TruExpert Certification Program.
During this visit, the specialist will conduct a Healthy Lawn Analysis® of your yard, which allows them to formulate a year-round plan specifically tailored to meet your needs based on climate, region, and season.
From there, you'll then need to choose your lawn care plan, which includes the following packages:
TruSignature Lawn Care Plan
Visits every four to six weeks, eight yearly treatments plus aeration and tree and shrub plan.
Lawn aeration
Lawn analysis
Soil treatment
Fertilization
Weed control
Treatments to make lawn greener
Tree and shrub care (insect control)
This package is the most complete out of the four that you see here, as it includes the most services and also is the only one that includes tree and shrub care. We see this package being a good fit for someone who wants a comprehensive coverage plan that will cover their lawn, shrubs, and trees.
TruComplete Lawn Care Plan
Visits every four to six weeks, eight yearly treatments.
Lawn aeration
Lawn analysis
Soil treatment
Fertilization
Weed control
Treatments to make lawn greener
This package includes everything the TruSignature does minus the tree and shrub care. Consequently, we think this package could be a good fit for someone whose main focus is their lawn and either doesn't have shrubs and trees or is comfortable caring for them on their own.
TruHealth Lawn Care Plan
Visits every four to six weeks, eight yearly treatments.
Lawn analysis
Soil treatment
Fertilization
Weed control
Treatments to make lawn greener
The main difference here is that you lose the aeration service included in the TrueComplete package. Aeration punches small holes in your soil so that the soil can absorb more nutrients.
"Aeration can be an extremely vital element to a healthy lawn because it allows air and water to penetrate built-up grass or lawn thatch," Briggs and Stratton notes.
If you feel like your lawn is getting the nutrients it needs and you don't believe you need special attention paid to your trees and shrubs, this package is a better fit.
TruMaintenace Lawn Care Plan
Visits every four to six weeks, seven yearly treatments.
Lawn analysis
Fertilization
Weed control
Treatments to make lawn greener
This is TruGreen's most basic package and is best suited if you want to keep your weeds at bay and, at the same time, want your grass fertilized.
Other Services
TruGreen also offers several stand-alone specialty services.
Their tree and shrub care plans that work very similarly to the lawn plans. Your specialist will focus on things such as improving soil moisture, preventing fungus growth and insect infestation, root zone fertilization, and even scientifically formulated targeted trunk injection.
They feature soil amendment services (adjustment of your soil's micronutrients like lime and sulfur) as well as TruShield Tick and Flea Control, a treatment plan that can reduce ticks, fleas, chiggers, earwigs, spiders and, in some locations, ants.
Other services include lawn plugging, fire ant control, and mosquito control.
TruGreen Pricing and Refund Policy
TruGreen claims that their plans often cost less than what it would for you to perform the same level on maintenance on your own, and their website provides the ability to estimate costs based on your yard's size, your specific concerns (e.g. weeds, thinning grass, insect activity, etc.), and more.
With this in mind, we received the following quotes for a yard with an area of less than 5,000 square feet in Jacksonville, FL (we didn't receive a TrueSignature quote):
TruComplete – $754.50 per year
TruHealth – $578.50 per year
TruMaintenance – $282.00 per year
Tree & Shrub Care – $632.00 per year
Mosquito Defense — $483.25
TruShield Tick and Flea Control: $501.90
Aeration — $166.47
Fire Ant Service — $145.03
Lawn Plugging — $150.00
Keep in mind that these quotes are for what TruGreen considers a "small" yard of less than 5,000 square feet. If your yard is above 5,000 square feet, it's considered a "medium" yard and the prices will go up.
For example, the price difference between a small and medium yard getting TrueComplete is around $250.
If you pay for your plan upfront, TruGreen provides around a 7-percent discount.
Also, these plans include a discount on the first treatment. As we read through the fine print, we found that this discount only applies in certain situations.
For example, the first-treatment discount for TruGreen's tree and shrub plan only applies to new residential customers and they limit it to up to five trees, none of which can be taller than 25 feet.
Also, their Mosquito Defense first-treatment discount is only available for homes on lots of one acre or less and is limited to certain areas of the country.
TruGreen claims that they provide guaranteed results and that they will visit as often as necessary in between scheduled visits in order to give you the best results. However, this guarantee only applies to "full" plan customers.
We called TruGreen's customer service phone number—(855)216-1134—to get more details. The phone rep told us that the plans they offer are priced out on a per-treatment basis. This means that, if at any point in your plan you're unhappy with the results, you can get a refund for any remaining treatments you've paid for.
DIY Lawn Care vs. Hiring a Professional Service
The previous section showed us that hiring TruGreen can cost you more than $700 per year if you want their most extensive lawn care package.
For some homeowners or renters, that may be too much money and you might be inclined to DIY your lawn care beyond just cutting your grass.
The goal, says grass-seed specialists Pennington, is to create a thick, green lawn each year. How you do that is up to you.
Among the benefits of hiring a company, they say, is that you save time, you can hire them to come on a consistent schedule and they have professional-level equipment and, in most cases, years of expertise.
However, Pennington points out, the obvious drawback is money. Also, some professionals aren't going to provide your lawn with treatment specific to your soil and grass; they may treat it the same way they treat everyone else's lawns.
The upside to doing your lawn yourself is that you save money and you can do the work on your schedule; you aren't stuck with the availability the lawn service has.
The startup costs, though, are high for DIY lawn care, as you'll need to buy a spreader, fertilizer, grass seed, weed killer and insect repellants, or insect killers.
If you choose to forego hiring a service so you can save money and become an expert yourself, Pennington points out that you have helpful resources within your county that can augment your expertise.
"Whether you decide on a do-it-for-me service or DIY like a pro, expert advice, and premium grass seed and lawn products will help. Your local county extension agent is an excellent source of information on lawn care for your region," their site notes.
Extension offices are typically local government agricultural offices whose websites and employees provide a wealth of information about your area's agriculture, growing tips, and more.
» See Also: 5 Tips For Achieving the Greenest Grass on the Block this Spring
Carlee Linden, a pest control and lawn care expert at Best Company, said TruGreen could be an option for those who want to avoid wasting time and money on their yard.
"A common problem (for homeowners) is overwatering and overfertilizing. After the damage is done and the homeowner's lawn is dead, they spend months trying new (often expensive) products to restore it — only to make the same mistakes a few months later," she said.
TruGreen's trained professionals will most likely not make these mistakes. The company isn't just good for mistake-prone homeowners, though. Linden said the company is a great choice if you have a big lawn you can't keep up with.
"In my opinion, TruGreen is worth it if you have a large yard, don't have a lot of time to spend taking care of your lawn, and don't want to spend your money trying out different products to see what works. A lot of the time, homeowners will spend just as much DIYing as they do hiring a professional," she said.
The Bottom Line
We see some clear strengths and weaknesses with this company. First, we believe that their website is easy to use when it comes to purchasing a lawn plan.
They provide a good amount of detail for each plan and how many times someone will come to your house to check up on your lawn and apply treatments.
Also, they're a relatively reputable company in the sense that they're a lawn care provider for the PGA. We like that their return policy allows you to cancel any remaining treatments you haven't used in the event that you aren't satisfied with their ability to make your lawn look beautiful.
We believe the downside to the company is that there are thousands of negative reviews about their services, with many people complaining about the company's inability to make their yard work better, missed appointments as well as high-pressure phone tactics.
If you're undecided about choosing TruGreen, we suggest using the time-honored technique of getting quotes from multiple yard companies through a vetted site like HomeAdvisor or Porch.com.
You'll be able to read customer reviews of the company and get multiple quotes pretty quickly. Compare these prices and the services to what you get with TruGreen, then make a decision that best fits your budget and your yard's needs.
Customer Reviews
Posted on Nov 10, 2020
My opinion - not worth the money
My opinion is it's not worth the money. The men that do the work are very nice but in my opinion, their calls are so repetitious that they have a standard answer for every homeowner - I'll give more fertilizer, I'll do more weed killer, and in the end, your grass never really looks green green and the weeds are sprouting everywhere. Mine actually looks a lot worse than when they started seven months ago.
Length of Use: 6–12 months
Bottom Line: No, I would not recommend this to a friend
Pros and Cons
Staff is nice
Call when they say they will
Make promises they don't keep
Act like they care when you know they really don't at all
Posted on Oct 9, 2020
Egregious service
Had the first service done on my grass. The person left without contacting me, reached out to him to have him call me back, never called. Scheduled a second service for my trees ASAP, which for them was 2 weeks. On the day this new individual was supposed to come for service, he canceled because he received my address with a typo. This individual did not bother speaking with me or anybody, just decided to cancel. He didn't come back the day of or the next. People in customer service did not care, were extremely rude, and interrupting, in particular Dena, the supervisor overseeing my work from Plant City. Horrible, horrible company. Save your time and money.
Length of Use: Less than 3 months
Bottom Line: No, I would not recommend this to a friend
Posted on Oct 7, 2020
Horrible towards the elderly
My parents paid upfront for a service that was never done! Then, he received a runaround when asking for a refund.
They never showed up and never called.
Bottom Line: No, I would not recommend this to a friend
Posted on Oct 4, 2020
Definitely not worth the money you pay
2020 was my second year using TruGreen, and the results were very underwhelming. There is no custom plan for your lawn conditions, just the same old run-of-the-mill actions. They supposedly apply grub killer in the spring, but as of October 1st, I have trapped 10 moles that have devastated my backyard. This was supposed to prevent that. The broadleaf weed killer they supposedly apply did not work either. I'm done with them.
Length of Use: 1–2 years
Bottom Line: No, I would not recommend this to a friend
Pros and Cons
No "pros" were specified in this review
No custom plan for your lawn type
Poor results
Inadequate chemicals and seed
Posted on Sep 22, 2020
Terrible service
I signed up for weed spraying. Second treatment was a disaster. After 5 or 6 calls trying to get the problem resolved, I finally got a call from a local manager. He was difficult to understand, continued to interrupt me rather than listening to my problem, then insisted that he was sending out the same technician that did a terrible job the second time.
Steer clear of this company.
Length of Use: 3–6 months
Bottom Line: No, I would not recommend this to a friend
Pros and Cons
No "pros" were specified in this review
Customer service
Poorly trained technicians
Failure to deliver results
Posted on Sep 17, 2020
Terrible service
TruGreen destroyed my front lawn and took no responsibility. TruGreen blamed everything on the hot summer and not their treatment services. My lawn got worse after each TruGreen treatment. I canceled the service with 1 treatment remaining. I had to re-seed around 3/4 of my lawn.
Length of Use: 1–2 years
Bottom Line: No, I would not recommend this to a friend
Pros and Cons
No "pros" were specified in this review
Terrible service
No accountability for poor service
Posted on Sep 12, 2020
7 years and worse lawn every year
They always tell me it's a bad year for that weed this season. I finally ask them why I had more crabgrass than all my neighbors that didn't have any treatments, they told me I needed lawn aeration and overseeded. What they must not have checked is that they had done that application 3 weeks prior. They go through managers like I go through socks. Horrible horrible horrible.
Length of Use: 2+ years
Bottom Line: No, I would not recommend this to a friend
Pros and Cons
Phone service
Actual results
Posted on Sep 11, 2020
Horrible company #2
I called to have someone come out and assess my yard issues. This was a Friday afternoon. The representative stated that someone would come out Saturday, and if not then, it would be Monday. Saturday came and no one called. Monday came and no one called. I called again on Monday afternoon and was told again that someone would contact me to come out later that week. Again, no one called.
I would not refer these people to anyone. If that is their initial treatment of you, then imagine what their customer service will be like after you hire them.
Stay away!
Bottom Line: No, I would not recommend this to a friend
Pros and Cons
No "pros" were specified in this review
Poor customer service
Representatives lie to you
Posted on Sep 2, 2020
TruGreen untruthful
Untruthful. They take money without your consent from your credit card. First time I was supposed to pay $29.95 but they charge my credit card $62.16 and they never gave me back the $31.85. Second time they came it was supposed to be $58.45 but they took out $232.91 without my consent. If you don't look at your credit card this is highway robbery. And I'm not the first one this has happened to, it seems to be a reoccurring thing with TruGreen. I will never ever use them again. Not to mention I still have weeds, and not all of the grass grew and I still have bald spots.
Length of Use: Less than 3 months
Bottom Line: No, I would not recommend this to a friend
Pros and Cons
No "pros" were specified in this review
They lie
Taking out money without your consent
They had the nerve to send me a bill for $232.91 after they had checked it out already
Posted on Aug 24, 2020
No product used
I have TruGreen commercial hired through my landscape contractor. They have allegedly put down 4 different products over many months. I have seen ZERO results. The last time I was there and talked to the guy who was putting down granular fertilizer and liquid weed killer. He said they put out a scheduled amount set by the company. Even then, when he was done I could see the liquid canister was still half full and the granular spreader was still mostly full. I walked the yard and could find NO granular chunks laying anywhere in the yard. Also, as I started, I have seen absolutely NO results after many months of treatment. Weeds are growing great and grass is doing poorly which verifies my suspicion that they just walk the yard and put little to NO PRODUCT down. At $50 per treatment for just 4000 square feet of grass, I should get some product applied and see some results. I will switch to ANY other company when this contract expires.
Length of Use: 3–6 months
Bottom Line: No, I would not recommend this to a friend
Pros and Cons
No "pros" were specified in this review
Spend only a few minutes walking the yard
They use minimal amount of product on the yard
No product yields no results
Posted on Aug 23, 2020
Ripoff
TruGreen was supposed to treat my ash tree. Instead, they treated my bushes. To make up for it they were supposed to treat my tree at a discount. I have called them at least 5 times in the past 3 months. They keep telling me they will get back to me within a couple of days but they never do! Very poor business!
Length of Use: 2+ years
Bottom Line: No, I would not recommend this to a friend
Pros and Cons
No "pros" were specified in this review
Lied to me
Charged me for work that was not authorized by me
Our Promise to You
In order to safeguard you and ensure helpfulness and relevance, our compliance team manually assess every customer review before it goes live.
We have a zero-tolerance policy for fake reviews, and companies cannot control or alter any reviews at any time.