TruStage Reviews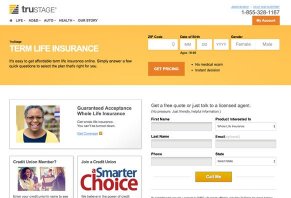 TruStage is a multifaceted insurance website whose main products are life insurance and accidental death insurance in addition to third-party links to auto insurance and health insurance sites.
About TruStage
TruStage is an insurance website that offers you life, accidental death, auto and health insurance via their own site or third-party sites.
What makes this particular site unique is that it helps you get various types of insurance including auto and health. We'll discuss which options you have later in this review.
TruStage is one of several different websites that act as a broker – a middleman, basically – between you and insurance companies. The insurance company who is actually offering policies through the site is CMFG Life Insurance Company. CMFG falls under the umbrella of CUNA Mutual Group, a firm that's been in business for more than 80 years.
A.M. Best, a firm who rates an insurance company's ability to pay your benefit when it's due, gave CMFG an A ranking, which means there's an "excellent" chance the company's finances are in order such that they can pay when it's time to pay.
Is TruStage the right option for you as you consider which websites you want to use to buy an insurance policy?
We're going to answer that question by examining which types of policies TruStage offers, how the company is rated by its customers and how it compares to other websites that offer life insurance.
At the end of our review, we'll reiterate the site's pros and cons.
Life Insurance
When you go to TruStage's website, you'll be able to fill out applications for four different types of insurance: life, accidental death and dismemberment, auto and health.
The site offers you several different types of life insurance, including term and whole life.
Term
Term life insurance plans cover you for a certain amount of time. The idea here is that you're covered if you die before 80, but, if you don't, you lose all the premiums you paid.
The term policies TruStage offers are good until you turn 70. Your monthly premiums are lower when you start and, every five years, they increase. The example that their site gives shows a $10,000 policy for a 25-29 year old female starting out at $4.80 and then, by the time that female is 65-69, the premiums are $42.70.
Keep in mind that, according to TruStage's calculations, your monthly premiums increase at a faster rate the bigger your coverage is. So, using the previous age and gender example, payments for a $300,000 policy would start at $89.30 a month and grow to $617.00.
Notice that your premiums go up at a slower rate in the $300K policy than they do with the $10K policy: about seven times more by 65-69 as opposed to about nine times.
These policies can be purchased without any medical tests. However, keep in mind that your rates could go up if you're a smoker.
Term policies from TruStage range from $10,000 to $300,000. Their fine print notes that $5,000-$10,000 are available, but you'll have to call them at 1-855-857-7282 in order to get them.
Whole
The other option you have is whole life insurance. Unlike term, this policy covers you for your whole life and, whereas your term payments are lost if you don't die, whole life policies have cash value.
The "downside" to these policies is that their monthly premiums tend to be higher than term insurance, especially early on when your term premiums are really low. Also, TruStage's whole life policies range from $2,000 to $100,000.
To put it another way, the monthly premiums you pay for a whole life plan won't get you as big of a payout as it would with term.
You can also get guaranteed whole life, which is typically something you get when you're at the end of your life and you want a policy that will cover funeral costs and that you can get regardless of your health condition.
These policies range in value from $2,000 to $20,000.
Pro tip: You can also buy whole life insurance for your children. TruStage's website says these can cover up to $50,000.
Accidental Death and Dismemberment
These policies are intended for younger people who want a life insurance policy that will cover them in case they die suddenly from an accident. The concept behind these policies is that there's a very low possibility that someone in their 20's will die of natural causes, so there's no need for a life insurance policy, per se.
An example that TruStage provides on their website indicates that you could be eligible for an "AD&D" policy for as little as $10 a month for $100,000 in coverage. This type of policy might sound like a bargain considering you get 10 times the coverage of a $10,000 term policy for around twice as much per month.

But, remember, these policies are designed for accidental death and dismemberment, which isn't as common as you might think. According to 2015 numbers from the Centers for Disease Control, accidental death makes up 0.004 percent of all deaths of people between the ages of 25 and 44.
Car Insurance
The next major category of service the site connects you to is auto insurance. According to their site, when you ask for a quote, you'll be linked to Esurance and Liberty Mutual.
What's interesting about this combination of companies is that Esurance ranked highest in consumer-research firm J.D. Power's 2017 rankings of auto-insurance customer service. However, Liberty Mutual ranked the lowest.
However, in the New England region, Liberty Mutual ranked in the middle of the pack (Esurance isn't available in New England).
» Related: How to Lower Your Car Insurance Cost and Still Have Enough Coverage
Health Insurance
The final category of insurance you can get through the site is health insurance. When you sign up for a health insurance quote, you're actually sent to Go Health, a site that helps you compare the cost of various health care plans available in your area.
It's important to note that you'll be sent to a third-party site to get a quote from an auto or health insurance company.
How TruStage Compares to Ethos and Fabric
Earlier in this review, we mentioned that there are a couple of other websites out there that offer life insurance policies. Two of them are Ethos and Fabric.
Those two companies focus their websites on term life insurance policies that you can get in less than 10 minutes. The key differences between what they offer and what TruStage offers is coverage amount and length.
TruStage will let you use a term policy until you're 69, whereas Ethos' term policies are between 10 and 30 years long and Fabric's are 20 years long.
In terms of coverage amounts, here's what you can expect from the three sites:
Fabric: Up to $5 million
Ethos: Up to $1 million
TruStage: $10,000 to $300,000
All three sites use insurance companies to provide the actual policy. TruStage and Fabric's companies get A ratings from A.M. Best, while Ethos' gets an A- minus.
In general, we think that TruStage is the better choice if you want a term policy that goes into your sixties but remember, as you grow older, you may want a policy that covers you for the rest of your life and not just to the age of 69.
Pro tip: Fabric offers whole-life insurance but these policies aren't really publicized on their site and serve as a way for customers to "graduate" from a term policy.
The Final Word: Pros and Cons of TruStage
Based on our research of this company, we believe that TruStage is a great site if you're looking to find a life insurance policy but you don't know if you want term or life. Using the site's term and whole calculators, you can get a sense of how much a plan will cost you and what your coverage will be.
Also, the company providing the policies, CMFG, is ranked well by A.M. Best.
The downside is that their term life insurance covers up to $300,000, whereas competing site Ethos can do up to $1 million and Fabric can do up to $5 million. If you aren't interested in those bigger policies, TruStage should do fine.
If you are, however, in the market for a bigger term life insurance policy, then take a moment to read through our reviews of Ethos and Fabric.
Since the two sites focus on term life insurance and, in the case of Fabric, accidental death policies, too, reading our reviews will help you see what some of the more nuanced differences are and help you decide if those sites would or wouldn't be a better fit for you.