TruthFinder
Claimed This company has claimed this profile, is getting alerted on any new customer reviews entering this page, and may engage in dialogue with its customers to address their matters.

Companies cannot pay money or provide goods in order to remove or alter customer reviews.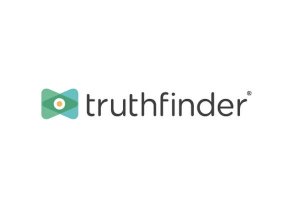 Truthfinder is a people search website that compiles public records for convenient background checks for a monthly subscription.
TruthFinder Review: Is It Worth It?
What Is Truthfinder?
Truthfinder is a people search website that lets you search for anyone in the U.S. and gain instant access to their contact information, background checks, criminal records, and more.
All the information the site displays is technically a public record. Public records are documents or pieces of information not considered confidential. The Freedom of Information Act (FOLA) mandates that these records must be made publicly available for those who request them.
In other words, Truthfinder isn't selling you information, but rather convenience. The site uses algorithms to pull data from sources as varied as social media to personal blogs, arrest reports, birth records, court documents and other pieces of information.
But will you get information that validates Truthfinder's pricing, or are there better options available?
We will answer all these questions in our review, as well as analyze customer reviews, and compare Truthfinder to its competitors. To start, let's explore how the website works.
How to Use the Truthfinder Website
To begin using the service, you'll first enter the person's first name, last name, and state (if known) on the Truthfinder home page.
You'll next spend about five minutes watching various loading bars. Trustfinder may prompt you with questions to hone down their search, possibly pertaining to the person's approximate age, known residential locations, and relatives.
Once loading is complete, you'll be taken to a page that shows potential matching results that display the person's age, current and previous locations, and possible relatives. This information should help you select the right person.
You will then have to purchase a subscription to access the reports (we'll look into pricing details later).
Once you subscribe, you can browse a background report that includes the following categories:
Personal: The person's full name, birth date, possible relatives, and closest associates.

Contact: A list of possible phone numbers and email addresses they are associated with.

Locations: All known living locations, complete with addresses and possible neighbors at each site.

Criminal: Any filed criminal records.

Sex Offenders: Locations of known sex offenders living close to the report subject.

Social: Links (if available) to the subject's Facebook, Instagram, Twitter, YouTube, and other social media accounts.

Licenses: Any professional licenses linked to the subject.

Finances: Financial information related to the subject, including bankruptcies, liens, judgments, foreclosures, and evictions.
The advantage here is that Truthfinder provides all this information in one place. Some of the information they provide may only be accessible through an in-person search of court records. The information is available online but could take hours of research.
The site saves you time by aggregating hard-to-get and readily available information into one simple report.
Is Truthfinder Accurate?
While Truthfinder shares lots of information in its reports, its accuracy is suspect. We asked Liz Brock, founder and owner of Root Investigations, a boutique private investigation agency in NYC for her perspective on the accuracy of services like this, and she shared with us that she was skeptical.
"Sites that pull data from aggregated sources online and public data can have detailed data which is sometimes accurate," she told us, "However because they are only pulling from particular sources, the data can often be filled with inconsistencies or errors and not up to date…[the information] may have clerical errors, or may just have blatant false information."
However, Brock told us sites like Truthfinder have their place for quick research.
"These sites are great for running a quick background check however all information needs to be taken with a grain of salt," she told us.
She shared that her own information that Truthfinder found was inaccurate, as it included an incorrect middle initial and listed addresses she had never lived at. Overall, she found the information to be several years out of date.
I looked up my own family to test the site's accuracy. In one instance, I found a criminal record for one individual for a traffic violation that wasn't filed as described in the report.
Likewise, the platform mixed up my family relations, listed me as living in places I've never been, and presented seemingly random acquaintances as my closest associates. It also listed incorrect employment information for numerous family members.
That's why, in Brock's perspective, a site like Truthfinder works to find the basics but shouldn't be counted on for more than that. And even then, you might not be able to trust them. "Although [your search results] might be inaccurate," she told us, "they can help you in the beginning of a search for someone."
What Does Truthfinder Cost?
The only way to access Truthfinder reports is to pay for a subscription. This will cost $27.78 per month, or $23.02 per month if you purchase two months at once ($46.04 due at purchase). Both packages will enroll you in an auto-renewing subscription program at the same price-point.
We also found that if you stay on the Truthfinder payment page for several minutes without committing to a plan, the site will offer you a 5-day trial membership for $1. If you don't cancel your subscription at the end of the trial, you will automatically be enrolled at the monthly rate.
Once you subscribe, you can perform an unlimited number of searches on different people and will have access to the full information for anyone you search for.
Signing up for a subscription also gives you access to a sex offender watch list and the ability to protect how your personal information is displayed on the site.
It's also possible to upgrade a base subscription to include the following:
Unlimited Phone Report ($4.99/month): Search any phone number for information about the number's owner.

Unlimited Email Report ($4.99/month): Search any email address for information about the owner.

Unlimited PDF Downloads ($2 one-time-fee): Download reports to view, share, and print at any time.
You can cancel your Truthfinder account by calling the company's member care center at (800) 699-8081 or through email at help@truthfinder.com. It's also possible to adjust or cancel your subscription through your online account.
Takeaways from Customer Reviews
Here at HighYa, Truthfinder has a 3.8-star rating after more than 1,300 customers weighed in. Here're the main takeaways:
Many Found the Information to be Accurate: Numerous reviewers praised TruthFinder's accuracy, and some stated their results were over 98% accurate. Many of these users wrote that the service reminded them of facts about themselves they had forgotten.

Not All Facts Should Be Trusted: Others had less positive experiences and reported that their family trees were wrong to the point of being comical, as it listed fathers as children, divorced spouses as siblings, and more. In a few cases, reviewers noted that incorrect criminal records were linked with their names.

Simple to Use Interface: Customers praised Truthfinder for its functional website and streamlined features. They appreciated the "suggested family members" feature that made it possible to perform many background checks quickly.

Subscription Issues Are Common: A few reviewers didn't realize that they were signing up for a reoccurring subscription and dealt with difficulties canceling their account. Others were billed for more months at once than expected and struggled to get customer service to adjust the charges.

Useful for Tracking Sex Offenders: According to one reviewer, TruthFinder's sexual offender records matched the quality and accuracy of what they had access to when working as a Sex Offender Registrar from a Sheriff's Office.

A Good Way to Check Personal Online Security: Many reviewers noted that Truthfinder was an excellent resource for checking on their personal online security. In one case, a reviewer looked themselves up and learned that one of their previously deactivated social media accounts had been hacked. TruthFinder's report allowed them to find the account and shut it down.

Reports Vary in Quality: Many customers complained that the depth of information varied in different TruthFinder reports. For some, they reported that they contained nothing besides basic social media profiles and outdated addresses.
As these reviews seem to show, customer experience for Truthfinder tends to be mixed. You might find the site to be an easy, accurate way to look people up, or you might find that the reports are too vague and inaccurate to be of use.
Your experience will likely depend on the amount of accurate, publicly-available information for the people you are searching.
Truthfinder vs. Other Background Check Websites
Truthfinder is just one of many sites that promise to deliver online background checks. Other options that we have reviewed include Instant Checkmate, SpyFly, and BeenVerified.
These four options differ less than you might expect. They each have access to the same public information, and as such, offer similar pricing plans.
You can expect to pay between $19 to $30 per month subscription for each site, though both Instant Checkmate and Truthfinder offer a 5-day trial offer for $1.
Both SpyFly and BeenVerified ranked two stars or fewer among HighYa readers. Users complained that the information wasn't accurate, especially regarding their previous addresses and family members.
Others wrote that they continued to be billed for the service after canceling their account.
Instant Checkmate received an average rating of 3.4-stars and also offers the most affordable monthly package deal ($9.86 per month for a six-month membership). Many people still complained that the site's information was inaccurate or too expensive for what they received, but others found the site provided quality background checks for the price.
One way that Truthfinder seems to differ from these other options is in user-friendliness. Many customers shared the site made it simple to look up multiple people almost simultaneously, and that they appreciated how the information is displayed on a single screen.
The Bottom Line: Should You Sign Up for Truthfinder?
As this analysis shows, Truthfinder does a decent job of presenting publicly available information in an easily digestible way.
Using the platform, you can gain quick access to your subject's current and past residential locations, social media profiles, contact information, and criminal records.
However, this information's accuracy is highly suspect. When I signed up for an account and looked up people and celebrities I knew, I was shocked how off the reports often were.
In one memorable instance, Kim Kardashian's second-closest associate was listed as "Teen Choice Awards." This lack of basic fact-checking for an A-list celebrity should make you question the validity of the rest of Truthfinder's data.
Another potential negative is that Truthfinder uses shock tactics to encourage you to subscribe. The site will question whether you are comfortable seeing "potentially graphic" information about the person you are searching, and uses troubling language in their popups, including the following quote:
"We have millions of records that may expose [your subject] for who he really is. Please confirm once again that you are ready to learn the truth about [your subject]."
For the dozens of personal reports I looked at, there wasn't any information that could be classified as graphic or troubling, even during searches of celebrities with known criminal records.
For more on this topic, we recommend reading The Problems with People Search Websites. This article explains how sites like Truthfinder share information that is already publicly available, often incomplete or inaccurate, and pricy for what you receive. It also shares some alternatives for finding free public records online if you prefer to do more of the search work yourself.
---
This company is actively collecting reviews from its customers. All reviews submitted are subject to moderation and approval to ensure they meet our

Review Guidelines

.

Concise and credible

By Margaret F.

,

West Virginia

,

Jun 30, 2020
Verified Reviewer

Overall Experience:

My experience using the TruthFinder service has been not only rewarding but enlightening as well. I had some credit report issues and have been able to find the missing information that was needed to remedy my situation and further my process of securing my identity and my family's future.

Pros and Cons:

Ease of access
Amount of information
Security
Cost
Lack of criminal history detail
Slow notification

Bottom Line: Yes, I would recommend this to a friend

---

Amazing service!

By Bev K.

,

Chugiak, AK

,

Jun 22, 2020
Verified Reviewer

Overall Experience:

Last year my best friend hired an unmarried couple to live in her home, all expenses paid, and the woman had just three responsibilities: feed the dogs, water the dogs, and clean up their areas. Unfortunately, my friend did not think to ask me to check them out on TruthFinder. The woman never cleaned up the dog areas, she just covered their feces areas over with sawdust and straw - all winter! What a huge mess we've had to clean up! She even has D.V. convictions!

This person is a horrible housekeeper, too! My friend is very immaculate about her person and home. She came back from her far-away work in the spring and found shocking damage and filth throughout the house and yard.

We are still finding missing items (tools, etc.) that the boyfriend either broke, ruined, or stole and sold from the back of his truck; four separate people told my friend that the guy was selling all kinds of her belongings! He ruined her chain saws and other tools and stole too many major items to begin to list.

Now that I have looked them up on TruthFinder for her, I have also looked up the man who has applied for the same position this year. He is fine, has a responsible job, and has no criminal history.

Pros and Cons:

Their work is thorough, not just name and age
They caution us to use the information responsibly
They are available by phone if we need help
No "cons" were specified in this review

Bottom Line: Yes, I would recommend this to a friend

---

Advertisement

---

Bait and switch

By Jasper C.

,

New York

,

May 27, 2020
Verified Reviewer

Overall Experience:

After filling out the review but not clicking accept, I got an offer for a discount. Why not offer the discount upfront? Then after accepting the terms, when I go to print, another fee pops up. Not happy at all.

Bottom Line: No, I would not recommend this to a friend

May 29, 2020

We're sorry to hear you had a frustrating experience with your billing experience. Please contact our Customer Support team at 1-800-699-8081 so we can make things right.

Sincerely,

TruthFinder Support

---

Fun and educational

By Lila M.

,

San Diego, CA

,

May 26, 2020
Verified Reviewer

Overall Experience:

Good past time during this Coronavirus stay-at-home. I have found TruthFinder to be very thorough in the reports. The Guardian Protection Plan appears to be secure. Help is always available if needed. Their reports are constantly updated. Unlimited reports for a nominal fee. I have not been disappointed with my purchase.

Bottom Line: Yes, I would recommend this to a friend

---

Advertisement

---

TruthFinder helped me reach 2 of the 10 friends

By Nicholas R.

,

Philadelphia, PA

,

May 20, 2020
Verified Reviewer

Overall Experience:

I began my search by looking at what was on my own profile, and I found that it was accurate but for one mistake. TruthFinder had a person listed as a relative that was not a relative, so I was able to remove the incorrect information. I was looking for 4 friends from college years of 1967 to 1971, and was able to find information on all 4 friends, but 2 of these I found out were deceased. That was sad news but also a needed reality in my searches. There is a fifth friend who I can not locate, even after extensive searches of the personal background and residence and phone number, so I extended my search to his siblings, and none of the e-mail addresses or phone numbers were correct or working numbers. This fifth friend's personal information was accurate for past addresses and phone numbers, and one number was working and I have left four voice mail messages over a week to him in Silver Spring, MD. I am still hoping for success and will remain persistent.

Bottom Line: Yes, I would recommend this to a friend

---

No response

By Barbara K.

,

Pennsylvania

,

May 15, 2020
Verified Reviewer

Overall Experience:

I am not getting any answers to my text. And when I ask a question. You have taken 2 payments from my account and I never got any information from my question. Will someone PLEASE send me a text message. Otherwise, I will take steps to get my money back.

Bottom Line: No, I would not recommend this to a friend

May 18, 2020

We apologize for any confusion you experienced in regards to our billing system. When a user activates their account, they must provide an electronic signature authorizing TruthFinder to charge their card as described, including for the automatic renewal of their membership. Our Billing Terms are conspicuously explained on this page and in our Terms of Use. Additionally, all of our customers have the ability to look up their order history on the TruthFinder dashboard under My Orders and are sent a confirmation email for any orders placed on the site. Please contact our Customer Support team at 1-800-699-8081 so we can make things right.

Sincerely,

TruthFinder Support

---

Trial access cancellation

By Jerry P.

,

California

,

Apr 28, 2020
Verified Reviewer

Overall Experience:

Your 5-day trial access is lost if you cancel anytime during that 5-day period. (Say, for instance, immediately after you generate and download one report in the first hour.) For further access during that 5-day, you will be directed to monthly or bi-monthly charge authorization. So what's the sense? And, if you paid for unlimited PDF downloads, then that is also inactive.

Bottom Line: No, I would not recommend this to a friend

Apr 30, 2020

We're sorry to hear you had a frustrating experience with your billing experience. Please contact our Customer Support team at 1-800-699-8081 so we can make things right.

Sincerely,

TruthFinder Support

---

Shows your info or anyone else's!

By Warren W.

,

Honolulu, HI

,

Apr 27, 2020
Verified Reviewer

Overall Experience:

This was a helpful site to use for seeing what information of mine that was out there. This allowed me to work on clearing out old accounts that I forgot about out there. It also allowed me to connect with relatives that I could not find otherwise.

Bottom Line: Yes, I would recommend this to a friend

---

They took my fees for many months and canceled me for misusing the site. I never did ANYTHING that was improper.

By Stephen L.

,

Chicago, IL

,

Apr 22, 2020
Verified Reviewer

Overall Experience:

All of a sudden, when I wanted to change my payment method from PayPal to a credit card, they canceled my account. They said they do not allow use for any business purpose whatsoever. I'm an attorney, and would not want to violate any contract or statute. The only use I've made is to locate clients, friends, witnesses, family, and primarily doctors who have moved from wherever they had been when they treated my clients. I never once used the service for any purpose that they said was prohibited. So, to make sure I had not mistakenly violated their so-called "terms and conditions", I reviewed them completely. Nothing there that I violated. Those terms refer to a statute, and I read that completely. No violations there either. They said their real usage was as a dating tool, intended for people who were checking out someone to date. Really?

Bottom Line: No, I would not recommend this to a friend

Apr 27, 2020

We appreciate your feedback. Please review our Terms of Use - TruthFinder is NOT a Consumer Reporting Agency. Our service and the information we provide cannot be used to make decisions about consumer credit, employment, insurance, tenant screening, or any other purpose that would require FCRA compliance. We're committed to providing our users with a great customer experience and we'd like to make this right for you. Please contact our Customer Support team at 1-800-222-8985.

Sincerely,

TruthFinder Support

---

Me

By Devante Y.

,

Des Arc, AR

,

Apr 22, 2020
Verified Reviewer

Overall Experience:

It's a good app to me, it helps keep up with your information and stay ahead of your life and your information about yourself and files. I love it. They are accurate and straight forward with the information you need and want.

Bottom Line: Yes, I would recommend this to a friend

---

Feeling really happy with what I saw

By Steve A.

,

USA

,

Apr 17, 2020
Verified Reviewer

Overall Experience:

Before seeing this background I did not know what I was going to see or what I would find. Then as I was going from one place to another seeing that I was a good guy. And that people would see this after seeing what I was seeing. Would say and think the same thing. I want to take this time to thank my Father God for keeping me deep in his arms and holding me from any and all bad things. Thank you in Jesus's Name. So for this, I want to also thank TruthFinder for helping me know my background.

Bottom Line: Yes, I would recommend this to a friend

---