Truvani Reviews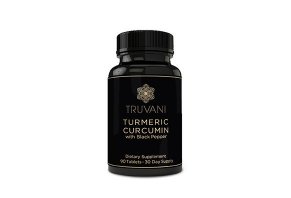 Using a blend of three active ingredients, Truvani's Turmeric dietary supplement claims to deliver a variety of inflammation-related benefits caused by conditions such as arthritis and high cholesterol.
About Truvani
Sourced from the highest quality ingredients and formulated by Vani Hari (aka Food Babe), when taken daily, Truvani's 100 percent organic Turmeric supplement promises to deliver 12 powerful health benefits.
These include help maintaining healthy inflammation responses, promoting overall joint health and mobility, supporting the health of the cardiovascular system, promoting healthy cholesterol levels, delivering more radiant skin, soothing digestion, and boosting stress tolerance.
By taking just three capsules per day, Truvani claims their Turmeric formulation can also positively influence weight management in overweight people, aid in maintaining normal blood sugar levels and supporting healthy metabolism, fight excess free radicals, and maintain healthy cognitive function and working memory.
If there ever was a 'miracle' dietary supplement, based on many of the claims made on the website, Truvani's Turmeric formula might meet the definition. But once you've handed over your money, can you expect it to deliver in the real world?
Let's start answering your most important questions by taking a look at the trickle-down effect inflammation can have on the body.
The Link Between Inflammation & Disease
There's no reason to get overly technical here, but according to TIME, a specific signaling molecule known as tumor necrosis factor alpha (TNFα) "plays a large role in driving systemic, disease-causing inflammation," and as such has been closely linked with conditions like "inflammatory bowel disease, psoriasis, arthritis and many other[s]."
In fact, inflammation is thought to be the primary driver of many of the diseases referenced on the Truvani website, including mood (specifically, depression and some other mental illnesses), cancer, and obesity, to name just a few.
But is there any clinical evidence that a) turmeric supplementation can meaningfully address inflammation in humans, and b) that this can then result in real-world health benefits? Let's briefly dive in.
Which Products Does Truvani Offer & What Are Their Ingredients
According to their product label, Truvani's Turmeric supplement contains the following ingredients:
Organic Turmeric Powder 1,350 mg
Organic Turmeric Extract 150 mg
Organic Black Pepper Powder 10 mg
Additional ingredients include organic acacia fiber, organic rice hulls, and organic rice extract blend.
Because HighYa isn't staffed by trained clinical, nutritional, or medical professionals, when validating whether or not an ingredient is classified as 'effective' for a given claim, we rely on the cumulative summaries provided by sites like the Natural Medicines Database, WebMD, and the University of Maryland Medical Center.
And according to these sites, there is some research suggesting that supplementation could help reduce "total cholesterol, low-density lipoprotein (LDL or "bad") cholesterol, and triglycerides in overweight people with high cholesterol."
It might also help reduce pain and improve function in those with osteoarthritis, while reducing itching in those with long-term kidney disease (and might work even better in formulas that contain black pepper). No dosages or other specifics are provided.
Could Truvani's Ingredients Cause Side Effects?
According to these same sites, turmeric typically doesn't cause significant side effects, although some people (again, no specifics provided) might experience mild, temporary digestive upset, dizziness, or diarrhea.
In addition, they report that turmeric can have a moderate interaction with anticoagulant and antiplatelet drugs.
These are just a couple of the reasons why it's always a solid idea to talk with your primary care physician before taking any dietary supplement, whether from Truvani or a third-party manufacturer.
How Much Do Truvani Supplements Cost?
Based on their current launch special, each bottle (90 tablets) of Truvani Turmeric is priced at $26.24 (normally $34.99) for a monthly subscription, or a one-time purchase for $31.49.
Either way, each purchase comes with a 30-day refund policy, less S&H, which you can request by contacting customer service at (980) 292-0438 or support@truvanihealth.com.
What Do We Know About Truvani as a Company?
Truvani (Nomolotus, LLC) was founded in 2017 and is based out of Las Vegas, NV. It's the brainchild of Vani Hari, who's perhaps better known for her ultra-popular food blog called Food Babe. It's so popular, in fact, that it received more than 54 million visits during 2014.
According to her bio there, she investigates "what is really in our food, how is it grown, and what chemicals are used in its production," although she notes she has no formal training in nutrition and learned everything she knows after "spending thousands of hours researching and talking to experts."
Vani and her Food Babe brand are immensely popular among fans, and have even elicited changes within the industry, such as Kraft "drop[ping] the artificial orange color from its mac and cheese," and convincing "Subway to do away with the common bread additive azodicarbonamide — which Hari noted was also used in making yoga mats."
It appears Food Babe is not without controversy, though, as the article goes on to note that many academics, such as Yale University's Steve Novella, feel her approach "stokes unfounded fears about what's in our food to garner publicity." They then list a couple of her misconceptions that could have negatively impacted an otherwise safe food ingredient, as do third-party sites like Health.com, The Atlantic, and Forbes.
Truvani vs. the Competition: How to Buy a Turmeric Supplement
Even just a quick glance at online marketplaces like Google Shopping and Amazon will reveal there are probably hundreds of different curcumin and turmeric dietary supplements available, most of which were priced between $8 and $30 at the time of our research.
Some included turmeric only, while others also featured additional ingredients like black pepper extract (which sometimes goes by the brand name Bioperine). Some delivered as little as 450 mg per dose, while goes other provided as much as 1,300 mg. Some were available locally at national retailers, while others were available solely online.
How in the world can you make sense of all these choices and spend your hard-earned money on something that will deliver maximum value?
Returning to our authoritative sites, it important to point out that while there's some clinical evidence that turmeric supplementation might provide minor benefits related to cholesterol, osteoarthritis, and kidney disease-related itching, WebMD emphasizes, "Researchers haven't yet conducted significant studies on the benefits of turmeric and curcumin. So it's too early to say what health benefits turmeric might have."
And even if these sites listed sufficient clinical evidence supporting Truvani's claims for their Turmeric supplement, there doesn't seem to be an agreed-upon dosage.
With these details in mind, when shopping for a turmeric supplement, ConsumerLab (membership may be required for full access) recommends looking for the species Curcuma longa, making sure the part of the plant used is "root" or "rhizome," and verifying that they list the dosage in milligrams (mg) or grams (g). And based on our years of researching dietary supplements, we'd also recommend only doing business with companies who:
Provide at least 30-day refund policies, even on open bottles, with no restocking fees
Offer a clear label with all ingredients listed
Come with mostly positive online customer feedback and several years in business
Our Final Thoughts About Truvani
According to sites like Examine.com, the Natural Medicines Database, and WebMD, there's sufficient clinical evidence to list turmeric as 'possibly effective' for addressing some aspects related to conditions like itching caused by kidney disease, high cholesterol, and osteoarthritis.
However, they report there's insufficient clinical evidence supporting turmeric's ability to support weight management, inflammation response, joint health and mobility, metabolism and blood sugar levels, and many of the other marketing claims made on the Truvani website.
But, as we've mentioned dozens of times in the past, everyone's body reacts to ingredients differently, so there's no way to know whether a dietary supplement will work for you without committing and giving it a try. For this reason, it's positive that Truvani seems to stand behind their Turmeric formula with a 30-day refund policy, even if the bottle is open.
Just be sure to speak with your doctor before committing, as they can help you decide if a dietary supplement—whether from Truvani or another company—will deliver meaningful value based on your individual diagnosis.
» For Further Reading: Turmeric and Curcumin: Health Benefits, Best Uses and Potential Side Effects
Horrible customer service!

By Dawn H.

,

Detroit, MI

,

Aug 9, 2019
Verified Reviewer

I ordered this for a 2 month replenish. I tried to create an account that never worked. It ended up getting sent to me every month and getting charged $56.00 a month, for the last 4 months. I have called and left messages. I have sent 3 emails to their support email. At first, I asked for help to get an account set up, and I asked why when I ordered for 2 months replenish, they went 1 month instead. I got NO RESPONSE ON ANYTHING. I have tried MULTIPLE TIMES to create an account, I am NOT ABLE TO MAKE ONE.

Then I disputed with my bank and without contacting me, they refunded my claim. Told the bank that I said nothing to them! The product does not come with return instructions, nor is the address one the package, the same as the company address. Where do we do the returns to?

They LIED to the bank about me contacting them, they lied about contacting me via email. I have it in writing from the bank that they sent me an email. I checked the emails. I got nothing. And they stupidly added a reply comment and faked a date, saying they responded to an email on May 23rd...but they put it on an email that I sent them from June 1st.

Bottom Line: No, I would not recommend this to a friend

---

NOT Gluten-free, NOT safe for gastric issues

By Isabel D.

,

Orange County, CA

,

Aug 1, 2019
Verified Reviewer

Product caused bloating (huge ballooning 10 cm!) and severe gastric discomfort. DO NOT BUY blindly, read the ingredients first! This contains CELLULOSE (read her pages and videos on how she claims wood pulp aka cellulose is bad) aka "acacia fiber". Acacia is a TREE. She puts sawdust in this! Rice hulls cause tears in your gut lining and I already have leaky gut. Finally, there is no such thing as "rice extract", it's a chemical sludge when you consider the word "blend": what exactly is this hiding? The same as "natural flavors"? Is it GMOs? Is it MSG? Is it a bunch of toxic chemicals that are "coconut-derived"? Does it have corn? No way to find out all I know is I reacted severely to this. There's plenty of much cheaper turmeric options out there. You can buy a big jar of organic turmeric and put it inside capsules. Save your money, this is no go!

Bottom Line: No, I would not recommend this to a friend

---

Advertisement

---

It works!

By Rosie M.

,

Tennessee

,

Feb 4, 2019
Verified Reviewer

I bought Truvani turmeric without a specific goal in mind. I've read numerous articles about the benefits and thought that, if nothing else, it would boost my immune system. I was amazed at the results. In only a couple weeks, I had much less pain from my bad back. I never realized how much inflammation there was. At least, I'm assuming that was what was going on. Anyway, the pain decreased significantly. I will probably take Truvani turmeric until the day I die!

I am also ordering some for my granddaughter who was just diagnosed with pre-cancerous cells of the cervix. I figure it can't hurt, since turmeric has been shown effective in combatting several types of cancer. Perhaps the pre-cancer will remain PRE.

Bottom Line: Yes, I would recommend this to a friend

---

This truly works!

By Leticia V.

,

Los Angeles, CA

,

Oct 2, 2018
Verified Reviewer

My husband had terrible inflammation in both his elbows (tennis elbow), keeping him from lifting anything even semi-heavy (i.e., grocery bags). I had read about the health benefits of turmeric and decided to buy a couple of bottles of Truvani's turmeric supplement. He started to take three tablets a day to help with the inflammation, and I started taking one a day just for the benefits. Nothing had really helped my husband with the inflammation and pain before. Aleve would only help temporarily, he would just have to ride it out, but within a week of taking the turmeric supplement, the pain and inflammation have decreased tremendously. His elbows are still tender but nothing like before, and he no longer has to take Aleve for the pain. It's incredible.

Bottom Line: Yes, I would recommend this to a friend

---

Advertisement

---