Try The World Reviews
Claimed This company has claimed this profile, is getting alerted on any new customer reviews entering this page, and may engage in dialogue with its customers to address their matters.

Companies cannot pay money or provide goods in order to remove or alter customer reviews.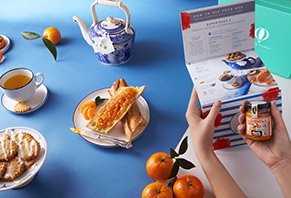 Try the World is subscription service that sends you monthly packages that promise to help you experience foods and cultural items from cities all across the globe.
About Try The World
Working directly with expert chefs and sourcing products from local producers in dozens of countries, Try The World's subscription service enables customers to discover—and shop for—some of the best foods from around the world.
Each Try The World Signature Box includes 7-8 authentic international gourmet items (e.g. cooking ingredients, snacks, drinks, and more), along with a unique Culture Guide featuring stories behind each product and easy-to-follow recipes. In addition, each of the company's Snack Boxes includes 5 snacks from 5 countries, along with a card describing each product.
Want to purchase more of a specific product? You'll be able to do just that on Try The World's website, where you'll also find additional recipes and exclusive content.
Since writing our original Try The World review, 100+ HighYa readers have chimed in about their experiences, which provided some on-the-ground feedback (we'll talk more about this shortly). We were also pleased to speak with the company's co-founders recently, where we learned more about their vision for Try The World, as well as their responses to some of the most common customer feedback.
We'll cover all this (and more!) here, so you can decide if Try The World is the right choice for you.
How Try The World Works
Similar to Beauty Box 5, Birchbox, and other discovery commerce websites, Try The World ships different products directly to your door at regular intervals. Unlike these other companies though, Try The World currently focuses only on gourmet foods and cultural items from around the world, which are hand-picked by Try The World's staff of highly selective team of travelers, curated by celebrity chefs, and produced by artisanal, family-owned companies from around the world.
After signing up for a Try The World Signature subscription (more about this in the Pricing section below), you will receive the current box of the month, which is featured on Try The World's Our Boxes page. Your first box will ship within 10 days of purchase.
After opening your box, you'll find that it features 7-8 local gourmet items for you to enjoy (or, 5 snacks if you choose the Snack Box option). In addition to these foods, the included Culture Guide will provide a brief history about the products and how they should be used, as well as recipes that feature the special products included in your box.
Love the products you received? If so, you can buy them individually through Try The World's online Shop. And as a subscriber, you'll receive 20% off!
As we mentioned previously, Try The World's website also features a regularly updated e-magazine that highlights many of the foods they offer, as well as tips and advice.
Every 2 months you'll receive a new Try the World box (beginning with the Paris Box), which features USFDA approved products from various cities throughout the world, but ones that are otherwise difficult to find in the U.S. These include:
Paris – Jams, traditional hot chocolate powder, snacks, and more.
Tokyo – Red bean jelly yokan, Morinaga milk caramels, traditional bamboo chopsticks, and more.
Rio – Jabuticaba jam, senhor de bonfim wish ribbons, passion fruit tea, and more.
Rome – Orange pastille candies, spaghettata mix, Cantuccini biscotti, and more.
How Much Does a Try The World Signature Subscription Cost?
Try The World customers can choose to receive their boxes once per month or once every other month, which are priced as follows:
Receive Boxes Every Month:
Pay every month: $19/box, auto-renews every month
Pay every 3 months: $54 ($18/box), auto-renews every 3 months (Save 5%)
Pay every 6 months: $102 ($17/box), auto-renews every 6 months (Save 11%)
Pay every 12 months: $180 ($15/box), auto-renews every 12 months (Save 21%)
Receive Boxes Every 2 Months:
Pay every other month: $39/box, auto-renews every other month
Pay every 6 months: $105 ($35/box), auto-renews every 6 months (Save 10%)
Pay every 12 months: $198 ($33/box), auto-renews every 12 months (Save 15%)
All boxes come with free shipping. However, keep in mind that your subscription will automatically renew when the time comes, although you can cancel, pause, or skip a box any time by logging into your account and clicking the "Manage Subscription" tab. Although this might be the easiest option, you can also speak to a live representative by calling customer service at (855) 841-0303.
Are Customers Happy With Their Try The World Boxes?
To date, many HighYa readers have talked about their experiences with Try The World.
For more product tests: Click here to subscribe to HighYa's YouTube channel
In the past, most negative feedback seemed to revolve around long shipping times (more than one customer claimed their shipment was skipped altogether) along with customer service issues. However, the company has made a tremendous effort to resolve these issues (we'll go into more detail in the next section), and the reality is that even the largest, most reputable companies will accrue reviews like these at some point. Based on our dealings with the company, we'd have no problem recommending Try The World to others.
In addition, while many customers claimed to have been pleased with the selection and quality of the products in their boxes, others claimed they were "boring" and "not exceptional."
Our Conversation With Try The World's Founders
Recently, we had the pleasure of speaking with Try The World's co-founders, Kat Vorotova, who is originally from Russia, and David Foult, originally from France. The two met several years ago at grad school in NYC, where they learned that they shared a love for food, but also wished they could travel and discover more products.
As a result, Try The World was born to help others in the same position. To fill the niche, Kat and David focused on affordable, enjoyable, delicious, and authentic products from artisanal producers all around the world (which they're constantly updating), and the idea caught on like wildfire.
In fact, Try The World was such a hit that the budding company went from 1,000 subscribers to 50,000 in the past year alone, leading to some admitted hiccups in the process. However, Kat and David refocused on implementing numerous internal improvements, all aimed at providing ultra-important customer service.
Because of this, Try The World now has a large in-house customer service team at their offices in New York City, who are intimately focused on customer feedback and are constantly improving their model. This includes a 5-hour response time (3 hours for social media), which has skyrocketed the company's approval rating to 96%.
See Also: How to Choose the Best Subscription Box Services
In the end, Kat and David told us that Try The World is completely focused on customer satisfaction, and will gladly bend over backwards to ensure an excellent customer experience.
What's the Bottom Line About Try The World?
Whether you're new to discovery commerce or are a veteran of the subscription box industry, should you sign up for Try The World? By all indications, the company appears to offer unique products that can help you explore different parts of the world without ever leaving your home. However, consider the following before finalizing your subscription:
Unlike many other discovery commerce companies, Try The World doesn't allow you to customize the products in your box (e.g. vegetarian, gluten free, etc.), or the order in which you'll receive them. However, if you'd like to purchase products individually, you can easily search through their online Shop by category, such as "All-Natural", "Dairy Free", "Gluten-Free", "Vegan", and "Vegetarian". Many of these products seem to be difficult to find in the United States
Finally, although most of Try The World's customers appear pleased with their products, keep in mind that they're not the only foodie subscription service in town. Don't believe us? Try typing "subscription food boxes" into your favorite search engine and watch how many options pop up.
Granted, none of these will offer the same products and services exactly like Try The World, but the point is that you have options.
Bottom line: Although Try The World experienced a couple big speed bumps due to rapid growth (mostly related to customer service), our phone call with Try The World's founders really helped put the situation into perspective, and went a very long way toward showing us that they're a legitimate business with a single-minded focus on providing a top-notch customer experience.
Given this, if you're a foodie, we think it'd be hard to go wrong with Try The World. However, you might want to start with a month-to-month description and try out a few boxes before committing to a longer—and more expensive—plan. After all, if you love it, you can always upgrade later and save on your subscription.
What'd you experience with Try The World? The products? The customer service? Whatever it is, be sure to tell the world about it by writing a review below!
Editor's Disclosure: The Try The World Paris box as shown in the video was sent to HighYa by Try The World free of charge. There was no money/goods exchanged in return for this review and there is no material relationship between HighYa and Try The World. The review in the video reflects the honest opinion of the subject. Click here to learn more.
---
Terrible

By Andrea W.

,

Michigan

,

Dec 18, 2019
Verified Reviewer

Overall Experience:

Terrible! Ordered a 3-box delivery for my son. He never received the box, so I contacted them (which is also very difficult). They said they would send it and give him another bonus box for the trouble. He said he finally received it two months late. He stated the box was filled with "weird" spices and no instruction on how to use them. Again I contacted them and they emailed back that they would send another shipment (I think their response is a blanketed response they use over and over). They never sent another box! Not the free ones or the two extras they promised. THEY ARE A SCAM! Save your money.

Bottom Line: No, I would not recommend this to a friend

---

Super disappointed

By Lindsey A.

,

New Hampshire

,

Oct 28, 2019
Verified Reviewer

Overall Experience:

I've been ordering this for a bit and how disappointing! It's basically a bunch of expiring food thrown into a box. Canceled after getting a bunch of squished baguettes and repeat seasonings...Yuck!

Bottom Line: No, I would not recommend this to a friend

---

Advertisement

---

No variety, duplicates, would not buy again

By Lisa K.

,

North Carolina

,

Mar 14, 2019
Verified Reviewer

Overall Experience:

I gave a 3-month snacks subscription box as a gift and this is what they said: "We enjoyed our boxes but didn't like any of the products enough to buy again. Thought there should be more variety instead of duplicates."

I gave a 3-month countries subscription box to a different person and saw the contents and this is what I said: "Hello, subscription cards, waste of space. 90% were spicy products, which was a no go for this couple. 50% from the USA. Lots of duplicates. Was always asking when the subscription box would ship out. The first box took over one month to ship."

Bottom Line: No, I would not recommend this to a friend

---

Scam?

By Dave C.

,

USA

,

Nov 6, 2018
Verified Reviewer

Overall Experience:

I don't get pleasure from bashing companies online. I am only writing this to warn other customers of a possible scam.

I ordered a 3-month subscription several months ago and never received anything. I called several times and never got an answer and left multiple messages and didn't get a response. I sent them an email explaining everything and they ignored my request for a refund and didn't acknowledge any inconvenience that I had informed them of.

Looks like we won't be getting our $105.00 back and I am left to wonder if this is a scam as my experience seems to be a regular one, given many, many other online reviews.

Bottom Line: No, I would not recommend this to a friend

---

Advertisement

---

Going out of business, dumping stock

By Clyde

,

New York City, NY

,

May 17, 2018
Verified Reviewer

Overall Experience:

This company is pretty clearly going out of business. Customers accumulating points for shopping in their exclusive shop full of customer favorite items get skunked when all inventory is suddenly pulled.

Expensive, premium "country" theme boxes replaced by mixed boxes of random stuff, including numerous month-to-month repeats.

Items promised to be shareable or at least serving-size replaced with things like 1 fl oz of Balsalmic vinegar, 1 sq cm of chocolate, or a 10g packet of "fancy" salt.

Customer service emails bounce. Online customer service forms receive no reply. Cancellation is impossible; you know this is a contract, you can't quit your subscription. The more loyal you are, the more you get stiffed.

They are clearing out stock, fulfilling subscriptions, and soon enough they will cut their losses and cut you off, once they're out of crummy overstock to dump on you.

This is a sad attempt to continue to make money for a few more months while the business goes belly up, instead of doing the right thing. The executives of this company should be defrocked, blackballed by any future investors, and answerable to the customers they are gypping.

Bottom Line: No, I would not recommend this to a friend

---

Total ripoff

By David Moolten

,

Philadelphia, PA

,

May 15, 2018
Verified Reviewer

Overall Experience:

Total scam artists. We ordered the annual subscription. They failed to deliver. After two and a half months, we disputed the charge on our card. They sent one box to placate us and the credit card company. That was the first and last box we ever received. They refuse to respond to emails, have no telephone. We have filed a consumer case against them in their state of doing business but are pessimistic we will ever see our money or God forbid one of their boxes.

Bottom Line: No, I would not recommend this to a friend

---

Try The World is a joke

By RML

,

Midwest, United States

,

Apr 26, 2018
Verified Reviewer

Overall Experience:

Honestly, this has got to be the worst subscription service I've ever tried. First, they advertise boxes themed by country. This is false advertising. What you actually get is a hodgepodge of international products, many of them extremely small or nearly expired. There is no thought that goes into the curation of these boxes. Honestly, Try The World is garbage. Better to go to your local international grocery, blindfold yourself, and throw random products into your basket.

Bottom Line: No, I would not recommend this to a friend

---

Poor service, expired products

By Karen W

,

Mountain View, CA

,

Apr 19, 2018
Verified Reviewer

Overall Experience:

I ordered a 6-month snack subscription for my niece entering college. The first box took 2 months to arrive - it was so late it came with the next subscription. They didn't notify me that it was going to be late, I had to inquire. Who knows if it would ever have come if I didn't ask? As an apology, they offered a free additional holiday gift box, which never came. I asked about it three more times in the next three months, and they kept saying a makeup box was coming, but did not.

Lastly, the products are old. We received Hemp Oil and Coconut Oil, one which was already expired, and one which was going to expire in the same month. They must not have enough customers to keep the turn around quick enough. Terrible. Don't waste your money.

Bottom Line: No, I would not recommend this to a friend

---

I used to love it. Now, not so much.

New Hampshire

,

Apr 10, 2018
Verified Reviewer

Overall Experience:

I've been a monthly box subscriber for over two years (almost since the beginning). I can honestly say that this subscription got me out of my culinary comfort zone, and now I fully enjoy trying recipes from all over the world. I loved looking forward to the boxes, and I can still tell you every item that was in my first box from memory.

Sadly, in June of 2017, my box came delayed. The reason given was the warehouse move. I finally got the box in September. But that meant July, August, September, and October was also delayed. There was one month that I didn't get a box at all, because "they ran out." I did at least get a one-month extension on my subscription because of the missing box.

They used to send emails that the box was coming so you could watch out for it and let the suspense and anticipation built. Now customers are in a communications black hole and have to rely on seeing the box actually arrive to know if it is coming. When I had the delayed boxes, they would tell me that I would receive the box within five days, and two weeks later I would still be asking where it was.

I also noted that the December, January, and February boxes shifted from a single-country format to a mixed country/mixed product format. I recently asked about that, and they claimed that they sent an email to all customers in December of that change. Well, I have EVERY email from them back to my initial subscription setup, and I can tell you that there was no email sent. At least not to me.

The warehouse excuse is starting to wear thin. If the move was going to be such a bear, perhaps a little more time should have been spent on logistics. Also, you can't really use the warehouse excuse for a reason for your complete change in business model. As many others have said, I can buy most of these products in my local stores. Lee Kum Kee sweet and sour sauce? Seriously? I can get that at my local grocery store.

According to the most recent communication with them, I was told their website team was working on getting the store back up online. But they were vague about the expected date of completion.

So I guess that instead of trying the world, the customers are just getting hung out to dry and left in a communication black hole. I hope that the company gets organized again. They had a really good product that was unique. It's not so attractive or unique anymore.

(I wish there was a third option for Bottom Line: "I used to recommend this to friends and strangers all the time. But now, not so much. I would recommend again if they got back to their origins.")

Bottom Line: No, I would not recommend this to a friend

---

Overall Experience:

I used to love Try The World, but things have changed quite a bit.

At one point I had a double subscription and ordered from their online store on top of that. These days boxes are no longer curated or feature a specific country. If you receive a box at all, which it seems many do not judging by what social media comments Try The World hasn't managed to delete, they feature Chinese sauces that can be found in nearly any grocery store, expired items, items not intended for single sale, etc. You can truthfully find better "international" food at Ross, TJ Max, etc.

The packaging has been downgraded from the beautiful collectors items they used to have to just regular ol' mailers. They no longer partner with chefs or really do much of anything.

For about six months they've claimed the issues were from a warehouse move, which granted I see they are no longer shipping from Tennessee like they used to, but six months? As well, that does nothing to explain the huge drop in quality.

Bottom Line: No, I would not recommend this to a friend

Jan 26, 2018

Hi Rich,

We're very sorry for any trouble we've caused. We were undergoing a warehouse transition over the past few months, which unfortunately has caused significant delays and issues. We are now settled, however, do not expect any more delays in the future. We are also listening to all of our customers' concerns and are constantly working hard to perfect each months box. Again, apologies for any frustration and inconvenience.

Best,

The Customer Experience Team at Try The World

---

Wrong box

Dec 14, 2017
Verified Reviewer

Overall Experience:

My mom purchased a 3-month subscription of the countries boxes for my husband and I. The box has been received, except it is a Snack Box. I have been trying all day to contact them and none of the three numbers I have found work. And I have not received any emails from them either. I'm hoping they will fix and resolve this issue in a timely manner.

Bottom Line: No, I would not recommend this to a friend

Jan 3, 2018

Hi Leah,

We're sorry for any trouble. It looks like you were sent our "November Around The World Countries Box!" This was not our Snack Box. This month's box was more snack heavy than usual, however, next month's box will have more ingredients in it. I hope this helps clarify and apologies for any confusion.

Best,

The Customer Experience Team at Try The World

---