Tuft and Needle Reviews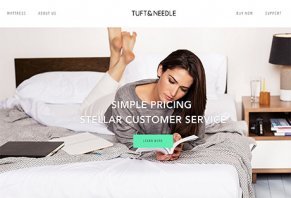 By cutting out middlemen, Tuft and Needle claims to manufacture high-quality foam mattresses, sell them at fair prices, and deliver them directly to your door.
About Tuft and Needle
Founded in 2013, Tuft and Needle manufactures and sells high-quality mattresses direct to consumers, which they claim cuts out middlemen and allows the company to offer much lower prices than the competition.
In fact, Tuft and Needle claims that their mattresses are priced up to 1,000 percent less than similar quality mattresses you'd find at local department stores.
If this is your first time looking for mattresses in quite a while, you might be surprised by their high prices and the heavy-handed sales tactics that come along with them.
But companies like Tuft and Needle are out to change this paradigm by providing similar quality at much lower prices. Have they succeeded?
How Does Tuft and Needle Claim to Work?
Like so many other recent online companies who are taking on large, well-entrenched industries, Tuft and Needle claims that the root of their business model revolves around the premise that quality mattress shouldn't cost a fortune. In other words, their main goal is to provide quality mattress at fair prices, without any gimmicks.
Because of this, Tuft and Needle claims to have developed a new proprietary polyurethane foam (70% high-density foam on bottom for support, 30% pressure-relieving foam on top for cool comfort) based solely on customer feedback.
The result is a mattress that's claimed to provide the perfect firmness and rebound, while evenly and comfortably distributing your weight closer to the surface to avoid sinking in too deeply.
On top of this, Tuft and Needle's breathable foam is claimed to help keep you cool by drawing body heat into the mattress, which is then dispersed through the edges.
As an example of how the modern mattress industry is perhaps based more on hype than value for your hard-earned money, Tuft and Needle claims their foam mattresses only have 2 layers (compared to the up to 10 provided by other manufacturers), which further improves airflow and overall comfort.
And due to their focus on value without compromising quality, Tuft and Needle claims their mattresses, which come in 10" or 5" thicknesses, are "the highest rated in the world" (we'll talk more about this in a moment).
Tuft and Needle mattresses are claimed to be manufactured in the US and to work well in a variety of settings, including in slatted frames, box springs, and even directly on the floor.
Now that we've covered the basics, let's get to the bottom of it: Should you buy a Tuft and Needle mattress, or is it better to just keep looking? Consider the following:
Tuft and Needle Consumers Speak Out
First and foremost, while we couldn't confirm that Tuft and Needle's mattresses are the "highest rated in the world," their online reputation with consumers is overwhelmingly positive, which is also reflected in their appearances in CNN Money, Fortune, Gizmodo, Fox Business, and many other publications.
In fact, their 5" queen version (more about this in a moment) on Amazon.com had a total of 516 customer reviews at the time of our research (1/12/15), a whopping 494 of which were either 4 or 5 stars. Common compliments appear to referencehigh-qualityy materials, great customer service, and ease of setup.
Outside of Amazon, other websites appeared to give Tuft and Needle mattresses equally glowing reviews, such as the Surly Biker, who reviewed their Tuft and Needle queen mattress as soon as it arrived, as well as with another review 6 months later, and were still just as pleased with their purchase as the first day.
With this said, by far the most common complaint we encountered regarding Tuft and Needle mattresses during our research was that they were too firm. With this in mind, Sleepopolis rated Tuft and Needle mattresses an 8 out of 10 on the firmness scale, so if you prefer an ultra-soft mattress, you'll almost certainly want to look elsewhere.
Variety is the Spice of Life
Although Tuft and Needle mattresses appear to have a very positive reputation with consumers, it's important to remember that you have a number of online mattress companies from which to choose. These include Casper Mattress, Novosbed, Lull Mattress, Cocoon by Sealy and Saatva Mattress, both of which also come with their fair share of glowing customer reviews. In fact, as we'll discuss in a moment, Casper is even less expensive than Tuft and Needle.
Tuft and Needle Pricing & Refund Policy
10"-thick Tuft and Needle mattresses are priced as follows (5" thickness also available for lower prices):
Twin (39" x 75"): $350
Twin XL (39" x 80"): $375
Full (54" x 75"): $500
Queen (60" x 80"): $600
King (76" x 80"): $750
Cal King (72" x 84"): $750
All Tuft and Needle mattresses come with free delivery and ship in a small 66" x 16" x 16" vacuum-sealed box. Although they can take 1-2 weeks to arrive, the company claims that once the box is opened, your mattress should unfold to its normal size within 2-3 hours (forget about ever getting in back in the box though, so you can go ahead and toss that in the recycling).
Your Tuft and Needle mattress also comes with a 100-night trial and a 10-year warranty against defective materials or workmanship. In order to request a refund or process a warranty claim, you'll need to contact customer service at 888-677-9331.
Are Tuft and Needle Mattresses Worth Buying?
Chopping to the Point: Second only to the clothes you wear, buying a mattress is perhaps one of the most personal purchases you'll make throughout your lifetime. And because it's so intimate, what one customer considers the epitome of comfort, another might think is like sleeping on a bed of nails.
However, of those consumers who made complaints about Tuft and Needle mattresses, the number one problem they referenced was that they were too firm. Based on this feedback, if you're a resounding fan of ultra-soft mattresses, then Tuft and Needle might not be your cup of tea.
On the other hand, if you prefer your mattress a bit firmer, then Tuft and Needle's low prices, online customer reputation, and 100-day return policy are hard to ignore, although the company has some increasingly stiff competition. As such, be sure to fully research your options before making a final decision.
Online Mattress Buying Guide: