TuraPur Pitcher Reviews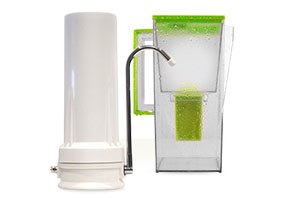 The TuraPur Pitcher and Countertop water systems claim to free hydrogen and increase the alkalinity, delivering antioxidants and other health benefits.
About TuraPur Pitcher
The TuraPur Pitcher and Countertop water ionizing systems promise to deliver hydrogen-rich water with high levels of antioxidants. As a result, we're told your water will taste and smell better, and may even help you experience increased energy, more radiant skin, and healthier joints.
In fact, TuraPur mentions in several places on their website that these systems can "revitalize your cells from the inside out" and provide you with a "fountain of youth"!
Once we step away from the sales pitch though, what can you realistically expect from drinking TuraPur water, whether from their Pitcher or Countertop system?
Will you find it worth the price? Sit back, grab an ice-cold glass of water, and we'll discuss what we learned during our research.
How Does TuraPur Provide Healthier, Better Tasting Water?
TuraPur manufactures two different filtration systems; a Pitcher and a Countertop model:
TuraPur's Pitcher
Made of BPA-free plastic, we're told that TuraPur's pitcher filters water over three different stages:
A layer of NSF-certified activated carbon
A layer of ion exchange resin that softens the water and gets rid of bad tastes and odors
Here, the hydrogen is released while enriching the water using magnesium, infrared ceramics, and tourmaline
In addition to these benefits, TuraPur claims their Pitcher produces water around 9 pH (we'll talk more about this shortly), that it fits in your refrigerator, and can be used on the go for trips and picnics. Other than putting the 3-stage filter in place, there is no assembly or installation required.
TuraPur's Countertop Model
At about 3.5" wide and 11.5" tall, TuraPur's Countertop water system is about the size of a half-gallon jug of milk and is designed to sit right next to your sink.
Although it's not quite as easy to setup as their pitcher, we're told you can install the Countertop model in minutes, without the assistance of a plumber. All you need to do is attach the nozzle to your sink faucet (it comes with 2 adapters, so you're sure to get the right fit). For a more in-depth look at the process, be sure to read through TuraPur's installation instructions.
From there, the company tells us you simply need to turn on your sink and the 3-stage filter will get right to work:
A 1" layer of KDF process media, which the company claims is "backed by 15 patents and an NSF International certification"
A layer of Nuchar® AquaGuard® 325, a form of granular activated carbon that's claimed to be 8-10X more absorbent than regular activated carbon
Finally, similar to the Pitcher, the Countertop's filter will free the hydrogen in the water using magnesium, infrared ceramics, and tourmaline
According to TuraPur, each Countertop filter is good for about 500 gallons, or about six months of use for an average family.
While activated carbon water filters have been used for years to help improve the taste and odor of tap water, what does the science have to say about TuraPur's specific health claims? Let's take a detailed look.
What Is Alkaline & Hydrogen Water?
pH: Alkaline & Acidic
You've probably heard of pH before, which is defined as "a measurement of the hydrogen ion concentration of a solution." In layman's terms, pH is a number that references the acidity of something—the lower the number, the greater the acidity (such as battery acid), while higher numbers mean that a solution is alkaline (household ammonia, for example).
In nature, water is made alkaline by passing over rocks and picking up minerals. In the instance of TuraPur's Pitcher, it seems they're looking to accomplish much of the same in the comfort of your home using specialized filters.
While it's obvious that water with a very high acidity could be harmful to your health, does this mean that alkaline water can do the opposite and provide a health boost?
Is There Any Benefit to Drinking Alkaline Water?
Here's how Healthline puts it:
"Alkaline water is a somewhat controversial topic. Many health professionals argue against its use, saying there isn't enough research to support the many health claims made by users and sellers. According to Mayo Clinic, regular water is best for most people as there is no scientific evidence that fully verifies the claims made by alkaline water proponents."
However, the article goes on to mention that there are some studies showing alkaline water may be able to provide benefits in specific circumstances, such as reducing acid reflux. In some studies, it's also been shown to provide benefits related to high blood pressure, high cholesterol, and diabetes.
Does hydrogen water have more clinical evidence to support TuraPur's claims?
Is Hydrogen Water Proven to Provide Health Benefits?
Compared to alkaline water, hydrogen water seems to have a meaningfully greater number of clinical studies behind it—although they might not necessarily support TuraPur's claims. What do we mean?
Back in 2007, Nature published a study that found rats who inhaled hydrogen gas reduced oxidative stress in their brains by a marked amount. While this referenced inhaled (versus oral) hydrogen, it seems to have set off a chain reaction, leading to dozens more studies in its wake.
To see what we mean, you can quickly hop over to the National Institutes of Health's PubMed and browse through nearly 50 different studies specifically looking at the potential benefits of drinking hydrogen infused water (here is one quick example).
Like the original Nature study though, you'll find that many were conducted on mice and were focused on very specific issues (e.g. metabolic syndrome, muscle degeneration, detrusor overactivity, etc.).
This means 1) these benefits may not necessarily transfer to humans and 2) there seems to be limited clinical evidence that hydrogen (or alkaline) water can help you look younger, increase your energy, improve joint condition, or many of the other claims made by TuraPur's manufacturer.
Before moving on, let's talk about one more thing: antioxidants.
Will Antioxidants Provide Any of These Benefits?
The term antioxidants describes a class of substances that inhibit oxidation. What's this mean?
In a nutshell, when oxidation occurs, molecules called free radicals are released, which may be a contributing factor toward serious conditions like narrowed blood vessels, cancer, and more. So, by inhibiting these free radicals, antioxidants are thought to benefit our health.
The issue is that medical science still doesn't have a clear understanding of which antioxidants are best for you, whether or not they actually provide any benefits, and if they do, which amounts are needed to provide the desired effect. How does this relate to TuraPur's filtration systems?
It seems the overall body of clinical evidence is limited that this will translate into any real-world benefits.
How Much Does the TuraPur Pitcher Cost?
TuraPur's systems are priced as follows:
Pitcher: $69.95 plus $4.95 S&H
Pitcher Replacement Filter (add $4.95 S&H):

1 Filter: $17.95
3 Filters: $49.95
6 Filters: $97.95

Countertop: $199 for one; $379 for two
Countertop Replacement Filter: $129 plus $7.95 S&H (note: These can be purchased for the reduced price of $99 when purchasing the Countertop system)
TuraPur's Pitcher and Countertop models come with a 3-year warranty for free replacement of defective parts. Outside of this, however, no refunds are available.
In order to process a warranty claim, you'll need to contact customer service at (866)-706-5304 or customerservice@lfb.org.
Given the price and available clinical evidence for TuraPur's systems, are customers expressing satisfaction with their purchases?
Are TuraPur's Customers Leaving Positive Reviews? Are There Other Options?
We didn't encounter any direct online customer feedback for TuraPur's Pitcher or Countertop systems at the time of our research. However, based on the scientific claims made by the company, Chem1.com didn't exactly mince words in their summarization of the evidence:
"… part of [TuraPur's Pitcher] is made of metallic magnesium, which, they tell us, reacts with water to release hydrogen gas, of which a minute quantity dissolves in water: Mg + 2 H2O → Mg(OH)2 + H2. What they don't tell you, as any chemist could, is that this reaction only takes place when the H2O is in the form of steam; Mg does not react with water at room temperature. Another example of exploiting the scientifically ignorant."
Despite Chem1.com's strong-handed wording, as well as the general lack of clinical evidence we outlined above, this hasn't stopped several different manufacturers from producing their own alkaline-inducing, hydrogen-freeing water pitchers.
Some of the more popular models include Pitcher of Life, Anself, and even one specifically named "The Alkaline Water Pitcher."
Outside of these, you can purchase whole bottles of pre-alkalined and hydrogenated water online (and even some big box retailers, like Walmart), as well as sticks and tablets that promise to accomplish much of the same.
From a company perspective, TuraPur's systems are manufactured by Laissez Faire's Living Well, LLC, who also manufactures a line of nutritional supplements intended to support brain health, joint health, and more.
The company is headed by Nate Rifkin, who specialized in direct response marketing and spent years as a copywriter before launching into the world of nutritional supplements and water filters.
According to one of Nate's long-form landing pages, he got into the industry after meeting a man who was 50, but who looked no older than 30. Nate claims the man revealed his "fountain of youth," which ended up being some kind of briefcase-sized electrolysis machine that produced hydrogen-rich water.
Nate sampled the water and was so convinced by its beneficial properties that he paid the man $4,000 for it, which he then used to create a less expensive machine that could accomplish much of the same. The result is the TuraPur Pitcher.
Alright, we've talked a lot about the TuraPur Pitcher and Countertop systems, so let's bring everything together to help you make a more informed purchase.
Is a TuraPur Pitcher (or Countertop) System Right for You?
Ask any doctor or health specialist, and they're sure to tell you about all the potential health benefits related to drinking plenty of water, including calorie control, energized muscles, healthier-looking skin, improved kidney function, and more.
On top of this, drinking alkaline water may help reduce symptoms related to acid reflux.
On the other hand, based on the available clinical evidence and professional feedback (on NIH's PubMed, as well as on other third-party online resources), it seems up in the air as to whether or not hydrogen-infused water will provide any real-world benefits.
The good news is that activated carbon filters (such as the ones used in TuraPur's Pitcher) can certainly help your water taste and smell much better—just keep in mind that you can find hundreds of different activated charcoal pitchers online, as well as at nearby retailers.
Often times, you'll find that these options (as well as their replacement filters) are priced meaningfully lower than TuraPur's Pitcher.
Just remember that if you decide to roll the dice, no refunds are available if you're dissatisfied.
---
Poor design

By Rebecca C.

,

Suffield, CT

,

Jun 23, 2020
Verified Reviewer

Overall Experience:

Watch the water going from the top fill tank into the lower "filtered" tank: most of the water leaks faster around the sides of the filter, flowing into the lower tank unfiltered. I have tried an intricate system of rubber bands to try to create a seal, but it only slows the leaks. I should not have to deal with this at such a high price. They keep sending expensive filters - but for what? Most of the water never goes through them!

Bottom Line: No, I would not recommend this to a friend

---

Love my TuraPur Pitcher

By Tina B.

,

Woodstock, VA

,

Jun 12, 2020
Verified Reviewer

Length of Use: Less than 3 months

Overall Experience:

I have only been using this for about 2 weeks so far. I love how clean my water is and after drinking just one glass of TuraPur water I feel good. I've noticed an increase in my energy level and I've lost about 10 lbs already.

Pros and Cons:

Great customer service for me.
Fast shipment of my product.
Water tastes great.
No "cons" were specified in this review

Bottom Line: Yes, I would recommend this to a friend

---

Nothing

By Bonnie H.

,

Florida

,

May 21, 2020
Verified Reviewer

Overall Experience:

Well, nothing gained and just a small loss of money. Saw no evidence of any of the TuraPur claims. Water may taste better but that is all. Pitcher is cheap and does not poor well. Save your money folks, buy a cheaper model of purifier. Used over a year.

Bottom Line: No, I would not recommend this to a friend

---

No changes in the way I feel

By Martin U.

,

California

,

May 19, 2020
Verified Reviewer

Overall Experience:

This pitcher claims that you will feel different. I don't.

I also agree with the guy that says the pitcher is of poor design. It is cool to be square but it does do the spurting when you pour the water.

I'm not that impressed. I thought by reading all the reviews on Hydrogen water I would be.

Bottom Line: No, I would not recommend this to a friend

---

Advertisement

---

Countertop filtration works for me!

By Harry D.

,

Waipahu, HI

,

May 14, 2020
Verified Reviewer

Overall Experience:

Before purchasing the TuraPur countertop system a few years ago, I would wake up in the mornings and had a hard time walking. I had to kind of "warm up". My ankles would hurt. With no change in my diet, after a week of drinking TuraPur water, I was literally pain-free! And have been since then. I am 64 years old, lift weights, and believe that the water makes all the difference! Thank you for a great product! In fact, I reordered a new filter.

Bottom Line: Yes, I would recommend this to a friend

---

Explosive gas

By Stephen B.

,

Killeen, TX

,

May 8, 2020
Verified Reviewer

Overall Experience:

I purchased this pitcher on the advertisements. It seemed good, but I found several undesirable facts after I used it. First, the water wasn't as filtered as they claimed. Second, that afternoon all the fire/smoke alarms in my home went off. I reset them after looking for anything smoldering or on fire. Third, the next day I filled the pitcher again and had some of the water. Still wasn't feeling any of the advertised benefits. About 2 hours later all my smoke alarms went off again. After rereading the advertisements the only conclusion I could come to was that the filter was creating excess hydrogen and that was setting off my smoke alarms. My wife and I both smoke so I cannot allow excess hydrogen loose in my home because of the explosive properties. Fourth and final, ON 04/27/2020 an order was placed for 3 filters at almost $50. I DID NOT PLACE THIS ORDER. They arrived on 5/6/2020 in the mail. This pitcher is a fire hazard and the company is screwing the customers by force ordering replacement filters!

Bottom Line: No, I would not recommend this to a friend

---

I like the water, don't care for pitcher

By Carol L.

,

Austin, TX

,

Apr 24, 2020
Verified Reviewer

Overall Experience:

I have noticed better mental clarity and energy from using the TuraPur for about 6 months. I am faithful about cleaning the filter every week with water/vinegar mix. The pitcher lip is problematic. I have to use over the sink as the lid allows spillage due to the way it fits the square pitcher. Not sure whether I recommend or not.

Bottom Line: Yes, I would recommend this to a friend

---

Bad taste when water sits

By Marylyn H.

,

Red Bluff, CA

,

Mar 27, 2020
Verified Reviewer

Overall Experience:

Along with the others in not liking the square shape of the pitcher...it is difficult to use, my main objection is that after the water sits for a couple of hours, it tastes like Chlorine.

Our well water has no Chlorine in it and tastes better than this filtered water. I am very disappointed and then today I got an auto-refill on the filters that I do not want.

Bottom Line: No, I would not recommend this to a friend

---

TuraPur Pitcher

By John R.

,

St. Joseph, MO

,

Mar 16, 2020
Verified Reviewer

Overall Experience:

I have enjoyed the TuraPur pitcher. The water tastes crisp and much cleaner than other filtered or bottled water. Totally satisfied. I would and have recommended this to friends at my work. I use it for everyday water I take to work and make all of my pitchers of iced tea with the water from my pitcher.

Bottom Line: Yes, I would recommend this to a friend

---

Bought one of these

By Nick B.

,

Jackson, WY

,

Mar 4, 2020
Verified Reviewer

Overall Experience:

Tried using this pitcher to get all those good health benefits. Never got a drip of alkaline water. In fact, my Clearly Filter makes water that is a cleaner taste than the TuraPur. Tried to return and couldn't. Not recommended.

Bottom Line: No, I would not recommend this to a friend

---

Used the PH Test papers on the water

By Magdalen V.

,

California

,

Dec 19, 2019
Verified Reviewer

Overall Experience:

I just received my pitcher and I could taste the difference. I wanted to put the water to the test by using PH Test papers for alkaline support.

The PH was over 7.0 to 7.5 which is what I was hoping for. For the next two months, I will be excited to report any difference and look forward to seeing the results. The more alkaline our bodies have the healthier we are.

So stay tuned my friends.

Bottom Line: Yes, I would recommend this to a friend

---