Turbo Scrub Reviews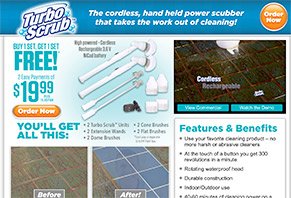 Turbo Scrub uses a rechargeable 3.6V nickel cadmium battery and three interchangeable heads to help provide deep cleaning across multiple surface types.
About Turbo Scrub
Turbo Scrub is a cordless, rechargeable handheld scrubber with a waterproof head that rotates at over 300 revolutions per minute. Attached to the head are three interchangeable brushes: the Round Brush for large surface cleaning, the Cone Brush for grout lines and other hard-to-reach areas, and the Flat Brush Head for small, flat surfaces.
According to the company, the individual bristles on each brush dig deep into dirt and grime to break it down. This way, we're told you can scrub and clean with "minimal effort," whether on burners and cooktops, kitchen sinks, fixtures and faucets, toilets, vehicles, hard water stains in the shower, and much more.
You'll even be able to attach an extension pole to your Turbo Scrub, giving you the ability to clean high and low, without the need for bending, kneeling, or getting on your hands and knees. Then, when you're finished, you can clean Turbo Scrub with mild detergent and warm water.
The company tells us that Turbo Scrub "does the work for you" and that it's great for people with arthritis or who have difficulty bending. Even if this describes you, does it mean Turbo Scrub is sure to deliver performance and value? That's the primary question we'll address in this review.
What's Unique About Turbo Scrub?
If you search online for terms like "cordless cleaning brush" and "rechargeable power brush," you'll quickly learn that there are many other brands of interchangeable-head devices. In fact, we found a nearly identical 8 Pc Cordless Indoor/Outdoor Power Scrubber on QVC at the time of our research.
While most other options aren't designed exactly like Turbo Scrub, you'll still encounter dozens of handheld designs with interchangeable heads. If you already own a power drill, you can even purchase individual brush heads that attach in seconds.
Compared to these options, is there anything that clearly distinguishes Turbo Scrub from the competition? The manufacturer claims it uses a 3.6V NiCad battery that spins at 300 RPMs, but will this deliver real-world performance?
How Powerful Is Turbo Scrub's Battery?
Important note: We didn't test Turbo Scrub firsthand, so what you'll read here is based on observation, research, and reviews from customers like you.
While the nickel cadmium (NiCd) batteries found in Turbo Scrub make a decent step up from disposable alkaline batteries, they're considered a bit outdated in light of newer battery types, such as nickel metal hydride (NiMH) and lithium ion (Li-Ion). Still, NiCd batteries tend to offer more charge/discharge cycles, so they're typically ideal for simple electronic devices.
We're told that Turbo Scrub's NiCd battery puts out 3.6V of power to spin its brushes at 300 RPM. However, as we watched the commercial, the head certainly didn't seem to be spinning at 300 RPM during any of the demonstrations. Which begs the question: Does Turbo Scrub lose spinning power when it's pressed to a solid object?
One of the most common complaints for ASOTV bath brushes with interchangeable heads is that their motors aren't powerful enough to continue spinning when applied to a surface. Again, we didn't test Turbo Scrub directly, so there's no way to know if you'll experience the same, but it might be worth keeping in mind.
Power aside, will you pay a lot for Turbo Scrub?
How Much Does Turbo Scrub Cost?
One Turbo Scrub set will cost you 2 payments of $19.99, plus $14.99 S&H, bringing your total to $54.97. For this price, you'll receive a scrub unit, extension wand, dome brush, cone brush, and flat brush.
During checkout, you'll be able to double your order for an additional $14.99 S&H.
Ontel Products Corporation provides a 60-day money back guarantee, less S&H, on all Turbo Scrub purchases. This means you'll immediately lose $15 in non-refundable S&H charges if you decide to request a refund; double this amount if you purchased the BOGO offer.
Nonetheless, to request a refund, you'll need to call customer service at 844-482-1456.
What do we know about Ontel?
Who Manufactures Turbo Scrub?
Ontel Products is a mainstream ASOTV company who's manufactured many other popular products, including Big Vision Eyewear, Foot Angel, Miracle Copper Socks, and many others. Do these products come with favorable reviews?
Overall, most of these products have 2 to 3-star ratings from customers. While some claim they were satisfied with their purchases, common complaints reference failure to work as advertised, less-than-stellar quality, and poor customer service (usually related to difficulty obtaining refunds).
Should you take this to mean that you'll experience the same with Turbo Scrub? We're definitely not saying this is the case; but again, we might recommend considering it when deciding whether or not to place your order.
Speaking of which, should you buy Turbo Scrub?
Will Turbo Scrub "Take the Work out of Cleaning"?
When it comes down to it, we have little doubt that Turbo Scrub's powered, interchangeable heads can help make light cleaning easier, while the extension pole can help you avoid bending at the knees or at the waist, while the lightweight design might be especially easy on your arthritis. The operative word here—in our opinion—is "light" cleaning. Why?
Based on the power concerns we discussed above, it might be the case that Turbo Scrub doesn't spin fast enough once it's touching a surface to remove much more than light dirt and grime. Will it deliver similar results as harsh or abrasive cleaners? Will it cut through tough, stuck-on messes? We'll just have to wait until the customer reviews start rolling in to find out, but let's just say that in the interim, we'll harbor some doubts.
Another important factor to consider is that if you feel like giving Turbo Scrub a try, you'll immediately lose $15 (or more) in non-refundable S&H charges if you're not satisfied with its performance.
If it were our money, what would we do (after all, we're consumers too!)? We might search locally for similar cleaning systems, which could help you avoid the non-refundable S&H charges. On top of this, we might search for other products that could deliver similar (or even better) performance for less money, such as drill attachments—especially if you have tough messes to clean.
Did Turbo Scrub deliver on its promises? Tell us about your experience in your very own review below!
Don't do business with this company, period.

By John

,

Jan 6, 2017
Verified Reviewer

This is my experience with Turbo Scrub.

I placed the order in the cart and entered my credit card information, but then decided not to buy it. I never hit the submit button, and tried to back out of the order but they processed the ordered anyway.

I called and emailed them within minutes but they refused to cancel the order, claiming it was already shipped (it was within minutes of not hitting the submit button, total lies).

I received an email to call a number and receive a discount. I called the number 10 times but no one answered and I was unable to leave a message.

Nine days later, FedEx claimed they delivered the package. Wrong, it never arrived. I got no help from FedEx or Turbo Scrub, and I am out all the money they took from my card.

I am totally pissed off I ever decided to trust Turbo Scrub.

Bottom Line: No, I would not recommend this to a friend

---

Their ads are false advertising

By Brenda

,

South Carolina

,

Jan 24, 2017
Verified Reviewer

You know what, I'm an owner of a Housekeeping Service and they are full of crap, stating that their product will take care of hard water stains. That is bull. They are caused by mineral deposits in the water, and there aren't any cleaning products you spray on you which you can buy in the stores. There are some you supposedly can mix on your own, but they have to sit for 24 hours.

They need to be upfront about the part of their ad saying it will get rid of hard water stains. Yes, I admit this product may make the job easier, but I have never (let alone can afford to) use it. I'm a small business and am willing and open minded to try anything to make my job easier, but I won't pay the price they want for something that has never been hardcore tested by top pros on the thumbtack like me. Show me!

Bottom Line: No, I would not recommend this to a friend

---

Advertisement

---

Battery won't hold charge

After using it twice, it started to go slower. After I did a full charge, it started again, but then it died as soon as I touch the shower wall with it. It will not hold the charge.

Bottom Line: No, I would not recommend this to a friend

---

Battery not good

The first time I charged the battery and used the tool it performed great! The 2nd time, the battery died quickly and it never would recharge. Now I can't find anywhere to get a new battery. Would not recommend.

Bottom Line: No, I would not recommend this to a friend

---

Advertisement

---

Was it a good buy?

By Peter Green

,

Gisborne, New Zealand

,

Apr 27, 2017
Verified Reviewer

It was a good buy. Goodbye to $60.

The advertising exceeds what it is capable of. Cleaning the oven door was a joke, even with oven cleaner on it. You still have to use a cloth to wipe up afterwards.

I am not at all impressed with the product.

Bottom Line: No, I would not recommend this to a friend

---

Dry poor customer service

By Joyce George

,

Conyers, GA

,

May 16, 2017
Verified Reviewer

I ordered one and ended up with three. I paid $170. This was $39.99 each, plus an additional $14.99 for each. When you return them you have to pay for shipping. It cost me another $48 to return them. I wouldn't advise anyone to deal with these people.

Bottom Line: No, I would not recommend this to a friend

---

Never worked

Cascade, WI

,

May 18, 2017
Verified Reviewer

I let the scrubber charge, but it would not power on. I called the company and got a replacement sent. I go the same thing; it did not work after being charged. What a waste of money. I ended up throwing it away.

Bottom Line: No, I would not recommend this to a friend

---

Useless

By Leighton Davies

,

Peak Hill, New South Wales, Australia

,

Jun 13, 2017
Verified Reviewer

This item does spin the heads, and you have a selection of heads to use, and the long handle does allow you to reach places higher than normal. That's the good part. The area of surface cleaned with any of the heads is so small it takes ages to cover the walls of a shower. It is far quicker and easier to just use a hand scrubbing pad you can buy in the supermarket for a few dollars.

Bottom Line: No, I would not recommend this to a friend

---

Complete waste of money, not fit for purpose

By Damien Lisney

,

Figtree, New South Wales, Australia

,

Jun 21, 2017
Verified Reviewer

The TV advert is completely misleading, as Turbo Scrub does not do what it is claimed on the advertisement. It is not fit for that purpose. Please don't waste your money.

I tried to get a refund, but my request has been denied even though the Australian Consumer Law states I am entitled to a refund.

Bottom Line: No, I would not recommend this to a friend

---

Don't buy

By Terry Schmidt

,

Camrose, Alberta, Canada

,

Mar 21, 2018
Verified Reviewer

This is a waste of money. The only head I have left is the cone, the other two heads the clips that attach to the handle break when changing (cheap plastic). I bought mine in Walmart so didn't have the option of getting the second one, but after what I have experienced, I would never buy one or recommend one to my friends.

Bottom Line: No, I would not recommend this to a friend

---

Turbo Scrub

By Leena S.

,

Helsinki, Finland

,

Oct 22, 2018
Verified Reviewer

What a load of pap! Brilliant TV commercial, my tiles in the bathroom look no different really. The only positive was cleaning of the shower rails. Kitchen sink, no difference, ceramic cooker top, no difference. The only reason I am not demanding my money back is that I am going to let my friends try it out and see what they think. I would have liked to know what the solution was used on the commercial, reckon that is the star in this.

Bottom Line: No, I would not recommend this to a friend

---