Turbo Tiger Sweeper Reviews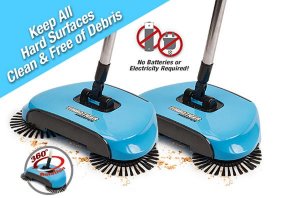 Using two spinning bristle sets, the Turbo Tiger Sweeper electric broom claims to clean up just about any mess from hard surfaces and dispense in seconds.
What Is Turbo Tiger Sweeper?
Turbo Tiger Sweeper is a cordless spinning sweeper that promises to clean any solid floor—such as tile, linoleum, hardwood, and laminate—and pick up anything in its path, including dirt, food, pet hair, and nuts and bolts. Even broken glass.
Using what the company calls a "cyclonic whisk," Turbo Tiger Sweeper's three rapidly rotating, extended side brushes reach out, grab, and pull any debris into the built-in dustpan.
And the 360-degree interlocking handle gives you pinpoint control and plenty of maneuverability to clean under cabinets, heaters, beds, and baseboards and moldings. It even features a squeegee to keep your floor "barefoot clean"!
And since Turbo Tiger only weighs a pound, you won't have to bend over to pick up the mess; simply lift over a trash can, open the dustbin, and empty. And since no batteries or electricity are required, the company claims it's cordless, whisper quiet, and easier than pushing a vacuum.
If you're looking for an easier approach to sweeping, Turbo Tiger's design certainly seems interesting. But will it deliver on its promises? Will it make sweeping faster and easier than ever before?
Here, we'll help you answer important questions like these by discussing some key factors we learned during our research. Let's begin with price.
How Much Does the Turbo Tiger Sweeper Cost?
Available in four colors (blue, red, green, lavender), one Turbo Tiger Sweeper will cost you $19.99 plus $7.99 S&H. You can also order additional Sweepers at checkout for an additional $7.99 fee each.
Regardless of how many you order, Turbo Tiger comes with a 60-day money back guarantee, less S&H. Tristar Products' customer service department can be reached at 973-287-5145.
Is this price competitive with other similar products? Is there even such a thing?
How Does the Turbo Tiger Sweeper Stack Up Against the Competition?
While we learned that the Hoover SpinSweep Pro Indoor/Outdoor Sweeper features the same design principle as Turbo Tiger Sweeper, we didn't encounter any direct competition during our research.
However, as we outline in our Vacuum Cleaner Buyer's Guide, Turbo Tiger belongs to a product class known as electric brooms. If you search online for this term, you'll find there are dozens of options priced between $20 and $200+.
So at least from a price perspective, Turbo Tiger seems to fall at the lower end of the spectrum. But because of its meaningfully different design, we had a few important questions arise during our research:
How well will it perform?
Will Turbo Tiger actually pull dust and debris into the dustbin, or will it simply fling it away from you?
If you re-watch Turbo Tiger's commercial, you'll notice that the manufacturer only shows it moving forward, which could just push the debris out of site, without picking it up.
What is a "cyclonic whisk"?
It's fairly clear to understand where this claim comes from; each of Turbo Tiger's extended side brushes spins, creating a vortex motion.
However, it's important to point out that this is not the same vortex suction that you'll find advertised by traditional vacuum manufacturers, so you likely shouldn't expect the same suction power.
How big is the dustbin?
How long could you clean before it fills up? Would larger items—like cereal or nuts and bolts—quickly fill it up, causing frequent trips to the garbage can?
Speaking of which, while Turbo Tiger claims to weigh about a pound and you won't have to bend over, you'll still need to lift it up to empty into a garbage can, which could be impactful if you have any injuries or movement restrictions.
How long is the handle?
Will it accommodate a wide range of heights? It doesn't appear adjustable, so you might find yourself frequently bending over if you're on the taller side.
What type of battery does Turbo Tiger use?
How long will it last per charge? How long does it take to recharge?
We called customer service to learn more about each of these questions, but after being transferred to three different customer service representatives (including one manager), none could provide any insight.
What Can We Glean from Reviews for the Manufacturer's Other Products?
Tristar is one of the largest, longest-running, and most popular As Seen on TV companies in existence, so they're produced dozens of huge hits over the years.
Like many other ASOTV products (not just those from Tristar), these often come with 3-star or lower average ratings.
Although there are certainly thousands of satisfied customers out there based on Tristar's overall sales volume, common complaints revolved around less-than-stellar quality, along with that they didn't perform as well as the commercial made them seem.
Clearly, Turbo Tiger Sweeper is a brand new product, so we're not insinuating this is what you might expect. But given the frequency of this feedback, we think it's important that you have a clear view of the situation.
Will Turbo Tiger Sweeper's Performance Sweep You Off Your Feet?
With such a unique design and without having tested it firsthand, it's difficult to know whether or not Turbo Tiger Sweeper will deliver next-level cleaning ability, or if it's just a bunch of hype.
Further, the fact that customer service wasn't able to answer any of our questions didn't help us make a more informed decision.
In the end, this means you're going to have to give Turbo Tiger Sweeper a try to find out if it deserves a spot in your home. And while Tristar offers a 60-day refund policy on all their products, this also means you'll be out a few bucks in S&H if you end up dissatisfied.
If you decided to take a chance, be sure to tell us all about your Turbo Tiger Sweeper experience by writing a review below!
Read Next: Learn the Right Way to Vacuum Carpet
1 out 1 people found this review helpful

Poor quality, waste of money

By Sondra L.

,

Lake Worth, FL

,

Sep 17, 2018
Verified Reviewer

I bought this product yesterday at Sears Outlet in West Palm Beach. I am ready to throw it in the garbage. The bristles fell out constantly, did not pick up sweepings even after using a broom to sweep into a pile. What it did pick up it dropped out of the dust bin while trying to sweep.

Pure trash.

Bottom Line: No, I would not recommend this to a friend

---

3 out 3 people found this review helpful

Horrible customer service/satisfaction

Florida

,

Aug 31, 2017
Verified Reviewer

I ordered this during the Bogo sale in April. The sale was "buy one, get one with paid extra shipping cost." It sounded like a good deal.

I FINALLY received it in late May. They both arrived in one carton without packaging. One handle was missing. I called immediately and was told that a handle would be rushed to me. Today is August 23rd, and after four promises to ship the handle, I called today and was told by a customer representative and a supervisor that I now need to send the order back and thus will send a new one to me.

How can I trust them? On August 9th I was told that a handle would be shipped out in the same day. LIES.

DON'T BUY THIS. The one that was complete didn't work all that well. Thank God that it was only $20.00 + shipping. My next review is going to be on the "As seen on TV" site. Turbo Tiger, you dropped the ball when dealing with me. I gave you plenty of opportunities to correct your mistake.

Bottom Line: No, I would not recommend this to a friend

---

Advertisement

---

2 out 2 people found this review helpful

Turbo Sweeper or Spinning Sweeper

By Denise Hart

,

Northland, New Zealand

,

Aug 28, 2017
Verified Reviewer

These sweepers are a rip-off. They do not work, and you need to push down very hard, and it damages your wooden floors. Do not buy. It costs as much as the item to buy to send it back, if you can find the send to address. PayPal will not help you either.

Bottom Line: No, I would not recommend this to a friend

---

2 out 2 people found this review helpful

Terrible product and awful customer service.

The sweeper is a big joke. It doesn't pick up even the smallest particles of dirt. You have to pay shipping to send it back, and you pay shipping to receive it. It's a scam. So I have to pay $7.95 to get it and at least $7.95 to ship it back. So it is costing me approximately $16.00 shipping, and I have no product.

Beware of ordering.

Bottom Line: No, I would not recommend this to a friend

---

Advertisement

---

1 out 1 people found this review helpful

Not worth it

By Dorina Tiso

,

Somers, NY

,

Jul 13, 2017
Verified Reviewer

The product is awful. It does not work. It really does not pick up dirt. I have to go over and over the same spot, and it still doesn't pick it up. I also called to return them, but they will not refund the shipping. So after the shipping, they charged me and then additional shipping to return it, and it would be costing me $20 to return the two. It is a rip-off. I would not recommend this to anyone. At least refund the shipping I paid. I could see having to pay return shipping but not the original shipping. I will never order again from these ads.

Bottom Line: No, I would not recommend this to a friend

---

2 out 2 people found this review helpful

I never even received mine!

I ordered the special "buy one, get one free except shipping and handling" on May 2, 2017, and I have yet to receive it. I got an email receipt but nothing else! What a rip off on all levels. I'll be reporting them to the BBB!

Bottom Line: No, I would not recommend this to a friend

---

10 out 10 people found this review helpful

Turbo Tiger Sweeper

I am very disappointed with the product! The product is nothing like they show on their website or on TV. Sweeper does not pick up anything; it just moves it around. It is horrible with pet fur and anything that has any weight to it, such as cereal! I would be shipping this product back, but they refuse to refund shipping and handling, so I'd be out $15.00 if I returned it. Save your money and do not buy this product.

Bottom Line: No, I would not recommend this to a friend

---

9 out 10 people found this review helpful

Disappointed - doesn't work as advertised

By Tracy Henry

,

Shermans Dale, PA

,

May 10, 2017
Verified Reviewer

Don't waste your time or money! I am very disappointed with the product. The advertisement is false; it simply doesn't work as shown. It does pick up some stuff, but generally just moves stuff around. I would return the products, but they get you with the ridiculous shipping and handling costs, so it simply doesn't make returning the product worthwhile. I'm not happy I just threw $30 in the trash, and the one was never opened.

Bottom Line: No, I would not recommend this to a friend

---

13 out 13 people found this review helpful

Not good for dog hair.

If it didn't cost so much for return postage, I would return this. It is really not good if you have a longer haired dog or long hair yourself. The hair wraps around the middle brush rather quickly and throws any dust, dirt or other objects out. It may be okay if you do not have animals, but it is a total disaster and waste of money for me. I would be constantly cleaning the brush. It is back to broom and dustpan or vacuum for me.

Bottom Line: No, I would not recommend this to a friend

---