TurboTax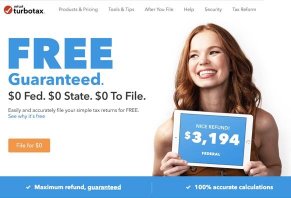 Summary
TurboTax is arguably the most well-known online tax software and for good reason. Its easy-to-use website and app along with live CPA and EA help via TurboTax Live make it a great site for taxes.
TurboTax Review: Is It the Best Tax Software for You?
TurboTax is the premier online tax software site for filing tax returns on a web browser or through their app. The company's TurboTax and TurboTax Live products provide guided software that helps you answer questions and fill out your forms in a way that maximizes your refund.
The site is unique because it is arguably the most well-known name in online tax software and its TurboTax Live option connects you with CPA's and EA's whose 15 years of experience exceeds what other popular tax sites can offer.
TurboTax is part of the Intuit empire of companies that also includes budgeting app Mint and accounting software QuickBooks. Based on our experience of reviewing various Intuit products reveals that the company's financial products focus on making things clear and simple for taxpayers like you as well as consumers looking for budgeting and accounting solutions.
In this review, we will talk about the aspects of TurboTax that matter most:
Pricing and the best filing tiers for your situation
Features
Comparing TurboTax to other tax software
Strengths and weakness of TurboTax
Along the way, we'll include the insight of Sacha Adams, a product manager at TurboTax Live, and Lisa Greene-Lewis, a TurboTax CPA, both of whom we spoke with leading up to our review.
TurboTax Pricing and Which Tiers Are Best for Which Taxpayers
Imagine you're at the TurboTax website and you're trying to figure out which tax tier is best for you. Sounds simple, but, in actuality, sorting through the various tiers and options can be confusing, especially considering the fact that you can start out with one tier of tax software and halfway through the application, TurboTax could tell you that you need to upgrade to a more expensive package.
In this section, we'll describe the various tiers TurboTax offers, their pricing and who is a good fit for their various products. The software provides four different tiers: free, deluxe, premier and self-employed. You also have the option of TurboTax Live, which we'll talk about in a few minutes.
TurboTax's free tier is available to those who have W-2's, are claiming the standard deduction (not itemizing) and have minimal income and interest reported on their 1099-INT and 1099-DIV's.
From there, the software will cost you $39.99, $59.99 and $89.99. Each one of these is tailored for a certain kind of taxpayer. To figure out which tier is best for you, we've listed some tips below.
TurboTax Deluxe Tier: Best for Homeowners and Parents
This particular tier of tax software is a good fit for homeowners and parents because it provides tax support for things like mortgage interest, mortgage certificates, property tax payments as well as deductions because of your children.
Some of the popular forms that would put you in this tax software tier would be:
Form 1098: Mortgage interest
Schedule A: Property tax (among other things)
Form 8396: Mortgage credit certificate
Education tax credits: 1098-E and 1098-T
The education tax credits we listed are related to expenses you incurred as the result of your children attending "college, trade school, or even took classes for work," the site notes.
TurboTax Premier Tier: Best for Stockholders and Those Who Own Rental Properties
The Premier and Deluxe tiers have much in common but the one thing that sets them apart is extra income from selling stock or that you get from rental properties. These two types of income require some additional paperwork that pushes the price of Premier $20 beyond Deluxe.
The types of forms common to this tier would be:
Schedule E/Form 4835: Income from rental properties
Form 8949/Schedule D: Selling stock
A good marker for knowing if you'll fill out a Schedule D for stock is if you receive a 1099-B in the mail. If you get it, then you'll do a Form 8949 and a Schedule D.
Keep in mind, though, that TurboTax's platform isn't making you fill out a form line-by-line, per se. They're asking you questions about your 1099-B and they fill out the background paperwork on your behalf. In this case, it would be the 8949 and Schedule D.
TurboTax Self-Employed Tier: Best for Business Owners and Freelancers
This final pricing tier for TurboTax's is their Self-Employed tier and, as the name implies, it's best suited for freelancers, independent contractors, and small business owners.
Most self-employed taxpayers are familiar with the type of forms that would indicate they're in this tier of tax filing with TurboTax: 1099-MISC, Schedule K1, and the Schedule C are the hallmarks of this tier.
What's important to point out that anyone who pays for this tier of tax service will receive a free year's worth of QuickBooks, Intuit's accounting software that integrates with TurboTax. It's a nice perk and one that's a big advantage for TurboTax because other companies don't offer their own in-house accounting software to pair with their tax software.
In addition to QuickBooks, you'll also have access to a TurboTax specialist who can help you through your application by drawing on your screen as you're working through questions. This is another feature that sets TurboTax's self-employed from the competition, which we'll talk about more in a few minutes.
Added Features: TurboTax Live and Refund Guarantees
TurboTax offers a service called TurboTax Live, through which you can have access to a CPA or enrolled agent (IRS expert) from 5 a.m. to 9 p.m. during tax season and throughout the year from 5 a.m. to 9 p.m. PST.
Basically, if you have a question for a tax expert, you can schedule a time to talk with them. In many cases, you can reach someone in just a matter of minutes. While you're in the app, you'll get a notification that the expert is ready. When you connect, you can see them but they can't see you.
"We have a group of people who file with us that feel like they can DIY their taxes but they have a nagging thing where they want a professional to take a look at them before filing," TurboTax Live Product Manager Sacha Adams said. "They can access our CPA and EA's expertise an unlimited amount."
We asked Adams and TurboTax CPA Lisa Greene-Lewis what type of advice you can ask for during the year. They told us that their experts can help you understand how life changes will affect your tax standing but that you can't get advice on how to handle your finances, as that would be beyond the scope of what they can help you with.
Another advantage of TurboTax Live, Adams told us, is that you can have their tax experts review your return before you send it in, therefore ensuring that it's accurate and complete. You can also ask their experts to review certain parts of your return.
The cost of TurboTax Live is an extra $60 on top of what you're already paying. So, Deluxe would be $89.99 with TurboTax Live, Premier would be $139.99 and Self-Employed would be $169.99.
In addition to TurboTax Live, the site also offers a trio of guarantees regarding the size of your refund as well as the accuracy of your return.
If TurboTax miscalculates your return and you end up having to pay a penalty and/or interest to the IRS, they'll pay the penalty and/or interest.
According to the fine print, "if you get a larger refund or smaller tax due from another tax preparation method," TurboTax says they'll refund what you paid to have them do your federal and state taxes.
Customer Reviews of TurboTax
Based on our research of third-party sites featuring TurboTax's app and its website, we believe that the TurboTax user experience is an excellent one, for the most part
The company's app gets an average rating of 4.3 stars from more than 55,000 reviews in the Google Play store. The app's iTunes rating gets 4.7 stars from more than 178,000 reviews.
Reviews on ConsumerAffairs had lower review ratings that were based on consumers complaining about their refund costing them more money than they anticipated, and then subsequently having a hard time getting the charges resolved.
What we noticed, though, is that negative reviews didn't express frustration over the actual user experience of going through the guided tax return with TurboTax.
This corroborates our own experience, as I've used TurboTax multiple years to do my taxes. The process is always a simple one and I rarely run into problems.
How TurboTax Compares to H&R Block, TaxAct and TaxSlayer
One of the steps in figuring out if a certain tax software site is right for you is to take a look at how the site's pricing compares to other tax software. TurboTax has a pricing tier similar to three other big tax sites: H&R Block, TaxAct and TaxSlayer.
In this chart, we've included each tax software's pricing as well as its iTunes reviews:
| | TurboTax | H&R Block | TaxAct | TaxSlayer |
| --- | --- | --- | --- | --- |
| Low | Deluxe: $39.99 | Deluxe: $29.99 | Deluxe: $29.95 | Classic: $17 |
| Middle | Premier: $59.99 | Premium: $49.99 | Premier: $34.95 | Premium: $37 |
| High | Self-Employed: $89.99 | Self-Employed: $79.99 | Self-Employed: $49.95 | Self-Employed: $47 |
| State Taxes | $39.99 | $36.99 | $19.95 - $49.95 | $29 |
| iTunes App Rating | 4.7 stars from 178,000+ reviews | 4.7 stars from 8,600+ reviews | 4.3 stars from 540+ reviews | 4.7 stars from 300+ reviews |
In terms of pricing, TurboTax is the most expensive in each of the three tiers and, based on our research and our experience with the product, we think that the extra you pay above, say, H&R Block, is worth it based on the quality of the experience you have on their site.
However, if you're strapped for cash come tax time, all four sites get good reviews from taxpayers who use each tax software's app. Just remember, though, that it's hard to tell exactly how your experience will go because much of your experience depends on how complex your tax review is, how prepared you are and how familiar you are with the tax software platform.
As I mentioned earlier, I've used TurboTax to do fairly complex taxes (freelancer 1099's, homeowner, student loan interest, etc.) and the site worked well. When I had simpler returns, I used both H&R Black and TaxSlayer. I was happy with those experiences, too.
Looking back on doing my taxes on those three sites, I'd have to say that H&R Block and TurboTax had slightly more user-friendly sites that were easier to understand.
In terms of which site is best for CPA and EA help, we think TurboTax has the edge because you can access their tax experts during your application, for the purpose of reviewing your finalized return and for advice throughout the year.
H&R Block offers a $119 package that includes your taxes and a review by a tax expert with 15 years of experience, on average. However, they don't make mention of being able to talk with the expert during your return, having a video chat with them or having access to them year-round.
In general, we believe that TurboTax is an excellent choice, particularly for taxpayers who want access to a CPA or EA year-round, not just during tax season.
If you have a simple return and you want to make sure you're getting the best deal, file with all four sites to see which one charges you the least. Because your return is simple, this unique style of comparison shopping won't take up too much of your time.
The Final Word: Our Thoughts on the Strengths and Weakness of TurboTax
Based on all of the research, interviews, our personal experience and analysis we've done regarding TurboTax and its competitors, we believe the tax software is a serious contender for the best tax software.
Part of this has to do with the fact that their site is very easy to use and has an excellent reputation among consumers. Because of this level of quality, we believe it may benefit you to pay a little more for what the evidence says might be a better experience.
We also think their TurboTax Live option is a great choice for someone who wants the peace of mind of being able to talk with a CPA or EA as they doing their taxes. Normally, you'd be at the mercy of your CPA's schedule in order to get through to him or her.
The downside to TurboTax is the price. TaxSlayer is the cheaper option for the low- and high-complexity returns and has the lowest state filing price, save for the $19.95 you'd pay for a low-complexity return on TaxAct.
Customer Reviews