Turo
This company has claimed this profile, is getting alerted on any new customer reviews entering this page, and may engage in dialogue with its customers to address their matters.

Companies cannot pay money or provide goods in order to remove or alter customer reviews.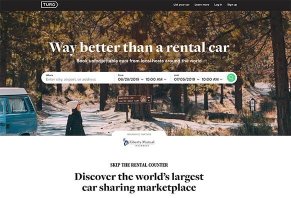 Summary
Turo is a peer-to-peer car rental service where you can rent a car or where you can offer up your car for rent, all through a highly-rated app that provides all the information you need to find the right car.
Turo Review – Better Than a Typical Car Rental Service?
Turo is a car-rental app you can use to rent a car from an individual or rent your own car to Turo users.
The company is unique in that its services function much like an Airbnb for rental cards, save for the fact that, in most cases, you have to meet the car's owner in order to pick up the keys at the beginning of the rental and drop them off when the rental period concludes.
The company is based in San Francisco and was founded in 2009 by Shelby Clark, a Harvard University grad who, according to his Crunchbase profile, wanted to start a peer-to-peer car rental company. Their service is available in the United States, Canada, Germany and the U.K.
In this review, we'll talk about how Turo works, how they calculate pricing, what type of insurance they offer and what past customers told HighYa about their experiences renting cars from Turo and renting out their own cars to Turo users.
How Turo Works
Turo foregoes the typical car-rental language and has their own terms for those renting a car, those providing their car for rental and the actual rental period:
The person renting the car: Guest
The person who is providing their car as a rental: Host
The rental period: Trip
Car rentals take place through the Turo app, which is available on Android and iOS phones and can take place through the Turo website. You can use the app and site to search for cars for rent in the areas you'll be traveling. Also, you use the app to list your car if you want to provide it for trips.
In a fashion much like Airbnb, you can search for various rentals based on factors of your choosing, as well as narrowing down your search results by cars you can rent with an instant payment.
We did a quick search of cars in Jacksonville, FL, and found 111 cars ranging in year from 2008 to 2019 and ranging in price from $30 a day for a 2011 Toyota Prius to $600 a day for a 2013 Maserati GranTurismo Convertible.
You'll notice that some sellers are listed as "All-Star", which means they're the "top-rated, most experienced hosts" in your area, Turo notes.
Filters you can use to narrow down cards include All-Star hosts, hosts who deliver, eco-friendly cards, Business/Deluxe/Super Deluxe cars, as well as various years, makes and models.
Each listing provides the host's name, as well as the limits they place on your trip and which insurance company they use. We clicked on a 2011 Hyundai Sonata for $39 a day to see what we could find out. The host, "Monique," had 66 trips and a five-star rating.
She allowed free cancellation up to 24 hours before the trip and allowed 200 miles for a one-day rental. Subsequent miles beyond that would be charged at a rate of $0.24 per mile.
The listing also provides the features the car has as well as any rules for filling up the gas tank (you're required to leave as much gas in the car as there was when you picked it up) as well as rules for cleaning, smoking and pets.
If you decide you like the car and want to rent it, you'll click "Go to Checkout" to get a final total for your rental.
Every rental includes a "Trip Fee", which is the fee that Turo tacks on the daily rental fee. In the case of the Sonata we looked, the fee was $9.52 on a $39 one-day rental. The fee works out to about 24% of the daily rental charge. For comparison, Airbnb will charge guests up to 20% of the rental cost.
You'll arrange a vehicle pick-up with your host. Either they'll deliver the car or you'll have to go to the pre-determined pick-up spot. You'll then take a few photos of the car to confirm its condition.
When you drop off your car, you'll have to meet the owner unless there's a pre-determined key drop-off spot.
For example, in interviews we did with guests who used Turo, one host provided a lockbox into which the guest could deposit keys in the event the host wasn't home when the trip period concluded.
Turo Security Deposits
In many cases, you won't have to pay a security deposit to get a trip with Turo. However, there are select cases, their FAQ site says, in which guests will have to pay a $250 deposit for non-luxury cars (Business/Deluxe/Super Deluxe). Turo says that about 30% of guests will have to pay this deposit.
In the U.S., guests age 25 to 29 will have to pay a $1,500 deposit to rent a Deluxe car. Guests of all ages have to pay a $1,500 deposit for Super Deluxe cars.
Turo says that they will return your deposit, barring any claims filed by the host, within 80 hours of your trip ending. They note that returned deposits going to a bank account could take up to seven days to arrive.
Deposit rules are different for Canada, Germany and the U.K.
Turo Insurance for Guests and Hosts
Turo offers hosts three levels of additional insurance you can purchase to cover the car you book for your trip in the event of an accident. These same coverages are available for hosts, too
The three tiers of insurance are:
Premier: Up to $1 million liability with no deductible. Covers physical damage to your car.
Standard: Up to $1 million liability with $500 deductible. Covers physical damage to your car.
Minimum: Up to state minimum for liability coverage, $3,000 deductible. Covers physical damage to your car
"Liability" refers to damages to other people and property caused by your car during a trip period. For hosts, the insurance covers bodily injury to guests and others, whereas the guest policies don't. Also, the host policies cover uninsured motorists, whereas the guest policies don't.
Neither the host nor the guests have to use the insurance Turo offers. If you decline it, then the benefits of your car insurance will cover applicable costs in the event of an accident. If you accept the insurance Turo offers, then that insurance is a supplement (kicks in once your primary policy's benefits end) to your existing car insurance.
The company who provides the plans through Turo is Liberty Mutual, a company who has a good reputation among the agencies who rate the financial stability of insurance companies.
Comparing Turo Pricing to Rental Cars
As you're shopping for a car rental, there's a good chance you'll want to get the best rate possible. Because we believe this is an important part of your decision to use Turo, we wanted to do some quick research on our own.
So, we researched car rentals in Jacksonville a month away from the time of publishing. We searched the cheapest Friday-to-Sunday rentals from Turo and from Priceline.com's Jacksonville International Airport locations. Here's what we found:
Airport rental via Priceline.com: $78.28
Car type: Hyundai Accent
Mileage allowance: Unlimited
Turo rental delivered to airport: $107.21
Car type: Ford Fiesta
Mileage allowance: 300 miles
Turo has some distinct pros and cons for guests when compared to renting a car from an agency. First, you have the benefit of walking out of the airport and getting your car because it's delivered to you. If you choose a car rental agency, you'll have to wait for a shuttle and then wait in line (if there is one) at the rental office.
The downsides to Turo (when compared with a traditional rental company) include the fact that many of the cars you'll rent have a mileage limit on them. So, if your destination is, say, 100 miles from the airport into which you're flying, that mileage limit may cause some issues.
Also, Turo will most likely cost more than an airport car rental. In this case, you'll pay around $29 to rent from Turo. However, this isn't the case in other cities, as we'll point out in the Customer Reviews section of our analysis.
In the context of the rentals we listed above, we think there's a clear decision point for you. Are the advantages Turo offers worth an extra $29 for a weekend rental? In our opinion, we think it's worth the money if you value the most seamless rental experience possible, assuming your Turo car arrives when it should.
Keep in mind, though, that Turo is a platform for guests and hosts And, as a host, Turo basically gives you the chance to run your own car-rental company, which is a pretty unique proposition.
Whether or not it's worth it to you is something we'll cover in the customer reviews section, as we were able to interview someone who rented their car through Turo.
Customer Reviews of Turo
In preparation for our review, we reached out to actual Turo guests and hosts to get their opinion about the service.
Diana Chen, a Chicago resident, used Turo to book a trip two times in 2017. She said she had a positive experience both times and that both cards were in the type of condition you could expect from a rental car company.
She said the only drawback to was that one host allowed her to drop the car's keys off in a lockbox. It took her about 20 or 30 minutes to unlock the lockbox because it was having issues opening.
In general, she said, she thinks Turo is the better choice over a rental car agency when the price is cheaper but that guests should be aware of Turo's restrictions.
"All rules and regulations are set by the individual owner. So, one owner might limit your trip to 100 miles/day whereas another owner might give you unlimited miles. You have to read very carefully the description on each car to know what you're signing up for. This can be a lot more time consuming than booking with a large rental company like Hertz where you know what you're signing up for because it's the same thing every time," she said.
Becky Beach, founder of MomBeach.com, told us that she travels to Boston for business frequently and, when she does, she said she is "constantly" using Turo.
She says the main benefits of Turo are that you have a wider selection of cars because the site allows hosts to post vehicles of a wider range of production dates.
"I prefer getting a Turo instead of a rental car because it is much cheaper. There is much more selection when choosing Turo because you can drive older cars, even luxury. They deliver the cars to your hotel or the airport so you don't have to worry about rental car agencies. I highly recommend Turo to all travelers who want to save money," she said.
Chris Gwinner, general manager of Old Town Outfitters, a tour company based in Guatemala, told us that he appreciates the efficiency of Turo's process. His most recent Turo trip took place in Atlanta this past October.
"Avoiding lines at a pickup counter and then a shuttle ride to the rental car lot and then lengthy inspection and lots of forms to sign was huge. With Turo, I exited the airport and went directly to the curb, met the car, took a few pictures and then was on my way. All payment, insurance, driver verification, etc., was done via the app prior to the rental," he said.
The combined time it took to pick-up and drop-off his car took about 10 minutes, he said.
Comedian Dan Nainan rents out his 2018 Tesla Model 3 about three to five times a month, he told us. In total, guests have booked between 30 and 40 trips in his car.
He said the experience has been a positive one and that he's able to cover the cost of his car payments through the trips that guests book.
"Honestly, I can' think of anything that I would change about Turo. I'm really happy with the service. The rentals more than pay for the car payments," he said.
He pointed out that, as a host, there's always a fear that guests could damage his car but that the insurance Turo offers quells those fears.
Based on all the input we've read from first-hand customer experiences, we believe there's a good chance you'll have a positive experience with Turo whether you're a guest or a host.
Reviews of the app in the Google Play and iTunes stores confirm this. Android users give the Turo app an average rating of 4.5 stars from more than 23,000 reviews, which iOS reviewers give the app 4.8 stars from more than 111,000 reviews.
The Final Word: Pros and Cons, and Who Turo Is Best For
Based on our research, we believe that Turo's strengths are that it can offer guests an easy way to get a car at an airport, provided there are hosts who can deliver to the airport at which you're arriving. As one of the guests we interviewed said, it can be a huge advantage to weary travelers to walk out to the curb at the airport and get your car as opposed to riding a shuttle and/or waiting in a line.
The downside to the site is that, in some cases, you may not be able to find a rental cheaper than what you could find at an airport rental location. Also, you may be paying a hefty price for a delivery charge. We checked in on the cheapest rate we could find for a rental at Newark's airport and found a car that was about $25 per day with a delivery fee of $75.
If you're able to ride public transportation to your Turo pickup, you could cut out the cost of a delivery fee but, again, you'd be lengthening the time between when you're ready for the car and when you actually get it.
Another possible drawback relates to the cost of insurance. We weren't able to get a quote for the insurance coverage cost from Turo's partnership with Liberty Mutual. As a point of comparison, though, Priceline's insurance costs $11 but provides a maximum benefit of $35,000, which is significantly less than Turo's $1 million coverage.
Now, with normal car rental agencies, you could forego the insurance the agency offers in favor of car rental insurance included on your credit card. However, your credit card may not offer car rental insurance for Turo. We called Chase's benefit center and the representative told us that Chase does not offer their car rental insurance for Turo.
So, if your car insurance policy doesn't cover rentals then you'll either have to rent the car without any insurance or pay for Liberty Mutual's insurance through Turo.
As for who we think this service is good for, we believe Turo presents some distinct advantages for both guests and hosts. If you need a rental in a city with high rental prices, Turo could offer a cheaper option. Even if a Turo tip is more than a car rental agency, the Turo option may still be more interesting to you because of the potential to get your car delivered to the airport.
We believe the greatest strengths of this service lie with hosts, especially those who work from home and don't need to drive to work, or you have a great public transportation system that you can use in lieu of a car.
If this is you, then we think Turo's service could be an excellent way for you to earn some money on the side. If you're in a city where you can demand a considerable fee for your car, there's a good chance you could earn enough to cover your car payments every month, much in the same way renting your home through Airbnb could coverage you mortgage costs.
But, keep in mind that you'll most likely need to pay for insurance to cover your car, factor that cost in your pricing. Also, be smart about the mileage limitation you place on the car. Being too restrictive could scare away potential guests but being too liberal with your mileage allowance could cause undue wear and tear on your car.
Customer Reviews
This company is actively collecting reviews from its customers. All reviews submitted are subject to moderation and approval to ensure they meet our
Review Guidelines
.
Posted on Mar 5, 2021
Horrible
So I've been using Turo for about a year to rent my 2019 Lincoln Navigator out. I've had 10 renters. I'm the host. I'm very laid back and don't fuss about anything if it's a smell to something that I can wipe or vacuum up. I've had a few little things but nothing that's made me call and report a claim until my 10th renter! I have a 5-star renter and I get along with everyone. Including my 10th renter until he denied the damage he did.
In my middle row, there's a big console. The leather around it is very nice and had zero flaws. When I got it back there was some major damage to it on one side and a dusty footprint on the other. I'm naive I'll admit. He had his 7-year-old daughter and they were going on what I thought a "father/daughter" trip to SF. I have iPads and WiFi in my navigator and that was their reason for wanting this car. I didn't take pics of every corner on the inside. I did of the outside but I missed the console. That's why I say I'm naive. When I got it back after 48 hours it had major damage. He denied it and said he knows nothing. Because I didn't have a photo pre-trip my claim was denied. He sent me very rude messages saying how dare I call his "daughter's father malicious" when I didn't use that word and he was speaking of himself in a 3rd-person way. It's $3500 to replace this part of the console. I made $232 from this trip.
There are more details but the bottom line is to make sure you take a pic of every corner because you're on your own if you don't. This car is my baby and I only rented it out since the pandemic and I lost my business. I learned my lesson the hard way. Now it's damaged and unrentable. If someone is renting a luxury vehicle, rips and dents in the console aren't acceptable. My bad for thinking the renter will always do the right thing. So many people do but there's the few that don't. I'm so dumb but at least l learned, even if it's the hard way.
Length of Use: 1–2 years
Bottom Line: No, I would not recommend this to a friend
Pros and Cons
Make money
Mostly friendly people
Too much risk
Lost more than I made
Posted on Dec 22, 2020
Unreliable hassle
I've rented hundreds of cars and am no huge fan on rental car agencies, but Turo fails miserably on its "Way better than a rental car" slogan.
We wanted to rent a car for a 1 week+ trip.
The 1st reservation instant booked, but the host was non-responsive when I tried to confirm pick-up details. Turo's help desk refused to help until we were within the 1-week reservation window. Sure enough, the host was non-responsive, even to them. They offered to cancel the reservation with no fees.
Not great. But things happen. I search and find a replacement car, (more expensive now), with 5 days to go before the trip.
We waited over 90 minutes for the host to meet us with the car the evening before we were leaving. When he arrived, the car (which had 190k+ miles!) had very serious body damage (passenger doors didn't sit right in frames, trunk wouldn't close.) I guess Turo doesn't require hosts to verify vehicle condition.
Now it is 8pm the night before a 2-state road trip and we don't have a road safe car. Turo support offers a Nissan Leaf or free cancellation.
We looked on our own and found a host that was sympathetic to our problem. We arrange for an early morning pickup. When we get there, Turo's app doesn't work. We can't unlock the car - even though I'd checked for app updates the night before. Two calls to support later, Turo helpdesk resorts to calling the host to ask them to unlock the vehicle for us.
Three reservations, 6 hours of support and rebooking hassle, and one hour behind schedule, we're finally on the road.
We returned the vehicle, freshly washed inside and out, with a full tank of premium gas two hours early, only to be chewed out by the host who was angry we had taken it exactly where we said we were taking it (out of state).
I've had some bad car rental experiences, but nothing to rival this.
I will say that once we got through to a live person in their byzantine support system, the support team was really nice and diligent in trying to help. They were just caught between a mediocre app and a company with negligent host policies.
Between the poor app functionality and the zero vetting of hosts and vehicles, I can't recommend Turo. If we had needed to be someplace by a certain time, we would have been screwed. This is not a reliable service for either short term or long term car needs.
If you need reliable vehicles at reliable times, I strongly suggest you look elsewhere.
Length of Use: Less than 3 months
Bottom Line: No, I would not recommend this to a friend
Pros and Cons
You can search for specific details like AWD, make, model
Cars and hosts were totally unreliable
App interface and functionality were terrible
Not cheaper and more work than a regular rental car agency
Can't reliably see condition, mileage, etc. of vehicles
Posted on Sep 15, 2020
Untrustworthy company!
Turo took my money and I've been trying to request a refund for more than several months.
Turo failed as a company to do all their research and banned someone who brought them in money and communicated with them or at least tried to communicate with them whenever something happened. I have several screenshots of chats, messages, and emails, and still, "no one can help me", please, they're just being lazy!
Very disappointed!
I hate that people (renters) would leave out details so after you already got the car you couldn't do much about it, because you got the car to do what you had to do initially.
I hate that even though I was nice to numerous people (renters) and didn't look down on them for giving me a bit of trouble that I tried to look for something positive, because at least their car was able to help me get place to place right, but through all that, I was treated with such disrespect from Turo.
I hate that I rented these cars (with not much to give in the first place) and Turo took EVEN MORE money from me and my brother.
I hate that this year when my little brother needed a car to get his son, that Turo wouldn't let him because of MY issue, which they failed to resolve thoroughly anyway!
I mostly hate that I thought Turo was better than the reviews that I read about y'all...similar to mine. Don't make the same mistake I made!
As you can see, my negatives outweigh the pros by SO much. If I were dying, had no car, and had money to get any car to just enjoy my last day on earth, I wouldn't do it through Turo because y'all probably would take my money, take the car, AND find a way to ruin my last day on earth without thinking or researching anything. Have fun scamming people and ruining your reputation, I'll make sure people know about this and my story!
Length of Use: 6–12 months
Bottom Line: No, I would not recommend this to a friend
Pros and Cons
I LOVED how convenient this company made it for me to just go catch an Uber/Lyft, bus, or ride to the location of the car
I would recommend this company to my friends and it helped them out tremendously
Pretty good rates
Some people who had crappy cars still were able to post their cars on this app
People (renters) would leave out details so after you already got the car you couldn't do much about it
Even though I was nice to numerous renters that gave me a bit of trouble, but I was treated with such disrespect from Turo
Turo didn't do their research on my situation
I rented these cars and Turo took even more money from me and my brother
My little brother needed a car to get his son, Turo wouldn't let him because of MY issue, which they failed to resolve thoroughly anyway
Turo lied to me on many occasions and still got away with it
Posted on Jul 22, 2020
Used Turo to try BMW
Instant access to the car is amazing. I really like the ID of the app and how easy it was to rent the car out.
Good job.
Length of Use: Less than 3 months
Bottom Line: Yes, I would recommend this to a friend
Pros and Cons
User experience
The fact that there is no need to interact with owner
Cars are cool
Maybe the service fee was a surprise, but it's ok
Posted on Jul 21, 2020
Worst company ever
Turo has the worst customer service, protection, and policy ever. I just can't believe it. I put my Mercedes, Kia Telluride, Mini Cooper, and Tesla on Turo to try it out because we heard good things about it and we work from home so we are not using our cars often. And it is absolutely disappointing. Last week some guy rented my Tesla for 2 days for basically nothing as Turo's fee is almost 40% (if you want your car full protection), then that guy abandoned my car. Yes, abandoned. We didn't know where our car was. He didn't show up as per our arrangement and we couldn't get ahold of him.
We called Turo as we expect some kind of help or protection but they just basically told us to go find our car then let them know what time we found our car. It was absolutely no help. Luckily it was a Tesla. I can located my car thru the Tesla app. Imagine if it was any other car brand? I would be absolutely LOST. And Turo's policy for abandoned cars is to give the host a $50 fee. Yes, $50! Can you believe that? Would that be satisfactory to anyone? I assume no one would be satisfied. That doesn't even cover the time to look for my car.
Then 2 days after that I had another rental, it was for my brand new Kia Telluride. We have locked all the dates out and planned on not to use Turo any longer. But this guy booked a few days ago and I didn't want to cancel him at the last minute, especially in the time like this. And just my luck, this guy smoked in my car (to be accurate, 4 guys) even though I stated the policy in my listing that I am not allowing smoking in the car and the guest will be charged a $250+ fee. The whole entire car smelled like cigarettes and marijuana. My husband confronted the guest like right away and he agreed to pay thru Turo. We reached out to Turo and were waiting hours of our time and the customer service agent named Stephany told us that she will get back to us, which she never does. We waited for days. Nothing happened. I can't just let my car sit in the smoke smell. I have kids. I took my car to get a deep clean. Days passed, they still did not get back to us so I had to call again today, but no help either. I told the customer service rep name Rodeo everything, then he asked if there is still a cigarette butt left. Of course not. We couldn't wait any longer and Stephany never told us to wait or to collect any evidence. We have kids, we had to bring our car to get washed, can't just let my family car smell like marijuana and cigarette. We told Rodeo that there is still a strong smell everywhere and we would be glad if he can schedule specialists to confirm that. Rodeo said he will talk to his supervisor and get back to us, and he did. He wanted to offer us $50. Yes, $50 for deep cleaning. Is that possible anywhere in the US, because that was unheard of? Not to mention I have posted my policy on my listing clearly that we are not allowing smoking in the car and any guest who smokes will be charged a $250+ cleaning fee. We told Turo customer service but got no help.
I wouldn't recommend it to anyone. Anyone at all. There is no protection and why take a risk that you don't have to?
Length of Use: 6–12 months
Bottom Line: No, I would not recommend this to a friend
Pros and Cons
Advertising
Customer service
Protection
Poor website
Posted on Jun 28, 2020
Lots of nickel and dime fees - don't trust the face value price
I rented a Jeep. Took it out to Big Bear Lake. It got dirty. That's why there is a cleaning fee, right? There were a few scratches on one of the black freedom panels. This just scrapes right off. Very delicate. I had the vehicle for 3 days. Drove it 700 miles. Cost me around $1k after all the extra nickel and dime fees they charged. Never again will I rent using Turo.
Length of Use: 2+ years
Bottom Line: No, I would not recommend this to a friend
Pros and Cons
Variety of rentals
Easy online booking
Response of host
Nickel and dime on fees
A cleaning fee is charged, but don't expect that's the end of the story
Posted on Apr 20, 2020
It took Turo 1 year to process my security deposit refund
If you have absolutely no problem with having $100 to $300 to spare and not see for a year, then Turo is the best for you. Why? Because, like in my case, it can take them up to 366 days to process your security deposit refund.
Way to go Turo!
Bottom Line: No, I would not recommend this to a friend
Posted on Feb 26, 2020
No bells or whistles
I tried Turo for the first time with a less than stellar experience. On the day of our arrival plans changed and the owner messaged to say the vehicle would now be in the daily short-term parking area. A change from the original curbside handoff. I had to pay $5 to take the vehicle out of the lot - a small surprise cost. I do not like surprises.
I was also not prepared for the self check-in and check-out process of Turo. I will pay more next time with a rental agency for the ease of not having to do it myself.
Within an hour the "Drivetrain Malfunction" light came on and the rearview camera no longer worked. I was completely freaked and worried. I messaged the owner but he was unsure of the problem and said he's never had issues with this vehicle before - which did not help me that night. I was informed to contact Turo customer service for assistance.
With a franchise rental agency, I would have just driven back to the location and received a different vehicle or upgrade. For the remainder of our trip, the vehicle drove normal, even with the malfunction light still on. Something I informed the owner of before dropping off the vehicle.
This was an experience I can say that I tried, but I will not repeat again. I will next time stick with a regular rental agency to avoid all the hassles and self-work of checking in/out.
Bottom Line: No, I would not recommend this to a friend
Posted on Feb 24, 2020
Pleasantly surprised
First time using Turo and everything went pretty smooth. The only thing I was disappointed in was when we picked up the car the gas tank was literally on empty. We had to get to a gas station ASAP after receiving the car which was frustrating. Also, it is extremely hard to return a car the same way and avoid not running out of gas. I am not sure if this is done on purpose to get more gas in your car. I feel if Turo is being professional they should require that of their people who are renting out their cars. Besides that, everything else was good.
Bottom Line: Yes, I would recommend this to a friend
Posted on Feb 23, 2020
Great rental option
Turo was a great option for inexpensive car rental. It also saved me a lot of time, as I was able to meet the car at arrivals and didn't have to worry about taking a shuttle to a rental facility. The person I rented from was punctual, courteous, and he went out of his way to help me when I left something in the car. I highly recommend Turo.
Bottom Line: Yes, I would recommend this to a friend
Posted on Feb 23, 2020
Very convenient and affordable for guaranteed AWD
This was my first time using Turo. I was planning on skiing near Denver and wanted to be guaranteed an AWD vehicle that I knew could handle driving in the snowy mountain roads, hence my choice of Tyler's Subaru Outback. Price-wise, it was less expensive than a typical SUV/AWD vehicle rental from a large agency. The pickup was convenient at a 24-hour offsite parking facility that had a free airport shuttle service, and Tyler messaged me in the app when I picked up the car to check in and ensure that I had no issues. The car was mechanically sound and well maintained, and returning it was a smooth process. I again appreciated that Tyler was very quick to respond to a couple of questions I had, being that this was my first time using Turo to make sure I was doing the check out the section on the app correctly. While I am a member of a rental agency rewards programs and will probably stick to them for cars in good weather, I'd definitely use the service again to be guaranteed a specific vehicle type for adventures that involve unpredictable snowy weather!
Bottom Line: Yes, I would recommend this to a friend
Our Promise to You
In order to safeguard you and ensure helpfulness and relevance, our compliance team manually assess every customer review before it goes live.
We have a zero-tolerance policy for fake reviews, and companies cannot control or alter any reviews at any time.