Turo
Claimed This company has claimed this profile, is getting alerted on any new customer reviews entering this page, and may engage in dialogue with its customers to address their matters.

Companies cannot pay money or provide goods in order to remove or alter customer reviews.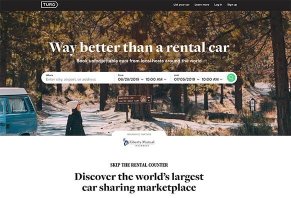 Turo is a peer-to-peer car rental service where you can rent a car or where you can offer up your car for rent, all through a highly-rated app that provides all the information you need to find the right car.
---
This company is actively collecting reviews from its customers. All reviews submitted are subject to moderation and approval to ensure they meet our

Review Guidelines

.

Great first experience

By Jason H.

,

Scottsdale, AZ

,

Feb 21, 2020
Verified Reviewer

Overall Experience:

I've had the Turo app on my phone for a few years now, occasionally check it out but never pulled the trigger. Finally saw a cool car that I really want to drive for a weekend and took the plunge. The experience was really simple and straightforward. The host and the car were as advertised, the reservation process and check-in and check-out process were fairly easy. All in all, I had no problems and will definitely try it again.

Bottom Line: Yes, I would recommend this to a friend

---

Excellent! Very convenient.

By Gregory W.

,

Indiana

,

Feb 21, 2020
Verified Reviewer

Overall Experience:

I contacted the car owner with our plans. He had the car waiting for us in covered parking at the airport. We enjoyed the week with no issues. Returned the car back to covered parking in the airport. Much more convenient than taking a shuttle to the car rental agencies. I would rent again.

Bottom Line: Yes, I would recommend this to a friend

---

Advertisement

---

Turo filled the gap

By Mark C.

,

Savannah, GA

,

Feb 21, 2020
Verified Reviewer

Overall Experience:

It's difficult to rent a car in downtown Savannah for pickup on Saturday and return on Sunday because of short business hours on Saturday. Rentals are available at the airport but that's out of the way for those of us who arrived to Savannah via Amtrak.

Turo, owner Ivan, filled that gap for us.

Was a couple of miles away and had a well-maintained vehicle waiting for us to rent for 12 hours. He explained the Turo system well to us first-timers.

Our only suggestion is that he directly respond to his customers at the end of the trip as he did in the beginning so we were sure everything was fine with the van we rented when he got back to the drop spot. We texted him as he instructed when we put the keys into his dropbox but did not hear an acknowledgment back from him. An "OK" or something.

Bottom Line: Yes, I would recommend this to a friend

---

Overall Experience:

It was a good first experience with Turo.

I borrowed a 2010 Toyota Prius in Phoenix, Arizona, and the car was in good condition.

Ken and their friends are very kind helpful. They responded very fast.

I will use and recommend Turo for my friends.

Bottom Line: Yes, I would recommend this to a friend

---

Advertisement

---

Overall Experience:

The owner of the car was allowed to charge me absurd and lying fees, in addition to the car stinking with cigarettes, this was my primary experience, and it was terrible. And I don't recommend.

Bottom Line: No, I would not recommend this to a friend

---

Insurance

By Jason B.

,

California

,

Feb 20, 2020
Verified Reviewer

Overall Experience:

I'm glad you offer insurance but I ran into a major disappointing issue. I checked with my Geico policy to see if I was covered in a rental, and they said yes. As it ends up, I was unlucky enough to have an accident in a Turo rented Tesla Model X. Since Geico "had me covered" I opted for the minimal Turo insurance (with the $3,000 deductible) just in case. The accident was a parking accident where I didn't know the tailgate was open and went to back up literally 1 foot further into a garage. The tailgate caught a metal part if the garage and did at least $7000 in damage (my guess).

Had I known ahead of time that Geico doesn't cover Turo, I would have opted for the better Turo insurance. I think Turo is aware that Geico doesn't cover for their rentals and I would have liked to be warned ahead of time. Not after. You should have a drop-down menu for a customer to select their insurance company before the Turo insurance level is decided.

This would help the customer out so they don't end up underinsured. This would help the Turo owners out, so their customers get the proper insurance. And this would help Turo out, because they would sell more of the higher cost insurance.

Bottom Line: Yes, I would recommend this to a friend

---

BMW

By Lorena Z.

,

Miami, FL

,

Feb 19, 2020
Verified Reviewer

Overall Experience:

Fatih was a great host, he made the pick-up and the drop-off perfect and easy to manage, and easy to work with. He was very hospitable and it was pleasant to book from him. It was my first booking and it worked out great at the last minute.

Bottom Line: Yes, I would recommend this to a friend

---

Wonderful!

By Elijah A.

,

Ontario, CA

,

Feb 19, 2020
Verified Reviewer

Overall Experience:

This app is beyond amazing. Such a huge selection of cars and literally any car from economy to exotic is found. Verification and approval to rent is so simple and easy, and if you come across any problems, just chat with the live agents that are able to help around the clock. It was my first time and I rented a Mercedes C300 and the car was spectacular. The app saved my Valentine's Day since my own car was in the shop. Highly recommended!

Bottom Line: Yes, I would recommend this to a friend

---

Turo works every time I use it

By Kalvin E.

,

Grand Junction, CO

,

Feb 19, 2020
Verified Reviewer

Overall Experience:

I have now been using Turo since 2017. It is one of the best apps I use for renting vehicles. I have had wonderful experiences, met pretty amazing people, and have had dependable vehicles for each rental. Transition to pick up and drop off the vehicles have been seamless. I highly recommend Turo over regular means of car rentals.

Bottom Line: Yes, I would recommend this to a friend

---

Overall Experience:

From the start of the pick up to the drop-off...it was seamless!

Michael sent all instructions by message and all was clear. It was my first time traveling alone and he made my experience a good one. I highly recommend Turo to all...

Thank you Michael!

Bottom Line: Yes, I would recommend this to a friend

---

Great app, VERY high fees

Overall Experience:

It's been helpful using Turo to rent cars in my neighborhood. I don't have a credit card so can't rent from car rental agencies that require credit cards. I also save money by not having to take a Lyft to the airport to pick up a rental car. The biggest downside is the hefty Turo fee which comes out to over 16% of the car rental. That's a lot. If you add on extras like cleaning or unlimited mileage fee, Turo includes that too, and increases the fee, which isn't fair in my opinion. Those are extra services the owner provides, not Turo, so Turo shouldn't use the cost of those services in its fee calculation.

Bottom Line: Yes, I would recommend this to a friend

---