TV Buddy Caster Reviews
Claimed This company has claimed this profile, is getting alerted on any new customer reviews entering this page, and may engage in dialogue with its customers to address their matters.

Companies cannot pay money or provide goods in order to remove or alter customer reviews.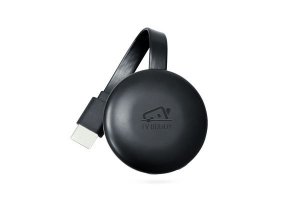 The TVBuddy Caster is a screen-mirroring device that streams your phone's audio and video to your TV. While it looks almost exactly like the Google Chromecast, it's twice the price and provides fewer features. Read what customers are saying.
---
I ordered one in February 2020 and still did not receive it. They said was in shipping.

By Bill F.

,

Villas, NJ

,

Nov 3, 2020
Verified Reviewer

Overall Experience:

Bad customer service. I sent several emails asking where it is. They send a tracking number. There's tracking but I still did not receive it.

Pros and Cons:

No "pros" were specified in this review
Did not get it

Bottom Line: No, I would not recommend this to a friend

---

TV fix Caster

By Kevin H.

,

Brownsville, KY

,

Oct 16, 2020
Verified Reviewer

Overall Experience:

Never got any of them, ordered 5 at the beginning of September. They said it shipped on 9/11/20. Gave me the wrong order number and tracking number, gave me a phone number, it rings 1 time and cuts off. They also say to go to service@itemsway.com. They are no help with wrong numbers, not their fault. They don't deserve a star, but when all done they say it is required so I had to give them 1, and that should have been a negative star and way back. Where can I get help anyone, anywhere?

Pros and Cons:

No "pros" were specified in this review
Not getting it
Getting ripped off
Getting all wrong numbers

Bottom Line: No, I would not recommend this to a friend

---

Advertisement

---

Complete scam is my opinion

By Heather N.

,

Battletown, KY

,

Jul 29, 2020
Verified Reviewer

Length of Use: Less than 3 months

Overall Experience:

As I said, my opinion is this product is a complete scam. First off, it states that it can provide cable-free TV with YouTube TV. That is only true if you subscribe to that service or any other service including cable. This product provides nothing except screen mirroring. That is all it does. It's a mirroring device. It's not even an antenna. I get everything I need from an old TV antenna and my Roku device. Also, if you decide to purchase anyway then expect it to take over two months and that is with me constantly emailing them. Thank goodness I paid through PayPal. I will be sending the product back.

Pros and Cons:

No "pros" were specified in this review
Shipping time
Inaccurate description
Return policy

Bottom Line: No, I would not recommend this to a friend

---

Ordered and never got my Buddy Caster

By Frank B.

,

Maryville, TN

,

Jul 20, 2020
Verified Reviewer

Overall Experience:

You better not order this. I ordered mine in APRIL and I can't get them to respond to me. They get your money and you get nothing. I am still waiting for them to respond. Don't waste your money. I have learned a lesson from this.

Pros and Cons:

No "pros" were specified in this review
They will not send the product
They will not respond
They are crooks
They have taken me for $123.34

Bottom Line: No, I would not recommend this to a friend

---

TV Buddy review

By Joseph S.

,

West Mifflin, PA

,

Jul 16, 2020
Verified Reviewer

Length of Use: 3–6 months

Overall Experience:

This product is not capable of doing what they claim, and the only thing worse than the product is the customer service. There is none. Tried everything to return this to no avail. On hold each time only to be disconnected before ever speaking to someone. Tried support, none, tried alternate phone #'s, told they are not TV Buddy. Finally contacted my credit card to dispute charges. Told them I got my product after 3 months, was not what they claimed it was, and spent 3 days trying to get in touch with someone only to be repeatedly disconnected. So much for a no-hassle 30-day return policy. Waiting for paperwork from credit card company to file a complaint, then have to wait and see, and people wonder why someone would go commando.

Pros and Cons:

No "pros" were specified in this review
Product is not as portrayed
No customer service
Found out it is not located in the USA

Bottom Line: No, I would not recommend this to a friend

Jul 19, 2020

Hi Joseph. We are sorry to hear about this experience. Would you be able to send us an email at support@gettvbuddy.com? We want to make sure that all your concerns are addressed and straightened out.

---

I ordered, they took my money, and I never received

By Donita T.

,

Bonham, TX

,

Jul 13, 2020
Verified Reviewer

Overall Experience:

I ordered in May, I'm still waiting for my TV Buddy and my WiFi booster. They had no problem taking my money in May but still no product. I have contacted them twice and was told it's on its way but still nothing. It is now July.

Bottom Line: No, I would not recommend this to a friend

Jul 19, 2020

Hi Donita. Thank you for sharing this feedback. We'd also like to take this chance to sincerely apologize for the long delay in the shipment of your order. We checked on it and your order is already en route. Below is the tracking link for your reference:

https://tools.usps.com/go/TrackConfirmAction?tRef=fullpage&tLc=2&text28777=&tLabels=420754189374869903505204682503%2C

---

Scam

By Beth E.

,

Sorrento, British Columbia, Canada

,

Jul 3, 2020
Verified Reviewer

Length of Use: Less than 3 months

Overall Experience:

I ordered one but I got charged for two. It took forever to arrive and it is not compatible with either of my TVs.

I took it to the post office to return it and the address is not in the system. Expensive lesson. I also have repeatedly tried to email them and get no response so I guess I'm stuck with garbage that I overpaid for.

Pros and Cons:

No "pros" were specified in this review
Scam
No customer service
Overcharged for trash

Bottom Line: No, I would not recommend this to a friend

Jul 19, 2020

Hi Beth. We are very sorry to hear about this experience. We do offer a 30-day money-back guarantee but just make sure to reach out to the company directly so that the correct return instructions will be provided. We encourage you to send us an email at support@gettvbuddy.com to make sure that all your concerns are addressed and straightened out. Again, our sincerest apologies for the inconvenience this has caused you.

---

Advertisement

---

Crap company - don't be conned!

By Jeff M.

,

Sydney, Australia

,

Jun 24, 2020
Verified Reviewer

Length of Use: Less than 3 months

Overall Experience:

Waited forever and it finally arrived but is useless as it only mirrors, no free channels as advertised - internet amplify device is also crap without an Aussie plug.

Don't get caught with these crooks pretending to be reputable!

Pros and Cons:

No "pros" were specified in this review
False advertising
Misleading
Dishonest

Bottom Line: No, I would not recommend this to a friend

Jul 19, 2020

We are sorry to hear that the product fell short of your expectations. Please note that we offer a 30-day money-back guarantee which entitles you to a refund as long as the unsatisfactory product is returned to us in its original packaging within 30 days from the date of delivery.

---

Scam

By Gloria D.

,

New York, NY

,

Jun 19, 2020
Verified Reviewer

Length of Use: Less than 3 months

Overall Experience:

Don't be fooled, TV Buddy does not work with any internet connection. I have Spectrum, I spent hours trying to hook up the device, didn't happen. Then I contacted the shipper, they offered me 20% off rather than to send it back so I would only get $11.00 back off a $50.00 device. I'm so done. Then she told me to give it away. Never again. Buyers beware!

Pros and Cons:

No "pros" were specified in this review
Liars
Scam artist
Took two months to receive it

Bottom Line: No, I would not recommend this to a friend

Jul 19, 2020

We are sorry to hear that the product fell short of your expectations. Please note that we offer a 30-day money-back guarantee which entitles you to a refund as long as the unsatisfactory product is returned to us in its original packaging within 30 days from the date of delivery.

---

TV Buddy Caster

By Jacques B.

,

Maddington Falls, Quebec, Canada

,

Jun 4, 2020
Verified Reviewer

Length of Use: 3–6 months

Overall Experience:

I ordered this product on March 20, 2020, I never receive this product.

I would like my money back, the order number is 84461521.

Pros and Cons:

No "pros" were specified in this review
Take my money, never send the product

Bottom Line: No, I would not recommend this to a friend

Jul 19, 2020

We are sorry to hear about this, Jacques. We looked into it but it the tracking link below shows that your order was successfully delivered:

https://track.aftership.com/trackings?tracking-numbers=GM545114957022650783&courier=dhl-global-mail

---

Scam company

By Martin P.

,

Great Britain

,

Jun 4, 2020
Verified Reviewer

Length of Use: Less than 3 months

Overall Experience:

Like everyone else, the product took ages to arrive. I had a few emails to apologize for the delay, then when it arrived and followed the instructions, it will not connect.

Their so-called award winning customer service is a total joke, they have never responded to the e-mails I sent them over connection problems. As soon as they have your money they don't want to know. It is also false advertising as you simply plug it in and enjoy free channels, no mention of the set up procedure.

They advertise a lot on Facebook, but Facebook is as bad, as people are continualy writing bad reviews but they will not remove them. Also, when you look the next day all the bad reviews have disappeared.

Do not buy from this scam company.

Pros and Cons:

No "pros" were specified in this review
Once they have your money, they will not help with any issues
False advertising
It is supposed to be a screen caster but it's only mirrors

Bottom Line: No, I would not recommend this to a friend

Jul 19, 2020

We are sorry to hear about this experience, Martin. We are taking all your feedback into account as it will help us improve our overall service - from providing high-quality products and good customer service.

---

If there is less than 1 star I would give it.

By Fiona W.

,

Victoria, Australia

,

Jun 4, 2020
Verified Reviewer

Length of Use: 3–6 months

Overall Experience:

It took from the 10th of February 2020 to the 2nd of June 2020 to receive the TV Buddy. 15 weeks! It is certainly not what was expected and this "casting" is only mirroring and it is not worth bupkiss to me. The advertising is fraudulent. I am now in the process of trying to claim back my funds through PayPal. I have already put in a claim prior to receiving the item but was told I have to wait until the 17th of June. I'll be claiming my refund at 12:00:01 on the 17th!

DO NOT BUY! It's not worth it! Ripped off!

Pros and Cons:

No "pros" were specified in this review
Lack of contact

Bottom Line: No, I would not recommend this to a friend

Jul 19, 2020

We are sorry to hear about this experience, Fiona. Please know that we are taking your feedback seriously to help us improve our overall services. We hope that your refund has already been settled. Otherwise, feel free to send an email at support@gettvbuddy.com so we can make sure that all your concerns are addressed.

---

Advertisement

---

Fraudulent company practices

By Ivy A.

,

Levittown, PA

,

Jun 2, 2020
Verified Reviewer

Overall Experience:

I ordered this product along with the antenna ($123.34) which was promptly billed to my card. I have yet to receive it and the number listed on my card is out of service. I would like my money back and would not ever consider telling a friend it is anything but a crap scam. I doubt I will ever get my money back or even hear from them again. Do NOT buy this product.

Pros and Cons:

No "pros" were specified in this review
It is a scam
They stole my money

Bottom Line: No, I would not recommend this to a friend

Jul 19, 2020

We are sorry to hear about this experience. We assure you that this is a legitimate business and we have been operating for years as we provide innovative products to our customers. Could you help us with the order number or email address used for this order so we can check on its status? That is if you have not received it yet. We do hope all your concerns will be straightened out.

---

Not happy

By Michael S.

,

Australia

,

May 28, 2020
Verified Reviewer

Overall Experience:

It would be the worst internet purchase I have ever made. I don't know how the product works as I have been waiting 6 months for my order to arrive. I received a part of my total order and the WiFi booster does not support the Australian power plug. What a joke, dealing with this company is clearly a scam. Be warned. My emails have not been responded to from support. I have demanded a refund, I'm thinking good luck with that. Be warned everyone, they can't supply your order knowingly but they're happy to take your money.

Bottom Line: No, I would not recommend this to a friend

Jul 19, 2020

Our sincerest apologies for the inconvenience you have gone through, Michael. We checked on your account and we found the tracking link for your order:

https://track.aftership.com/trackings?tracking-numbers=LS720935987CH&courier=swiss-post

We know that this has taken so much longer than expected so we are really very sorry for the delay. Our Email team had received a massive volume of emails that is why it has been a challenge responding to everyone in a timely manner but we are all trying our best to keep up.

---

Billed my card two times the same day. I want my charge refunded.

By Lawrence M.

,

California

,

May 25, 2020
Verified Reviewer

Overall Experience:

Not sure what is the review. Have not gotten the thing as of yet. Very upset my card was billed twice. Not getting off to a good start. I don't have 180 characters to write just want my card refunded today.

Bottom Line: No, I would not recommend this to a friend

Jul 19, 2020

We're sorry to hear about what happened, Lawrence. May we ask if you have already sent the company an email regarding your concern? We would be happy to follow it up for you and make sure that your concerns are addressed and straightened out.

---

Never received product

By Larry D.

,

Williamsburg, OH

,

May 22, 2020
Verified Reviewer

Overall Experience:

Ordered the product on 4/17/2020. It is now 5/19/2020 and I have not heard anything more about my order. I tried e-mailing them twice and went to call the number on the order confirmation and got a busy signal on numerous occasions. Just want my product or my money back.

Bottom Line: No, I would not recommend this to a friend

---

Terrible customer service

By Linda S.

,

Minnesota

,

May 22, 2020
Verified Reviewer

Overall Experience:

I ordered 3 screen casters, waited months to get because of COVID-19 and then found that they were not what I expected. Tried to call to get the address to return intact new units and no one answered phones, e-mails, or texts.

I paid $123.34 for these units and now don't want them.

So much for their 100% return policy. I disputed with Visa so should get money back but I want to return them if possible. Trying to do the right thing here folks.

Don't buy in case you have any issues. They don't care.

Bottom Line: No, I would not recommend this to a friend

---

Advertisement

---

Not happy - feeling scammed

By James S.

,

Sun City, AZ

,

May 21, 2020
Verified Reviewer

Overall Experience:

I received two of the TV Buddy units and tried to hook one of them up. Did not work. Since I already have a smart TV I don't feel I want or need the units. Getting in touch with them for a return has been a nightmare. The number on their website isn't even their number. I've tried calling several other numbers but after waiting on hold I get disconnected. Horrible customer service. Based on some of the reviews it appears that even if I return the units I probably will not get a refund. Don't order anything from this company.

Bottom Line: No, I would not recommend this to a friend

---

Bad experience

By Mark K.

,

Snellville, GA

,

May 15, 2020
Verified Reviewer

Overall Experience:

I am sorry to say that I am not liking the customer service level from TV Buddy. I placed an order on March 25th and have not received the product, nor have I been given any updated information on the possible arrival of the product. This seems to be a scam. I want to know where my product is!

Bottom Line: No, I would not recommend this to a friend

---

Bad product...scam!

By Sally M.

,

Wysox, PA

,

May 12, 2020
Verified Reviewer

Overall Experience:

I ordered this in February 2020. I canceled, got my refund from PayPal...Ok, next thing I know it was reordered two more times...tried calling, no answer, so I texted. No reply. Got these 3 Buddys on May 9th, they are going back if I can get an address. And they also included 2 antennas with this order. Don't do it.

Bottom Line: No, I would not recommend this to a friend

---

Overall Experience:

TV Buddy is the biggest scam I've ever been taken for. I ordered 3 because they were supposed to be great. They did not work because they're cheap and I guess because I am in a rural area. Well, this sucks. I sent them back with the tracking numbers outside the box and on the inside as instructed. Now they say they never received them so they have the 3 Buddies AND my money. SCAM!

Bottom Line: No, I would not recommend this to a friend

---

Have not even been to CHECK OUT, and their already try to take payments.

By Wayne S.

,

Kent, United Kingdom

,

May 5, 2020
Verified Reviewer

Overall Experience:

Seemed like a good device on an advert, VERY MISLEADING, you mention nothing about an antenna required until you start buying the product. Even before I went to check out, I changed my mind, and stopped going any further, BUT YOU ARE STILL TRYING TO GET MY MONEY OUT OF MY ACCOUNT. How dare you. Very fraudulent, can I have your account details so I can take money out of yours for a job you have not asked for?

Bottom Line: No, I would not recommend this to a friend

---

Advertisement

---

Will not refund my purchase

By Patsy M.

,

Ohio

,

Apr 21, 2020
Verified Reviewer

Overall Experience:

I purchased both the TV Buddy and antenna. When they arrived, I tried to hook them up, was unable, and requested a return. Finally, after a few back and forths with their trying to offer me discounts to keep them, I received the return information. I packaged them, some even unopened, included all of my information in the package as suggested, immediately took it to the PO and sent it out. My tracking number said they had received the items. Had not issued a credit to my account and deny receiving the package. I did not keep the PO tracking info once I saw the package had been received. I am convinced I will NEVER receive my refund.

Bottom Line: No, I would not recommend this to a friend

---

Junk

By Louis V.

,

Pennsylvania

,

Apr 14, 2020
Verified Reviewer

Overall Experience:

I bought this piece of junk 6 weeks ago and was excited to hook it up. I tried everything 5 times the way instructions tell you to do it, got so mad, put the box, unit, all in the trash can where it belongs. DON'T BUY THIS JUNK. Sorry I fell for it.

Bottom Line: No, I would not recommend this to a friend

---

Thieves

By Jason A.

,

Burbank, CA

,

Apr 14, 2020
Verified Reviewer

Overall Experience:

A huge liar company, they make you wait over 2 months and send you a little piece of black color crap. Don't get full to buy this, they are thieves from another country, even when you want to set up this stupid lie thing they have a fake lie video to how to set up! They change 3 mobile phones in one video to make you stupid and think you are not able to understand how to set up, no no no, do not fall for this. Do not waste your money and time, it will give you so much stress also! I hate bad nasty thieving people.

Bottom Line: No, I would not recommend this to a friend

---

Hold on to your money

By Jan R.

,

El Cajon, CA

,

Apr 11, 2020
Verified Reviewer

Overall Experience:

Everything you have read is true, spent hours on the computer, phone, and pad, and as you guessed, could not get it to work.

I have now made a decision not to by anything over the internet coming from or related to China. Burn me once, but not twice.

Bottom Line: No, I would not recommend this to a friend

---

Scam

By Lynn B.

,

Tullahoma, TN

,

Apr 3, 2020
Verified Reviewer

Overall Experience:

My sister got the TV Buddy and did not realize you had 30 days to return the product. They told her just plug it in and it works. What they didn't tell her is you have to have a certain phone to use with the TV Buddy. Now they don't want to stand behind the product and keep the customer happy and not saying we should have told you there is more to the system then just plugging it in and it working. We are very disappointed in the company and they don't want to do the right thing. I do not recommend TV Buddy to anyone. They take your money and won't do the right thing. It's false advertising and disappointing and a scam to take your money.

Bottom Line: No, I would not recommend this to a friend

---