TV Buddy Caster
Claimed This company has claimed this profile, is getting alerted on any new customer reviews entering this page, and may engage in dialogue with its customers to address their matters.

Companies cannot pay money or provide goods in order to remove or alter customer reviews.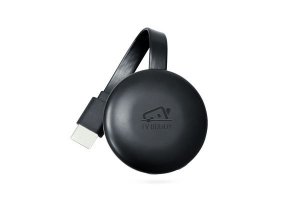 The TVBuddy Caster is a screen-mirroring device that streams your phone's audio and video to your TV. While it looks almost exactly like the Google Chromecast, it's twice the price and provides fewer features.
TV Buddy Caster Review: Is It Worth It? Pros and Cons
TVBuddy Caster is a device you use to mirror on your TV the audio and visual content on your smartphone.
What makes the device unique is that it brands itself as a better-made, powerful version of the Google Chromecast, a device the TV Buddy Caster looks very similar to. At first glance, the TVBuddy Caster looks like a worthy alternative to Chromecast.
However, it's important to understand the facts of what this device can and can't do, which we'll accomplish in this review.
We will also talk about the device's pricing and return policy, then compare it to the Google Chromecast and various TV brands that offer mirroring.
Pros:
Cons:

Provides mirroring if your TV doesn't have it

Only mirrors
Twice the cost of a Google Chromecast
Multi-step setup process
Risky return policy
How the TVBuddy Caster Works
Your TVBuddy Caster comes with two parts: the device and its power cord. The setup process takes a few steps.
Setup
To start, you'll need to plug the devices USB power cord into the back of the TVBuddy Caster. Then, you'll plug the USB cord either into your TV or into a USB wall outlet adapter.
Next, you'll plug the HDMI cord into your TV and turn the TV on. At this point, you'll need to connect your TVBuddy Caster to your wireless network.
This is a two-step process. First, you'll need to connect to the device's network: Mirroring-5AE740. You'll see it listed in your phone's available WiFi networks. The password for the network is 12345678.
Once you're connected to that network, you'll open your browser and go to the following website to connect your TVBuddy Caster to your internet: http://192.168.49.1.
This site is where you access the device's internet settings. You should see the name of the internet network you connect to. When you find it, click/tap on it, enter your password and your TVBuddy Caster is prepped for the final step of setting up mirroring.
TVBuddy's instruction manual provides the specific steps for setting up mirroring on Android, iOS/macOS and Windows users.
Once everything is set up, use your TV remote's "Source" button to select the HDMI port you've plugged your TVBuddy Caster into. Once you have the right source, you should see your phone's screen on your TV.
Mirroring vs. Casting
TVBuddy Caster's website makes multiple mentions of its ability to "cast," which is a term you can easily confuse with casting Netflix, Hulu and other streaming services via a Chromecast or Amazon Fire TV Stick.
What TVBuddy Caster does is mirroring. This is different than casting. Mirroring, or "screencasting," is what happens when your TV is displaying exactly what's happening on your phone screen. Think of it as a much bigger version of your phone's display. Anything that happens on your screen will show up on your TV.
Casting, on the other hand, is typically used to refer to what you do when you're playing content from Netflix, YouTube, Hulu, Amazon Video and other content services and you send it to your Chromecast or Amazon Fire TV Stick.
Sending the content to your TV requires that you are connected to your home network and you tap the cast icon in the content app. When you tap the icon, you should see the name of your device (Chromecast, for example) pop up in a new window. You tap the device name and your TV shows a new screen branded to the app you're using (Netflix, Hulu, etc.).
This difference between mirroring and casting is important for a few reasons.
First, it's easier to cast than it is to mirror because the apps you cast have automatic settings for screen size and resolution, whereas you'll have to make sure your phone is oriented to landscape and your content window is maximized to fill your TV screen.
Second, most new TV's have a mirroring function that works the same way as the TVBuddy Caster. In the comparison section of our review, we'll compare the TVBbuddy to five TV brands.
Finally, you may experience some lag when you mirror, which is an issue you won't face when you're casting. Since you're mirroring to your TVBuddy Caster via your internet network, the lag could get worse if you have multiple devices streaming on your network and/or slowed internet speeds due to your internet service provider dealing with a lot of internet use in your area.
Pricing and Return Policy
You can buy one or multiple TVBuddy Casters at the following price points:
1 device: $49.95 plus $8.95 shipping
2 devices: $99.90 plus $9.95 shipping
3 devices: $112.39 plus $10.95 shipping
4 devices: $174.83 plus $11.95
If you aren't happy with your TVBuddy Caster, you have 30 days from the day you received the device in the mail to start your return.
To be eligible for the return, your device needs to be in like-new condition and you must still have the original packaging.
If you meet these criteria, notify TVBuddy Caster's support team at (855)884-0385 that you're making a return and that you need the mailing address for the return.
Your next step is to send the device, original packaging, and a written or printed version of your address, email address, name and phone number included in the box. Once you ship the box, send the tracking number to support@gettvbuddy.com.
The risk of making a return is that TVBuddy's customer service makes the final decision about your refund. The fine print says it will take up to 30 days for them to process your return and that they'll notify you of their decision by email.
TVBuddy Caster vs. Chromecast
TVBuddy Caster and Chromecast are two different devices because the Chromecast can mirror and cast content, whereas TVBuddy Caster's only function is mirroring.
If your internet connection is fast enough to where you never deal with buffering issues, then casting Netflix and other content apps should never result in lag. Screen mirroring can lead to lag, which reduces the quality of the user experience.
Also, you can buy one Chromecast for half the price of a TVBuddy Caster.
Because of this, our opinion is that Chromecast is the better choice because you'll avoid lag, you get a brand-name device and the Chromecast is far cheaper.
TVBuddy Caster vs. Built-In TV Mirroring
Most of today's TVs have built-in mirroring that makes a mirror-only device like the TVBuddy unnecessary. What makes a built-in option better is that you don't have to buy a new device to mirror your phone.
Here's a quick list of popular TV brands and how to use screen mirroring with them:
LG: These TV's do mirroring via a TV setting called SmartShare. You can also mirror to an LG TV through your phone's screen-sharing setting or LG's Screen Share app.

Samsung: All Samsung TVs made in 2013 and later allow you to mirror via your internet connection. To access screen mirroring, hit the "Source" button on your remote and choose "Screen Mirroring."

Panasonic: You can mirror to these TV's through the APPS button on your Panasonic remote or through the Mirror for Panasonic TV app.

Insignia: The only way to mirror your phone to these TVs is through a first- or second-generation Amazon Fire TV device.

Hisense: You can do screen mirroring through the Anyview Cast feature in your TV's settings.
The Bottom Line
The TVBuddy Caster is a limited device with marketing that implies that it can cast like a Google Chromecast when its only function is to mirror whatever is on your phone's screen.
Most new TV's have mirroring built into their settings, which makes a mirroring device like TVBuddy Caster unnecessary.
However, if you have an older TV that doesn't have any native screen mirroring options but has HDMI slots, the TVBuddy Caster would be an option, albeit an expensive one compared to the Google Chromecast.
Also, if your phone has issues connecting to your TV's casting software, then TVBuddy Caster could save you some frustration. However, we suggest buying a Chromecast and testing it first.
If it works, then you've found a name-brand solution that's affordable and offers the added benefit of casting apps like Netflix, Hulu, YouTube and more.
---
Product does not work

By Richard S.

,

Orange, CA

,

Jan 11, 2020
Verified Reviewer

Overall Experience:

I bought three of these for the holidays. It took 4 weeks to ship and didn't make it prior to the holidays. Upon my connection and usage, I have all of the compatible equipment, upgraded router speed, a WiFi extender even though I was within 15 feet of the router, and the product would not connect my iPhone to my TV. Kept saying connection two weak or lost. Every other device in my home works from any distance and I even shut off the WiFi on all other working devices not to conflict with other usage.

It still only worked for mirroring photos and safari videos. Not Netflix, not Hulu, not Disney+, not sporting games. All of which are the reasons I purchased it.

They have no online tech support and kept saying via email they get lots of positive reviews and that they would offer me a discount of 20% to keep them and gift them to friends. Why would I do such a thing to a friend?

Buying the TV Buddy cost me my time and money as I had to pay return shipping. It remains to be seen how soon they credit me for the devices.

I highly recommend not wasting your time and money on this product.

Bottom Line: No, I would not recommend this to a friend

Feb 18, 2020

Hi Richard. We are sorry to hear that the product did not meet your expectations. Since it does not have built-in applications, the best way to maximize it is to mirror/cast your mobile device to your TV or desktop. If you have already returned the product, rest assured that our Return Department will work on it so you can receive your refund as soon as possible, that is if you have not received it yet.

---

TV Buddy

By David W.

,

Texas

,

Dec 23, 2019
Verified Reviewer

Overall Experience:

I ordered one of these devices based on how easy it is to use. As I suspected when I ordered it, the device doesn't work. Won't connect. Instructions give an IP address and an updated IP address but neither work. They show the server to be down or permanently moved. No support for the product. I'll gladly buy you one of these devices if you can help me make mine work.

Bottom Line: No, I would not recommend this to a friend

Feb 18, 2020

Hello, David. We're sorry to hear that you had challenges in setting it up. We'd like to make sure that we are able to assist you in any we can. To make it easier, you can check on the instructional material that we have below:

https://www.youtube.com/watch?v=YDIelMQVNHA

We hope this will help.

---

Terrible

By Dolores M.

,

Clearwater, FL

,

Dec 24, 2019
Verified Reviewer

Overall Experience:

Won't connect, trying to deal with customer service is a nightmare. Will never recommend due to terrible customer service after the delivery. They make it difficult to get help with anything after. Been on the phone for the third time waiting for someone.

Bottom Line: No, I would not recommend this to a friend

Feb 18, 2020

Hi Dolores. Your feedback is definitely taken into account. We hope there is anything we can do to turn things around. There had been an overwhelming demand for the product and a lot of customers have been reaching out to us via our hotline that is why there was a long queue.

---

Very disappointed

By Pam B.

,

New Plymouth, ID

,

Jan 25, 2020
Verified Reviewer

Overall Experience:

I needed it for a motor home television so I could stream from my phone and not a WiFi while we are out on the road. So I purchased (shipping was slow) and set it up. It would connect to my WiFi, but had BIG exceptions! Would not support any Dish or DIRECTV app, so I couldn't watch much on it but TBS and crap channels. Most importantly for my uses, it wouldn't connect through my hotspot on my iPhone. I called support and spent literally 2 hours going through every screen and possibility to no avail. She said she couldn't find a solution and would send it to another support group. They called me at 3:14 in the morning (thank you India)! Their answer was my hotspot was too weak. So I purchased a Roku, plugged it in and guess what? It worked perfectly with the hotspot on my phone. I called for a refund - now I have to PAY for the return, check the tracking number AND call them when the package is delivered to them. What a horrible experience. DO NOT PURCHASE THIS PRODUCT.

Bottom Line: No, I would not recommend this to a friend

Feb 18, 2020

Hi Pam. We're very sorry to hear about this feedback. We are making sure that we consider all the feedback we are receiving to improve the product and our overall service. At this point, we just hope you have already received your refund because it will be issued once the returned item has been received and checked in at our return facility.

---

Advertisement

---

Total scam!

By Dan A.

,

Fort Myers, FL

,

Jan 7, 2020
Verified Reviewer

Overall Experience:

Doesn't connect, hence doesn't work. I finally got a response from customer service via email and they tried to help but it still says "waiting to connect" so I told them what it says and have received no response after repeated emails. I even told them this last email that I will be disputing my charges with my credit card company and still no response. I have sent about a dozen emails and have called 5-6 times (you're on hold for 15+ minutes then get disconnected). Very disappointed! Don't waste your time or money! SCAM!

Bottom Line: No, I would not recommend this to a friend

Feb 18, 2020

Hi Dan. First, we'd like to assure you that this is a legit entity and we are not in the business of scamming people. Second, we'd like to apologize for all the inconvenience you have been through. We'd like to offer our assistance in any way we can because you are a valued customer. To make it easier, you can check on the instructional material that we have below:

https://www.youtube.com/watch?v=YDIelMQVNHA

---

DON'T DO BUSINESS WITH THIS COMPANY

By Kenny H.

,

Aliso Viejo, CA

,

Jan 29, 2020
Verified Reviewer

Overall Experience:

I decided to purchase 2 units. When I received the units, I decided that these items were overpriced for what they did. I decided to return the items and this is where it all started. They tried first to persuade me to keep them, THEN they finally told me the return process. I returned the items back on 12/19/19 and still do not have credit to my credit card. They first needed tracking number, then they had to verify that they received items. They did verify that they received items. THEN they requested how many did I return. STILL NO REFUND TO MY ACCOUNT on 1/26/20.

Bottom Line: No, I would not recommend this to a friend

Feb 18, 2020

Hi Kenny. We're very sorry to hear that the product did not meet your expectations and that you have not received your refund yet. Please send us the order number or email address used for the transaction so we can further check on this and follow it up with the Returns department. We look forward to your response.

---

Scam

By Phyllis J.

,

Nicholasville, KY

,

Dec 19, 2019
Verified Reviewer

Overall Experience:

Paid for it but never received it. Have tried to reach out but never heard back. Will never recommend this product. Bad experience. So many products are advertised and people purchase them and never received them.

Bottom Line: No, I would not recommend this to a friend

Feb 18, 2020

Hi Phyllis. We're very sorry to hear about this and the inconvenience you've been through. We looked into your account and it shows that your order was delivered (deposited in/at a mailbox). Please refer to the tracking details below:

Tracking Number: 92748999984544000038321527

Tracking Link: https://tools.usps.com/go/TrackConfirmAction?tRef=fullpage&tLc=3&text28777=&tLabels=92748999984544000038321527%2C%2C

---

Too good to be true

By Penny S.

,

Minnesota

,

Jan 10, 2020
Verified Reviewer

Overall Experience:

Received my TV Buddy and could not get it to connect. Have now made my 5th request for the return information with no responses. Would never recommend to anyone. I now have an Amazon Fire Stick that gives me what I am looking for.

Bottom Line: No, I would not recommend this to a friend

Feb 18, 2020

Hello, Penny. We're very sorry to hear that you have decided to return the product. Would you mind sending your order number so we ca follow up on your request? That is if you have not received any response yet. We hope to straighten things out as soon as possible.

---

Disappointment

By Vickie R.

,

South Carolina

,

Jan 25, 2020
Verified Reviewer

Overall Experience:

Was unable to connect to my TV. Had called and tried to speak to customer service, I was hung up on 3 times. I finally had a total refund processed after having it shipped out the following morning. I do not recommend this product.

Bottom Line: No, I would not recommend this to a friend

Feb 18, 2020

Hello, Vickie. We are sorry to hear about this experience. We just really hope there is anything else we can do to turn things around. We are glad to know that you were able to get a refund as soon as you sent the product back.

---

My TV Buddy

By Sandra H.

,

Las Vegas, NV

,

Jan 22, 2020
Verified Reviewer

Overall Experience:

Ordered 2 of these. Hoped I would get TV service without an expensive service. Live in the country and it's our 2nd house. Not wanting to pay twice for cable or others thought this would solve my problem. There is no one to call for help to set this up. Very disappointed.

Bottom Line: No, I would not recommend this to a friend

Feb 18, 2020

Hello, Sandra. We are sorry to hear that the product did not meet your expectations. Please note that TVBuddy is not like a regular antenna which can receive local or over-the-air channels. It is a streaming/mirroring/casting device so you can elevate your viewing your experience. You may also check the link below so you can make sure to maximize the functions of the device:

https://www.youtube.com/watch?v=YDIelMQVNHA

---

Rubbish product, non-existent customer service

By Susan B.

,

Arizona

,

Jan 27, 2020
Verified Reviewer

Overall Experience:

I purchased and they charged it, the next day I emailed them to cancel because my daughter had bought me Apple TV for my birthday (the night before). They ignored me. I finally arrived (about 6 weeks) and I tried to set it up. Totally useless. I emailed for help on January 3rd, they just (on January 23rd) answered back.

Bottom Line: No, I would not recommend this to a friend

Feb 18, 2020

Hi Susan. We're sorry to hear that the product did not meet your expectations. We are coordinating with the email team to make sure that your messages will be responded to in a timely manner. We hope everything gets straightened out as soon as possible.

---