TV Free Way Antenna Reviews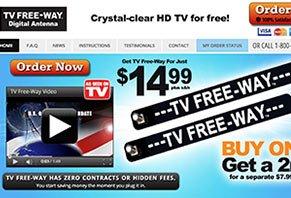 The digital TV Free Way Antenna allows you to gain access to free over-the-air broadcast programming, without worrying about an expensive cable subscription.
About TV Free Way Antenna
After discreetly plugging into the back of your TV, the TV Free Way Antenna promises to deliver all your favorite broadcast network shows, local news, weather, sports, children's programming, and more—but without a cable contract or hidden fees.
According to the company, everything you watch using the portable, digital TV Free Way Antenna will be in crystal clear high-definition, so you'll be able to "start saving money the moment you plug it in," while still enjoying your favorite programming.
But before you hand over your money, you have some important questions: Exactly what type of programming will you get with TV Free Way Antenna? Can it "get rid of your cable bills"? Are there other, similar options?
Let's kick things off by talking about TV Free Way Antenna's details.
How Does TV Free Way Antenna Work?
The Great Digital Transition
Although most major networks were transmitting digital signals as early as 2003, the FCC mandated that all broadcasters were to cease analog transmissions altogether as of June 13, 2009. This was known as the Digital Television Transition.
But why? According to the FCC's website, the Transition provided several benefits, such as freeing up parts of the broadcast spectrum "for public safety communications by groups such as police, fire departments and rescue squads," as well as auctioning part of the spectrum to "companies that will be able to provide consumers with advanced wireless services, such as wireless broadband."
Another added consumer-related benefit is that digital signals generally deliver better image quality to your television set, which is what we'll cover next.
The Difference Between Digital and Analog Signals
We won't get too technical here, but analog TV signals broadcasted over airwaves immediately begin losing information as soon as the leave the antenna. On the other end, a lot of factors can impact the quality of the analog signal you receive on your set, including structures (buildings and trees) in between you and the antenna, weather, and more.
Digital signals, on the other hand, are binary broadcasts (a series of ones and zeros, similar to a computer). This allows signals to be reconfigured on your television exactly as it left the antenna, delivering a much clearer picture.
In order to pick up these signals, however, you need to have a digital antenna in place, or at least a converter box, which is where options like TV Free Way Antenna enter the picture. They screw into the cable outlet on the back of your TV, receive digital over-the-air signals from broadcasters like NBC, CBS, FOX, CW, and more, and then display them on your screen.
Pro tip: Keep in mind that just because they're digital, doesn't mean that all of these signals are in high definition (defined as a minimum resolution of 1280 pixels x 720 pixels). As such, all other factors being equal, you may notice a difference in quality between stations.
Sounds great, right? Given the length of time stations have been broadcasting digitally though, does TV Free Way Antenna have any competition?
TV Free Way vs. Other Digital Antennas
Regardless of how they're designed or how much you pay, the reality is that all digital antennas ultimately do one thing; they convert over-the-air digital signals into a picture on your screen. So, what should you look for in one, and does TV Free Way deliver the goods?
Note: This is a complex topic, and something we can't even hope to fully cover here. Instead, we'll talk about key factors you might want to be on the lookout for.
Factor 1: Reception
Unlike the cable that extends from your wall, over-the-air signals—even digital ones—can only travel so far before they degrade to the point where they're unusable. This means that if you live in a rural area and are far from an antenna (TV Free Way's manufacturer recommends no more than 30 miles), you probably won't be able to effectively use a digital antenna.
In an instance like this, you might need to stick with other options. Additionally, even if high-quality digital signals make their way to your home, remember that they still have to make it to your digital antenna in order to be enjoyed on your TV.
So, if you place TV Free Way in your basement, or even on an interior wall, you might not get as good reception as if it was placed on an exterior wall. This largely depends on your TV placement, so be sure to keep this factor in mind before placing your order.
In the meantime, check out the FCC's Reception Maps, as well as third-party resources like TV Fool and AntennaWeb, in order to find out how far you are from antennas, as well as which channels are available (keep this thought in mind, because we'll come back to it shortly).
Factor 2: Where Are Your Signals? Are They UHF or VHF?
Even if you're within 30 miles of one or more antennas, you'll need to figure out which direction signals are coming from. Why?
If you're close with many different channels available (such as in a large metropolitan area), an omnidirectional antenna might be a solid choice, since it can pick up signals from all directions. However, its range is generally less than that of a directional antenna.
On the other hand, you'll be able to pick up signals from farther away with a directional antenna, which might be ideal if you live in a rural area with only one antenna in close proximity.
Another big factor to consider is which channels you're looking to pick up (based on what you found available in the previous section). Lower channels are generally broadcast at UHF frequencies, while higher channels tend to be VHF frequencies.
On the upside, we're told TV Free Way antenna can receive both UHF and VHF signals, but if you're more interested in one than the other, a dedicated-frequency antenna might deliver better value.
Factor 3: What About Price?
We've reviewed many different ASOTV digital antennas over the years, including popular options like Clear TV, HD Free TV Antenna, Mohu Leaf, Winegard Flatwave Air, and more. And based on customer feedback for many of these options, we've learned that, regardless of what you pay, the reception you get can be finicky.
As a result, you might want to focus on lower-priced options to figure out if your situation is suitable for a digital antenna. Then, you can spend more money on upgrades at a later point, as long as everything works out. This way, you won't be out a lot of cash if things don't work out quite as you expected.
How Much Does TV Free Way Antenna Cost?
When purchasing TV Free Way, you'll be presented with two offers:
Standard Offer: $14.99 plus $7.99 S&H. A second digital antenna can be purchased for an additional $7.99 S&H.
Plus Offer (adds an easy-mount stand, 8 ft extension cable, and suction cup for easy window placement): $24.98 plus $7.99 S&H. Add a second offer for an additional $17.99
Comparatively, Clear TV offers many of the same benefits as TV Free Way but is priced at $5 more, while HD Free Way comes in a few dollars less at $15.99.
At between $39.99 and $169.99, the Mohu Leaf is significantly higher than TV Free Way, although their top-priced model promises to pick up signals from as far away as 60 miles, and can even be mounted outdoors to maximize reception.
Similarly, Winegard's Flatwave Air is priced at $130, which is built to be mounted outdoors as well. These antennas also feature proprietary technology that promises to minimize pixelation, dropouts, and signal distortion, while remaining 50% smaller than much of the competition.
Regardless of which option you choose, your TV Free Way order will come with a 30-day return window, less S&H. Note: This means that if you add a second antenna to your Plus offer and request a refund, you'll immediately lose about $26 in S&H charges.
To request a refund, BulbHead (a division of Telebrands) customer service can be reached at (844) 814-9723.
Will TV Free Way Antenna Help You Cut Your Cable Bill?
If you're looking to get rid of your high cable bill—which is arguably the main benefit promoted by TV Free Way's manufacturer—there are a few important factors to consider.
Note: We cover all of these factors (and more) in much greater detail in 3 Easy Steps for Cutting the Cord & Saving Money. So, if you're looking for additional information, be sure to give it a read.
Which Channels Will You Receive With the TV Free Way Antenna?
While TV Free Way might be able to help you continue watching TV after canceling your cable contract, it will not give you access to cable-only programming. Instead, it will only deliver over-the-air programming from major networks like CBS, NBC, FOX, ABC, CW, and so forth.
So, if all of your favorite programming is aired on these over-the-air networks, then you should be able to continue watching uninterrupted after canceling your contract (subject to antenna range, of course). On the other hand, if your favorite shows are only available on premium networks like HBO, Showtime, FX, Lifetime, and so forth, you'll largely be out of luck.
Pro tip: Several online subscription services exist that can help you regain some of these premium channels without a cable contract, such as Sling Television, including HBO, HGTV, and more. Speaking of which…
Will You Need Any Additional Hardware or Subscriptions?
When it comes down to it, TV Free Way is simply a piece of equipment (a tool) that provides access to digital over-the-air signals broadcasted by major networks. Similarly, if you're looking to regain access to most of your favorite cable-only programming after canceling your subscription, you'll need to purchase the necessary equipment.
This includes popular "stick" devices like ChromeCast, set-top boxes like Roku, as well as streaming services like Hulu Plus and Netflix. What's the point?
In the end, in addition to purchasing a digital antenna like TV Free Way, you'll likely need to choose the hardware and subscriptions that best meet your needs. Again, we'd recommend reading 3 Easy Steps for Cutting the Cord & Saving Money to help put you on the right path.
Pro tip: Just remember that, between purchasing additional equipment and signing up for streaming subscriptions, it's super easy to spend just as much (or even more) than you were with your cable subscription. So be sure to keep a close eye on your budget during this part of the process!
What's Everyone Saying in Their TV Free Way Reviews?
Finally, while there weren't any online customer reviews for the TV Free Way Antenna at the time of our research (it was a brand new product), many of the other ASOTV digital antennas we've reviewed tend to come with lower-than-average customer feedback. What's everyone saying?
Most customers seem to complain that these antennas don't deliver very good reception, even within an acceptable range of an antenna. Many have even stated that they couldn't receive a single channel.
Other common complaints include high, non-refundable S&H charges and less-than-stellar customer service.
Given the similarity of these complaints between manufacturers, we'd certainly recommend keeping the above factors in mind.
Will the TV Free Way Antenna Meet Your Expectations?
We've definitely covered a lot of territory in this review, but based on our experience researching hundreds of different ASOTV products, we think your ultimate satisfaction largely comes down to your expectations. What do we mean?
For instance, if you're looking to cancel your cable bill but maintain access to bare-bones over-the-air networks like NBC, ABC, CBS, and a handful of others, as long as you're within range of an antenna, TV Free Way might deliver.
However, if you're expecting it (or any other digital antenna) to help you maintain access to all your favorite premium, cable-only programming, but without an expensive contract, then you're bound to be disappointed.
In our opinion (after all, we're consumers too!), perhaps the biggest drawback to TV Free Way is the high, non-refundable S&H charges. After all, you can find functionally identical digital antennas at just about any big-box retailer, without paying a nickel for shipping. And if you're dissatisfied, processing a refund can then be as easy as hopping in your car.
For these reasons, if we were in the market to spend our hard-earned money on a digital antenna, we might consider searching locally before placing an online order for TV Free Way Antenna.
» Recommended Reading: How to Buy the Best HDTV Antenna for Your Home
TV Free Way Gold

I purchased two for different rooms. They connect to my TVs easily. The directions say to re-scan after repositioning, which I did...Until I lost my smile and patience.

Before this purchase I used a $12 from the clearance shelf at Dollar General and rarely had to touch it and after redirecting I didn't have to re-scan.

My brother keeps trying the new ones when I'm not around only to switch back when I return.

We live in a new condo so maybe there is too much metal in the building for it to work well. Drat!

Bottom Line: No, I would not recommend this to a friend

---

Garbage

By Scott R.

,

Florida

,

Sep 11, 2019
Verified Reviewer

There are much better antennas out there for the same amount of money and actually work better. I have 3 different antennas and this is by far the worst. I get maybe 17 channels and not one local.

Bottom Line: No, I would not recommend this to a friend

---

Eh

By Wesley S.

,

California

,

Aug 12, 2019
Verified Reviewer

Seems to work okay for the first few months and then all of a sudden it stops working. Channels slowly stopped working! And then when I buy a new one it starts working again. So they must be very very cheaply made!

Bottom Line: No, I would not recommend this to a friend

---

THE BEST I'VE TRIED SO FAR

By Cal H.

,

San Francisco, CA

,

Jul 24, 2019
Verified Reviewer

I have tried 4 HDTV antennas and this one is by far the best. Why? Because it is flexible. It works a lot like an old fashioned "rabbit ears" in that it allows me to adjust for the strongest signal. Hooking it up is easy.

Since I have two TVs, I have two antennas. One is attached to the main TV in the bedroom and the other is attached to the small TV in the dining room/kitchen area.

The bedroom TV requires about a 50 foot cable to reach the only window that is remotely in a proximity to the main city antenna. I can draw in 40 to 50 channels.

On the other TV, the antenna is plugged directly into the back of the TV and is not near a window. As a result I get fewer channels...about 30 to 40. However, because of its flexibility, it is easy to adjust for the best signal on the channel I want to watch. I regularly "scan" the channels to see if there are new ones.

Because I live in San Francisco, the hills present reception problems. On top of that my apartment is on the side of the building that is away from the city antenna. Also, NBC is located down on the peninsula and so I get no signal from that outlet.

As far as the picture and sound are concerned, because they are not compressed, they are much sharper and clearer than what I used to get on Cable, even with an HDTV box.

There are many foreign language stations (Asian, Spanish) that might be of great interest to the Asian or Spanish speaking audience. On the other hand, there are extra Northern California Public Broadcasting stations with interesting foreign language (European) content...with English sub-titles.

In summing up, because of the low initial cost of the TV Free Way Antenna it is a good value.

Bottom Line: Yes, I would recommend this to a friend

---

Advertisement

---

SCAM

By Janet M.

,

Indiana

,

Jun 8, 2019
Verified Reviewer

LiveWave Antenna is not credible. We bought this product several weeks ago. It doesn't work. The company does not want to refund our money, and now we are out over $100. Yes, we did return the merchandise, but even then it was an argument with the company because they didn't want the products back. They offered a 20% discount for merchandise that didn't work, and they wouldn't respond with a legitimate address for the return.

Please, do not (and I mean, do not) fall prey to this scam.

We did, and our lesson is learned.

Bottom Line: No, I would not recommend this to a friend

---

Buyers beware!

By Donald M.

,

Oklahoma City, OK

,

Mar 22, 2019
Verified Reviewer

This antenna is a complete waste of money. I should have read all the negative reviews first. After reading their lengthy story it asked for my zip code. It then came back and told me I would receive 100 stations. I was skeptical but went ahead and ordered their antenna. Per their instructions, I then did a station scan. I am still getting the same 36 channels that I was getting with my cheap $10.00 set of rabbit ears. BUYERS BEWARE, this is a scam! Perhaps if you live in New York City, Chicago or Los Angeles, you might do better. I live in Oklahoma City and 36 channels are all I will get without cable or satellite tv. I SHOULD HAVE KNOWN BETTER.

Bottom Line: No, I would not recommend this to a friend

---

Product shipping

By Vince H.

,

Grants Pass, OR

,

Feb 26, 2019
Verified Reviewer

February 20th: I cannot evaluate the product's performance as I have not received my order. I ordered it on February 2nd, received an order confirmation on February 3rd with a charge of $48.90 on my credit card. Charged prior to delivery, which is at least unethical and perhaps unlawful. Charging is normally done at the time of shipment. I have sent four emails, made three phone calls; placed on hold all unanswered. This whole thing clearly appears to be a fraud and a scam. Do not waste your money or time.

Bottom Line: No, I would not recommend this to a friend

---

TV Free Way

By Kat G.

,

Dallas, TX

,

Jan 22, 2019
Verified Reviewer

Absolutely the easiest way to obtain 50+ channels, including the major networks (ABC, CBS, NBS, PBS, FOX). We have great reception. I love the affordable price, and we picked ours up from Target. So, so simple and easy to install. Completed in approximately five minutes, including opening the package. I would highly recommend!

Bottom Line: Yes, I would recommend this to a friend

---

Works great

By Dawn Q.

,

Florida

,

Oct 14, 2018
Verified Reviewer

Go to Target and buy one. Cheap, and I get at least 20 channels. NBC, CBS, Fox (local). I connect my laptop to the TV to watch movies. Perfect. I am not paying Comcast anymore.

And there are two kid channels that keep my granddaughter very happy.

Bottom Line: Yes, I would recommend this to a friend

---

Scam

By Lucinia G.

,

Orlando, FL

,

Aug 31, 2018
Verified Reviewer

I order three antennas and three remote controls. I tried one antenna in different places around the house, but I did not get any results. It is a waste of money. Those are going to the trash. Now, I also noticed there is a monthly charge on my credit card without my authorization. Today I call to ask why, and they said they will cancel it but there will not be any refund. When I ask for an explanation, they did not understand my English anymore.

Bottom Line: No, I would not recommend this to a friend

---

Total let-down

By Nolan D.

,

Monmouth, OR

,

Aug 30, 2018
Verified Reviewer

May as well shove a metal clothes hanger into your TV. It'll probably work about as little as this does. Except it won't have cost you good money for what's worthless.

Bottom Line: No, I would not recommend this to a friend

---