TV Free-Way Gold Antenna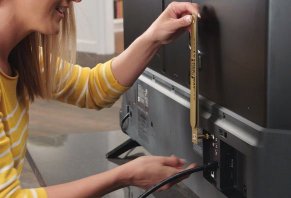 Using gold-plated connectors that last longer than conventional connectors, the TV Free-Way Gold Antenna provides HD and SD channels for free.
TV Free-Way Gold Antenna Review: Does It Work or Just Hype?
The TV Free-Way Gold Antenna is an As Seen on TV HD television antenna boasting 24k-gold-plated connectors.
The company says that the gold-plated connectors provide a high-quality signal transfer that allows you to watch, "all your major channels, all in high definition, for free," the antenna's commercial states.
Telebrands is the name of the company who sells the antenna. They're one of the leading As Seen on TV sellers. Products they've sold include Atomic Beam flashlights, Red Copper cookware, and Brass Bullet hoses.
Like many of the products Telebrands sells, TV Free-Way Gold has a catchy commercial that highlights all the strengths of the product.
In this review, we'll provide you a full view of the antenna, highlighting how it works, how beneficial gold connectors are and how much the Free-Way Gold costs.
We'll also spend some time comparing it to other similar antennas, then conclude with our thoughts 95 about the antenna's strengths and weaknesses.
How the TV Free-Way Gold Antenna Works
When we talk about how a TV antenna works, there are two different things that are important to know. How to install it and which channels you can get.
Installing the antenna is easy and virtually identical to other HD antennas, save for the fact that this antenna is shaped like a blade rather than the flat-panel or dual-antenna designs of other antennas.
The base of the antenna has a coaxial connection that you'll twist onto the coaxial connector on the back of the TV. You'll know which one it is because it most likely has a silver collar and a small hole in the middle of the wire inside the collar.
If you want to place the antenna away from the TV, then you can use a coaxial cable to connect your Free-Way Gold to your TV.
Once you have it connected, you'll need to go into your TV's settings and find the "Channels" or similar option. You should have the ability to choose a channel-scan or auto scan feature. When you activate this, your TV will use your antenna to scan the airwaves for signals from local TV stations.
Once the scan is done, your TV will store the channels and you'll be able to watch the store channels.
The big networks like CBS, FOX, ABC, and NBC will come through in HD but there may be smaller, independent local stations that will transmit in SD. Your antenna can receive both of them.
This is the second aspect of how your antenna works. One of the things you'll notice about the Free-Way Gold's commercials is that one gentleman says he was able to save money on his cable bills when he switched to the Free-Way.
What he means is that you could get rid of your cable package and watch only the shows and sporting events you get from your free channels. Leichtman Research Group estimated that the average cable bill in 2018 was $107 but it's unclear whether that number included the cost of internet or not, since many people order their cable and internet from the same company.
Assuming the $107 refers to cable only and doesn't include internet, you can see how dropping paid channels altogether can save you a ton of money each year: more than $1,200.
Now, the ability to provide free HD channels isn't specific to Free-Way Gold. It's something that all HD antennas do. Which channels you get depends on where you put your antenna (on a window is best), the topography of the land around your neighborhood (mountains can block signals) and how many walls and obstacles stand between the antenna and the outdoors.
So, why would Free-Way Gold be a better choice than other antennas that can do the same thing? Telebrands claims it's the gold-plated connector, which is something we'll discuss in the next section.
The TV Free-Way Gold Antenna's Gold Connectors
We wanted to know how much of an advantage a gold connector had over the standard copper connectors that you get on the average HD antenna.
First, we turned to an informative CNET article in which a reader sent the site a question: Are gold-plated connectors worth it?
Reporter Geoffrey Morrison pointed out that the main difference between the two is that copper connectors will tarnish over time and gold-plated connectors won't.
"The only real, physical reason to use gold is that unlike copper, it doesn't tarnish. Over time copper oxidizes when exposed to air, eventually developing a lovely green patina (like the Statue of Liberty). This decreases the conductivity, reducing performance," he wrote.
What's key here is where you live. If you live in a place where it's dry most of the time—think Arizona and California—then there's a good chance it will take a long time for a connector to tarnish. And, when it does, you can clean it off and restore it back to its original state.
However, if you live in a place that's really humid, tarnishing could become an issue and, when it does, you may notice a decrease in your antenna's ability to provide a clear signal.
"If you want your cables to last a long time, then gold-plated is probably a good idea. Or you could just scratch off the patina when you see it, if you really want to save a few pennies," Morrison said.
The TV Free-Way Gold Antenna's Pricing and Return Policy
The prices available at the time of writing were as follows:
$19.99 for one antenna
$29.98 for two antennas
Shipping was free and, according to the fine print, can take up to six weeks. However, if you live outside the continental United States (Alaska, Hawaii, Puerto Rico, Canada) you'll pay a $10 shipping fee.
You have 30 days to try the antenna(s) and make a return. The deadline starts the day you receive the Free-Way Gold in the mail.
When you send the antenna back, you need to include all the original packaging. You'll need to include I the return shipping box your order number, the reason you're making the return and an indication if you want an exchange or refund.
The fine print goes on to say that Telebrands won't decide if you get your refund or exchange until they receive your antenna, packaging and paperwork.
A Comparison of the TV Free-Way Gold Antenna and Other Antennas with Gold-Plated Connectors
We went to Amazon to do some research about HD antennas with gold-plated and could not find any. In this sense, the Free-Way is unique. You can't really go down to your local Walmart and find an antenna with a gold-plated connector either – we checked Walmart's website to confirm.
So, in terms of competing antennas, there really aren't any. This absence of competition brings us back to the value of gold-plated connectors. Is it worth buying an antenna that has them or are you getting just as good a product if you buy an antenna without the gilded connectors?
Based on the research we did about the real effectiveness of gold-plated connectors, we think there's a good chance you'll get the same performance out of a copper connector as you will out of a gold-plated one. The only issue is longevity; if you live in a humid climate, gold-plated connectors will most likely last longer than the standard ones found on most TV antenna cables.
The Final Word: Pros and Cons of TV Free-Way Gold Antenna
Based on our research of this product, we believe there are some clear pros and cons to buying it.
On the positive side, we believe this antenna is reasonably priced and a bit rare in the sense we couldn't find any HD antennas on Amazon or Walmart that featured gold-plated connectors. If you live in a humid climate or near the beach where moisture-laden air tends to corrode exposed metal, gold-plated connectors may be a good choice for you.
Also, the antenna's blade-style shape could be a good fit for you if you don't have much space between your TV and the wall or entertainment center backing behind it.
The downside of the antenna is that, if you live in a place where humidity isn't an issue, it doesn't make much sense to buy an antenna with gold-plated connectors. While the $19.99 price tag the Free-Way Gold offers is competitive, there are options on Amazon and at your local Walmart that are cheaper.
The freedom that shopping local or on Amazon gives you, too, is that the returns process is very easy, whereas you'll have to send your Free-Way Gold to Telebrands and wait for them to tell you if the return was accepted.
In this sense, we think it would be a wise choice to try a cheaper antenna from Amazon or Walmart and, if you like it, you'll have saved yourself a few dollars. If you don't like it, then you can make an easy return and experiment with other antennas.
---
Piece of crap

By Dale Q.

,

North Carolina

,

Mar 5, 2020
Verified Reviewer

Overall Experience:

I even bought the "extra" to make sure that it would work. It "found" 28 channels and we could get to 4 of them...none of them worked well enough for us to watch. We had previously purchased a square pad you stick to the wall next to the window antenna and it works so much better...we get 19 channels and we have issues at times with some of them but we can always get one or two of them and most of the time we can get the one we want. The Free-Way Gold is WORTHLESS if you ask me...

Bottom Line: No, I would not recommend this to a friend

---

Junk and waste of money.

By Daniel G.

,

Petoskey, MI

,

Oct 12, 2019
Verified Reviewer

Overall Experience:

I received two of these TV Gold things. They are scrap metal. I picked up one channel. One! Such a waste of money. I also returned them for a refund and they sent the things back to me and said sorry, no refunds on electrical items.

It's a scam. Do not waste your money...

Bottom Line: No, I would not recommend this to a friend

---