TV Frog Reviews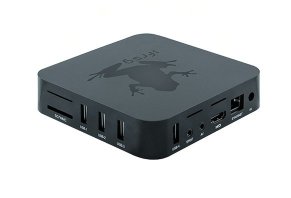 Manufactured by Strong Current Enterprises, TV Frog is a plug-and-play Android-based streaming media device that claims to help you enjoy all your favorite content.
About TV Frog
TV Frog is an Android media hub that connects to your TV via Wi-Fi or Ethernet and allows you to stream your own media, such as photos and videos. After downloading the appropriate apps, you'll also gain access to movies and TV shows from popular media services like KODI, Netflix, Hulu, and YouTube—and in crystal clear 4K Ultra HD.
The website tells us the hub will also be able to stream music, allow you to enjoy Android gaming, and browse the web whenever you please, all in a plug and play device that promises to "deliver unparalleled entertainment at no additional costs or stress."
But before you hand over your money, you've come here to learn more about TV Frog, and whether or not it's the right device for you. Will it really "make your TV smart"? And even if it will, are there other devices competing for your dollar?
Let's start helping you make a more informed decision by taking a look at TV Frog's specifications.
What Is TV Frog & How Does It Work?
In 3 Easy Steps For Cutting the Cord, we explain that there are three key components for streaming content to your TV (or making it "smart"):
An Internet connection,
The appropriate hardware, and
The right software.
As you probably guessed, TV Frog represents the hardware in this equation. Basically, it houses software that processes signals received through a Wi-Fi or Ethernet connection and translates them into images that appear on your TV.
It also houses downloadable third-party software (or apps) that can enhance the viewing experience, including popular options like Netflix, HULU Plus, and Sling TV. You can store as many apps and other media as the device's hard drive can hold.
What Are TV Frog's Specifications?
As mentioned, TV Frog works over a Wi-Fi or Ethernet connection. It also features 1GB RAM and 8GB memory, utilizes a Quad-Core Cortex A7, 2.4GHZ CPU, and runs on an Android version 6.0.1 Marshmallow operating system.
On two sides of TV Frog, you'll find a variety of ports that allow you to import pictures into a library for later browsing, as well as to play all your music (including AAC, MP3, FLAC, OGG, WAV, and WMA formats). These include:
4 USB ports
1 HMDI port
1 SD/MMC port
S/PDIF audio output
1 AV input
According to the website, you'll be able to access a cue sheet, tag your files, integrate with MusicBrainz, and create smart playlists. TV shows can be viewed by episode and season, and can be sorted by watched status, description, and actors.
If you need to browse the web or stream content directly from the Internet, you can also use TV Frog's wireless mouse after connecting its USB Bluetooth receiver into the back and downloading the browser app.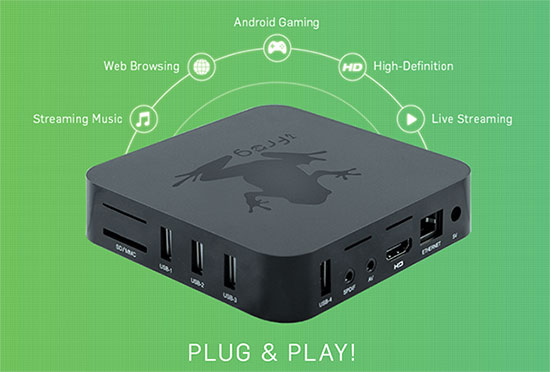 TV Frog is an Android-based streaming media hub that allows you to download files, download popular apps, and browse the internet using the included mouse. Image credit: Strong Current Enterprises Ltd.
What will you pay for all of these features?
How Much Does TV Frog Cost?
How much you pay for each TV Frog device depends on how many you purchase:
1 Unit: $79.94
2 Units: $147.59
3 Units: $184.49
4 Units: $236.14
5 Units: $276.73
Each unit includes a TV Frog, one HDMI 4.1 cable, one wireless mouse, and one AC/DC adaptor and power cable.
At the time of our research, the company was also offering a free universal power adaptor and surge protector they claimed will allow you to use TV Frog, or any of your other devices, in any country in the world.
All TV Frog purchases do not come with a 100% guarantee, although after reading through the Terms, we learned that this guarantee comes with some fairly strict guidelines.
First, we're told that all products are sold "as is" and all sales are final. In other words, there are no refunds, only exchanges permitted.
Second, you can process an exchange within 30 days of receiving your device, although it "must be unused and in the same condition that you received it. It must also be in the original packaging."
In order to request an exchange, customer service can be reached at 888-836-8088 or support@freeseetv.com.
Are There Any TV Frog Customer Reviews or Feedback For the Company's Other Products?
We didn't encounter any firsthand customer feedback for TV Frog at the time of our research, although we did find an in-depth Snopes article titled Is TV Frog a Legitimate Alternative to Cable?
In short, they found that TV Frog appears to be a legitimate device, but emphasized that "does not enable users to watch cable television for free, whether legally or illegally, as it merely provides an internet connection to any given television set."
This means that, in order to watch legal content from third-party services, you'll need to pay extra or sign up for a subscription (depending on the specific service).
From a company perspective, TV Frog is brought to you by Strong Current Enterprises Ltd., based out of London and in business since 2010.
Despite their time in business, the only other product Strong Current had brought to market at the time of our research was HDZoom 360 (also sometimes referred to as HD 360X Zoom), although it also didn't feature any customer reviews, either.
Lack of feedback aside, how does TV Frog stack up against the competition?
TV Frog vs. AppleTV, Roku, Chromecast, & Other Streaming Devices
Remember, as the Snopes article above mentions, TV Frog simply provides an internet connection to any television set, while also providing a graphical interface that can be used to view content. In other words, it's a media streaming device.
But, there are a whole lot of streaming devices competing in the same marketplace as TV Frog, including behemoths like AppleTV, Roku Premiere, Google Chromecast, and Amazon Fire TV. Does it fare well?
| Device | Price | Online Content Services | 4K? | Web Browser |
| --- | --- | --- | --- | --- |
| TV Frog | $79.94 | Google TV | Yes | Yes |
| Apple TV | $140-$200 | Any available through iTunes | No | No |
| Roku Premiere | $50-$80 | 4,500+ streaming channels | Yes | App Available |
| Google Chromecast | $15-$70 | Google Cast | No | No |
| Amazon Fire TV | $90 | Amazon Prime, Amazon Fire App Store | Yes | No |
In addition to these options, there are perhaps thousands of other generic Android-based streaming devices from third-party companies.
In fact, if you enter the phrase "Quad-Core Cortex A7, 2.4GHZ" into your favorite search engine, you'll encounter several streaming devices that make many of the same claims as TV Frog, some of which were available for as little as $40 at the time of our research.
Comparatively, while these Android options might move your television into the online realm, they typically feature less robust functionality than some of the mainstream competition above (i.e. not as many popular apps available).
Perhaps TV Frog's biggest advantage is that it offers a built-in browser, although the fact that you'll have to use a mouse means you'll have to be sitting next to a flat surface (versus in the middle of your couch under a blanket, for example). It's also positive that the device features four USB ports, although 25% of these will be taken up by the mouse's Bluetooth receiver.
TV Frog's 4K output capability could certainly appeal to movie buffs, but it's important to keep in mind that the content you're viewing must be transmitted in 4K, and your TV must be able to display 4K.
In short, don't think that TV Frog will magically turn the picture quality on a circa-2001 TV set into something you'd expect on something like the Samsung QLED TV.
Let's carry these thoughts over to the next section as we come to an educated conclusion about TV Frog.
Our Final Thoughts About TV Frog
If you're simply looking to move your TV into the 21st century and connect it to the Internet, based on what we learned from the device's website (we didn't test it firsthand), it seems like TV Frog is a legitimate product that might get you there.
And with its wide variety of inputs, it seems like it could also act as a central hub for connecting a handful of other devices and media (although it might not represent the most elegant option).
In the end, though, we don't think the most important question related to TV Frog is one of legitimacy; it's one of value.
In other words, if you're only interested in gaining online access through your TV, and then using it to stream different media directly, there are dozens of valid options from mainstream manufacturers that can be purchased for less than $50. Which, as consumers ourselves, might deliver more value than TV Frog.
On top of this, these mainstream options will typically support a broader range of content services, which might be important if you're looking to add a Netflix, HULU Plus, etc. subscription at some point in the future. They're also typically backed by trained support staff who can get you back up and running quickly if something goes wrong.
Finally, many of these mainstream devices come with solid refund policies and warranties, neither of which seem to be provided by Strong Current Enterprises. As such, make absolutely sure you want to purchase TV Frog before pressing the order button.
324 out 330 people found this review helpful

This is a fraud!

By Michele Lynn

,

North Carolina

,

May 17, 2017
Verified Reviewer

We ordered the TV Frog online a week ago, and we were promptly charged $184.49 for three boxes. We called the "Customer Support" numbers listed on the website (both the 716 area code and the toll-free 888 number) to check the status of our order one week later and discovered BOTH numbers were "disconnected or no longer in service." They do NOT provide an order number once the order is placed, nor an email confirmation. Do NOT fall for this!

Bottom Line: No, I would not recommend this to a friend

---

240 out 244 people found this review helpful

Ordered TV Frog over 34 days ago and I haven't received the item up until now

I think they have very poor customer service, and the delivery service is very poor

I have ordered TV Frog over 34 days ago, and I haven't still received my order, and the customer service doesn't give any information, and they never responded to my email. And the tracking number they give you is unknown.

I ordered my item on the 10th of April 2017, and we are in May (today is the 15th of May) and I am still waiting for the product.

Bottom Line: No, I would not recommend this to a friend

---

Advertisement

---

245 out 247 people found this review helpful

Don't buy from this company

In good faith, I placed an order yesterday. During the order process, they keep trying to get you to spend more money for extras. I tried to cancel the order, but the telephone line did not answer. I emailed them, but there was no response after 20 hours. I called my credit card company to stop the order. I got an email at about 24 hours saying they got my cancellation request, but couldn't cancel it as it had already shipped.

They provided a tracking number, but this is just a setup. Don't buy from this company; you have better options like ROKU.

Bottom Line: No, I would not recommend this to a friend

---

154 out 157 people found this review helpful

I don't have a good feeling here!

By Bill

,

Oakville, Ontario, Canada

,

May 23, 2017
Verified Reviewer

I bought their sales stick and ordered one. Immediately my credit card was billed. I didn't get any verification or acknowledgment of the order. I tried to cancel the order, but with no luck. Just this week I got an email saying the order was delayed because of a large number of orders. I don't think this will turn out well and have kissed my $100's goodbye. We will see. My suggestion is you look elsewhere for this kind of device.

Bottom Line: No, I would not recommend this to a friend

---

Advertisement

---

178 out 183 people found this review helpful

Do not deal with this company!

By Gerald B.

,

Ontario

,

May 25, 2017
Verified Reviewer

I ordered the TV Frog from them, and they tried to sell me more product. When I declined they still billed my credit card for the items, the web page shut down on me, and it came up with a "404 Error." I tried several times by phone and email to get back my money, but they will not answer my emails or phone calls. Sorry, but someone is going to get them back!

Bottom Line: No, I would not recommend this to a friend

---

157 out 160 people found this review helpful

I got three frogs

The units sent to me were not the same as in their videos. I think it is just a bait and switch sales pitch by a bunch of frogs. These units look like they come from China. They say in the instructions that it has a remote control, but it is not in the box.

Bottom Line: No, I would not recommend this to a friend

---

156 out 159 people found this review helpful

Company not trustworthy

By Frank Kowal

,

LaSalle, Quebec, Canada

,

May 30, 2017
Verified Reviewer

I ordered TV Frog at a reduced price of $55.35 US and was immediately charged for three TV Frogs and two lifetime warranties within five minutes after ordering. I received the order confirmations, checked my credit card account, saw what had happened, emailed them back to notify them of their error, but never got an answer back. I called my credit card company to report the incident and was told to wait until Monday as the company was not answering to them. I think that I have been scammed. Don't fall for this too good to be true offer; I think they are scamming everyone who falls for their offer.

Bottom Line: No, I would not recommend this to a friend

---

96 out 97 people found this review helpful

Not happy!

I waited over 30 days for my TV Frog, and when it finally arrived, there was no remote control, although they said it was included. I have been trying to contact them, but I still have not received a reply or a remote.

I think it's a scam and would not recommend buying from this company. I am filing a grievance with PayPal.

Bottom Line: No, I would not recommend this to a friend

---

89 out 93 people found this review helpful

Paid for

I have ordered two units and a keyboard on the 16th of May. They said two weeks notice, but I still have not received it. I hope it is not a scam.

I'll wait one more week and then I will contact Mastercard.

Bottom Line: No, I would not recommend this to a friend

---

86 out 88 people found this review helpful

No instructions

By Thomas Smith

,

Las Vegas, NV

,

Jun 3, 2017
Verified Reviewer

It took almost six weeks for delivery, which they stated when I ordered. No remote, just a mouse which does not do anything. No instructions, not even a packing slip. It might work, but I have not figured it out yet. I have three TickBox units which did come with remotes, and they work well. This unit looks exactly like my TickBoxes, which is why I think they will work. The problem is figuring it out.

Order TickBox. That does work.

Bottom Line: No, I would not recommend this to a friend

---

74 out 75 people found this review helpful

Crap product.

By Tracey Shuker

,

Western Australia

,

Jun 6, 2017
Verified Reviewer

My husband ordered two of these units using our PayPal account. We were sent a shipping confirmation and tracking number through PayPal. After three weeks of checking the tracking and it saying no such number, I emailed them and received one back telling me there was no record of our order. I sent an email with both the receipt and email from PayPal attached, and then heard nothing from them.

I complained to PayPal and all of a sudden it was posted a month after they said it was. I finally received it yesterday so decided to check before canceling my PayPal complaint. We didn't receive any remotes; we received a mouse. One mouse was missing a connection to the battery so it wouldn't work. Netflix and YouTube wouldn't work at all, and then it froze. Absolute piece of junk.

Bottom Line: No, I would not recommend this to a friend

---