Twist Smart Light Bulb Reviews
Claimed This company has claimed this profile, is getting alerted on any new customer reviews entering this page, and may engage in dialogue with its customers to address their matters.

Companies cannot pay money or provide goods in order to remove or alter customer reviews.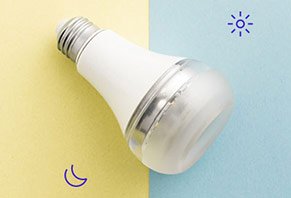 Twist Smart Light Bulb uses Airplay technology to help you stream music from your iPhone, and Bluetooth connectivity to control your lights from anywhere.
About Twist Smart Light Bulb
Home automation products should make life easier, but with complicated setup and problems connecting to other devices, they often make it more difficult.
With Astro Inc.'s Twist, though—a patent pending Smart Light Bulb that combines custom lighting with premium audio—all you have to is find a light socket, twist it into place, and "make yourself at home." Then, when paired with your smartphone, you'll instantly gain access to customizable lighting and high-quality audio. And best of all, you can connect multiple Twist Smart Light Bulbs for whole-house sound!
Easy breezy, right? But just because it's easy, does this necessarily mean it's good? How much value will you get out of it? Are there similar products that are better? We'll help you find questions to all the answers (and more!) in this Twist Smart Review.
To kick things off, let's dive deeper into the world of Twist Smart and find out exactly how it works and the benefits it provides.
How Does the Twist Smart Light Bulb Work? What Does It Do?
As we mentioned above, Twist Smart is made up of two key parts; a light and a speaker. There's no hub, wires, or installation—just screw it in to any light socket:
Twist's Self-Adjusting Light
What is a self-adjusting light? Well, in the instance of Twist, it's one that "automatically mimics the sun's patterns" throughout the day, changing between a bluish-white color in the morning and a warm glow in the evening. Why? According to the company, so that "waking up, falling asleep, and everything in between is a breeze."
Despite the fact that Twist's LED (which will last 12-15 years—more in a moment) bulb only consumes 10 watts of power, it produces 800 lumens, which is equivalent to a standard 60-watt bulb, while its color temperature ranges from 2700K (warm yellow) to 5000K (cool white). You'll also be able to control your lights, including brightness, from anywhere via the Twist app.
Twist's Built-In Speaker & Audio Quality
Built in to this same unit is Twist's wireless AirPlay speaker, which uses "the same high-quality audio technology as the big name speakers." This includes a specially-designed driver that features neodymium magnets, a lightweight aluminum cone, and a high-temperature polycarbonate frame. Why? So you'll experience booming, pristine, lossless sound.
Just touch a button and you'll be able to stream music from any app, without having to mess with pairing.
Over time, you can add more Twist Smart Bulbs, which can be connected across multiple rooms and streamed as a group. Still want to listen to music with your lights off? Twist can do that, too.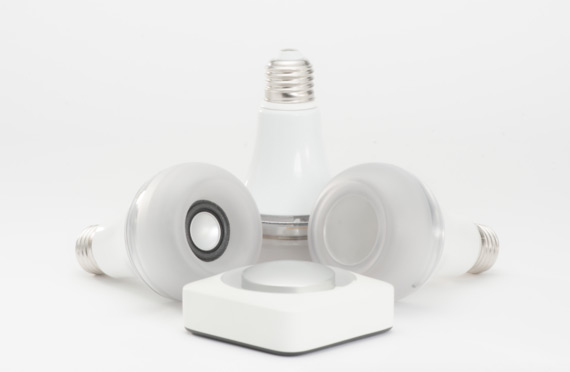 ​The Twist Smart Light, with its LED bulb and Bluetooth speaker combination.
Considerations For the Twist Smart Light Bulb
Given everything we just learned, probably the biggest thing to keep in mind is that Twist Light Bulbs only use Airplay technology to connect to phones, which means that it must be connected to an iPhone. According to the company's FAQ, they are working to integrate Google Cast, but until then about 80% of Twist's potential audience won't be able to use it.
And even for iPhone users, Twist Smart Light Bulb won't be able to integrate with your other home automation systems, whether thermostats like Nest, security like Vivint, or whole home systems like Vera.
Next, if you think you can pull double duty by using your Twist Bulb in conjunction with a wall dimmer, be aware that the company claims this can damage it and reduce its lifespan. And don't use them outdoors either, because they're not waterproof.
Finally, it goes without saying that you'll need a standard 2.4Ghz WiFi router to use Twist, so don't think you'll be able to use it at your remote cabin in the woods.
What'll you pay for this technology and ease of use?
Shining a Light On Twist Smart Bulb's Price
For a limited time, Twist is offering preorder (estimated shipping early 2016) deals on all their Smart Light Bulbs:
1 Speaker: $99
2-Speaker Pack: $149
3-Speaker Pack: $199
This includes free shipping. You can also download your own referral code and share with a friend, which gives them $25 off their purchase and you "free money and exclusive rewards."
All Twist Smart Bulbs come with 1-year warranty against manufacturing defects. Customer service can be reached at 855-908-9478.
What's the Online Consensus For Twist Smart Light Bulbs?
As you might imagine, since Twist Smart Bulbs won't ship until sometime early 2016, there weren't many online customer reviews at the time of our research. However, the company has received a fair amount of media attention through popular sites like MacWorld, VentureBeat, and The Verge, although these were written after short demos, not at-home use.
Nonetheless, MacWorld came right out and stated, "Twist is one of the simplest home automation products I've ever seen demoed. There's no installation. There's no hub." The Verge noted that the sound was "very clear" across all ranges (low, mid, high) and that the audio stream was fast.
On the other hand, VentureBeat had a problem that Twist "doesn't solve a consumer problem — or at least a problem that consumers are aware of." And in the end, they claimed that it's more of a novelty than anything else.
If this is your first venture into smart lighting (or lighting/sound combos), you might be surprised to learn that a fair amount of competition exists for Twist. This includes Sony's LED Light Bulb Speaker, in addition to lesser-known companies like PlayBulb ($40), Propel ($26), and Pulse ($149).
Granted, each of these features different designs and functionality, but the point is that Twist isn't your only option.
Let's bring it all together.
Will You Be Pleased with Twist Smart Bulb's Performance?
Ultimately, your expectations have a lot to do with your level of satisfaction for any product. So, if you're just getting in to home automation and are primarily looking for easy setup and use, then you probably can't go wrong with Twist. Just don't expect theater-like sound like you'd get from a high-end (read: expensive) system.
Even with this in mind, we're left with a few questions:
Can you really expect Twist Light Bulbs to last 12-15 years? Although it's well known that LEDs can last this long, we wondered if the constant vibration from the speaker would impact this number at all.
After a little digging though, this doesn't seem to be the case, as Bulbs.com notes that LEDs are ideal even for commercial/industrial use.
Are Twist Smart Light Bulbs lossless? Lossless sound just means that an audio file hasn't been compressed (or made smaller), which typically involves information loss—hence the name. And as you might imagine, the more a file is compressed, the more information it loses and the worse its quality sounds.
The point here is that since Twist Bulbs won't be compressing (or uncompressing) your audio files, they're technically not lossless. Instead, what you hear through your Twist speaker will only be as good as your original audio file.
Does lighting color affect mood? This is a huge topic and far outside of the scope of this review, but suffice it to say that, while it appears that some colors can affect some people's mood, there's still a ton we don't know.
In short? Even if Twist's different colors do impact your mood, the effects will likely be minimal at best.
How many users can Twist accommodate at the same time? For example: If I wanted to listen to my music in the kitchen, and my wife wanted to listen to something else in the living room, would this be possible?
Or, would different users have to pair their iPhones with specific Twist Lights, and would therefore only be able to control those lights?
The bottom line about Twist Smart Light Bulb: These questions aside, even though Twist is marketed more toward apartment dwellers, we could certainly see it working extremely well for just about anyone who wants multi-room sound and custom lighting that's a) easy to set up and b) won't cost a small fortune.
Will it provide pro-level sound? Probably not. Are there some limitations? Certainly. But if you use what you learned here and keep your expectations realistic, you might find that it's right up your alley.
Twist Bulbs stopped working

By Elizabeth C.

,

Fremont, CA

,

May 21, 2018
Verified Reviewer

They just stopped, I couldn't play music, couldn't even control the lights. The app disappeared from my iPad. I still have it on my phone, but it won't work anymore.

No response from them, email and phone number, both dead. I want my $200 back!

Bottom Line: No, I would not recommend this to a friend

---

No follow through

By Rudy R Garcia

,

Lake Arrowhead, CA

,

May 21, 2018
Verified Reviewer

I am simply echoing the same issues everyone else on this review site is stating. They do not respond, they give no real way to contact them legitimately, and the investment company, Astro Inc, seems to be dead at the wheel as well. Is there nothing that any of us can do to fix this problem?

Bottom Line: No, I would not recommend this to a friend

---

Advertisement

---

Does not work, no help desk

Kennedale, TX

,

Apr 18, 2018
Verified Reviewer

My fiancé purchased these for a new home, and we were super excited to have speakers in multiple rooms. After months of waiting, they finally arrived and worked wonderful! However, after just three months of use, the system required an update. After many failed attempts we were not able to update the app on our phone and the music portion of the speaker no longer worked. We tried for months to use their live chats to get answers with no reply. There is no contact information on their website. So here we sit with overpriced light bulbs and no speakers.

Do not purchase, you can get something better at Home Depot, and at least if it doesn't work you can get your money back.

Bottom Line: No, I would not recommend this to a friend

---

It's a scam

I bought this product. They never worked the way they were supposed to. At first the connection would cut in and out, then they wouldn't connect at all, and finally, the light bulb would even give out light. I contacted the company early on, and they said there was a bug in the software they were fixing and sent me a replacement bulb for the first one that was a problem. When the new bulb they sent me was having the same problems, I tried contacting them over five times and never received a reply. I should have read the review on this product before I bought it. I learned my lesson for sure.

Bottom Line: No, I would not recommend this to a friend

---

Advertisement

---

Order never received

New York

,

Jan 14, 2018
Verified Reviewer

I ordered my bulbs like many others here in December 2015. Despite multiple emails, I have not even received a response from them. It's very clearly a TOTAL SCAM. Given how many people they seem to have screwed, is anyone interested in hiring a lawyer for some type of class action suit against them?

Bottom Line: No, I would not recommend this to a friend

---

Class action lawsuit ANYONE?

By Camron Miles

,

Abilene, TX

,

Jan 10, 2018
Verified Reviewer

I'm not sure what happened to Twist, but honestly, I have been trying to contact them about a $299 order that never shipped, and all the contact emails for Twist have been deactivated. $300 is a lot of money to a lot of people. The order was placed on September 14th.

I'm becoming desperate; even Amazon doesn't seem to be able to help with this THEFT OF SERVICES.

I promise that I will not feel satisfied until I resolve this somehow, and I will eventually take this matter to a route that would be most inconvenient for all parties involved.

I'd rather not complain about how my two TWIST SPEAKERS that never seemed to work as advertised whatsoever.

I am only seeking resolution for the light bulbs that I paid for. Not only have I never received contact informing me that my order of Twist light bulbs that set me back $300 would never actually ship, I'm also left unable to reach a response from anyone involving any information whatsoever.

It's obvious that the company did not survive the market somehow, that however has nothing at all to do with the people whom faithfully put their trust in this company, the company that sold me a very expensive luxury product yet never actually delivered through with anything, absolutely nothing. And the worst part to me is that Twist Home of Astro Inc neglected to inform ME, a paying consumer, any sort of notice that the company was unable to provide what was paid for. And also no notice that the company was a flop and would not provide even a way for people to contact a support of any kind.

I have my order receipts, and I am waiting for a formal response from Amazon Pay Services about Merchant Fraud.

If I do not find a way to resolve this situation of some sorts by the time September 14th marks ONE YEAR since I made my purchase with TWIST, I will then seek advice from my lawyer, following that I vow to continue this ridiculous situation, for as long and challenging as it can possibly take, to reach some outcome where I don't feel like I was a victim of FRAUD in any way.

It's not like the company would be able to actually deliver through with smart bulbs that cannot be used, not when the system requires a server hub to manage such hardware, yet such a network security service does not exist to operate such procedure.

I have been more than patient with your now-defunct operation, and I will never ever let this one down. This is the first time I have never been a victim of fraud of this kind. Some things in life simply cannot be washed off a person's conscience, and this is absolutely a situation for me personally that I know for a fact will become a distraction and big priority that I will eventually through dedication find some way of resolution.

Betrayal is not a fortunate thing to feel.

Bottom Line: No, I would not recommend this to a friend

---

Do not buy these speakers!

Huge waste of money! I bought six bulbs and now my app quit working yesterday. I'm guessing this company has gone out of business because the website and phone are both gone. There seems to be no way of contacting anyone for help. I just want a refund!

Bottom Line: No, I would not recommend this to a friend

---

Updated review

...and, now they're dead.

By Andrew Myers

,

Seattle, WA

,

Dec 14, 2017
Verified Reviewer

As of 12/12/2017, their website is gone, the app used to control the lightbulbs has stopped working (it apparently was pulling its configuration off the 'net each time you opened it), and the audio streaming no longer works, leaving customers who actually received their bulbs with essentially the equivalent of a $2 LED bulb from Walmart. Searches for TwistHome turn up all KINDS of complaints regarding unfilled orders and absolutely zero response to any sort of communication whatsoever. Ie, they're dead.

Too bad. It was a promising product, but ultimately, they're yet another failed startup.

Bottom Line: No, I would not recommend this to a friend

Previous review
Dec 1, 2017

Good first effort, but they've been passed by

As LED bulbs, no complaints; bright, the color time-of-day color tint works well, all good.

As smart bulbs, they only work with the IOS app, nothing else. When you walk in the room and try to turn them on from your phone, there's almost always a second or two of lag while the phone and bulbs shake hands (or whatever they're doing); it sometimes gets slightly out of sync at first, such that it looks like you're turning the light off, but it turns on then off, then it works fine.

As speakers, they're what you'd expect from a tiny speaker inside a lightbulb; definitely not "full-range, premium sound," but not bad. Each bulb is a standalone airplay device, meaning you can only stream to one at a time from your iPhone/iPad, and not at all from Android devices. I initially put one on either side of the bed, hoping to be able to play from both at the same time, but, since I don't take my laptop to bed (as you can apparently stream to multiple targets at once from iTunes on a Mac), no dice.

Overall, the biggest failing as a "smart" device is the complete, utter lack of integration with Alexa, Google Home, Apple Home, or anything aside from their ios app and airplay. Unfortunately, since they started design and taking orders back in 2015, the industry has zoomed ahead, and I fear they've been left behind.

Tech product development can be brutal, and while every interaction I've had with their people has been pleasant, it definitely feels like they're out of runway at this point. I hope I'm wrong, that people waiting for orders/refunds are eventually satisfied one way or another, and that they're able to roll out some of the long-hoped-for features essential to compete with other offerings.

As it is, while I wish I could give them a good recommendation, buying from them at this point probably isn't a good plan (especially given the price) unless they land some investment or get bought out, because they seem to have gone dark.

(

read more

read less

...)

---

Doesn't work, company possibly gone out of business

By Al Samonte

,

Tucker, GA

,

Dec 14, 2017
Verified Reviewer

I believe the company has gone out of business. Yesterday the app stopped working (couldn't connect/control the bulbs at all). This morning I checked their website, and it's pulled offline. No response from customer service. What a waste.

Bottom Line: No, I would not recommend this to a friend

---

Scam?

Ohio

,

Dec 14, 2017
Verified Reviewer

Twist Smart, please get a hold of your customers. Your app quit working yesterday (12/12/17) and your website and phone number are down. I now basically have three VERY expensive light bulbs. I want my money back.

Bottom Line: No, I would not recommend this to a friend

---

2 years this December and have not received my order

I ordered 2 bulbs on December 2, 2015. I have not received my order yet.

I have contacted them several times by email regarding my order and have not received a single response. I am getting nervous that I may have been ripped off.

Bottom Line: No, I would not recommend this to a friend

---