uBiome Reviews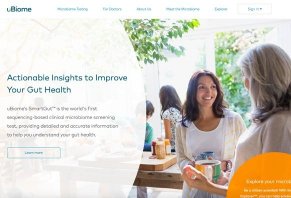 uBiome's SmartGut and Explorer sequencing screens claim to help customers better understand their microbiome and how it might impact health and wellness.
What Is uBiome?
As a genetics company, uBiome offers two sequencing-based microbiome screening tests that promise to provide customers with actionable insight they can use to understand and improve their gut health.
Specifically, the website tells us that you'll be able to discover the bacteria that live in and on your body (collectively referred to as the 'microbiome'), and whether these microorganisms are beneficial or pathogenic—such as those associated with Inflammatory Bowel Disease (IBD) and irritable bowel syndrome (IBS).
From there, you'll learn how diet and lifestyle factors can affect these microorganisms and potentially help you feel better.
Together, uBiome's claim that they're "pioneering a new era of microbiome-based precision medicine" seems warranted. But does this necessarily mean the price you pay will deliver the value you expect? Stick with us, and we'll help you explore important factors like these.
What Importance Does Your Microbiome Play?
The microbiome is defined as "the microorganisms in a particular environment (the body as a whole or a part of the body)," including their combined genetic material.
According to University of Utah's Genetic Science Learning Center, like any other community on earth, these microorganisms respond to their surroundings and continuously shift throughout our lifetime. But if these populations shift too far in one direction, leading to an excessive number of "bad" microorganisms, they report it can result in a whole host of conditions; from acne and asthma to eczema and obesity.
From a gut health perspective, this is the basic approach behind probiotics. These supplements contain specific bacteria strains, which are typically chosen based on their ability to repopulate the gut with beneficial bacteria and potentially address digestion-related issues.
Now, how does uBiome fit into this picture?
SmartGut vs. Explorer: How Do the uBiome Tests Work?
uBiome currently offers two different consumer-level screening services:
What Are the Details Behind uBiome's SmartGut Test?
Available only in the U.S., SmartGut is designed for patients experiencing chronic gut conditions or those who are working with their physician to optimize their gut microbiome.
Speaking of which, the test must be ordered by your doctor, and involves an easy-to-use collection kit that requires just enough fecal matter to tint a cotton swab. Then, this is cleanly returned in a pre-paid mailer.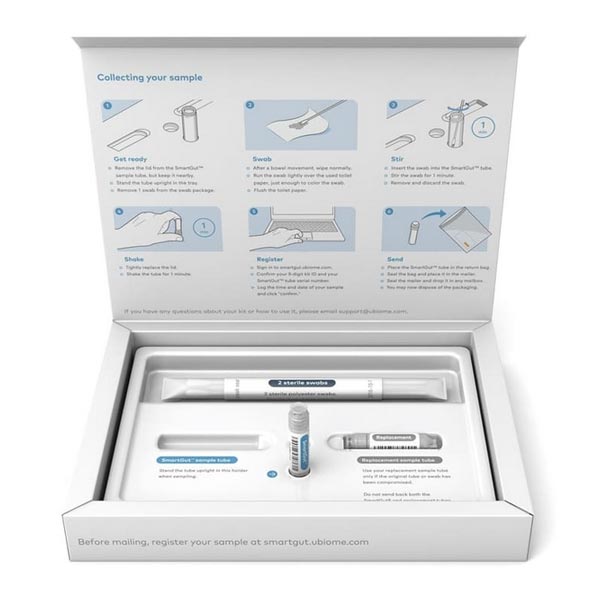 According to their website, uBiome's SmartGut Collection Kit includes everything you'll need to obtain a sample, which will be sent back to the company using a pre-paid label. Image credit: uBiome, Inc.
Once received by the company's CLIA-certified and CAP-accredited lab, they'll use their high-throughput DNA sequencing technology to measure your bacterial diversity and identify specific pathogens that could be making you feel less-than-optimal. This includes microorganisms associated with conditions like IBS, gas, bloating, diarrhea, and even sore throat.
Their Microbiome Diversity Score will also let you know "how your microbiome compares to healthy participants from the world's largest microbiome research dataset," as well as how your lifestyle and diet impact these microorganisms.
With these details in mind, it's important to point out the uBiome site emphasizes that SmartGut does not represent "a diagnosis without the evaluation of your symptoms by a medical professional" and that it's "not intended to diagnose, treat, cure or prevent any disease."
What About the uBiome Explorer Test?
Comparatively, Explorer is available to residents of 202 countries and was designed "for citizen scientists and academic researchers to conduct experiments relating to the microbiome."
Customers have the opportunity to take samples from up to five different sites, including the nose, skin, mouth, genitalia (both male and female), as well as the gut. Just swab across the corresponding site, send the kit back to uBiome, and you'll receive results within 4-6 weeks.
Instead of a detailed report like with the SmartGut screen, Explorer will provide access to online interactive tools (e.g. graphs and charts) that can help you understand how your bacteria compare to others, as well as the ability to track your bacteria over time (should you decide to order more than one test):
Gut Explorer – A one-time test for curious beginners.
Time Lapse Explorer – A three-time sequence that could be handy for tracking levels before, during, and after a diet or other lifestyle change.
Five Site Explorer – Provides access to five sample sites, including gut, mouth, nose, genitals, and skin.
Regardless of which screen you choose, uBiome indicates your data is protected by "multiple layers of encryption and the highest levels of computer security. You control your data, and can choose whether or not you consent to having your data be anonymized and aggregated into our research studies."
How Much Does a uBiome Screen Cost?
According to the FAQ on uBiome's website, their SmartGut test is currently only available to residents of the U.S. through their Pilot program. While this means you must have health insurance in order to participate, they note that "any costs not covered by your insurance company will be covered by uBiome." In other words, it's free while this program is operational.
However, their Explorer tests are priced as follows:
Gut Explorer: One-time purchase $89, $71.20 as monthly subscription
Time Lapse Explore: One-time purchase $199
Five Site Explorer: One-time purchase $399, $319.20 as monthly subscription
Refunds aren't available on uBiome's tests.
What Can We Learn From uBiome Reviews?
We found two uBiome customer reviews on Amazon at the time of our research, who had given the genetic screening service an average rating of three stars. The five-star reviewer stated that they were excited to see their lifestyle changes reflected in their screening, while the one-star reviewer wasn't satisfied with the requirement to share their information, or their overall results.
Back in 2015, Discover Magazine's Sarah Scoles ordered a uBiome SmartGut screen and concluded:
"I didn't pay $89 for my sample analysis kit. But if I had, I would have been disappointed. And if I had paid $399 for the five-site kit, I would have been even more so. The amount of readily available information provided little enlightenment about what my internal lurkers meant about me.

While we know the microbiome is important (so important!), we're just beginning our research into the specifics. And big data — your data — is the way to learn what a high firmicute to bacteriodete ratio means for health. Given that, it would be more appropriate for uBiome to pay you to swab your toilet paper than for you to give them $90 so you can learn what they can't yet tell you."
More recently, TechnologyReview.com interviewed Rob Knight, a microbiome researcher, professor at the University of California, San Diego, and co-founder of the American Gut project, who made a similar statement, noting "The enthusiasm of their manufacturers simply goes well beyond where the science is right now."
In other words, while these types of tests might engage us in science and help us learn more about our body, the actionable value they provided seems to currently be limited.
As far as the company, uBiome was founded in October 2012 by Jessica Richman and Zachary Apte, who both worked at the California Institute for Quantitative Biosciences. Then, in 2013, the company went on to raise nearly $363K in a 2013 Indiegogo crowdfunding campaign.
Since that time, uBiome has received a variety of awards, including the Top 10 Most Innovative Companies in Healthcare by Fast Company, as well as CNN 10: Startups To Watch.
Given uBiome's early success, has this created any competition in the marketplace?
uBiome vs. Other Microbiome Sampling Companies
While there weren't a whole lot of microbiome screening companies competing with uBiome at the time of our research, there were several other popular options. These included:
| Company | Price | Screening Services / Information Provided |
| --- | --- | --- |
| uBiome | Free - $399 | Gut; Exterior (nose, skin, mouth, genitalia) - Bacterial diversity, microorganisms related to specific conditions |
| Thryve | $99 | Gut – Diet and supplement recommendations, learn about probiotic strains, how to improve leaky gut |
| Map My Gut | £250 | Gut bacteria classification and what they can mean for health |
| DexaFit Microbiome Gut Analysis (powered by uBiome) | $89 | Gut microorganism identification and symptoms they can cause |
| DayTwo.com | $299 | Gut - Personalized nutrition and sugar response predictions; app access |
How can you choose the right option?
Each of these seemed to come with meaningfully different prices, along with a variety of information contained in their reports. So, if price is your most important factor, a free SmartGut screen through uBiome might be difficult to beat, although you'll need to have health insurance to qualify.
On the other hand, if you're diabetic, the DayTwo.com screen might be ideal, while those specifically interested in probiotics or supplement recommendations might be better served by Thryve.
Let's carry these thoughts over to the final section as we wrap things up.
What's the Bottom Line About uBiome?
Returning to the TechnologyReview article cited earlier, they emphasize "there's a lot we don't know about the microbiome and its connection to our health."
As a result, American Gut project co-founder Rob Knight acknowledges that "what people can realistically expect to learn from these new commercial tests is more along the lines of a snapshot of how a participant's microbiome compares to others with different diets, ages, and lifestyles, or in different places around the world."
Given these important factors, only you—in conjunction with a healthcare professional, of course—can decide if the "cool" factor behind a gut microbiome screen like uBiome is worth the time and overall expense. But if you're suffering from a more severe or chronic condition, it just might provide the information you need to find some relief.
No test results ever - refund request

By Tara Z.

,

Zurich, Switzerland

,

Oct 22, 2019
Verified Reviewer

I have submitted 3/4 samples to uBiome. Every time they have been unable to give me any results because, they say, "insufficient DNA and can't give me a reading". The last sample from over a year ago has not been listed on the site even. I'm told the help team will respond to my latest inquiry. But no one does.

I would like a refund of $199 which is what I paid to have 3 sets of results and advice on how to improve my microbiome. I ordered the test kit in October 2016 but three years later I still have not had any results from any of the stool samples I sent.

How do I obtain a refund?

Bottom Line: No, I would not recommend this to a friend

---

Total rip off

By Denise L.

,

Mesa, AZ

,

Oct 7, 2019
Verified Reviewer

This was a total scam. They scammed my insurance for $600 out of my HSA account. I just filed a fraudulent claim through my insurance company hoping to get reimbursed for this. They have not contacted me back they keep saying they will and they don't. They are complete 100% scam artists. They are scamming the insurance companies and saying that it's a free test. I still have the email that said I would never get charged a dime. They are scammers!

Bottom Line: No, I would not recommend this to a friend

---

Advertisement

---

2 out 2 people found this review helpful

Would and have recommended SmartGut

By Ann M.

,

Phoenix, AZ

,

Mar 18, 2019
Verified Reviewer

I saw the ad on Facebook and having a lot of different intestinal and stomach pains and problems I looked further into uBiome and the kit. I saw that my insurance was on their accepted list and decided to try it. My primary doctor and the gastro specialist I have seen have not been able to give me any answers to why I have pain and various symptoms. I fully read their billing process and understood that IF for some reason my insurance didn't cover it that uBiome would. They also said I may receive a bill, but that I do not have to pay it (seems many people didn't read anything at all and have zero understanding of the billing process).

Anyway, I received two kits, one for now and one for in two weeks. Sent in my first sample and about three weeks later I got results. Very, very helpful and informative information as to what may be going on. I have forwarded the results to my doctor and we're doing further testing in a condition they hadn't previously tested me for. I have recommended this kit to several family members who have ordered, and none of us have had any problems with billing or the test kits or getting results. I think of people didn't panic at the sight of a letter from their insurance without even getting an explanation; they would also rate this company higher.

Also, I don't get why so many are flipping out about what amount their insurance paid. Do you know how much your doctors and other labs are billing your insurance? It's more than you'd even imagine so as long as you don't have to pay it why even be concerned?

Bottom Line: Yes, I would recommend this to a friend

---

Interesting findings and free

By LM S.

,

Illinois

,

Mar 5, 2019
Verified Reviewer

I received an EOB from my insurance company saying that $0 of the Ubiome SmartGut charges ($2,930) were covered. I panicked for a couple of days thinking that meant uBiome would be billing me for the remainder.

However, I reached out to customer service and they said: "You actually did opt into patient assistance program when you signed up for the kit. As you opted in and qualified for our patient assistance program, any amount not paid by your insurance company - your patient responsibility - will be covered. Your EOB is simply a receipt that indicates how your insurance company paid for the services you received from uBiome."

Apart from a couple of days of panic, I thought the service itself was good! Shipping and test processing was easy and relatively speedy. The findings were also interesting (although not super actionable in my case).

Bottom Line: Yes, I would recommend this to a friend

---

Advertisement

---

16 out 16 people found this review helpful

SCAM

By Mark J.

,

Detroit, MI

,

Dec 13, 2018
Verified Reviewer

This is a total scam. Useless information and a total money grab from the insurance companies. They offered "re-sequencing" of samples (of course to bill more) and slapped the insurance company with another $12,000 in charges. It's been three months and I still haven't received the results. However, they have their $12,000.

I have a feeling that criminal charges will be coming. Something does not seem right here.

Bottom Line: No, I would not recommend this to a friend

---

4 out 5 people found this review helpful

Updated review

Updated

By JJ P.

,

Jacksonville, FL

,

Dec 4, 2018
Verified Reviewer

Ok, I originally said this was a scam because I saw the EOB to my insurance company thinking I was going to be billed for about $4k...A nice woman wrote to me from uBiome explaining to me that because I had "opted in" that this is no charge. Yes, I remember agreeing to be part of a study...no big deal to me. I know others may have concerns, but I don't. The information is being used as part of a study, it is not like results are posted for public viewing.

Bottom Line: Yes, I would recommend this to a friend

Previous review
Nov 30, 2018

HUGE scam

After reading the other reviews, yes I agree...scam. I also understood that this uBiome test would be free and that my insurance would pay. We I signed up for eight tests, have only submitted one so why has my insurance been sent a bill for over $4,000? Are you kidding me? For one little swab sent in. And I've signed in to their website where the results from the first swab are supposed to be posted...there is nothing there. So today I get the 2nd sample kit...I'm not doing anything with it, and good luck to them getting $4k from me or my insurance. I will be reporting them to BBB.

(

read more

read less

...)

---

9 out 9 people found this review helpful

Scam

By Juan R.

,

Chicago, IL

,

Nov 14, 2018
Verified Reviewer

I accepted paying the $89 amount and suddenly an EOB came up in my insurance webpage for an amount of $3,000. Pretty funny company. It is a total scam.

Bottom Line: No, I would not recommend this to a friend

---

16 out 17 people found this review helpful

SHAMEFUL company, useless tests.

By Amanda G.

,

Arizona

,

Nov 10, 2018
Verified Reviewer

After a very misleading Facebook ad that proclaimed this testing would be free through my insurance company, I am being charged $2,900 to be told I have increased gas (no kidding...pretty easy to come to that conclusion on my own, don't you think?), and only two strains of healthy bacteria present in my gut. I was told I have the small likelihood of IBS, obesity, and Chrons, but it didn't necessarily mean I had it? Okay, so that literally gives me NO useful information that I can use to change my gut issues. I paid less for a holistic doctor and supplements 3.5 years ago to help solve my gut issues.

This company should be ashamed of misleading consumers and taking advantage of them, as they are desperate to find answers to very debilitating issues. I will be contacting the BBB and speaking to my insurance company about this mess. I am so shocked and disappointed at this entire experience, and wish I had taken the $2900 and used it for a comprehensive stool sample, that only costs about $400-$1000 and then done a thorough blood testing, which is $850. All of that would have provided me with USEFUL results, that I could research and used to heal my very painful gut issues, and would have ALL cost less than your useful tests.

DO NOT sign up for this company's testing. Run, don't walk, away from uBiome.

Bottom Line: No, I would not recommend this to a friend

---

12 out 13 people found this review helpful

Insurance scam with useless practical information

By Sean M.

,

New York, NY

,

Nov 4, 2018
Verified Reviewer

Like my title says, don't waste your time with this - you will be left with no usable information, though I am sure they are billing your insurance for these tests with no real benefit to the patient. My thought is that they are compiling a genetic database for their own purposes and profit, but not in the interest of individual patients. Their representatives/technicians will not help you, and they will never unsubscribe you from their mailing lists.

Bottom Line: No, I would not recommend this to a friend

---

18 out 18 people found this review helpful

SCAM!

By Nina B.

,

Texas

,

Oct 21, 2018
Verified Reviewer

I wish I could give a zero. My insurance was billed over $2500 for TWENTY-ONE Lab services. I have been dealing with customer service for weeks. I was told countless times that I owe nothing and have requested a zero balance statement that I have yet to receive.

DO NOT trust this company!

I have reported them to the BBB. I suggest everyone do the same.

Bottom Line: No, I would not recommend this to a friend

---

14 out 15 people found this review helpful

Horrible, shady company that didn't provide services

By Gary G.

,

Florida

,

Oct 13, 2018
Verified Reviewer

I submitted a stool sample last year for a microbiome test. While awaiting results, I was inundated with emails asking me to send in an ADDITIONAL test. Why would I send in a second test before I even got my results for the FIRST test? Well, over a year later, after twenty more emails and still no results, I decided to call. Turns out some "doctor" assigned to my tests, whom they guy I spoke with wouldn't even give me his name, canceled my test. Who is is this doctor? WHY!? Why was I never told that my test was canceled? Why was I asked to send in another test at least twenty times if the first one was canceled? I asked the man what happened to my test and he said he doesn't know and that it "probably wasn't processed". I attached two screenshots of my emails where it clearly shows they received my test and "reviewed" it. So what do you mean it wasn't "processed?" How could it be canceled by some doctor I don't even know and have never talked to after it had been "reviewed?" Look at all the emails I was sent asking me to send in an additional test even offering me money to do so. Why do you want my test so bad? So you can steal my DNA and not provide results for services I agreed to? Ok, good job uBiome. You managed to steal my DNA without providing services. I'll let as many people as I can know how shady your operation is.

Bottom Line: No, I would not recommend this to a friend

---