uHoo Air Sensor Reviews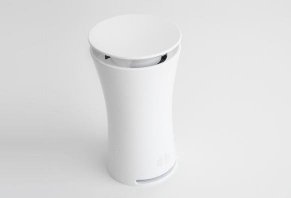 Using 8 built-in sensors and a smartphone app, the uHoo Air Sensor claims to deliver a comprehensive view of your indoor air quality and real-world advice.
What Is uHoo Air Sensor?
uHoo Air Sensor is a smart indoor air quality device that promises to detect toxins, track changes around the clock, and help you learn how to protect your family.
In fact, with eight dedicated sensors that communicate with your smartphone in real time, uHoo tells us theirs is the most comprehensive indoor air quality detector on the market today. Just plug it into a power source, sync with the app, and start sensing wherever there's a Wi-Fi connection.
Whether you're otherwise healthy and can't explain your fatigue, suffer from allergies, are a parent who's concerned about what your children are exposed to, or frequently travel to areas where air quality is a concern, uHoo certainly seems like it could provide some useful insight into the air you breathe.
But is it the best option available? Are there any important considerations to keep in mind before handing over your money? Let's help you find some answers by starting with price.
How Much Does the uHoo Air Sensor Cost?
At the time of our research, uHoo Air Sensor was available directly through the manufacturer for a pre-order price of $299, with estimated delivery during April 2017.
For this price, you'll receive the uHoo device, a micro-USB cable, and a power adapter. The app is free.
According to the most recent update on their website, "Our designs have been tested and proven. We have been working on perfecting our eight dedicated sensors to get it ready to bring home."
Shipping for each uHoo device will cost $20 for the US and $30 for anywhere else in the world.
All refunds are handled through Indiegogo, which must be requested within 10 days of the transaction and are no longer available once the campaign has ended. From the company, uHoo Air Sensor comes with a one-year limited warranty.
Customer service can be reached at support@uhooair.com.
How does this price compare to other air sensors? Will you get more for your money with uHoo?
How Does the uHoo Smart Air Quality Monitor Work?
Before comparing uHoo to other air sensors on the market, it's important to get a solid grasp of its features. We know you might've read some of this on the product's website already, so we'll make it a brief overview.
uHoo Air Sensor features eight dedicated sensors:
VOCs – Volatile organic compounds are emitted from hundreds of sources, like household cleaners and appliances, leading to side effects such as headaches and throat irritation.

PM2.5 – Otherwise known as dust, this particulate matter is 2.5 microns in size or smaller and is generated from cooking and burning things. Exposure to too much can lead to lung irritation and runny nose.

Carbon Monoxide – A colorless, odorless gas generated by some appliances and all automobiles that can prevent tissue oxygenation.

Carbon Dioxide – Generated from living and non-living things, this gas can decrease oxygenation and lead to fatigue.

Nitrogen Dioxide – Released by internal combustion engines, this gas can cause lung irritation and inflammation.

Ozone – This is created when nitrogen and VOCs interact in sunlight and can result in breathing problems.

Air Pressure – As measured by a barometer.

Temperature

Humidity – Too much humidity for excessive periods of time can increase the likelihood or mold or mildew accumulation.
The sensors are housed inside a sleek ABS plastic shell that's about 6" tall, 3" in diameter, and weighs half a pound, allowing you to use it wherever there's a Wi-Fi connection.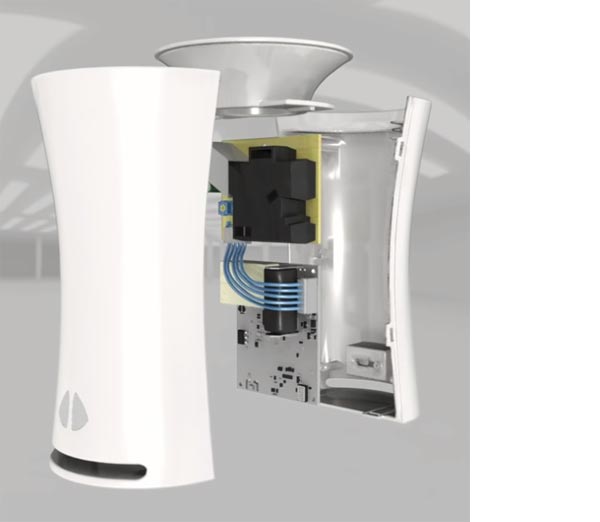 The uHoo Air Monitor features eight built-in sensors to help you understand more about the air you breathe. Image credit: uHoo
Together with the uHoo iOS and Android app, these sensors will track different parameters and display them in real time. Each sensor is color-coded based on air quality: green is good, yellow is middle-of-the-road, while red is unhealthy.
If you choose, you can view each point in more detail and gain access to all your measurements and historical data via charts. This information can be viewed by the hour, day, week, or month and shared with family or friends.
If uHoo detects that a measurement is amiss (using EPA standards, although you can customize as you see fit), it will immediately notify you and anyone you choose via alerts that are written in simple, everyday language.
You'll also receive actionable recommendations relevant to the alert, like cutting down on chemical cleaners, washing your child's favorite toys, airing out your living areas, and checking for possible gas leaks.
All data is 128-bit encrypted via SSL, stored in uHoo's cloud servers, and never used for marketing or other purposes.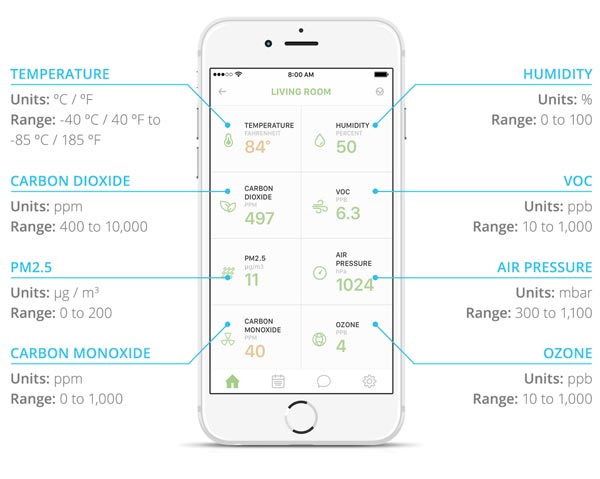 Instead of leaving things to chance, uHoo's iOS and Android app monitors the quality of your indoor air and provides actionable recommendations. Image credit: uHoo
Is there anything else that provides this many features?
Is uHoo the Best, Most Comprehensive Air Quality Sensor on the Market?
Here's a quick rundown of uHoo's competition:
| Product | Price | Monitors |
| --- | --- | --- |
| uHoo Air Sensor | $299 | VOCs, PM2.5, Carbon monoxide, Carbon dioxide, Nitrogen dioxide, Ozone, Air Pressure, Temperature, Humidity |
| Awair | $199 | Temperature, Humidity, CO2, VOCs, Dust |
| Foobot | 199 | PM2.5, VOCs, Temperature, Humidity |
| CubeSensor | $299-599 | Indoor temperature, Indoor air quality, Barometric pressure, Ambient light and sound levels, Relative humidity |
| Alima | $215 | VOCs (30 types), Carbon monoxide, Carbon dioxide, Humidity, PM2.5, Temperature |
Based on this chart, we can see that uHoo does indeed deliver the greatest number of sensors, although also one of the highest prices. But does this necessarily mean it's your best option?
Perhaps uHoo's closest competition is Awair, which delivers many of the same features like tracking daily and over time, custom graphs, and the ability to filter each sensor's data individually.
Unlike uHoo, though, Awair's app can only connect to one device, although you can connect multiple devices to one app (to accomplish whole-home coverage, for example). On the other hand, uHoo can only cover about 400 square feet, depending on airflow.
Awair also comes with IFTTT support, which means it can be programmed to work with your other home automation devices.
Compared to the competition, one of uHoo's most unique features might be its Health Report feature, which gives you the opportunity to "record information about how you are feeling at any given time and how it may correspond to the air quality of the room you're in."
Since uHoo's Indiegogo Campaign Ended, Have Reviews Been Favorable?
The uHoo Air Sensor got its start through a 2016 Indiegogo campaign, where it raised more than $78,000 (although the originally expected shipping date was December 2016).
During and immediately after the campaign, uHoo was written about by many popular media outlets, including Forbes, Digital Trends, VentureBeat, Engadget, and Inc. However, none provided any hands-on feedback.
Even though it wasn't released at the time of our research, there were three reviews for uHoo's app on Google Play, with an average rating of about four stars.
Only one provided feedback, which referenced difficulty creating an account. We didn't find a relevant listing on iTunes.
As a company, uHoo was co-founded by CEO Dustin Onghanseng and CTO Brian Lin, who originally met when attending their MBA program at the Hong Kong University of Science and Technology.
Previously, Dustin worked as a freelance management consultant and senior innovation consultant, while Brian was an engineer for Broadcom Limited.
The Bottom Line About uHoo Air Sensor
In our mind, perhaps the most important thing to remember about uHoo is that it's an air sensor, not an air purifier. What's this mean?
Ultimately, while uHoo's sensors and app will provide real-world recommendations based on their readings, it's up to you to take action. Without these actions, uHoo will deliver the information, but not necessarily cleaner air.
Given everything we've covered here, will uHoo's $100+ higher price than much of the competition provide better value? If your main focus is getting the most sensors with your air quality monitor, you can't currently beat uHoo.
But if price is your main factor, or other features like home automation compatibility or the ability to use multiple devices for whole-home coverage are your top priority, then you'll likely want to check out additional options as well.
Finally, since the uHoo Air Sensor is slated for release very soon, this could feasibly reduce the potential for common downfalls related to crowdfunding campaigns. Just keep in mind that you only have 10 days to obtain a refund if you change your mind.
---
Awesome product

By Dennis L.

,

United States

,

Nov 19, 2018
Verified Reviewer

Overall Experience:

I've had this product for half a year now and I love it. I've learned so much about what's in my home and how what I do at home affects my air.

Simple things such as cooking increases my VOCs and PM2.5, but when I turn on my exhaust while cooking, the VOCs and PM2.5 are much more controlled. The NO2 also rises when I leave my windows open during the day because of the cars outside, so I learned to keep them closed. I open them again during the night when there are fewer cars. This has been really life-changing when it comes to my habits. I've learned, over time, how to keep my air quality in the green zone/safe zone.

The app is easy to use and shows me exactly what the problems are and gives clear descriptions of what each measurement means. I've also integrated this with my purifier through IFTTT and it fully automates clean air. uHoo automatically switches on and off and adjusts my purifier when it detects something to make sure that my home is always safe.

This is a really cool product, and I'd recommend it to anyone who wants to be healthier.

Bottom Line: Yes, I would recommend this to a friend

---

Terrible unit - not accurate at all

By Daniel C.

,

Florida

,

Jun 25, 2018
Verified Reviewer

Overall Experience:

I purchased three of these units. I wanted to like them. The software is great, but the units are terrible. The readings are totally off - they are not accurate at all. I have professional o2 meters, ozone meters, VOC meters. These are SO far from accurate. I have set up two of them directly next to each other on the same table in my house for two months. The readers weren't even close.

I went back and forth with the company to talk to them and figure this out. They assured me they are accurate. Then I just got an email saying "Thanks to me they found a bug in their system and are working on a fix, so that ALL of the units are NOT accurate." How can people trust their lives or kids lives to a meter like this that is totally inaccurate? What if you lived in a place that had tons of VOC's and your meter says 10ppm.

This is terrible that they can get away with selling this. I got readings from two different uHoos, and one said VOC's of 5ppm and the other said 2050ppm; how is that even close?! They're on the same table! Trust me when I tell you - don't be fooled by the fancy software and packaging. The unit looks visually great, but it's NOT ACCURATE. Do not trust this.

Bottom Line: No, I would not recommend this to a friend

---

Advertisement

---

Really fine unit

By Jerry R.

,

Whitefish Bay, WI

,

May 25, 2018
Verified Reviewer

Overall Experience:

I have had this unit for about a month. I have moved the unit within my house often and leave in the room for at least a week. I saw the reading from each room. I have made a few changes to air circulation in some rooms.

The worse room is our kitchen, but with cooking (vegetarian) there are still problems according to this unit. There is little I can do about the air quality in this room during those times. I have fans in the room as well as doors which are kept open. After a while, it gives me good readings.

I like the unit, and I am happy I purchase it on Indiegogo.

Bottom Line: Yes, I would recommend this to a friend

---

New uHoo unit

By Maneesh

,

San Luis Obispo, CA

,

Apr 17, 2018
Verified Reviewer

Overall Experience:

The uHoo team reached out after my purchase, which was nice. I received my unit, shipped from Hong Kong, within a week. I downloaded the Android app and followed the instructions to setup the unit to my secured guest WiFi, no problems. It just seemed I had to be near the unit to do the initial setup.

The charting features are nice, and my pbVOC started to climb, but like others, it may be that I placed it near my IKEA cabinets or the fact my neighbors smoke a lot out the window where the unit is, or maybe it needed more time to go through its initial sensor data correction? I definitely see air quality changes when I cook in the kitchen as well, so I use my exhaust fan more often. The fact you can tie this into other IFTT features easily is also a bonus.

After a couple days of use, this seems to be a great add-on to my space. We will see over time how I correlate activities to air quality and if there is a positive impact to my general energy and health. The negative would be it is a little on the pricier side for me.

Bottom Line: Yes, I would recommend this to a friend

---

Advertisement

---

Overall Experience:

Pretty sleek design, got it installed with a few bumps (needed to power cycle the unit to get the device wifi), but after that, it all worked flawlessly.

The product is still new and the software still has some quirks, but it seems they are pushing updates regularly so guess they will nail this soon.

I am using the iOS app.

The support/feedback is excellent and outweighs any bumps I have had (didn't need any support to solve the issues, but once reported the feedback was constructive and prompt).

Compared to a few other temp/humidity devices I have, the humidity level reported is higher (5-10%), but I guess I need professional equipment to says which one is right.

Otherwise, it's great to have all the sensors gathered in one device (except radon).

And it will be possible to build your own app to integrate with your home automation on top of the standard solutions provided, so I will have mine to control my ventilation system soon.

Bottom Line: Yes, I would recommend this to a friend

---

Works great

Netherlands

,

Oct 30, 2017
Verified Reviewer

Overall Experience:

Got my shop from the Indiegogo campaign. Installation worked well connecting to my 2.4GHz Wifi through IOS. I positioned my sensor in the master bedroom.

Initially CO2 values were way out, but after a couple of days the unit corrected this, assuming the lowest measured CO2 value is 400 as this is the natural amount of CO2in air (auto-calibration).

Temperature measurement is slightly higher than other sensors in the same room. With two months in use, the unit works well and I have changed my habit of closing the bedroom door to leaving it open to allow CO2 levels to stay acceptable. I also found VOC levels to go high which I think is caused by the IKEA cabinet wall. One can still smell the "wood" of that cabinet although its in place for over 8 years. With bedroom windows open, one can see pm2.5 values rising with traffic in the street, or in the evening when the wood pellet heaters are being used.

All in all, interesting to know ones living environment better although most of the time it is not easy to change it.

The app works well, but the notification history (value over warning/alarm setpoint) cannot be cleared. I hope a future update will solve this.

Bottom Line: Yes, I would recommend this to a friend

---

Impossible to use

By Rama Jager

,

Sedona, AZ

,

Jul 29, 2017
Verified Reviewer

Overall Experience:

I just got uHoo device and setting it up eats up one's time. After spending many hours, I finally gave up. Since the company does not guarantee its products, the buyer has no option other than losing the funds used to purchase the product.

Bottom Line: No, I would not recommend this to a friend

---