Ultra Fast Keto Boost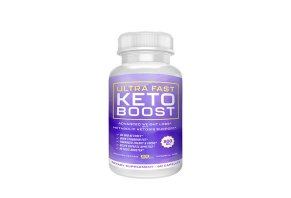 Our review of Ultra Fast Keto Boost does an in-depth dive into scientific studies to find out if the supplement's BHB really can help you lose weight without having to cut out carbs and follow a strict diet.
Ultra Fast Keto Boost Review - Legit or Hype?
Ultra Fast Keto Boost is a supplement that claims to send you straight into ketosis and help you lose weight without doing a keto diet.
"Ketosis" is the state in which your body starts burning fat instead of carbs. Most people try to get into this state via the keto diet, a diet that eliminates nearly all carbs and replaces them with high-fat and high-protein foods.
This diet change sends your body into ketosis and, eventually helps you lose weight.
The keto diet has a lot of unappealing side effects, though, one of which is the "keto flu" – the fatigue and crankiness well-known among keto dieters.
For this reason, a supplement like Ultra Fast Keto Boost seems very promising because it claims to eliminate the need for a keto diet via an ingredient called beta-hydroxybutyrate, or "BHB," that sends you into ketosis simply by taking two capsules a day.
Whether that is true or not will be the focus of our review. We'll explain how to take the supplement, talk about its ingredients and how, in theory, they could send you into ketosis.
Then, we'll talk about the overall consensus of the research we looked at relating to BHB's ability to take the place of a keto diet.
In addition to those sections, we'll cover Ultra Fast Keto Boost's cost and return policy and wrap up with a conclusion about the supplement's strengths and weaknesses.
Dosage and Ingredients
A bottle of Ultra Fast Keto Boost contains 60 capsules. You'll take two capsules once a day between meals. Each capsule contains 800 milligrams of a proprietary "KetopurRX" blend that includes the following ingredients:
Magnesium BHB
Calcium BHB
Sodium BHB
Medium-chain triglyceride (MCT) powder
Apple cider vinegar powder
Green tea leaf extract
The BHB is the key ingredient because the supplement's website says it is responsible for sending you into ketosis and burning fat.
We've seen this pitch many times from similar keto pills. The idea here is that because BHB is present in your body during ketosis, it's a driver for burning fat.
Taking Ultra Fast Keto Boost sends BHB into your bloodstream and tells your body to start the fat-burning process.
While the idea is simple enough, it's important to examine the existing research to understand if that is, in fact, what happens when you take BHB in supplement form.
Efficacy of BHB in Supplement Form
One of the main concepts behind this supplement is that it can replace a keto diet. We turned to the available research to find out if that's true.
What we found is that researchers are just as interested in whether a supplement can replace the keto diet as you are. We found multiple studies (from 2005 and 2016, in particular) in which researchers tested how well BHB supplements can put you into ketosis and keep you there, as compared to the keto diet.
The studies we looked over came to the same conclusion: BHB supplements can raise the level of BHB in the bloodstream and trigger ketosis.
The only study we found linking BHB to weight loss appeared in the June 2019 edition of Current Developments in Nutrition. The study found that BHB supplementation resulted in less caloric intake, which led to weight loss.
However, these studies were conducted on animals and not humans. HighYa medical adviser Dr. Jason Reed, PharmD, emphasizes that what works in animals isn't always going to work on humans.
On that note, human studies about the effects of BHB supplements on ketosis are few.
We found one 2017 study from Frontiers in Physiology done on humans in which 15 people drank keto drinks packed with 12 or 24 grams of BHB. They found that supplementing BHB through a drink is "a practical, efficacious way to achieve ketosis."
As you can see, the research about BHB and ketosis is relatively extensive and well-established in animals. Conversely, the scientific evidence supporting BHB's ability to make you lose weight is very sparse.
And to make Ultra Fast Keto Boost's claims even tougher to support, the studies we looked into used daily BHB supplementation that far exceeds what you'd get in a daily dose of the Ultra Fast.
Therefore, we conclude that Ultra Fast Keto Boost's ability to put you into ketosis and help you lose weight is questionable, at best.
Safety and Side Effects
These supplements are produced in an FDA-registered, GMP-certified facility, which means the facility has been audited to make sure it complies with international standards for safe health-product manufacturing.
As for side effects, the most common we found during our research were nausea, diarrhea, and constipation.
Pricing and Return Policy
At the time of publishing, you could buy Ultra Fast Keto Boost on the product's website, the manufacturer website (Justified Laboratories) and Amazon.
The manufacturer's website was the cheapest option at $49.95 for two bottles. Amazon's price was the second-cheapest: $34.95 per bottle. Per-bottle prices on the supplement's website ranged from $69.99 per bottle (single-bottle purchase) to $39.74 per bottle (five-bottle purchase).
If you buy from the supplement's website, your product will ship via USPS Priority Mail.
If you need to make a return, you have 30 days to do so. You will have to contact (888) 970-0686 or email support@ultrafastketoboost.com to start the return. You will receive a return merchandise authorization number (RMA) that you must have to make the return.
The company's return policy has some tight restrictions, though:
The bottles you return have to be unopened and unused
The return has to arrive at their warehouse within 30 days of your purchase date
You have to pay a $5 restocking fee
You have to write your RMA number on the outside of the box
The company's returns address is: RMA Returns; Ultra Fast Keto Boost; 9205 W. Russell Road Ste. 240; Las Vegas, NV 89148.
The Bottom Line: Should You Try Ultra Fast Keto Boost?
The one main positive we found in our research of this product is that there is some animal-based research that indicates taking ketone supplements like BHB can put your body into ketosis.
The downside to this is that the studies proving this benefit were done on animals and not humans. The one human study we found focused on ketosis and not weight loss.
Because of this, we conclude that there isn't enough testing done on humans to say with any degree of certainty that Ultra Fast Keto Boost will help you lose weight.
On the other hand, the keto diet is a well-documented way to lose weight and won't require you to spend any money on supplements.
If you want to learn more about this diet, read through our beginner's guide to the ketogenic diet. We talk about the diet's pros and cons, its side effects as well as what you can and can't eat. We provide a sample menu, too.