Ultra HD Antenna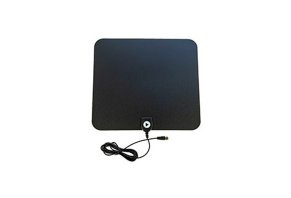 Claiming to use technology created by a Nobel-prize winning scientist, the Ultra HD can provide you with free HD channels via its 50-mile range. Let's take a look at the claims.
Ultra HD Antenna Review – Legit or Hype?
The Ultra HD Antenna is designed for televisions whose website claims that its technology is so powerful that "government intervention is likely to limit the release of the product due to its potent effects on big cable companies."
A lengthy article linking the antenna to a Nobel-winning Japanese scientist named Asaka Takegi makes it seem like a pretty amazing antenna and certainly one that is more intriguing than the average antenna you could buy at Walmart or Target.
In this review, we'll analyze the claims that the antenna's websites make, talk about how HD antennas work and then discuss the antenna's pricing and return policy.
We'll also provide you with a section through which you can compare the antenna to the highest-rated HD antennas at Walmart and Amazon.
The Ultra HD's Technology and How the Ultra HD Works
According to the article we found discussing the antenna's link to the Nobel-winning Japanese scientist, the antenna can "get up to 800 premium international channels, record DVR and more."
It does this via "military grade technology that surpasses all limits of known science," a fact that we quote directly from the website with the disclaimer that the page you visit to buy the antenna does not explain this technology nor makes any references to it.
The site goes on to say this technology will allow you to capture an incredible number of channels once something called the "2019 Cable Rule" kicks in and cable companies will be required to unscramble all their channels and make them public property.
Our research revealed no such rule. So, while we can't say with full certainty that such a rule will never exist, we can say with a certain measure of confidence that, at the time of publishing, we could find no evidence of federal action in the U.S. requiring cable companies to unscramble their free and premium channels.
Nor could we find any evidence of a Nobel laureate named Asaka Takegi, which leads us to believe that the antenna's article may be misleading.
Now, the page where you actually buy the antenna is different than the article touting the antenna's technology. The sales page mentions the following features:
Save an average of $1,200 per year
Watch all your favorite live TV shows and movies for free
50-mile range
Dual-band reception
Up to 100 HD channels
Accessing all these features is as easy as plugging into your TV the coaxial cable that comes with the antenna. Then, go to the autoscan feature on your TV and scan channels. This will take a couple of minutes as the antenna finds available stations in your area. Once the scan is done, the channels are loaded and you can flip through all available stations.
This process is exactly the same for pretty much any plug-and-play antenna you'll buy, a fact we've found in our personal experience and via research of dozens of TV antennas.
What makes this antenna slightly different is the 50-mile range, which indicates it's potential to find stations transmitted from TV towers in a 50-mile radius. Many antennas we've researched either don't list their range or have ranges of up to 25 to 30 miles.
The Ultra HD's "dual-band" reception refers to its ability to get UHF and VHF channels, something that most antennas offer, too. According to the Federal Trade Commission, the difference between these two types of stations is that VHF includes channels 2 to 13 and UHF includes channels 4 to 51.
Depending on the location of your home in relation to TV towers, as well as the location of your antenna within your home, you may be able to get TV channels beyond 51. Based on our research, you can maximize your antenna's ability to get channels by placing it near a window and reducing the number of walls between the antenna and the outdoors.
Based on our research of this product, we believe the feature that sets it apart from similar antennas is its 50-mile range. The other features we mentioned are common among HD antennas.
Pro tip: The antenna is a flat square as opposed to the rabbit-ears style of device with two antennas.
Can an HD Antenna Give Your Premium Channels?
One of the claims we read in the article and on the antenna's website is that you can watch all your favorite shows and movies.
Now, as we mentioned earlier, we found no evidence of a federal mandate requiring cable companies to unscramble all their channels so people can access them freely with an HD antenna.
Because of that, we feel that the promise of getting your favorite shows and movies needs some clarification. HD antennas can only receive free local and network stations in your area. This would include stations like CBS, NBC, ABC, and FOX.
What this does not include is premium stations like ESPN, FOX News, HBO and other channels you'd have to pay for via a cable subscription.
Therefore, we believe that there's a high likelihood that you will not get premium channels with your HD antenna if you don't have a paid cable subscription that includes premium channels. IF you do have a paid subscription with channels like ESPN and HBO, you'll only be able to access those through your cable box and not your HD antenna.
Ultra HD Antenna Pricing and Return Policy
At the time of publishing, you could buy one UltraHD antenna for $39.95. The more antennas you buy, the cheaper your per-antenna rate is:
Two antennas: $34.95 each
Three antennas: $33.33 each
Four antennas: $32.50 each
Five antennas: $29.95 each
Upon checkout, the site automatically signs you up for an $8.95 protection plan that provides free replacement and access to something called "TV Pro" services that aren't mentioned anywhere on the site except this one section. You can uncheck the box before purchase.
The site says that the antennas ship within one business day and should arrive in two to five days via the United States Postal Service. The products ship from Savannah, GA, the fine print says, so those who live closer to Georgia will most likely receive the antenna(s) quicker.
The fine print goes on to say that you have 30 days to return the antenna if you aren't satisfied with it. To process your return, you'll need to call (855)977-0765. The customer service rep will give you a return merchandise authorization number by email. You'll have 14 days from the date you receive the number to send your return.
Keep in mind you'll have to pay the shipping costs to return it and the antenna needs to be in like-new condition. You cannot return a damaged item.
Returns will be sent to: FDC RETURNS; P.O. Box 61553; Savannah, GA; 31420.
How the Ultra HD Compares to Other HD Antennas
We did some research about top-rated antennas at Walmart and Amazon and found two that provide the same range as the Ultra HD:
1byone TV Antenna (Walmart): $20.99, 4.1 stars from 144 reviews
AmazonBasics Ultra Thin (Amazon): $27.99, 3.5 stars from 481 reviews
Both of these antennas provide 50-mile range and both are cheaper. The AmazonBasics antenna is most like the Ultra HD in that it's a flat square. The advantage to the Amazon antenna is that it has a white side and black side, so you can use the color that best fits with your home's color scheme.
Furthermore, the Amazon antenna has free one-day shipping and also has a simpler return process than the Ultra HD.
Based on what we saw from antennas on Walmart and Amazon, we believe they offer better value than the Ultra HD.
The Final Word: Pros and Cons of the Ultra HD Antenna
Our research indicates the antenna's strength is that it has a 50-mile range, which exceeds most of the antenna's you'll find at places like Walmart and Amazon. Also, the flat-panel design means it will look more inconspicuous than an antenna that uses two silver antennas.
The downside of the antenna is that its price is higher than comparable devices from Walmart and Amazon. Also, the return policy seems to be more complex than what you'd experience at Amazon.
We believe that there's a chance you'll be happy with the antenna simply because it has a longer range than many antennas. However, that longer range isn't unique, as our examples from Walmart and Amazon show.
Do not buy! SCAM!

By Dawn S.

,

Elkader, IA

,

Jan 8, 2020
Verified Reviewer

Call the BBB. This company is a scam. I can't find one favorable review. I would give them a negative star, but not an option. Should be able to give it no stars at the least. Bought for me and my parents. Didn't receive the whole order to begin with, but my bad. Was out of town and didn't get to test it until after the return window. Also discovered, after the fact, they were deducting about $9.00 a month for "service insurance." After I discovered this and called they said "I" checked the box for it, when in fact I discovered it is automatic unless you "uncheck" the box. There are so many things wrong with this company.

Again, file a complaint with the BBB and put them out of business. It's sad how many people have been duped by them.

Bottom Line: No, I would not recommend this to a friend

---

Returned antennas according to directions - no refund

By Kricket S.

,

Kentucky

,

Nov 2, 2019
Verified Reviewer

These antennas did not work at all at our location so I called and followed their directions for a return - and waited for my credit for the purchase - none came in two months so I initiated a complaint with my credit card - they submitted all sorts of evidence that the product was delivered, which was never in contest. I submitted the return authorization and the postal receipt for their shipping. Now this company says they cannot return the money because of the chargeback. Not a reputable company to deal with - stay away.

Bottom Line: No, I would not recommend this to a friend

---

Advertisement

---

Received my antennas

By Darlene R.

,

Kentucky

,

Oct 25, 2019
Verified Reviewer

I just gave my daughter one for her birthday. She just texted me and said she hooked it up. She is getting 20 channels, same as she got with her other antenna. The ad says 80+ channels. The packaging says 50. I have not hooked mine up yet. She did say her quality was better though.

Bottom Line: No, I would not recommend this to a friend

---

Don't purchase!

By Victoria B.

,

Michigan

,

Oct 1, 2019
Verified Reviewer

I purchased this antenna and could only get 5 channels. They answered my email immediately when I advised them I wanted to return it. They included many ways to make it work (none helped). I sent it back, per their instructions within 5 days. I am still waiting for my refund!

Bottom Line: No, I would not recommend this to a friend

---

Advertisement

---

Scam, fraud, rip-off

By Antonio D.

,

Colorado Springs, CO

,

Aug 16, 2019
Verified Reviewer

I received an email with an offer of 560 channels? No dish, no cable, it sounded too good to be true, the offer was for $29.99? I tried it and placed my order. When I entered my payment the amount charged was $60.60? What happened, I couldn't reach anyone. When the Ultra Antennas arrived I followed the directions and was only was getting (6) channels, not the 560 they promised. I called and called, the wrong number was given. I sent it back the next day for a full refund and 3 months later am still waiting for my refund. Their phone number given is wrong and they don't respond to emails. This is a scam and fraud, needs to be investigated.

Bottom Line: No, I would not recommend this to a friend

---

SCAM

By Alan C.

,

Saint Augustine, FL

,

Jul 23, 2019
Verified Reviewer

I never confirmed order, tried to call them, 7/24, told pacific hours.

Sent an email to cancel order both above in less than 24 hours, email returned.

Left message twice, they called me at 9:12 am on 7/12/2019 within 24 hours of non-confirmed order. Told me the order was filled and shipped, what BS.

I disputed with credit card company (pending). I told them that, told them I was not going to return anything and pay any return charges. Due to me being totally disabled and would probably never receive product, tried to help them but they refused. So bottom line, they are a scam, especially when you try to cancel the order and do not confirm it, they tell you sorry, the order went through. Just a darn scam.

Bottom Line: No, I would not recommend this to a friend

---

Thank you HighYa

By Leonard S.

,

Florida

,

Jun 7, 2019
Verified Reviewer

I bought an $80 antenna to put in our attic. It works well about 80% of the time if the weather is clear with no rain. The fact that I received the advertisement by scam email made me find your review website. Thank you for setting the facts straight. We need more like you: honest websites.

Bottom Line: No, I would not recommend this to a friend

---

Total scam

By Sallie M.

,

Mississippi

,

May 31, 2019
Verified Reviewer

Not only is this product a scam, dealing with trying to get your money back on "NO-REPLY" e-mails is another problem, but they also claim they refunded me and I have yet to see this on my bank statement. It is still ongoing as I write this. My advice to you is do not deal with this company. They will tell you it works for other people but it doesn't. Before I purchased I asked point blank is there any other equipment needed to get it to work answer was "NO, just attach to TV." Did not even get a picture at all! Don't waste your time with all these phony claims. I found out all cable and TV programs are coded and they change they codes consistently, no way antennas can break the codes!

Bottom Line: No, I would not recommend this to a friend

---

Rip off and refund hassle

By Robert B.

,

New York

,

May 21, 2019
Verified Reviewer

I ordered on February 24th two units. Only received a public station. Got a return RMA and returned. Never received credit for return. Called on May 15th and still no refund processed. Was told will issue $74.43. Refund instead of $84.88 that RMA 15539483473971259 promised. Something about shipping caused the difference. I had paid return shipping.

Finding contact info was nearly impossible on the net.

Caveat emptor. Buyer beware.

Bottom Line: No, I would not recommend this to a friend

---

Beware

By Julia T.

,

Four Oaks, NC

,

May 9, 2019
Verified Reviewer

I purchased this antenna in November and because of the hookup, I returned it. It is now May 2nd and I still have not received my refund. They have acknowledged the return but make one excuse after another for the delay of my money. All I can say is beware of this company and buy from Walmart. No issues there. I have contacted the BBB and Ultra did not reply to them. The Attorney General's office is my next step. Hope this will be published for your reviews.

Bottom Line: No, I would not recommend this to a friend

---

Ultra HD Antenna is a scam

By Gerry C.

,

Kissimmee, FL

,

Apr 16, 2019
Verified Reviewer

It was necessary for me to contact and complete a complaint with the Better Business Bureau in Savannah, GA where these are shipped from. Don't believe the positive reviews. These reviews originate from a website where a Japanese engineer toutes the antenna having Military Grade Technology and capable of up to 800 channels. You are lucky to get 2-3 channels. The site also claims of capable of pulling in channels up to 50 miles. When the antenna arrived after paying $45.74 it only stated up to 30 miles range. Also, the product is made in China. The majority of amplifiers offered with these cheap antennas are junk. We ordered this antenna for my elderly disabled Mother who is 84. My wife and I are in our sixties. This is definitely false advertising and bait-and-switch tactics. Don't fall for this scam. I attempted to get a refund and they said I would have to pay an additional $8-$9 for return shipping out of my pocket. I refuse to pay return postage for such a junk cheap product especially with this false advertising. I filed a complaint hoping other people won't be taken like we were. This is an accurate review. Taking advantage of anyone, especially the elderly.

Ultrahdantennas.com, you should be ashamed!

Bottom Line: No, I would not recommend this to a friend

---