Ultra Omega Burn Reviews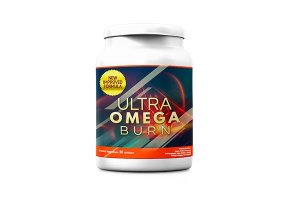 The Ultra Omega Burn supplement claims to deliver a long list of potential benefits, including better skin and nails, improved cardiovascular health, and boosted weight loss.
About Ultra Omega Burn
Advertised as the purest and most potent form of palmitoleic fatty acid available on the market, Ultra Omega Burn is an omega-7 dietary supplement that allegedly helps with weight loss.
Specifically, the promotional video explains this ultra-pure ingredient is so potent that it instructs your cells to release fat on-demand and forces your body to use this new source of energy, while normalizing blood sugar, reducing insulin resistance, blocking 96 percent of arterial plaque, and lowering bad cholesterol levels by 11 percent.
Additional benefits include the reduced appearance of wrinkles and acne, relief from conditions like rosacea and eczema, dramatically decreased appetite, reduced inflammation, improved look of skin and nails, and a decreased risk of heart attack and stroke.
This review will discuss the ingredients, efficacy, and safety to help determine whether it's the right choice for you.
Ultra Omega Burn Ingredients
No supplement facts label was listed on the Ultra Omega Burn website, and the only ingredient we're told about (no dosages provided) is palmitoleic acid. We requested a copy from the company but did not receive a response.
According to ConsumerLab, palmitoleic acid (along with vaccenic acid and margaroleic acid) is one of the most common types of unsaturated omega-7 fatty acids, "often found in foods like eggs, salmon, anchovy, sardines, macadamia nuts, olive oil, and cod liver oil."
And while there haven't been many palmitoleic acid studies conducted on humans, they report that taking about 220 mg per day, some preliminary research indicates it may "play a role in insulin sensitivity, lipid metabolism, and inflammation."
Pro tip: Although dosages typically aren't listed on labels, ConsumerLab points out that many omega-3 supplements already contain palmitoleic acid. If you're already taking one, be sure to double-check the label.
Again, though, none of these sources referenced clear-cut benefits related to weight loss, wrinkles, acne, rosacea and eczema relief, or any of the other claims made by Ultra Omega Burn's manufacturer.
Side Effects
There are no known excessive side effects that can occur with Omega-7. However, issues may arise if you have other serious underlying conditions. It is always best to speak with your doctor to see if Omega-7 a good option.
How Much Does Ultra Omega Burn Cost?
Ultra Omega Burn is only available through the company at the following prices:
1 Bottle (30 capsules): $49.95
3 Bottles: $119.95 ($39.98 per bottle)
6 Bottles: $199.95 ($33.32 per bottle)
Along with your order, you'll also receive these special reports:
"Hormone Secrets to Weight Loss"
"Desserts and Sweets for a Flat Stomach"
"The Fat-Burning Guide to Eating Out"
All purchases come with a one-year money back guarantee, less S&H charges, which you can request by filling out their online contact form.
Are There Other Palmitoleic Acid Supplements Like Ultra Omega Burn?
Searching online marketplaces like Amazon and Google Shopping, we encountered a meaningful number of palmitoleic acid and omega-7 supplements during our research, including top options like:
| Company | Price | Ingredient(s) |
| --- | --- | --- |
| Ultra Omega Burn | As low as $33.32 per bottle (30 capsules) | Palmitoleic Acid |
| Puritan's Pride Omega-7 Complex | $11 (30 capsules) | Sea buckthorn; omega-3, omega-6, omega-7, and omega-9 fatty acids |
| Life Extension Provinal Purified Omega-7 | $21 (30 softgels) | Palmitoleic acid 210 mg |
| Swanson Omega-7 Oilx | $7 (30 liquid capsules) | Sea buckthorn oil 450 mg |
| New Chapter Supercritical Omega-7 | $49 (60 capsules) | Sea buckthorn extract, rosemary extract, calendula extract |
| Source Naturals Omega-7 Sea Buckthorn Fruit Oil | $9 (30 softgels) | Sea buckthorn extract |
Which of these represents the best option for obtaining omega-7 fatty acids? Let's quickly take this step-by-step:
First, unless you're deficient in one of the ingredients they contain, organizations like Harvard Health and the American Academy of Family Physicians indicate that most of us don't need to take vitamins or dietary supplements.
Second, if you are among the small percentage of the population who might be deficient in an essential vitamin or mineral, this is something only your doctor can diagnose. Once properly diagnosed, they can then recommend science-backed treatment options, and whether or not dietary supplements represent a solid use of your money.
Once all of this is in place, based on our years of writing about supplements, we recommend giving your hard-earned money only to manufacturers who:
Back their claims with double-blind, placebo-controlled clinical evidence
List all ingredients on the bottle, including dosages
Offer at least 30-day money back guarantees, even if the bottle is open, with reasonable S&H charges and no restocking fees
Our Final Thoughts About Ultra Omega Burn
There may be a wide range in what you'll pay for an omega-7 dietary supplement, the quantity you'll get (and even the form you'll get it in), and the ingredients included in each formula.
But, according to the ConsumerLab article cited earlier, there seems to be limited (although admittedly promising) clinical evidence that omega-7 fatty acid supplementation in general—or palmitoleic acid supplementation, specifically—can provide meaningful real-world benefits in humans.
Related: Guide to Omega-3 Supplements: Uses, Health Benefits, & Side Effect
Worked for me!

By Warren S.

,

Bryan, TX

,

Oct 30, 2019
Verified Reviewer

I started taking this product about 1 and 1/2 years ago. After a couple of months, I had not lost very much weight and was getting discouraged but I kept going. At around the 5-month mark the weight just started dropping off and I went from 296 lbs to 215 lbs. I was not able to exercise due to a wound on the bottom of my right foot. The product curbed my appetite and allowed me to reduce my insulin intake because I wasn't eating as much. I have since lost my right lower leg due to getting sepsis. I stopped taking the product when I reached my goal weight and have gained 25 lbs back.

My wife lost 45 lbs while being on the product also. She has gained back a few lbs and informed me yesterday that we needed to order more product. I am a firm believer in this product and am ordering 6 more bottles today.

Thumbs up from my wife and myself. Thank you Ultra Omega Burn.

Bottom Line: Yes, I would recommend this to a friend

---

Ordered but did not get it

By Margaret P.

,

Sebree, KY

,

Oct 19, 2019
Verified Reviewer

I can't write a review of something I did not get. If you do not send the product or contact me I plan on contacting PayPal and getting my money back. I don't have anything more to say. Will you please send this on to the company. I would like an answer and I want it soon. If you need 180 words to post this I will keep talking.

Bottom Line: No, I would not recommend this to a friend

---

Advertisement

---

I am losing weight

By Serene H.

,

California

,

Oct 13, 2019
Verified Reviewer

I am a 55-year-old woman and I want to lose weight...Started to take this product two weeks ago and I have already lost 3 lbs.

I eat healthy but hit a plateau. I love this product. I also gave me energy. So now I am going to the gym. I would absolutely recommend this product!

Bottom Line: Yes, I would recommend this to a friend

---

Keen user

By Mohd Najib K.

,

-Choose a state-

,

Sep 9, 2019
Verified Reviewer

As an obese person, losing weight is of prime importance to me...regardless of how much it costs me, thus Ultra Omega 7 is my choice and I wuld love to try it out with a prime mission to lose at least 11 kg of my body weight.

However, even in the absence of very clear evidence that the Ultra Omega 7 has essentially helped many people to lose weight, I am convinced that it will work for me, after having read a few articles on this subject matter recently. Thus I have put in my order and the status of my order as of yesterday, 9/1/2019, was that the manufacturer has already couriered my order on 8/30/2019.

Bottom Line: Yes, I would recommend this to a friend

---

Advertisement

---

Ultra Omega Burn

By Carol O.

,

Allentown, PA

,

Jun 6, 2019
Verified Reviewer

Don't waste your money, been taking for two months watching my diet, gained instead of lost. This is a pathetic scam. They want a 180-character review - please don't buy. People are getting rich off of your money. The same thing happened to my sister. I was so looking forward to success.

Bottom Line: No, I would not recommend this to a friend

---

Bought and returned product

By Walter H.

,

Winnipeg, Manitoba, Canada

,

Mar 20, 2019
Verified Reviewer

I purchased 6 bottles but became skeptical when I found no invoice in the package and no instructions for taking the supplements. Nor was there any name on the outside of the package, except the words "Shipping Dept." Just did not seem professional. So I decided to look for reviews and read some that made me quite skeptical about the product. Then I checked their website (since I had just seen the promo video, where I made the purchase). And, as pointed out in one review, certainly did not seem professionally done. So I decided to ask for a refund and called the toll free number on the bottle. I got an immediate answer and asked the person for a refund. He took my information, and told me he would process an immediate refund, saying it would take about 5-7 business days, and gave me the address to return the product. (Must say I was skeptical and decided to not mail the product till the refund came.) I was surprised when I checked my email this morning (the very next day, on March 14, 2019) and found a notice from PayPal that a refund had been received from this vendor. So, to their credit, I appreciate their promptness and their standing behind their 365-day refund warranty. But in light of what is pointed out here in this review...and my own gut feeling...I would not feel comfortable taking this product.

Bottom Line: No, I would not recommend this to a friend

---

Ultra Omega Burn

By Naomi S.

,

Victorville, CA

,

Feb 6, 2019
Verified Reviewer

I experience headaches from the Ultra Omega Burn, so I returned two bottles. And I never received my payment return in my banking account. So I didn't write the phone number down on the bottle so I've been looking for it on the website and I could never find the number. I did not receive an invoice with my order so I don't have an order number. The only number that I have is the ID number that she told me to write down when I return the bottles.

Bottom Line: No, I would not recommend this to a friend

---

It's working for me!

By Shelli M.

,

Brandon, MS

,

Jan 27, 2019
Verified Reviewer

I ordered this product after receiving information and a suggestion from a weekly email from Brad Pilon, the author of "Eat, Stop, Eat." I personally haven't had much success with fasting, but have been researching it for my boyfriend who has Type-2 diabetes. I read the information about Ultra Omega Burn and decided to try it. After all, omega fatty acids are supposed to be good for you, right?

I have gained 20 lbs over the last year. I lost my Dad last year to Pancreatic Cancer and I've been trying to get my Mom through that. I have a son in college, which is costing me a fortune. Trying to pay for that stresses me out! My Mom and my son both had to have shoulder surgery last year, so I took care of them. During their recovery...Long story short, I've been taking care of everyone and have not taken care of myself. So 20 lbs later I decided I HAVE to do something about my weight, so I decided to try the Ultra Omega Burn.

I have taken the Ultra Omega Burn for about 2 and 1/2 weeks. I've noticed a major decrease in my appetite, and I don't crave sweets and carbs like I did. I started out at 176 lbs. I decided to step on the scales this morning because my stomach felt smaller and my jeans were looser. I almost fainted when I saw 169 lbs on the scale! It might not work for everyone, but it is working for me, and I will continue to take it.

I can't take all the diet supplements out there that have stimulants in them, and those do work for many people...just not me. I think you have to find what works best for you. I for one, am glad I took a chance on UOB. I have tried soooo many products out there and wasted no telling how much money, but this time I think I may have found my new best friend! Good luck!

Bottom Line: Yes, I would recommend this to a friend

---

Doesn't work

By Linda M.

,

Arizona

,

Oct 4, 2018
Verified Reviewer

I have been taking this supplement for 2 and 1/2 months. I have not lost any weight or FAT; it was a waste of my money! I would like to get a refund, but I am sure my comments will be ignored.

Bottom Line: No, I would not recommend this to a friend

---

It is working for me.

By Ron W.

,

Sep 25, 2018
Verified Reviewer

I have been taking the product for two weeks now. I started at 179 lbs. Today I weigh 167. I lost a total of 12 lbs so far. I power walk twice a day, and I keep the calories under 1500 with little to no carbs, no sugar, and low sodium. I drink a lot of water. The bottom line is - yes, it works.

Bottom Line: Yes, I would recommend this to a friend

---

Pretty good

By John C.

,

Ontario, Canada

,

Sep 17, 2018
Verified Reviewer

I have used this product for 60 days, during that time I managed to lose 12 pounds without a diet change bringing me within my target weight. However, this is not a magic supplement; you must eat smart and stay away from fast foods and drinking sodas. Ultra Omega Burn will work but not as advertised. It will not improve skin quality or allow your body to lose a huge amount of weight. In my case, it did help curb appetite and by adding mild exercise to my routine helped speed up losing excess fat and weight. Before taking this product it was impossible to reduce my weight probably due to my senior years, I found taking Omega 7 before going to bed yielded the best results.

Bottom Line: Yes, I would recommend this to a friend

---