Under Eye Recovery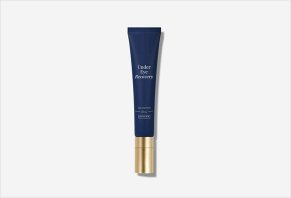 Summary
Under Eye Recovery is a skin care serum that promises to help reduce the appearance of dark circles under the eyes with its advanced ingredient formulation.
Under Eye Recovery Review: An In-Depth Look
Under Eye Recovery is a brightening eye cream the company claims can brighten dark circles, alleviate puffiness and smooth fine lines and wrinkles around the eyes.
Specifically, the makers of the product, City Beauty, state that it reduces the appearance of discoloration and skin-aging shadows under the eyes, helps to correct puffiness and wrinkles, and deeply hydrates the skin, adding appreciable smoothness.
The manufacturer mentions that the product is perfect for all age groups and skin types, stating that even those with sensitive skin can use it without fear. They also say that the product is effective for both men and women, stating that the easily-absorbed formula is actually more ideal for men than many products specifically marketed towards them.
According to the product's website, Under Eye Recovery works in a two-pronged approach: first, it reduces the underlying causes of dark circles in the skin. Secondly, they claim that it works to refract and reflect light, helping to eliminate small shadows caused by skin imperfections, which they claim are major contributors to dark circles.
The product needs to be applied to freshly cleaned skin. After drying, you can gently apply it underneath the eyes up to twice daily. The manufacturer recommends doing so once at night, allowing it to contribute to the body's natural regenerative processes.
Before moving on, let's briefly take a look at why we get these dark circles and bags under our eyes in the first place.
What Causes Dark Circles Under Our Eyes?
Dr. Mark D. Gaon, a board certified plastic surgeon at Finesse Plastic Surgery in Southern California tells us that the causes for dark circles and bags under our eyes can vary, including the following:
Lack of sleep
Allergies
Stress
Alcohol
Smoking
Exposure to UV radiation
High salt diet
Hormonal changes
Genetics
It's not just limited to age, either; anyone can develop these unsightly circles around their eyes, and Dr. Temitayo Ogunleye, assistant professor of clinical dermatology at Penn Medicine, makes it clear that those with thinner skin due to family lineage can have more pronounced effects:
"Genetics play big role – if it's genetic, they're more likely to see dark under eye circles when they get older. It's not necessarily age-related. If you have other people in your family with dark under eye circles, there's good likeliness you will have them, too."
Knowing this, let's next take a look at the ingredients used in Under Eye Recovery's formula to determine how effective it may be at reducing the appearance of wrinkles and under-eye circles, whether caused by genetics or other factors.
Under Eye Recovery's Ingredients
In order to answer this question directly, we'll need to take a close-up look at the Under Eye Recovery's ingredients. According to the website, there are seven main, active ingredients:
LipoLight® OAP/PVA
Haloxyl
Chronoline
Hyalusphere
SYN-AKE
BeauifEYE
RejuvenOX
Pro tip: A full list can be found under the ingredients tab on the Under Eye Recovery page of City Beauty's website. To learn more about what distinguishes an active ingredient from an inactive one, be sure to read How to Understand Cosmetic Ingredient Lists when you have the time.
The manufacturer states that each of these core compounds listed above play a part in delivering the anti-dark circle results they describe, showing that they also provide anti-wrinkle and blood flow improvements as well. But is there any clinical evidence supporting these claims?
As it turns out, we were able to find relevant clinical studies for all but one of the ingredients listed, RejuvenOX. Let's break each of them down below:
LipoLight® OAP/PVA: This study found that the ingredient was able to reduce the appearance of skin imperfections, wrinkles, under-eye circles, uneven skin tones, and enlarged pores.

Haloxyl: The results of this trial illustrated that Haloxyl was able to reduce the appearance of visible red and blue colors in under-eye circles by 19 percent.

Chronoline: At the conclusion of this study, 93 percent of the 65 women aged 18 to 45 years old agreed that their skin felt smoother as a result of Chronoline application.

Hyalusphere: This substance was found to significantly smooth out wrinkles on the skin within one hour.

SYN-AKE: In this clinical trial, one participant exhibited up to a 52 percent decrease in visible wrinkles on the forehead area.

BeautifEYE: This study illustrated that upon application, users were able to see a 30 percent decrease in blue under-eye colors. They also reported a 61 percent decrease in drooping surface of the upper eyelid.
It's worth noting that each of these trials was carried out by their respective manufacturers, and one study isn't usually regarded as enough evidence to make an absolute scientific claim in the wider industry.
Despite these caveats, judging purely based on the results described above, it looks as though most of these ingredients do have precedence to be included in Under Eye Recovery's formula.
Another important factor that isn't listed on the website is the exact concentration amounts that these components were found in.
We reached out to customer service, and despite one agent's diligent searching, we were unable to confirm this information as of this writing. Without it, it can be difficult to evaluate how similar your results may be to the studies listed above.
Potential Under Eye Recovery Side Effects
Based on the information found in the trials above, we did not encounter any specific side effects associated with the proprietary ingredients used in Under Eye Recovery.
However, Truth In Aging indicates there have been rumors that Argireline (acetyl hexapeptide-3; a key component in SYN-AKE) may lead to skin sagging with continued use, although they largely chalk this up to "a misunderstanding of the way that Argireline and the other Botox in a jar formulas) work."
That said, because there's a large number of ingredients in Eye Recovery's formula, there's always the possibility of adverse effects popping up, making it especially important to speak with your dermatologist before using any new skincare product.
The manufacturer states that though the product uses ingredients safe for even the most sensitive skin, it's always a good idea to perform a small "patch test" on your arm 24 hours prior to starting treatment if you are concerned about any potentially adverse effects.
Under Eye Recovery Pricing and Return Policy
As of this writing, Under Eye Recovery was only available on the City Beauty main website. It is currently sold for $50.00 per 0.5 fluid-ounce bottle. Shipping and handling are free.
As for the return policy, each order has a 60-day satisfaction guarantee attached to it. To initiate a return, you'll need to reach out to customer service at (800)347-1558 or support@citybeauty.com.
Purchasing a Skin Care Cream Like Under Eye Recovery
It will probably come as no surprise to find out that there are thousands of different options for under-eye creams on the market today, both online and in-stores. During our research, we found a number of products that claimed to provide similar benefits to Under Eye Recovery.
Interestingly, we didn't encounter another product formulation that used this exact combination of ingredients, nor did we find any that included both LipoLight & Haloxyl.
Despite this, we did see several options on Amazon that featured hundreds, and even thousands, of five-star reviews in certain cases, like with the Baebody Beauty Eye Gel. This product promised extremely similar results to Under Eye Recovery, with many users confirming their results in reviews.
Crucially, though it featured more than 14,000 customer reviews, the Baebody gel was only a fraction of the cost of Under Eye Recovery at just $24.95 as of this writing. The size of the serum itself was larger as well, coming in at 1.7 fluid-ounces as opposed to Recovery's 0.5 fluid-ounces.
If you're searching for the right under-eye cream for your needs, consider the following:
What's your budget? Seeing as this is a recurring commitment for most, you'll need to decide how much you'd like to spend on a semi-regular basis. If you're looking for a combination of substances with clinical evidence behind them, Under Eye Recovery certainty seems to deliver. That said, based on the numerous customer reviews for similar products, you may also be able to pay considerably less for effective results.

Remember that your skin is unique. Because of this, not all products may work the same for all individuals. Ideally, you'll want to find a solution that features reviews from others with similar skin types.

Be wary of unsubstantiated claims. Many companies provide insight into their ingredients and are transparent about their effects (like with City Beauty), but based on our previous experience, certain brands can make claims without any evidence whatsoever to back them up. Slow down and be diligent when looking into a particular product's claims.

Watch out for free trials and autoship programs. Thankfully, City Beauty doesn't employ these types of pricing structures, but we've reviewed several products before who do, and our readers tell us that these programs are often hidden away in the terms and conditions where you don't find them until the charges start rolling in.

Don't be afraid to try alternatives. Experts we spoke to earlier like Dr. Ogunleye state that the most bang-for-buck option when trying to manage under-eye circles may simply involve investing in some makeup concealer, as the root causes of these blemishes can be difficult to treat.
The Bottom Line: Is Under Eye Recovery Right for You?
Based on everything that we've learned about the serum, can you expect Under Eye Recovery to deliver on its main claim of reducing the appearance of dark circles under the eyes? Let's recap.
In the ingredients section above, we discovered that six out of the seven main active ingredients used within the product's formula had clinical studies attributed to them that illustrate their apparent effectiveness at reducing dark circles and wrinkles in the skin around the eyes. We also learned that the manufacturer, City Beauty, has been in business since 2002.
That said, we aren't told in what concentration amount these ingredients are found in, and customer service was not able to provide this information when we inquired. Without this, it is very difficult to determine whether or not you can expect the same results reported in these studies, without actually trying the product out for yourself first.
When all is said and done, this might be the best way to proceed if you're looking to give Under Eye Recovery a shot. Thanks to the 60-day, no-questions-asked, return policy, you should be able to try the product out in your home in order to evaluate how well it does for you specifically.
We might also recommend trying out one of the less-expensive alternatives on Amazon, comparing the results from each. By doing so, you'll be one step closer to finding a sustainable, long-term solution that works well for you in the end.
Our Promise to You
In order to safeguard you and ensure helpfulness and relevance, our compliance team manually assess every customer review before it goes live.
We have a zero-tolerance policy for fake reviews, and companies cannot control or alter any reviews at any time.