University of Phoenix Reviews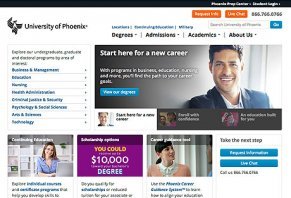 University of Phoenix has become the largest secondary education university in the United States by making classes convenient and built for your career.
About University of Phoenix
University of Phoenix was founded in 1976 by John Sperling as a way to help working adults achieve their higher education goals, simply by offering convenient class schedules and easy-to-access, local campuses. In 1995, the University began offering some of its classes online, which put it at the forefront of the distance learning industry.
Today, University of Phoenix is claimed to be the nation's largest private university, with more than 300,000 students currently attending their online classes or one of their 100 physical campuses throughout the U.S. Despite this, the University claims to have any average class size of just 14 students.
According to the college's website, in addition to the fact that you can attend classes whenever it's convenient for you, one of the biggest benefits they offer is that you can earn a degree built for the career you're interested in pursuing.
In addition, their eCampus is claimed to offer the ability to perform research through their University Library, as well as a variety of productivity tools, tutorials, practice tests, methods of communication, and even testing your knowledge using simulations and "virtual organizations."
Perhaps you're a working parent who's recently decided to boost your career by going back to school. Or, maybe you're a recent high school graduate and aren't really interested in the "traditional" college environment. Either way, is University of Phoenix right for you? Consider the following:
Which Degrees Does University of Phoenix Offer?
Overall, University of Phoenix offers many of the same core programs that brick-and-mortar colleges provide, including associate's, bachelor's, master's, MBA, PhD, and certifications, in areas such as:
Business (Accounting, Business Administration, Finance, Management, Marketing, Organizational Leadership, etc.)
Health Sciences and Nursing (Healthcare administration, Health Information Systems, Science in Health Administration, Health Education, Nursing, Family Nurse Practitioner, etc.)
Advanced Studies (Philosophy in Nursing, Educational Leadership, Educational Technology, Health Administration, Organizational Psychology, etc.)
Education (Elementary Education, Liberal Studies, Special Education, Teacher Leadership, Adult Education/Training, Higher Education Administration, etc.)
Criminal Justice and Security (criminal justice administration, Institutional Healthcare, Public Administration, Concentration in cybercrimes, Human Services, etc.)
Information Systems and Technology (Management, Information Systems, Advanced Networking, health Care IT, Information Technology, Web Design, Networking, Programming, Mobile Development, Multimedia and Visual communications, etc.)
Humanities and Sciences (English, Communication, General Studies, etc.)
Social Sciences (Clinical Mental Health Counseling, School Counseling, Management, Family and Child Services, Behavioral Health, Industrial Organizational Psychology, etc.)
However, keep in mind that not all programs are offered online, which is arguably one of the biggest benefits offered by University of Phoenix. Because of this, be sure to read through the University's Degree Programs page to see if the program you're interested in is available virtually, or only at physical campuses.
Is University of Phoenix Accredited?
According to the school's website, University of Phoenix is accredited through a variety of state, national, and international accrediting bodies. In fact, University of Phoenix claims to offer several accredited business programs, which is something that only about 1 out of 3 business schools accomplish.
With this in mind, in order to gain a better understanding of their various accreditations, be sure to read through their Accreditation page related to your specific program of study.
Who Might Benefit Most from the University of Phoenix?
When it comes down to it, University of Phoenix's target demographic is busy adults who may not have as much time to complete their coursework as a teenager, or as a student who lives on campus. Because of this, courses are claimed to be focused on providing real-world skills that give you an advantage in the workplace, and online material is available to a worldwide audience.
While there isn't any public information available directly from the University about which of their programs are most popular, TheBestColleges.org indicates that the 10 most popular online degrees for 2015 are:
Graphic Design
Accounting
Information Systems Management
Marketing
Web Design & Development
Medical Assistant
Health Care Administration
Engineering
Paralegal
Electrical & Computer Technology
Regardless of the degree you're considering, with more than 800,000 connected students, the PhoenixConnect social network allows University of Phoenix students and alumni the opportunity to connect directly with others who share the same degree plan, special interests, who have already earned the same degree, and more. With more than 30 learning and support communities, all staffed by community managers, students can also learn more about financial aid, student services (such as writing and math tutors), as well as technical issues.
How Do Employers View Degrees from University of Phoenix?
According to the University of Phoenix's website, their online degree programs are "research-proven to be just as effective as conventional instruction." However, does effective instruction necessarily mean that online degrees are perceived as equivalent to traditional colleges? As it turns out, this largely depends on whom you ask.
According to a 2012 TIME magazine article, "More than half of human-resources managers SHRM surveyed for an August 2010 report said that if two applicants with the same level of experience were applying for a job, it would not make a difference whether the job candidate's degree was obtained through an online program or a bricks-and-mortar university. Seventy-nine percent said they had hired an applicant with an online degree during the previous 12 months. But 66% said candidates who obtained degrees online were not viewed as favorably as job applicants with traditional degrees. "HR managers are normally pretty conservative and a little bit cautious," said Margaret Fiester, SHRM's operations manager for the HR Knowledge Center. "It boils down to how familiar they are [with online education]. If it's something they haven't encountered before — if they're not comfortable — they won't even give it a second glance. A lot of decisions are made based on name recognition and reputation."
More recently, a US News article noted, "The number of job candidates with online bachelor's degrees has rapidly increased in recent years, recruiters say. At the same time, acceptance of the degrees by employers is becoming more common." But just because they're becoming increasingly common, overall, this doesn't mean that online degrees are looked upon equally as traditional programs, as outlined by Rasmussen College in 2014 (see graphic below).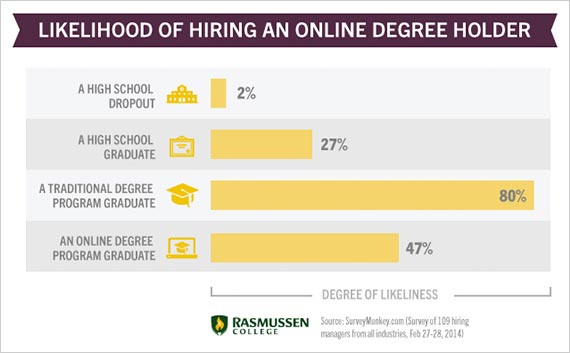 According to a study conducted by Rasmussen College, graduates from traditional colleges are almost twice as likely to be hired than a graduate from an online university.
In short, if you're applying for a position at a forward-thinking company whose hiring manager is familiar (and comfortable) with online universities, you'll likely be on par with other candidates with degrees from traditional universities. If not, you're chances of being hired are almost cut in half (whether from University of Phoenix or another online college).
What Are University of Phoenix Students Saying?
Overall, University of Phoenix consistently ranks as one of the top online colleges, due in no small part to the length of time the University has been in business, along with its enrollment statistics. However, a quick online search for "University of Phoenix reviews" or "University of Phoenix rankings" will reveal hundreds of complaints from current and former students.
ConsumerAffairs.com listed nearly 700 student reviews for University of Phoenix (as of 3/2/15), with an average rating of 1.3 stars. Here, some of the most common complaints cited high prices, inability to find employment after graduation, poor communication with academic and financial advisors, and even accusations of being a diploma mill.
University of Phoenix held a 5.5-star rating (out of 10) with OnlineDegreeReviews.org and a 2.2-star rating on PissedConsumer, with many of same complaints noted above.
Based on more than 1,000 student reviews on GradeReports.com, 58% would recommend University of Phoenix to others, and 59% claimed attending the University improved their career prospects.
University of Phoenix Pricing & Fees
There are no per-credit hour prices listed on the University of Phoenix website, although you can use their Tuition and Fees Calculator to estimate the expenses related to your specific program of study. However, the University does offer tuition deferral plans, private student loans, Federal financial aid, scholarships, and military discounts to help with the cost of tuition.
With this said, according to the College Affordability and Transparency Center, the average annual tuition for a University of Phoenix student is $14,550 per year, with a 10% graduation rate and a 26% loan default rate. Other popular online colleges rank as follows:
If this is your first time with the school, you can try out University of Phoenix free for 3 weeks through their risk-free period program. Only applies to GEN/127 University Studies for Success or GEN/201 Foundations for University Success courses.
If you'd like to speak with a counselor about tuition and fees related to your specific degree program, you can reach University of Phoenix at 866-766-0766.
Are University of Phoenix's Graduation Rates Low? Is It Important?
When you learn that only 1 out of every 10 University of Phoenix students who formally begin a degree program with the college see it through to completion, and that 59% of brick-and-mortar college students obtain their bachelor's degrees, you might be alarmed.
However, the statistics above are specifically related to "first-time, full-time undergraduate students who began their pursuit of a bachelor's degree at a 4-year degree-granting institution." As you probably already recognize, this clearly relates to recent high school graduates who are young and—for the most part—fairly carefree.
On the other hand, online university students are "nontraditional learners – students who are juggling work, school and family commitments. It would make sense that life sometimes would get in the way of graduation for these students."
After all, "how do you treat the 'life happens' reason for dropping out (need to spend more time at work, family needs, etc.)? ... The online student is more likely to have these types of events – which is independent of the course delivery method."
As such, there has been some recent debate about whether comparing graduation rates between traditional and online universities is like comparing apples and oranges.
Should You Be Concerned About the University's Loan Default Rate?
On the other hand, some might consider the fact that University of Phoenix's loan default rate is higher than graduation rates to be legitimately alarming.
This is because, according to numbers from the U.S. Department of Education, student loan defaults averaged 13.7 percent during 2014, which puts University of Phoenix just shy of 200% of the national average. But what happens when a student loan goes into default, and should this number be an important factor in your decision to attend?
A cohort default is defined as "the percentage of a school's borrowers who enter repayment on certain loans during a federal fiscal year (October 1 to September 30) and default prior to the end of the next one to two fiscal years." In layman's terms, if you took out a student loan in 2013 and defaulted on it during most of 2014 or 2015, then your loan would be classified as a cohort default. But what's all the fuss?
Just like any other for-profit institution, University of Phoenix exists to make money and to keep shareholders happy, and the methods used by the company have come under intense government scrutiny over the past couple decades, including 2003, 2004, 2008, 2011, and 2014, nearly all of which relate to admission and/or financial practices.
In other words, based on their comparatively lax admission policies and extremely high loan default rates, many of accused the University of Phoenix of simply being a dropout factory focused on enrolling as many students as possible for their financial aid loans, and falling short on education.
Should You Attend University of Phoenix?
Chopping to the point: Working adults are often between a rock and a hard place when it comes to pursuing their college education. On one hand, you'll almost certainly pay more for your degree through an online college like University of Phoenix, although you'll also have the ability to take classes that match up with your career goals, as well as ones that match your busy schedule.
With the exception of American Public University though, University of Phoenix has some of the lowest tuition rates among online colleges, but they also have some of the lowest graduation rates and the highest loan default rates, which might be a big indicator of the level of debt you'll incur, in comparison with how much more you'll earn as a result of your degree after you graduate.
Not for everyone

By Bill T.

,

Great Falls, MT

,

Sep 17, 2018
Verified Reviewer

I graduated from University of Phoenix Online in 2004 with my B.S. in Business Marketing and in 2006 with my MBA Human Resources Management. You don't need me to tell you how expensive, how convenient or how strong the aggressive marketing at University of Phoenix online is/was as these are obvious. If you're considering enrolling, you need to consider how much of your spare time you're willing to commit each week as the assignments require heavy research and writing with a lot of self-study and team assignments. As a general rule of thumb, plan on 15 hours per week.

As far as instructor quality is concerned, I had two or three over a 5 and 1/2 year period that were ineffective or MIA, which isn't too different than my past brick and mortar college experiences. Now for my final and most important point. Will you obtain a career progression opportunity or find the right professional career after you graduate? This depends on a number of variables. Are you experienced in a career that offers upward mobility to those with a degree? Are you a high quality professional now or are you a bottom feeder who thinks a degree is your ticket to progress? To what level of output are you willing to network, sell yourself and work hard for what you expect after obtaining your degree? How flexible are you when considering location, starting salary or starting position? How does your image, appearance and presentation look to those making hiring decisions? Does your background live up to the degree, the money and the position you're asking for or do you need to do a reality check?

I have read numerous reviews in which people are angry because they didn't finish the program or find the right job, so you need to weigh the risk for yourself and make your decision. I'll give you a hint... it's going to take more than a piece of paper...you're putting together a whole package to present yourself as a value proposition to hiring authorities. This is not easy for a lot of people trying to land careers with starting annual salaries North of $60k. Be prepared to put everything you have into your future when deciding to enroll in a ridiculously expensive University of Phoenix Online Program.

Bottom Line: No, I would not recommend this to a friend

---

Good school

By Pete J.

,

Fresno, CA

,

Aug 25, 2018
Verified Reviewer

After reading all the negative reviews I felt obligated to write about my experience and how my degree has helped me. I completed my degree online and got a B.S. in Business.

1) People are complaining about financial aid? At the end of the day it's your money, you should keep track of how the money is spent and you should deal with any issues that you see. Don't blame anyone other then yourself if you are overcharged or didn't manage your money correctly. Mistakes do happen and you need to review your finances to make sure everything is correct. Also, you know the price of classes before you enroll, so don't complain that its expensive. You signed the papers to enroll. Look in the mirror, and that's the person you should be mad at.

2) People say they can't get a job with a UOP degree? Not trying to be rude, but it's probably YOU that can't get the job. Having a degree doesn't automatically get you a job. Going into an interview with a degree from a different college isn't going to have a different outcome of landing a job. No employer has ever said "Hey, we really like you and would love to hire you, but you have a degree from UOP so we're going to pass and hire someone else." Really?

3) Is the degree accredited? Yes, I landed a Pharmaceutical Sales rep job with my degree. The questions during the interview were "Do you have a degree?" "What was your major?" Not once did they ask, what school was my degree from. One qualification was having a degree. I met that qualification.

So everyone who is complaining about landing a job, go out and get some job experience if you don't have any. If you do have experience, then work on your interview skills or have your resume done by a professional. Those who say they can't land a job are those that are lacking a skill set. Having a degree from a different university isn't going to have a different outcome. If you don't get hired, it was YOU they didn't like, not the fact that you had a degree from UOP. And the degree is accredited. If it wasn't accredited, you wouldn't be able to apply to grad school at other universities.

Bottom Line: Yes, I would recommend this to a friend

---

Advertisement

---

You still have to study.

By M. Murphy

,

Greenville, SC

,

Nov 8, 2016
Verified Reviewer

I did some classes online and had to quit for family reasons. It costs about the same as many private colleges. It was easy to get financial help and you can use the same person throughout the process. The classes were difficult enough. Just as hard as the brick and mortar university I graduated from. You have to study and keep up with assignments just like anywhere else. There are also plenty of studying tools they offer. Their credits will transfer to any other university, also. It's more convenient, but it's still not an easy way to get a degree.

Bottom Line: Yes, I would recommend this to a friend

---

University of Phoenix helped me

I got my Bachelor's degree online at my convenience. I had children to raise and go to work full time with a disabled husband. My school work was more demanding than the traditional college that I went to (Nashville State Community College). I learned so much in the Information Technology courses. My credits transferred over from Nashville State and I didn't have to take all my courses over to get my BS degree. My course work consisted on writing essays, creating projects, working with my classmates on real world scenarios, and what I didn't know, my peers and instructors helped me understand certain problems in Math and Programming. I enjoyed the courses online.

Bottom Line: Yes, I would recommend this to a friend

---

Advertisement

---

You must work!

By Asia

,

Spartanburg, SC

,

Jun 14, 2015

I have had a good experience with University of Phoenix. The class work is okay. One thing I noticed is a lot of LAZY people complain about participation. When you sign up, your enrollment advisor will tell you all about your requirements. You have plenty of opportunities to ask questions. If you know you will not be able to participate tell your instructor. You only fail when you are lazy. Just because it is online doesn't mean you can procrastinate. My financial advisor is always a call or email away. If you look at your information carefully you will be able to see what is what at anytime.

Bottom Line: Yes, I would recommend this to a friend

---

University of Phoenix is overpriced and Worthless.

By Vicki

,

Mississippi

,

Feb 2, 2015

I signed up for University of Phoenix at $10,500 a year. Classes are based on turning in homework and chatting. If you do not post a certain number of "worthy" posts per week, then you fail.

The "teachers" are barely involved and teach nothing. Some teachers are not even familiar with the syllabus they give you, if you follow it then you fail when you work is different than what the teacher brings up in chat.

Bottom Line: No, I would not recommend this to a friend

---

Advertisement

---