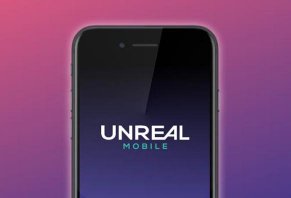 In addition to Unreal Mobile's unlimited mobile VOIP data plans, the company offers useful tools like data rollover, encryption and privacy tools, and the ability to share data with friends.
About Unreal Mobile
Launched by FreedomPop in June 2018, Unreal Mobile is a VOIP service that promises to deliver unlimited talk, text, and data plans starting at just $10 per month, whether you're using an existing phone or a new one.
The website advertises you'll also gain access to encryption and privacy tools, ad-blockers, data speed controls, and nationwide network coverage and Wi-Fi calls. You can use your phone number across any device, as well as roll over unused high-speed data, share it with friends, and get plan bonuses for staying on as a customer.
If you're used to paying $40+ per month for your smartphone contract, Unreal's $10 per-month cost might seem, well, unreal. Are there any catches, though? And how does their performance compare to other low-cost VOIP data services?
We'll take everything step by step in this brief article.
What Is a VOIP Service?
The Federal Communications Commission (FCC) explains, "Voice over Internet Protocol (VoIP), is a technology that allows you to make voice calls using a broadband Internet connection instead of a regular (or analog) phone line." In other words, this technology "converts your voice into a digital signal that travels over the Internet."
Exactly how this service is provided can vary, though. For example, they note, "Some VoIP services may only allow you to call other people using the same service, but others may allow you to call anyone who has a telephone number - including local, long distance, mobile, and international numbers."
Finally, "While some VoIP services only work over your computer or a special VoIP phone, other services allow you to use a traditional phone connected to a VoIP adapter." In the instance of Unreal Mobile, their app (more soon) acts as this 'adapter' to translate your voice into digital information packets.
Potential VOIP Pros & Cons
While the most significant advantage of VOIP services is that they allow you to make 'free' phone calls, since these calls require an internet connection to work, you'll use data each time you make one when not connected to a Wi-Fi signal. How much, exactly?
Lifewire's Nadeem Unuth explains that the specific number depends on a variety of factors; primarily, which codec your service uses. But on average, he points out that codecs typically average somewhere around 50 kbps, or roughly 0.75 MB per minute of conversation.
So, if you have a 1 GB plan with a VOIP service like Unreal Mobile, this means you'd get about 1,300 minutes (more than 22 hours) of talk time. Of course, this doesn't take into consideration any streaming you do away from an internet connection (movies, exploring websites, etc.), but these numbers should give you a rough estimate of what you're looking at.
Taking a Closer Look at the Unreal Mobile App
Before downloading and utilizing the Unreal Mobile app, there are a couple of steps you'll need to take.
Verifying If Coverage Is Available
First, you'll need to find out if coverage is available in your area, which you can do by entering an address on the Coverage Map page on the Unreal website. Keep in mind the company emphasizes this only provides "high-level estimates of [their] wireless coverage. Coverage is not available everywhere and varies based on a number of factors." No additional details are provided.
However, one thing that stood out to us is that according to their coverage map, Unreal Mobile's 4G service is available almost exclusively available in the eastern half of the US. Their 3G service expands this area by a bit into the western region, but we could imagine this might present an issue if you live in, or travel to, this area of the country frequently.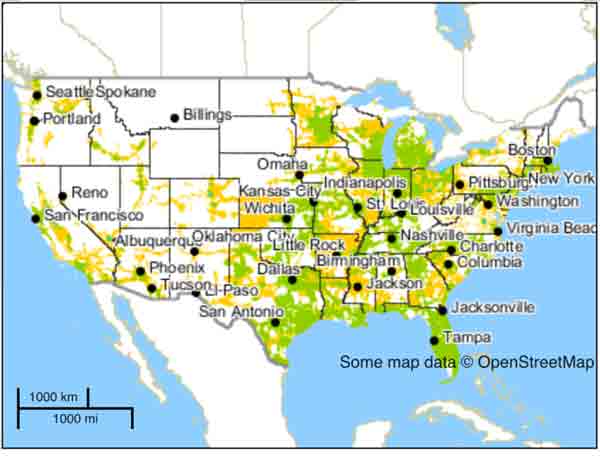 In this coverage map pulled directly from their website, we can see Unreal Mobile's 4G coverage area in green, with 3G represented in yellow. Credit: STS Media, Inc.
Verifying If You Can Bring Your Own Phone
While ascertaining coverage only requires entering an address, doing the same if you plan on bringing your own phone is a bit more involved. You'll have to enter your zip code, email address, and phone number, as well as the MEID or IMEI number on your smartphone.
While the address bar indicated a secure connection during our research, we also noticed a disclosure underneath these fields that read, "I understand that UNREAL may send me telemarketing calls and text messages via automatic telephone dialing system. You are not obligated to agree in order to obtain a product or service."
Finally, although you'll have the flexibility of using your Unreal Mobile number on any phone or tablet that has a data connection, you'll have to manually complete a carrier reset and transfer your number. The FAQ on their website provides instructions, although this could be intimidating for new users.
Unreal Mobile Call & Data Performance
Again, there's no codec or other specification details available about Unreal's VOIP services on their website, although they claim to offer 'unlimited' data. Specifically, they emphasize there are no data caps, and you won't pay for any additional data used beyond your prepaid plan.
However, you will lose a significant amount of download and upload speed after surpassing your limit. While your standard limit will hover around 3G (0.4Mbps+) or 4G (5+Mbps) speeds, excess data consumption with Unreal Mobile will immediately drop you down to 2G (0.1Mbps) speeds.
Picking back up with the Lifewire article from earlier, we should reemphasize that if you're not connected to the internet, making a VOIP call will count toward your total data usage. The Unreal website adds activities such as:
"… browsing the internet, checking email, downloading applications or accessing social media apps like Facebook and Instagram. Everything you do on your phone, that uses the internet, will come from your data plan allotment.
"If you connect your phone to a Wi-Fi network, data usage from these activities will not come from your UNREAL Mobile plan. It will instead come from your Wi-Fi network and whatever plan your Wi-Fi router is on."
How Much Does Unreal Mobile Cost and Where Can You Buy?
To sign up for Unreal Mobile, you'll start by picking your phone on their website. These were the models available at the time of our research:
Alcatel Dawn: $49.99
Samsung Galaxy S6: $149.99
Apple iPhone 7: $299.99
From there, you'll pick how much LTE data you want:
1GB: $10/month
2GB: $15/month
5GB: $30/month
Then, you'll continue to checkout and pay.
Unreal's FAQ indicates you can upgrade or downgrade your plan at any time by logging directly into your account at my.unrealmobile.com. Their website emphasizes that "if you downgrade your plan, you may lose the extra data, so try to downgrade towards the end of your billing cycle. In addition, if you upgrade, you will incur a prorated charge and receive a prorated amount of data."
All Unreal Mobile purchases come with a 30-day money back guarantee, which begins from the shipment date. To qualify, "all equipment must be in like-new condition (reasonable wear and tear expected) and include all accessories included in original equipment package."
Pro tip: If you haven't opened the package, the company recommends refusing it during delivery, which can help you save any return S&H charges.
If your product is defective, Unreal will exchange it within 90 days of shipment, which you can request by calling 855-486-7325 or by clicking the Submit a Ticket button on their website.
Currently, Unreal's services and phones are only available directly through their website. However, according to a June 2018 USA Today article, "Best Buy, Target, Amazon and Walmart will sell [their] service online in the coming weeks."
Unreal vs. Other Mobile VOIP Apps & Data Services
Commercially available VOIP services have been around since 1995, so almost two and a half decades have passed since their inception, which is more than enough time for this technology to grow by leaps and bounds. As a result, there are perhaps hundreds of VOIP services available.
Specifically referencing smartphone apps competing directly with Unreal Mobile, here were some of the most popular options at the time of our research, many of which also offered iOS and Android apps, free voice and video calls to dozens of countries around the world, messaging, and no contracts or hidden fees.
Here's just a popular sampling of the vast potential competition:
| VOIP Provider | Plan Pricing | Standout Features |
| --- | --- | --- |
| Unreal Mobile | $10 - $30/mo | Provides 1GB - 5GB of data per month with no limits (will drop down to 2G speeds once plan exceeded), iOS and Android compatibility |
| Mint Mobile | $15 - $30/mo | Requires purchasing a standalone SIM card, offers prepaid plans for up to 12 months in duration |
| Ooma | Calling app is free; Requires purchase of Telo hardware ($99.99 -$129.99) | iOS and Android compatibility, can also connect to business phones and home security for an added cost |
| MobileVOIP | App is free; call prices vary by destination | Only offers speeds up to 3G |
| Rakuten Viber for Mobile | $0.01 - $0.92 per minute, depending on the country | Android only, also available on PC and Mac computers |
| WeTalk | $1+ | iOS only (iPhone and iPad), users can earn credits by checking in daily, you can record calls |
| Talkatone | Free unlimited calling to US and Canadian numbers, int'l rates vary between $0.01 and $0.48 per minute | Can make calls to anyone (doesn't require both users to download the app), limited country availability, free inbound calls regardless of location |
| MagicJack (aka MagicApp) | Unlimited free calls to the U.S., Canada, Puerto Rico, and U.S. Virgin Islands; also free calls worldwide when both users connected to app; Premium plan = $10/yr | 3G/4G/LTE available away from Wi-Fi, includes added features like caller ID, voicemail, and call waiting/forwarding |
| Vonage | $9.99 - $14.99/mo | Can link with other residential and business services, can set up virtual numbers, add phone and fax lines to your account |
| Rebtel | $10/mo for up to 56 countries; $0.199 to $0.65 outside these areas | Connects international calls using local landlines for better connections (no data needed) |
This is obviously saying nothing of completely free options (depending on where and who you're calling) like Google Hangouts and Skype, as well as national brand name carriers like Verizon, AT&T, Sprint, T-Mobile, and MetroPCS, to name just a few. How can you choose which way to go?
Perhaps the first thing to keep in mind is that according to the USA Today article cited earlier, Unreal "buys the[ir] data from No. 4 wireless carrier Sprint and resells it." Companies like these—known as mobile virtual network operators, or MVNOs—often provide less expensive, more flexible plans than the companies they're purchasing from.
The downside is that the data for these 'lessee' customers are frequently capped meaningfully lower than if they were signed up directly through the parent company. "For example," writes Stephen Layton for NerdWallet, "Cricket Wireless LTE data speeds are capped at 8Mbps, whereas AT&T customers can enjoy LTE data speeds of more than 20Mbps, depending on the location."
Once you understand this core difference, it's mostly going to come down to which companies offer the lowest rates (and best audio and video quality) to the countries you're looking to contact. This is in addition to standard considerations for any other products or service, such as general online customer feedback.
Let's conclude by finding out how all of this stacks up for Unreal Mobile.
Is Unreal Mobile a Better VOIP Provider?
Los Angeles-based STS Media, Inc. (Unreal Mobile's parent company) held a B rating with the Better Business Bureau, based on more than 420 customer reviews (nearly 70 percent of which were negative) and 1,190+ closed complaints, as of 6/20/18.
Granted, since Unreal Mobile is a brand new service, all of these revolved around the company's FreedomPop service, although most seemed to reference service and support concerns. The company responded in each instance with a resolution.
Outside of customer reputation, we can see from our table in the previous section that Unreal Mobile is one of the only mobile VOIP providers who also offers data, which could be a big deal if this aspect is at the top of your list. However, from a price perspective, we can see that there are free competitors that might serve you better, depending on where you need to contact, and how you need to reach them (e.g., voice, text messaging, video, etc.).
Given everything we've discussed, though, Unreal Mobile seems to stand behind their services with a 30-day refund policy. As a result, you might not have much more to lose than a bit of your time for giving them a try.
Just keep in mind that if you don't have a traditional cable subscription and stream most of your media (movies, TV shows, etc.) through a smartphone, tablet, or other device, you can use anywhere between 1GB and 3GB per hour. So, if you tend to enjoy content like this away from a Wi-Fi connection, a VOIP data service like Unreal Mobile might not be at the top of your list.
» See Also: How I Cut the Cord and Keep TV, Internet, and Cell Phone Bills Under $150
Couldn't get iPhone 6s (unlocked from Apple) running on Sprint to work

By

Ted W.

,

Michigan

,

Jul 21, 2018
Verified Reviewer

Multiple emails back and forth, I do give them a decent try to activate the SIM for transfer but never happened.

I had service already with another SPRINT MVMO partner, for a couple of years. I just don't think they've vetted their entire portal process well enough yet.

Bottom Line: No, I would not recommend this to a friend

---

2 out 3 people found this review helpful

Poor customer service.

By

Peter C.

,

New York

,

Jun 30, 2018
Verified Reviewer

Have been waiting five days for shipping information. Hard to get on the phone. They do not answer emails. What can I say about a phone I can't get shipped?

Bottom Line: No, I would not recommend this to a friend

---

Advertisement

---