UNREAL Mobile Reviews
Claimed This company has claimed this profile, is getting alerted on any new customer reviews entering this page, and may engage in dialogue with its customers to address their matters.

Companies cannot pay money or provide goods in order to remove or alter customer reviews.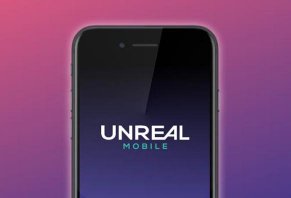 In addition to Unreal Mobile's unlimited mobile data plans, the company offers useful tools like data rollover, encryption and privacy tools, and the ability to share data with friends.
About UNREAL Mobile
Using FreedomPop's platform starting in June 2018, UNREAL Mobile is a service that promises to deliver unlimited talk, text, and data plans starting at just $10 per month, whether you're using an existing phone or a new one.
The website advertises you'll also gain access to encryption and privacy tools, ad-blockers, data speed controls, and nationwide network coverage and Wi-Fi calls. You can use your phone number across any device, as well as rollover unused high-speed data, share it with friends, and get plan bonuses for staying on as a customer.
If you're used to paying $40+ per month for your smartphone contract, Unreal's $10 per-month cost might seem, well, unreal. Are there any catches, though? And how does their performance compare to other low-cost data services?
We'll take everything step by step in this brief article.
How Does Unreal Mobile's Service & Work?
The FAQ on Unreal's site does a great job explaining how everything functions, but here's the Cliffs Notes version:
Using the native phone application on a device like a smartphone, or Unreal's app downloaded to a device like a tablet, customers can make standard calls through a cellular network, or VOIP calls through a data network.
By default, their service is set up so that sending and receiving calls and text messages is handled via cellular, with Wi-Fi/VOIP as a secondary method. According to a company representative we spoke with:
We want our users to have the flexibility to make and receive calls from a US number when traveling internationally. They can do so with VoIP calling. The ability to switch this service on can be simply done by toggling Wi-Fi calling via the UNREAL Mobile app. Inside the app, you will also have access to manage your account, contacts, and enable/disable features such as Private Internet and Ad-Block.
With these fundamentals in mind, before downloading and utilizing the Unreal Mobile app, there are a couple of steps you'll need to take.
Verifying if Coverage is Available
First, you'll need to find out if coverage is available in your area, which you can do by entering an address on the Coverage Map page on the Unreal website. Keep in mind the company emphasizes this only provides "high-level estimates of [their] wireless coverage. Coverage is not available everywhere and varies based on a number of factors." No additional details are provided.
However, one thing that stood out to us is that according to their coverage map, Unreal Mobile's 4G service is available almost exclusively available in the eastern half of the US. Their 3G service expands this area by a bit into the western region, but we could imagine this might present an issue if you live in, or travel to, this area of the country frequently.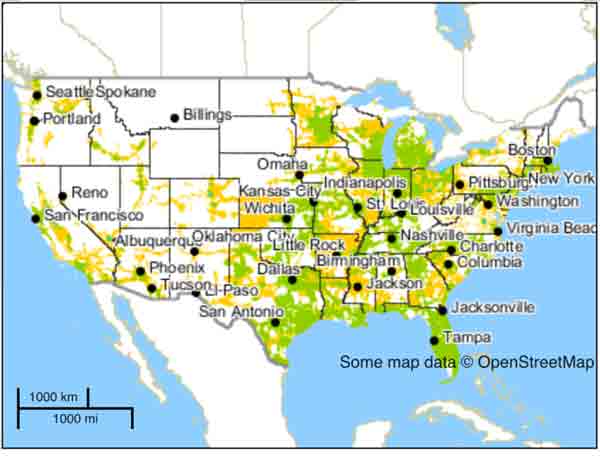 In this coverage map pulled directly from their website, we can see Unreal Mobile's 4G coverage area in green, with 3G represented in yellow. Credit: STS Media, Inc.
Verifying if You Can Bring Your Own Phone
While ascertaining coverage only requires entering an address, doing the same if you plan on bringing your own phone is a bit more involved. You'll have to enter your zip code, email address, and phone number, as well as the MEID or IMEI number on your smartphone.
While the address bar indicated a secure connection during our research, we also noticed a disclosure underneath these fields that read, "I understand that UNREAL may send me telemarketing calls and text messages via automatic telephone dialing system. You are not obligated to agree in order to obtain a product or service."
Finally, although you'll have the flexibility of using your Unreal Mobile number on any phone or tablet that has a data connection, you'll have to manually complete a carrier reset and transfer your number. The FAQ on their website provides instructions, although this could be intimidating for new users.
Unreal Mobile Call & Data Performance
Unreal's website emphasizes there are no data caps with their service, and you won't pay for any additional data used beyond your prepaid plan.
However, you will lose a significant amount of download and upload speed after surpassing your limit. While your standard limit will hover around 3G (0.4Mbps+) or 4G (5+Mbps) speeds, excess data consumption with Unreal Mobile will immediately drop you down to 2G (0.1Mbps) speeds.
We should reemphasize that if you're not connected to the internet, making a VOIP call will count toward your total data usage (although the company points out that VOIP data usage is actually credited back to you and ultimately does not count towards your monthly data allotment).
The Unreal website also adds activities such as:
"… browsing the internet, checking email, downloading applications or accessing social media apps like Facebook and Instagram. Everything you do on your phone that uses the internet will come from your data plan allotment.
If you connect your phone to a Wi-Fi network, data usage from these activities will not come from your UNREAL Mobile plan. It will instead come from your Wi-Fi network and whatever plan your Wi-Fi router is on."
Using the Unreal Mobile App
Based on the screenshots provided in Unreal Mobile's listings in the App Store and on Google Play, it appears you'll be able to:
See when your next payment is due
View your monthly ]plan and data amount used
Make calls via a keypad
Access self-help documents and tutorials
Activate tools like a virtual private network (VPN), ad-blocker, and data compression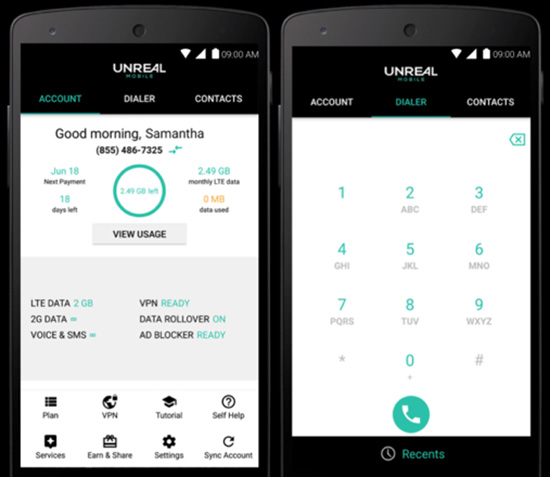 The VOIP technology used by Unreal Mobile's Android and iOS apps allows customers to make calls from many different devices, even without a cellular connection. Customers also have access to unlimited data for as little as $10 per month. Credit: Google
How Much Does Unreal Mobile Cost & Where Can You Buy?
To sign up for Unreal Mobile, you'll start by picking your phone on their website. These were the models available at the time of our research:
Alcatel Dawn: $49.99
Samsung Galaxy S6: $149.99
Apple iPhone 7: $299.99
From there, you'll pick how much LTE data you want:
1GB: $10/month
2GB: $15/month
5GB: $30/month
Then, you'll continue to checkout and pay.
Unreal's FAQ indicates you can upgrade or downgrade your plan at any time by logging directly into your account at my.unrealmobile.com. Their website emphasizes that "if you downgrade your plan, you may lose the extra data, so try to downgrade towards the end of your billing cycle. In addition, if you upgrade, you will incur a prorated charge and receive a prorated amount of data."
All Unreal Mobile purchases come with a 30-day money back guarantee, which begins from the shipment date. To qualify, "all equipment must be in like-new condition (reasonable wear and tear expected) and include all accessories included in original equipment package."
Pro tip: If you haven't opened the package, the company recommends refusing it during delivery, which can help you save any return S&H charges.
If your product is defective, Unreal will exchange it within 90 days of shipment, which you can request by calling 855-486-7325 or by clicking the Submit a Ticket button on their website.
Currently, Unreal's services and phones are only available directly through their website. However, according to a June 2018 USA Today article, "Best Buy, Target, Amazon and Walmart will sell [their] service online in the coming weeks."
Unreal vs. Other Mobile VOIP Apps & Data Services
Commercially available VOIP services have been around since 1995, so almost two and a half decades have passed since their inception, which is more than enough time for this technology to grow by leaps and bounds. As a result, there are perhaps hundreds of VOIP services available.
Specifically referencing smartphone apps competing directly with Unreal Mobile, here were some of the most popular options at the time of our research, many of which also offered iOS and Android versions, free voice and video calls to dozens of countries around the world, messaging, and no contracts or hidden fees.
Here's just a popular sampling of the vast potential competition:
| VOIP Provider | Plan Pricing | Standout Features |
| --- | --- | --- |
| Unreal Mobile | $10 - $30/mo | Provides 1GB - 5GB of data per month with no limits (will drop down to 2G speeds once plan exceeded), iOS and Android compatibility |
| Mint Mobile | $15 - $30/mo | Requires purchasing a standalone SIM card, offers prepaid plans for up to 12 months in duration |
| Ooma | Calling app is free; Requires purchase of Telo hardware ($99.99 -$129.99) | iOS and Android compatibility, can also connect to business phones and home security for an added cost |
| MobileVOIP | App is free; call prices vary by destination | Only offers speeds up to 3G |
| Rakuten Viber for Mobile | $0.01 - $0.92 per minute, depending on the country | Android only, also available on PC and Mac computers |
| WeTalk | $1+ | iOS only (iPhone and iPad), users can earn credits by checking in daily, you can record calls |
| Talkatone | Free unlimited calling to US and Canadian numbers, int'l rates vary between $0.01 and $0.48 per minute | Can make calls to anyone (doesn't require both users to download the app), limited country availability, free inbound calls regardless of location |
| MagicJack (aka MagicApp) | Unlimited free calls to the U.S., Canada, Puerto Rico, and U.S. Virgin Islands; also free calls worldwide when both users connected to app; Premium plan = $10/yr | 3G/4G/LTE available away from Wi-Fi, includes added features like caller ID, voicemail, and call waiting/forwarding |
| Vonage | $9.99 - $14.99/mo | Can link with other residential and business services, can set up virtual numbers, add phone and fax lines to your account |
| Rebtel | $10/mo for up to 56 countries; $0.199 to $0.65 outside these areas | Connects international calls using local landlines for better connections (no data needed) |
This is obviously saying nothing of completely free options (depending on where and who you're calling) like Google Hangouts and Skype, as well as national brand name carriers like Verizon, AT&T, Sprint, T-Mobile, and MetroPCS, naming just a few. How can you choose which way to go?
Perhaps the first thing to keep in mind is that according to the USA Today article cited earlier, Unreal "buys the[ir] data from No. 4 wireless carrier Sprint and resells it." Companies like these—known as mobile virtual network operators, or MVNOs—often provide less expensive, more flexible plans than the companies they're purchasing from.
The downside is that the data for these 'lessee' customers are frequently capped meaningfully lower than if they were signed up directly through the parent company. "For example," writes Stephen Layton for NerdWallet, "Cricket Wireless LTE data speeds are capped at 8Mbps, whereas AT&T customers can enjoy LTE data speeds of more than 20Mbps, depending on the location."
Once you understand this core difference, it's mostly going to come down to which companies offer the lowest rates (and best audio and video quality) to the countries you're looking to contact. This is in addition to standard considerations for any other products or service, such as general online customer feedback.
Let's conclude by finding out how all of this stacks up for Unreal Mobile.
Is Unreal Mobile a Better VOIP App & Data Service?
Los Angeles-based STS Media, Inc. (Unreal Mobile's parent company) held a B rating with the Better Business Bureau, based on more than 420 customer reviews (nearly 70 percent of which were negative) and 1,190+ closed complaints, as of 6/20/18.
Granted, since Unreal Mobile is a brand new service, all of these revolved around the company's FreedomPop service, although most seemed to reference service and support concerns. The company responded in each instance with a resolution.
Outside of customer reputation, we can see from our table in the previous section that Unreal Mobile is one of the only mobile VOIP providers who also offers data, which could be a big deal if this aspect is at the top of your list. However, from a price perspective, we can see that there are free competitors that might serve you better, depending on where you need to contact, and how you need to reach them (e.g., voice, text messaging, video, etc.).
Given everything we've discussed, though, Unreal Mobile seems to stand behind their services with a 30-day refund policy. As a result, you might not have much more to lose than a bit of your time for giving them a try.
Just keep in mind that if you don't have a traditional cable subscription and stream most of your media (movies, TV shows, etc.) through a smartphone, tablet, or another device, you can use anywhere between 1GB and 3GB per hour. So, if you tend to enjoy content like this away from a Wi-Fi connection, a VOIP data service like Unreal Mobile might not be at the top of your list.
TERRIBLE service

By Larryq E.

,

Atlanta, GA

,

Jul 26, 2019
Verified Reviewer

They take FOREVER to port numbers - no one knows anything, automated help call system is hellish.

The people are nice but cannot do ANYTHING.

They will also say ANYTHING.

Bottom Line: No, I would not recommend this to a friend

---

Complete crap

By Raymond P.

,

Texas

,

Jul 25, 2019
Verified Reviewer

UNREAL was very happy to take my money for a 1-year up-front payment, then I had to wait for them to send me a SIM card.Once received and installed, with my phone's APN updated, all I could get is errors. No calls in or out. When I went to their website, this is what I saw:


Alert: Your UNREAL Mobile service is inactive due to an unforeseen technical issue. Please Click here to contact customer service.

Of course, clicking where told did nothing but drop me at the list of problems and issues, so that I could try and figure out what the problem was. No matching problem found.

So then I tried to call them, and found out why they named the service "unreal." Nobody answered regardless of how many times I tried. Once, after a 15 wait on hold, they simply disconnected the call!

Now I have to fight to get my money back. I expect problems, like finding someone to talk to about it.

DO NOT USE UNREAL MOBILE.

Bottom Line: No, I would not recommend this to a friend

---

Advertisement

---

Satisfied in view of very low monthly price

By Craig H.

,

Wilmington, DE

,

Jul 23, 2019
Verified Reviewer

Even without previous experience with a smartphone, I had no difficulty getting UNREAL's ATT/GSM service working with UNREAL's SIM card and a new Nokia purchased through Amazon. UNREAL still advertising $10/month for 1 GB certainly seems inappropriate since the price was effectively increased to $12.99, but still this is about the least expensive available. I like that unused 4G can be indefinitely rolled over; I now have a bank of more than 5 GB, because I mostly use WiFi. Communication with UNREAL is available mostly through email. I don't like that UNREAL does not offer the ability to set caller ID (for example to my name) instead of a geographic location based on UNREAL-assigned phone number.

Bottom Line: Yes, I would recommend this to a friend

---

Extremely deceptive

By John U.

,

Dallas, TX

,

Jun 14, 2019
Verified Reviewer

UNREAL Mobile ZERO STARS, same as FreedomPop. Has been hyped up in many write-ups. Here is my experience:

The info provided on their website and elsewhere is incomplete and deceptive.

1. It is a VOIP service. Means phone calls, texts all go through your data and not phone network. Your data must be turned "ON" to do anything or you should be on WiFi. With this type of set up, 1GB or even 5GB will be gone in no time and then they will bill the "Overage" to your credit card.

2. I tried to set up service. It was impossible. I tried on two phones. It showed LTE or H signal but no function. No calls no internet, nothing.

3. Customer service: I was first not able to set up. When I wanted their help to set up the service, the first thing they asked for "credit card". I said "why do you need a credit card, the SIM and plan are already paid for". No straight answers. I had to dig it out of him, "I am going to charge this VIP Service to the card". I did not bother asking, how much. He did tell me, for free, try a different browser. Well, the different browser worked to at least get the set up going and signal but still did not work as mentioned above. It was not the fault of "bring my own phone" either because I used two different phones which had been used with their network carrier previously.

4. The customer service answered as above only before I signed up with them. Once the "SIM was activated" and you have to enter the phone number to get to the customer service, then you only get "interactive help", no more live person. If they did have a live person, he is going to charge you a "VIP FEE" anyway.

I don't know what they are going to say when I ask them to refund my money, the "14-day money back guarantee!"

Bottom Line: No, I would not recommend this to a friend

---

Advertisement

---

$12.99 - NOT $10

By Jeffrey S.

,

Redlands, CA

,

May 31, 2019
Verified Reviewer

They just ELIMINATED the included "services" and jacked up the price by $2.99 (30%) with a "service fee" that supposedly covers fraud and billing costs (on something you are paying for a month ahead of time - so where's the fraud coming in?). If you ask about it they just respond (by e-mail) that they "changed their terms of service" and you can cancel if you want. Here are the posted off to the side (ZERO e-mail communication about changes - and why would I be logging in regularly to check on messages off to the side of my account page?!). I haven't even been using up the 1GB of data, so what are they complaining about? If they try that again it will be off to using unlimited from Sprint...

3/13/19 12:23 PM

To continue to offer the lowest priced unlimited plans, encryption and privacy features are no longer included in your bundled plan. Both services can be added to your plan anytime for a nominal fee.

-----

4/25/19 3:40 PM

We've recently updated your subscription. Please review billing section for details

The billing page says this:

UNREAL MOBILE Administrative Fee Admin fee helps defray costs related fraud prevention, customer support and payment processing

Notice how there is NOTHING in the notice (which is just visible online and NOTHING like a notice about change of terms was sent by e-mail) about even the amount of the change. Just "go look at your bill now" and see what wonders we charged you with. A REAL bunch of LOSERS.

Bottom Line: No, I would not recommend this to a friend

---

Fraudulent scam...BEWARE!

By Suba S.

,

New York

,

Apr 27, 2019
Verified Reviewer

Horrible, fraudulent scammers. Once the number is ported, you cannot get it back! They will not release it and have no human customer service except sales who hang up on you. No incoming or outgoing calls. Opened multiple tickets with no response or solution. This is awful. Beware, do not fall for this scam!

Bottom Line: No, I would not recommend this to a friend

---

All around bad

By Hilliare W.

,

New Hampshire

,

Mar 21, 2019
Verified Reviewer

The ads and information look great. For me, nothing came about as advertised. They may have customer service, but effectively it is not there. The website circled me around. I was charged for something that I didn't ask for. I thought I had canceled. I canceled again, and it is no simple task, they make it a long process.

Bottom Line: No, I would not recommend this to a friend

---

Complete SCAM!

By Jon L.

,

Sleepy Eye, MN

,

Feb 6, 2019
Verified Reviewer

I ordered a mobile hotspot from FreedomPop/UNREAL Mobile a few months back. It arrived in a box on my front porch shortly after. I opened it up, and since there were no real instructions, installed the app on my phone and turned it on. I managed to get the hotspot activated.

I connected to it via my TV and sat down to watch a movie on Netflix, knowing that I only had 2GB of high-speed data before it slowed down to a low-speed connection. Halfway through the movie, the connection stopped entirely. No connection. Since I was led to believe that there was no limit to the throttled connection, I thought, "What a ripoff. I'll cancel in the morning."

In the morning, I couldn't locate a customer service number or website, so I turned on the device to see if I could find anything on it. Wi-Fi was working again! I blamed it on a tech malfunction and left the service active.

I used the hotspot sporadically to check emails and as a backup source of data while traveling at work. I figured I'd give it another chance when the billing cycle renewed.

When nothing improved over two billing cycles, I went through the app, to my account page and canceled. I got the typical confirmation email and moved on...or so I thought...

Here's where the real scam starts...

I received an overdraft notice from my bank account that I had been trying to close out. When I logged into my account, I discovered that UNREAL Mobile had charged me for two hotspots instead of the one. On top of that, they had been charging me for a second account all along. Not only that, but the second account was still active! And all of these unknown charges had caused me 100's of dollars in overdraft fees!

Since months had passed, I had no account info. There was no way I was going to turn on the hotspot for info. So I searched the internet until I found an email link for customer service. I explained everything and said I needed a refund for everything related to the second hotspot and connected account, which I had never ordered, received, or used.

A day (and more overdraft fees) later, I got a scripted nonsensical response from JOSE D., telling me that I was ineligible for a refund because I hadn't canceled my NONEXISTENT service within 14 days of not receiving it.

I'll summarize from here...

For the next week, I argued with this mindless pool of intellectual vomit, Jose D, demanding to speak with someone else. But only Jose D. replied, with his scripted, repetitious B.S. Until I finally stumbled across a phone number, on a review page, filled with people ready to lynch Jose D.

I called and spent hours on the phone with another genius, who tried the same thing, then tried to convince me that he was waiting for a decision from their headquarters, and would email me with their decision. At that time, I broke it down to legal terms, and informed him that I had been recording the entire conversation as well as keeping a record of all the e-mails between UNREAL and myself. I told him that the transaction was fraudulent, and constituted credit card fraud. If my money were not returned before the end of the week, charges would be filed which would include charges against him personally. It would be in his best interests to stay on the phone with me until the issue was resolved.

Miraculously, at that time, he received an email from his superiors, saying they would return $60 of my money within a week.

I was so angry, I didn't bother to fight for the rest of my money. I just wanted to be done with them. Thankfully my bank has agreed to waive the overdraft fees, since the situation was caused by UNREAL Mobile.

Bottom Line: No, I would not recommend this to a friend

---

Worst phone system ever

By K F.

,

St. Pete Beach, FL

,

Feb 5, 2019
Verified Reviewer

Absolutely the worst phone system ever. The phone/text system works off of an app which is one more step to make texts and was difficult to get around. There is a delay in phone conversations making them confusing, also, many incoming calls were dropped or never received, connectivity was sporadic even when the phone showed several bars and clarity was mostly poor. I would definitely not recommend the yearly discounted rate as you could lose it all while trying to switch.

Bottom Line: No, I would not recommend this to a friend

---

Scam and borderline consumer fraud

By Shane A.

,

Huntington Beach, CA

,

Dec 31, 2018
Verified Reviewer

I want to preface this review by stating that I work in the IT field providing technical support for many years now and am well versed in setting up and using new software/technology on computers and mobile devices.

This is one of the least user/consumer friendly apps and service I've attempted to use and highly do not recommend you attempt to do so either.

My experience:

I installed the UNREAL Mobile app on my phone and created an account on their website. Attempted to activate my UNREAL service by porting over my old number from Verizon and experienced issues with some of the information that I provided. I was not able to locate any technical support avenues on their website or app, and ended up losing my number of over 10 years that I also needed to access some accounts I use for working.

After doing a Google search for UNREAL's support, I came across their entirely separate support website. Created another account and contacted support about the issue to see if there was anything they could do to help me retain my number.

After waiting a few days for a response, "Jose D." finally replies with a copy paste with part of the FAQ page. Long story short here, we go back and forth for literally three weeks with him providing nothing but scripted or copy pasted answers to my questions one time a day. I asked for a supervisor multiple times throughout the ticket and was denied and instructed "the only way to speak to a supervisor is to call in to our support," I attempted to start multiple new support tickets, even one with the title "Anyone but Jose D. Please reply!" and he is still the only person to ever send me a response. He is truly one of the most useless and incompetent human beings I've ever had to interact with.

I still have not punched out the SIM card from UNREAL, so I had to install a WiFi-only calling app to call into their support line hoping to speak to someone with a higher IQ than they have fingers. This is where I get to talk to "Kervin L.," equally incompetent and useless, and also a liar.

Our first conversation I immediately asked to speak with a supervisor since "Jose D." insisted the only way to reach a supervisor was via phone. Kervin responds with that "It's late in the day, so all of the supervisors had gone home already. If you really want to talk to one you can call in tomorrow they will be here." Then proceeds to ask me why I'm calling, so I explain the situation I've been trying to resolve with Jose D. for the last three weeks and then told him that for some reason while I was dealing with my support ticket with Jose, UNREAL had activated my service and automatically assigned me a number, which didn't even have the same area code as my previous number. So he says "he's going to talk to his support team about what he can do to get my number changed and the service refunded." At this point, I've just requested a full refund of the $60 I spent on the service and I don't want to deal with it anymore.

The next day I call in early and get Kervin again (surprise surprise?) and ask to speak with a supervisor again. He informs me that "there are no supervisors on shift, and I've spoken with my support team and there's nothing we can do for you as far as a refund, but we can offer you an additional three months of service at 1 or 2gb of data per month." So despite almost 1/3 of the total service time gone, losing my longtime phone number, and literally never having a single answer when I asked "what I did to actually activate this service besides creating login info and attempting to port over my old phone number?" they can't, or at the very least are unwilling, to offer a refund. (Consumer fraud? Since when do you have to pay to contact customer service for a service you're not even utilizing? The unreal SIM card is still attached to the plastic it came in.)

After asking Kervin why he thought it was okay to treat a paying customer that way and flat out lie to them about when or if a supervisor would be available to speak to he just started to talk louder to try and overpower my voice on the phone. He then said "he would email me the address for the 'corporate office' if I wanted to make a complaint or request a refund." After three days I still had not received the email from Kervin, so I call in again. You may not be surprised, but it's Kervin again, I ask him where the email is, and he insists he sent it over already. After finally convincing him I did not receive it, he sends it over.

Now I'm left spending more time and money trying to use the speed of the post office to recover what should be a 5-minute refund.

If you're thinking about using this service please just take my advice and stay away from this flaming pile of worthless shit as you possibly can. I've opened up a support ticket with BestBuy to get this service removed from their shelves.

The borderline consumer fraud scam comes from the fact that I never fully activated this service despite my attempts for almost a month.

Bottom Line: No, I would not recommend this to a friend

---

UNREAL bad!

By Ludmila B.

,

Jacksonville, FL

,

Dec 21, 2018
Verified Reviewer

I was told that I will be able to use my new flip phone.

I got a SIM card from them for $11, then they told me my phone is NOT compatible. After that, I tried to cancel my account with them but they could not find my account.

But UNREAL charged me $33. For WHAT?

The customer rep will not listen to you, talking with you at the same time, like a robot.

I lost $44. Ha...

Good luck.

Bottom Line: No, I would not recommend this to a friend

---