Up4 Ultra Probiotics Reviews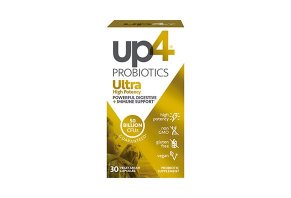 Packed with 50 billion colony-forming units (CFU) of nine bacteria strains per dose, the Up4 Ultra Probiotic supplement promises to deliver improved digestion and immune response.
About Up4 Ultra Probiotics
Up4 Ultra Probiotics is a high-potency, clean, and safe supplement that contains a blend of nine robust bacteria strains chosen for their ability to provide advanced digestive, immune, and wellness support.
As the company's highest potency formula, the website advertises its naturally acid- and- bile-resistant strains—50 billion colony-forming units per dose, to be exact—work naturally with your body to replenish good bacteria in your gastrointestinal tract, whether lost as a result of travel, high stress, or medication usage (specifically, antibiotics).
Furthermore, the company emphasizes it's non-GMO, vegan, kosher certified, shelf stable, and dairy, gluten, soy, and preservative-free.
Does this mean Up4 Ultra is the best probiotic for you? Here, we'll discuss the basics along with its ingredients, pricing, and competition so that you can make a more informed decision.
The Basics Behind Probiotic Supplements
Despite their clinical-sounding name, the concept behind probiotics is relatively straightforward: Inside our digestive tract live billions of bacteria cells, most of which are beneficial and play a key role in healthy digestion and immune response.
Whether due to a recent round of antibiotics, high levels of stress, a poor diet, less-than-stellar exercise habits, travel, or many other conditions, these beneficial bacteria can sometimes die off and be replaced by 'bad' bacteria, leading to side effects like indigestion, gassiness, bloating, and frequent illness, to name just a few.
However, as we discuss in the article above, purposely ingesting specific bacteria strains has been clinically proven over the course of decades to restore stable levels, and thereby improve digestion and immune response. As a result, there are perhaps thousands of probiotic supplements for you to choose from, many of which are available locally.
We'll talk more about this important aspect shortly, but first; let's discuss Up4 Ultra's specific formulation.
Which Ingredients Are Found in Up4 Ultra Probiotics?
According to the supplement facts label listed on the Up4 website, their Ultra supplement contains a 166 mg proprietary blend of the following probiotic strains:
Lactobacillus plantarum UALp-05
Lactobacillus acidophilus DDS-1
Bifidobacterium lactis UABla-12
Lactobacillus rhamnosus UALrh-18
Lactobacillus paracasei UALpc-04
Bifidobacterium breve UABbr-11
Lactobacillus casei UALc-03
Bifidobacterium bifidum UABb-10
Bifidobacterium longum UABl-14
Lactobacillus is one of the most popular bacteria families found in probiotic supplements, with many clinically substantiated benefits related to species like plantarum (irritable bowel syndrome, decreased flatulence), acidophilus (IBS, diarrhea-associated illness, urinary tract infections), rhamnosus (reduced rhinovirus infections, may even help women lose weight), and paracasei (reduced diarrhea; is often even added to infant formulas).
Following closely behind from a popularity perspective is the family Bifidobacteria. Lactis (reduced constipation, UTIs in children, modulated brain activity) is perhaps the most common species in the genus, while others include breve (may reduce cholesterol), bifidum (also may reduce cholesterol), and longum (some gastrointestinal diseases).
What about the numbers and letters following each species (UALp-05, DDS-1, UABla-12, etc.)? These are typically trademarked strains within species; almost like a brand name.
While probiotic strains like these have been used to deliver real-world benefits for many years, are there common side effects you'll have to endure as a result?
Potential Side Effects Related to Probiotics Like Up4 Ultra
Ironically, some of the most common side effects caused by probiotic supplements are the very ones their continued use may help treat: gas, bloating, and general digestive upset. Thankfully, for the vast majority of consumers, if they experience anything at all, these will pass within a few days.
Despite the general mildness of probiotic-induced side effects (Up4 Ultra or otherwise), it's always a great idea to speak with your doctor about your goals, along with potential side effects and medication interactions, before beginning any new dietary supplement regimen.
How Much Does Up4 Ultra Probiotics Cost & Where Can You Buy?
Up4's Ultra Probiotic is available from national brick-and-mortar retailers like Walgreens, along with online retailers like Amazon, Vitacost, Lucky Vitamin, and The Vitamin Shoppe. The price for one bottle (60 capsules) ranged between $38.97 and $63.91.
Note: The Up4 website provided a $6 off coupon on all Ultra purchases at the time of our research.
What Can We Learn From Up4 Ultra Customer Reviews?
On Amazon, Up4 Ultra Probiotic supplement had 50 customer reviews and an average rating of 4.5 stars at the time of our research. Most compliments seemed to reference effective results (improved digestion, reduced stomach upset, etc.) and competitive price, while the relatively few complaints related to no results and high price.
Average ratings and common compliments/complaints were similar across third-party online retailers.
From a company perspective, i-Health, Inc. is a wholly owned subsidiary of DSM Nutritional Products, who are headquartered in Cromwell, Connecticut, was founded in 2012 and also manufactures the popular competing probiotic supplement Culturelle.
They held an A+ rating with the Better Business Bureau, based on no customer reviews or closed complaints, as of 5/16/18.
How Can You Choose Between Up4 Ultra and Other Probiotic Supplements?
Whenever you're researching a new product, the easiest way to quickly find out the breadth of the competition is by typing a related phrase into any search engine, and then seeing how many relevant results pull up.
In the instance of probiotic dietary supplements, you'll find there are literally thousands of options competing for the same customers as Up4 Ultra, whether online or at your local pharmacy or big box retailer. Prices at the time of our research ranged anywhere between less than $5 to well over $80.
Given this wide price variation, not to mention differences in formulations, how can you choose the best probiotic for your needs?
We recommend that you start by examining whether or not there are a bunch of extra ingredients crammed into each capsule. You'll also want to make sure a complete list of each probiotic species is listed on the bottle's label, along with their colony-forming unit (CFU) count—although there seems to be limited clinical evidence linking higher CFU count with meaningfully better results in humans.
Pro tip: Along these same lines, keep in mind that—based on overall customer feedback—it doesn't appear there's necessarily a correlation between paying more for a probiotic supplement and improved benefits.
Other common attributes you'll want to look for in a probiotic supplement include: at least a 30-day refund policy (with no restocking fees), a company with a mostly positive online customer reputation, and a manufacturer who supports their claims with clinical evidence.
Let's wrap everything up and find out how these criteria stack up for Up4 Ultra.
Our Final Thoughts About Up4 Ultra Probiotics
Considering the manufacturer's time in business, their almost wholly—if not somewhat limited—online customer reputation, the supplement's reasonably competitive price, and the fact that many of the species found in their formulation come with a variety of clinically proven benefits, it seems like it might be difficult to go wrong with Up4 Ultra Probiotics.
Furthermore, they're available through several popular brick-and-mortar and online retailers who stand behind their inventory with robust refund policies, so you might not have much more to lose than return S&H charges if you give them a try and end up dissatisfied.