Upright GO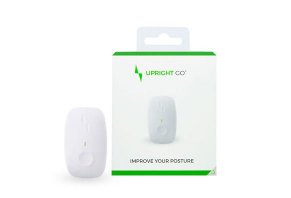 Upright GO combines slick technology and a simple app to help you know when you're slouching and, ultimately, help you form good habits that lead to better posture.
Upright GO Review: Will It Help to Correct Your Posture?
Upright GO is a wearable posture-correction device that uses motion-sensing technology and gentle vibrations to let you know when you're slouching.
The device is unique in that it's small and tracks your slouching much in the same way that a Fitbit would track your sleeping. It relies on technology, whereas other posture correctors we've reviewed rely on bulky devices to keep your back straight.
The company behind the Upright GO is Upright Technologies, Ltd., and is based in Israel. The company actually has two posture correctors, the other being the Upright PRO. PRO was the first device they released and, based on photos we've seen from Amazon, it is bulkier than the Upright GO.
In this review, we'll talk about:
How the Upright GO work
Discuss how prevalent bad posture is
Talk about how much the device costs
Summarize its consumer reviews
Compare it to other posture correctors
How the Upright GO Works
There are two facets to this product: the device and the app.
The device itself is just a couple of inches long and less than two inches wide. To put it on your skin, you'll use the alcohol pads included in your shipment to clean the area on your upper back to which you want to stick the Upright GO. Then, stick to your upper back one of the hypoallergenic adhesive gel pads included with the device.
According to various reviews we've read, the adhesive they use doesn't irritate your skin and, once you've to the device on your back, you hardly know it's there.
The device has two settings: vibration and tracking-only. Basically, the vibration setting will enact a vibration alert intended to remind you to sit up straight. At the same time, the device is communicating with the Upright app to track your posture.
When you open the app, you'll see tracking timeline. Red sections of the timeline indicate times at which you slouched, whereas green indicates times at which you had good posture.
When you set your device to tracking mode, it doesn't initiate a vibration alert. Your Upright GO will silently track your posture. You can view the results in the app.
The app will also set up a training program for you that challenges you with daily goals focused on maintaining good posture for a certain amount of time.
This training, along with precise tracking, is intended to build a habit of good posture. The product's website notes that the device can start improving your posture in as little as 14 days.
Some other important details:
The app works on iOS and Android phones
Device charges via a mini USB cord
Comes with nine adhesive pads that last up to 10 days each
Shipment includes a travel case and posture training guide
A Quick Look at America's Posture Problem
What makes the Upright GO such an interesting product is that it attempts to solve a problem that's pretty pervasive in the United States: bad posture.
According to the American Chiropractic Association (ACA), bad posture can lead to a variety of conditions.
"Poor posture can lead to excessive strain on our postural muscles and may even cause them to relax when held in certain position for long periods of time," they write on their posture page. "For example, you can typically see this in people who bend forwards at the waist for a prolonged time in the workplace. Their postural muscles are more prone to injury and back pain."
While the ACA doesn't provide any specific data regarding the number of back injuries caused by poor posture, it does note quite frequently that bad posture can lead to back pain and back injuries.
Upright GO Pricing
At the time of publishing, you could by Upright GO at three different price points:
One device: $79.95 + $5.99 shipping
Two devices: $149.93 + free shipping
Three devices: $199.90 + free shipping
Once you choose the option you want, the site will take you to a page that pitches a three-month supply (10-pack) of adhesive pads and alcohol wipes for $6.97. Adhesive pads are available on the Upright website at $6.95 for 10 pads or $13.95 for 30 pads.
The product's website states that the Upright GO has a 30-day money-back guarantee – if it doesn't work, you can send it back and get a refund.
However, there are some very specific criteria you need to meet in order to make the return, criteria which require you to use the app and provide your results to confirm that your posture didn't improve.
The fine print we read through said that to qualify for a refund, you have to meet your daily goal at least four days in a row via the app. All the accessories you received with the device need to be included with your return and the Upright GO must be in "good physical condition" – it can't be damaged or broken.
If you don't include all the original parts in the return, the fine print says you could be subject to a 15% restocking fee.
Upright GO Customer Reviews
We checked out Amazon reviews of this product and found that it rates pretty well with its customers. More than 590 reviewers gave it an average of 3.9 stars. Common phrases used in reviews were "easy to use," "highly recommended," and "super easy".
The main complaints about the product focused on how the adhesive pads did not work and the device kept falling off. One reader suggested buying double-sided skin tape as an alternative to the pads. We found a pack of 50 double-sided tape strips on Amazon for $9.15.
Conclusions About Upright GO
We believe that Upright GO is an innovative way to correct posture because it leverages your habits in order to correct your posture, whereas back braces do all the work for you.
The reviews of the product were positive at the time of publishing, indicating that most customers were satisfied with their experience.
Keep in mind that the main issue with Upright GO may be how well it sticks to your skin. Those with oily skin or who sweat a lot may have issues keeping the device on your back. If you run into this problem, double-sided skin tape may be a workable solution.
The main drawback to this device is price, as it's considerably more expensive than back-brace style solutions for poor posture.