Upstep Insoles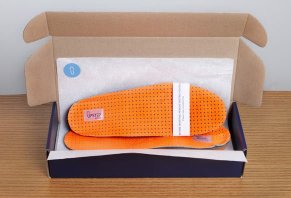 Upstep, a custom orthotics company, makes maintaining foot health as easy as ever with a completely online process through which you can get fit for orthotics designed specifically for your feet.
Upstep Insoles Review: Are They Worth It?
Upstep is a foot specialty website who sends you an impression kit they'll use to create orthotics specially designed for your unique foot shape and needs.
What's interesting about this product is the ease with which you can get a custom fitting – there are no appointments to schedule or insurance hassles to worry about.
The Upstart website features Dr. Phil Wells, a musculoskeletal podiatrist based in the United Kingdom. According to Wells' LinkedIn profile, he has "designed and manufactured over 50000 pairs (of orthotics) for both my own patients and for practitioners using the most up-to-date biomechanical principles, research and manufacturing methods."
According to Wells' U.K. website, his practice is called "Feet etc." and has been in business since 2010. The site adds that Wells is a member of the Society of Chiropodists and Podiatrists.
In this review, we'll discuss what the process is like for buying a pair of orthotics from Upstep, what the research says about the effectiveness of orthotics and inserts, and how much they cost.
We'll also compare this service to other services like it, then conclude with our overall thoughts about the service.
How the Upstep Service Works
The Upstep website offers several different types of orthotics. Each one Is designed for a specific type of lifestyle. The two main lifestyle categories are "Everyday" and "Sport." The former is intended for those who are on their feet all day at work or at home, or you're just looking for orthotics for "everyday activities," the website says.
The other category for which they make orthotics is Sport, and in this category of orthotics, there are multiple subcategories that include various sports like basketball, soccer, golf, and tennis. According to the site, Upstep sport orthotics have designs specific to the demands of each sport.
Here's an excerpt from their golf page:
"Our Golf orthotic is specific to whether you are left or right handed, as golf places unique stresses on each foot. These stresses result in symptoms ranging from aching arches, painful heels or pain in the big toe or ball of the foot. Custom made orthotics improve comfort when walking and stability when powering through your swing."
You can check out the descriptions for the type of lifestyle you lead or sport you play, or you can click on the blue "Start Here" button in the top right part of the screen.
When you click Start here, Ustep will ask you how you'll use your custom orthotics. We chose "Everyday" then "Normal Everyday Activities." It's important to point out here that, at the time of writing, all the orthotics were the same price no matter which lifestyle and activity you chose.
Once you've chosen your lifestyle and activity, Upstep will take you to the following page: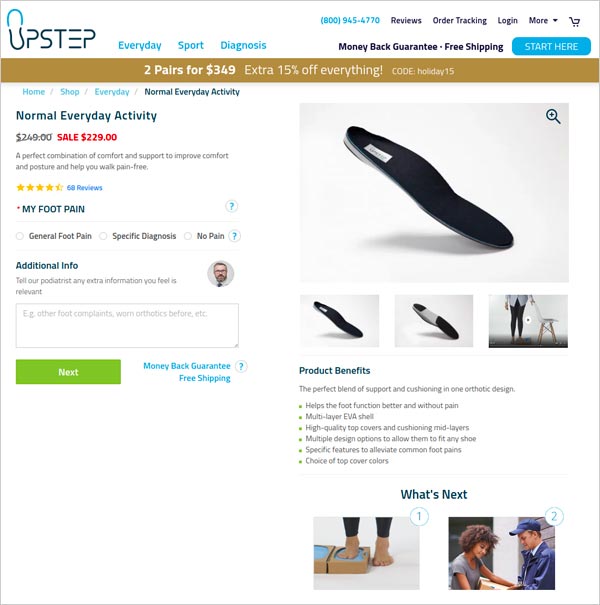 It's on this page where you'll choose the level and type of foot pain you have. If you choose "Specific Diagnosis," you can include your personal podiatrist's diagnosis in the Additional Info box.
Next, Upstep will give you a series of choices and questions about the shoes you wear, including shoe size, shoe brand and even shoe model. Of note is the questions about whether or not your shoes have a removable insert. When you click "No," the photo of your orthotic will change – a layer of material disappears so that the insert will fit.
Once you've given them all the possible details about your feet, any foot conditions and your shoes, you can add the Upstep orthotic to your cart.
At this point, the fun begins. You'll submit your order and then Upstep will send you an impression box that unfolds into two halves just like a book. In each half is a brick of moldable foam. This is the mold that Upstep uses to create your custom orthotics.
Per instructions we viewed in a company video, you'll want to steady yourself by putting a hand on a chair, then place the heel of your foot into the corresponding foam mold and let it sink down until it hits the bottom, then slowly transfer your weight to the front of your foot.
When you're done molding both feet, close up the box and ship it back to Upstart in the shipping bag they provide.
It will take up to 14 business days for them to receive your impression box, create your orthotics based on the impressions and then send your customer orthotic inserts.
According to the website, the company makes the orthotics with plastic and a co-polymer EVA foam. FOAM Sealant Pty. Ltd., a foam manufacturer, notes that this type of foam is good for "vibration and impact absportions" and that it is "extremely versatile with innumerable uses and applications that are generally taken for granted by most of us."
Understanding the Difference Between Inserts and Orthotics
If you've gone shopping for foot inserts, then you've probably figured out that there are two main types of products: inserts you can buy over-the-counter and orthotics you get from a podiatrist.
One of the main brands of inserts you'll find are Dr. Scholl's and, at the time, cost anywhere from around $14 to $50. At some retailers – Walmart is a good example – Dr. Scholl's has a custom-fit machine. You stand on a platform that senses the pressure points on your foot and then the machine recommends a certain type of Dr. Scholl's insert.
According to WebMD, aside from the over-the-counter/prescription difference, inserts and orthotics serve different purposes.
"Inserts that you can buy in stores without a prescription can provide cushioning and support," the site notes. "Orthotics are different. They are prescription medical devices that you wear inside your shoes to correct biomechanical foot issues such as problems with how you walk, stand, or run."
This is a key point. Orthotics are meant to correct a problem, for the most part, whereas inserts provide comfort. So, this is why it's important to include information about pain or any foot conditions professional have diagnosed you with as you complete your order on Upstart.
Based on this information, we believe that Upstep falls into a middle ground between insert and orthotic, primarily because they don't require a subscription but the depth to which they fit the orthotic to your foot (and the price...more on that later) go beyond the realm of inserts.
How Much Upstep Orthotics Insoles Cost and the Return Policy
At the time of publishing, one pair of Upstep orthotics cost $229, which was 15 percent off their normal price of $249. They also offered a deal where you could get two pairs of orthotics for $349 instead of $458.
With such a significant amount of money at stake, it's important to understand Upstep's return policy just in case you aren't happy with your orthotics. According to the company's FAQ page, you have 100 days to make your return.
If you feel the need to initiate a return, call 800-945-4770 or send an email to customercare@upstep.com. You'll need to provide Upstep a reason why you want to return the orthotics. If they approve your return, they'll give you a pre-paid postage print-out you can tape to the box you return your orthotics in.
How Upstep Orthotics Insoles Compare to Hammacher Schlemmer Custom Fit Insoles
As we did research for other mail-order orthotics, we came across Custom Fit Insoles from Hammacher Schlemmer, an online marketplace selling goods that come with a lifetime guarantee.
What caught our eye about this particular product is that the purchase process is nearly identical to Upstep. The manufacturer sends you an impression box in which you place your feet so the company can get a mold upon which they create insoles made with EVA.
We see three main differences between this product and Upstep. First, Customer Fit Insoles costs $99.95 plus $7.95 for shipping, whereas Upstep custom orthotics cost more than $220.
Second, you can't provide the manufacturer all your foot and shoot information during the checkout process at Hammacher Schlemmer, whereas you can do all of that during checkout with Upstart. Our assumption is that you'll provide the Custom Fit Insoles company with your information when you send the impression box back to them.
Finally, it's really important to point out that Hammacher Schlemmer item is branded as an insole as opposed to an orthotic. According to WebMD, the difference lies in purpose. Insoles provide support while orthotics try to cure a known foot condition.
Other details to note are that the Upstart orthotics are made with EVA and plastic, whereas the Custom Fit Insoles only use EVA. Second, Upstart has a 100-day return period whereas Custom Fit Insoles benefit from Hammacher Schlemmer's lifetime warranty.
In our opinion, we believe that Upstep is the better choice if you have a diagnosed foot issue and you want an easy way to get orthotics without having to pay for a doctor's visit.
Customer Reviews of Upstep Insoles
At the time of publishing, we found multiple reviews about Upstep at Trustpilot.
Common praises from reviewers focused on how well the orthotics work, with one person saying their Upsteps relieved their plantar fasciitis pain enough to where they could walk and run again.
Of the more than 30 reviews the company had, only one was a one-star review. That particular customer said the orthotics were "worthless" and that they weren't any better than insoles. However, this opinion was a minority one, as most customers seemed happy with their purchase.
The Final Word: Our Overall Thoughts About Upstep Orthotics Insoles
Based on our research and analysis of this product, we've come to a few conclusions about their purpose and their value. WebMD pointed out that orthotics are available typically via a prescription, mainly because getting the right orthotic requires a doctor who knows your feet and understands which type of support your foot condition needs.
So, we'd suggest talking with your podiatrist about what's wrong with your feet and what type of solutions he or she recommends.
If custom orthotics are needed, Upstep can provide them. One tip we can provide is to ask your podiatrist which materials the recommended orthotics use. Compare those with what you get in your Upsteps (Secolino and Poron are the technical names) and see what you learn.
Second, ask your podiatrist for advice on how to break in your orthotics. Your inclination may be to wear them whenever you put shoes on but your podiatrist may recommend that you wear them for a few minutes a day until you break them in.
Price-wise, we think Upstart is a bit on the high side, not only because of the Hammacher Schlemmer price we discovered but also because there are other, less popular custom orthotics sites that offer the same service as Upstart.
Orthotic Shop is one of those alternatives, as they provide a pair of orthotics with color customizations for $149.95.
In general, we think that Upstart's concept of mail-order, custom-fit orthotics can be a valuable resource for people with foot pain. However, there's enough evidence in our own research to indicate you may be able to get a comparable product for cheaper.
Orthotics were too long

By Fred S.

,

Stroudsburg, PA

,

Feb 1, 2020
Verified Reviewer

Purchased Upstep on 12/27/2019, received them on 1/30/2020, upon opening the box I noticed that they were longer than my shoes. I contacted customer service, she said to either cut them down myself or send them back and it will take an additional 16 days to receive them back. When I spend almost $300, and they are custom made, they should be correct when I receive them.

Bottom Line: No, I would not recommend this to a friend

---

Advertisement

---