UpWalker Reviews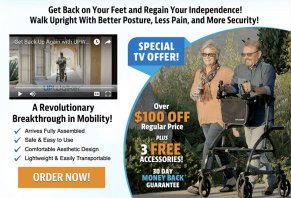 The UPWalker is a walking aid designed to address some of the shortcomings of traditional walkers and rollators, such as poor posture and a lack of support.
About UpWalker
The UPWalker is a mobility enhancer that claims to help you walk upright with better posture, less pain, and more security, due to its elevated, adaptable design. The device promises to help you regain your independence, allowing you to maintain a more active lifestyle both indoors and out.
The UPWalker frame weighs in at 23 pounds and folds up for storage and transportation. It features soft, adjustable-height armrests and a sliding chair with built-in back support, allowing you to sit comfortably and make the transition from sitting to standing more easily.
To that end, it also features an easy locking handbrake system that allows you to come to a stop or park the walker whenever needed.
The manufacturer states that the UPWalker is designed to help those with mobility issues, including people living with neurological, orthopedic, cardiovascular and other health disorders, providing them with a more effective method of getting around, while also restoring dignity in the process.
Specifically, the company claims that it addresses the shortcomings of traditional walkers, including the risk of falling, slouching, and a general lack of confidence and comfort. Is this really what you can expect, however?
Will the UPWalker Really Cause Less Pain and Discomfort Than a Traditional Walker?
The makers of the UPWalker state that the device's unique design allows it to provide a more comfortable and secure walking experience, leading to less strain on the wrists and hands, especially for those dealing with arthritis.
The website reports that a laboratory-based research study was carried out with 30 walker users who tried out the LifeWalker Upright (a previous but functionally similar model of the UPWalker), who stated that the product enabled them to walk fully upright, resulting in better overall back posture.
We're also told that users felt a greater sense of safety and stability when using the device as compared to a conventional rollator or walker. Finally, they assert that the forearm support on the product allowed users to offload weight on the wrists and joints, leading to a more comfortable experience that was easier on the body.
Despite these optimistic reports, the actual study itself is not linked, and we did not encounter it published on third-party websites during our research.
We left a message with the staff at Shirley Ryan Ability Lab/Rehabilitation Institute of Chicago where the study is listed as originating from, but hadn't received a response as of publishing. As soon as we do, we'll be sure to update this article accordingly.
So, what does all of this mean for you? On the surface, we can see how the raised design and forearm support central to the UPWalker's construction could potentially enable users to feel more comfortable and secure when out and about, and we can even envision the device helping certain users to regain some degree of their independence, as claimed by the manufacturer.
For instance, if you are dealing with arthritis or chronic back pain, it would reasonably follow that a walker capable of taking pressure away from these crucial areas would allow for a boost to mobility, as well as a reduction in overall pain, as described on the product's website.
Of course, this likely isn't the case for everyone, but we could also imagine the UPWalker's design to be more comfortable and enjoyable for many who simply prefer walking without the "hunched-over" posture that comes along with more conventional devices.
Judging purely based on of the information we're given, it looks as though the potential is there for users dealing with mobility issues to have a better experience overall with the UPWalker.
UPWalker Pricing & Returns
As of this writing, the UPWalker is available exclusively online from the manufacturer's website. It is sold for $495, and shipping and handling are free, except to Hawaii and Alaska, which will run you an extra $130. The FAQ page states that the UPWalker is sold as a cash pay product, and recommends reaching out to insurers directly to discuss reimbursement.
With each purchase, you'll also receive the following bonus items:
One personal storage bag
One beverage holder attachment
One supporting backrest
Each order placed on the website comes with a 30-day satisfaction guarantee, including initial shipping and handling fees if they were paid. Before initiating a return, you'll need to reach out to customer service at 877-488-0822 or via email at customerservice@lifewalkermobility.com to obtain authorization.
You'll be required to pay any shipping fees associated with the return, which could be anywhere in the range of $40 to $100 and up, depending on where you are located. The terms state that all returns must be in a "like-new" state, and returned in their original packaging to qualify for a refund.
Are There Any Alternatives to the UPWalker?
The UPWalker certainly appears to provide some unique functionality, but does the product truly feature a breakthrough, revolutionary design as the manufacturer claims it to be?
During our research on Google and Amazon, we didn't encounter any other products that had identical designs to the UPWalker. What we were able to find, however, were a few different walkers that claimed to be able to support a more upright walking position, similar to one of the UPWalker's main claims.
The most comparable product we encountered during our research was called the Motivo, and it appeared to be coming sometime in 2018. It features a highly similar "upright" design position and also includes a more stylized look with a solid, pre-assembled construction.
Beyond these similarities, the product also folds for easy transport and includes a storage area and drink compartment, just as the UPWalker does.
In addition to these, however, the device also includes several unique functions, such as a flip-out tray table, cane holder, narrow turn radius and a speed control system to avoid runaways on downhill surfaces. These additional features come at an added cost, however, as the product is currently listed at $549.00.
As an additional note, at 25 pounds, it weighs in at just over two pounds heavier than the UPWalker. Depending on your needs and preferences, as well as where you'll most often use your upright walker in public when on the go, keep in mind that both of these models might not be considered 'lightweight.'
Ultimately, your choice of walker should come down to the features and design that best suit your unique lifestyle. If you frequently carry a cane, or deal with uneven terrain, or just really enjoy the aesthetic design, the Motivo might be worth the additional funds for you. If all you're looking for is the ability to walk in a more upright position, however, you could feasibly save some money by going with the UPWalker.
Our Bottom Line on the UPWalker
Based on what we've learned about the UPWalker, can you truly expect it to help you regain your independence by enabling you to stand more upright, and in a more comfortable position relative to more conventional walkers?
In short, we feel that the answer is likely yes, depending upon your specific needs. If you find that traditional walkers and rollators cause you increased pain due to slouching, or due to pressure on the wrists and lower extremities, the UPWalker may indeed be able to offer a more comfortable experience for you.
There's also the matter of the competition with products like the Motivo. While not available until 2018, the walker has several unique features that might justify the extra expenditures, depending on what you're looking for.
All said, if you opt for the UPWalker, be sure to keep the 30-day return policy in mind. If you try the product out and decide that it isn't right for you, you'll be able to return it, as long as you're willing to potentially lose out on a decent chunk of change in return shipping fees (remember, it weighs 23 pounds and is oversized) in the process.
LOVE IT

By David S.

,

Thousand Oaks, CA

,

Mar 24, 2020
Verified Reviewer

I asked my back surgeon to RX this for me, he did, and it arrived at my door a few days later. At that point, it had been nearly 2 years since my spinal fusion. I'd been using an old-style walker and couldn't go the approximately 200 steps to the end of my street. Just hurt too bad. After getting my UpWalker, I am now able to go to the end of my block, go two blocks uphill to our park, go around the park on its packed gravel trails and back home again. I do this twice daily. Approximately a total distance of almost 2 miles. Incredible difference. I can actually do this and it doesn't feel bad at all. About 2 years ago I lost the lower half of my eyesight so I still use the UpWalker for my walks because I cannot see where my feet are going to land. Frightening, at best.

I'm only 5'10" but still had to drill an extra hole to get the arm supports high enough to be comfortable. The biggest complaint I have is the brakes. I've been contemplating an electric trike for when I can't drive anymore and they all have disc brakes. I know it would add more cost, but when going downhill and having brakes that are more able to adjust your speed without grabbing or not stopping at all, would be very comforting. OVERALL, I LOVE THIS THING. IT HAS TRULY SAVED MY LIFE. Thank you.

Bottom Line: Yes, I would recommend this to a friend

---

Great product

By Wes R.

,

Buffalo, NY

,

Jan 27, 2020
Verified Reviewer

I purchased a used UpWalker on the internet, it was used but not abused. I have Parkinson's, and I have balance issues (side to side) and this UpWalker fits the bill, I feel secure and stable.

It may be a little larger than other walkers, but the secure feeling it provides is well worth it and you are in an upright walking position with no back pain.

I would recommend it, but it should be tried before purchasing.

Bottom Line: Yes, I would recommend this to a friend

---

Works for me

By Robert J.

,

Arizona

,

Sep 25, 2019
Verified Reviewer

I got mine through the VA Hospital and I'm very happy with it. I can walk more straight and not bent over like with my previous walker. It does fold up, I would put on a carrier on the back of my car, it is adjustable up and down, now I go everywhere with it. I would never go back to my other walker where I was bent over as I walked in the pain I had with it.

I find that I can fold it up enough to go through odd size doors.

It's much easier to use when I have my service dog with me and the brakes are well also.

Bottom Line: Yes, I would recommend this to a friend

---

Low quality!

By Ken M.

,

New Jersey

,

Sep 17, 2019
Verified Reviewer

Very cheaply made. Low quality. After using it a few times it started to rattle and not feel safe. When I tried to return it they charged me a restocking fee! Terrible! They claim in their ads a full refund. DO NOT BUY! After paying almost $100 to ship it back.

Bottom Line: No, I would not recommend this to a friend

---

Advertisement

---

Where can I get rid of this thing

By Bill F.

,

West Chester, PA

,

May 20, 2019
Verified Reviewer

My wife bought this for me, I did not want it. I would feel like an idiot walking around with such a goofy apparatus. I have tried on eBay but can't find a category to list it in.

Bottom Line: No, I would not recommend this to a friend

---

Other alternatives

By Tom B.

,

Florida

,

Jan 17, 2019
Verified Reviewer

The UpWalker is too cumbersome for me when I go to the gym and for use on cruise ships. It is not easy to use around the house and is bulky to put in a vehicle. In comparison with a Rollator, it is harder to maneuver and lift to store.

Bottom Line: No, I would not recommend this to a friend

---

Horrible!

By Linda C.

,

Portland, OR

,

Nov 23, 2018
Verified Reviewer

My elderly landlord purchased one. I have no idea what they told him to get him to buy one but it's so huge as to be practically useless for getting around in the home & we live in a very large old Victorian. Getting in touch with the company for returns has proven to be very difficult & the amount in return shipping charges are astronomical.

1/3 of the cost to send it back is quite the "Try-out fee". Don't ever do this!

Bottom Line: No, I would not recommend this to a friend

---

Do NOT order

I ordered this as a gift for my arthritic Dad. I am SO disappointed. The commercial looked great and the taller height made sense. The quality is poor, it is NOT sturdy. It is heavy for a senior to lift in and out of the car. The seat does not lock into place, when you turn it the seat lifts. The idea is great, BUT the product is NOT! There is also a fee for UPS to come retrieve it for return.

Bottom Line: No, I would not recommend this to a friend

---

Not happy

By William B.

,

Beaverton, MI

,

Sep 25, 2018
Verified Reviewer

It can work outdoors too. Big for inside use, won't fit in a 30-inch door. It took two hours to put back in the box it came in. I sent it back by USPS; it cost $185.00. UPS was $190.00. They don't give return free shipping.

Bottom Line: No, I would not recommend this to a friend

---

Will not respond to return request

By Raplee M.

,

Alabama

,

Sep 15, 2018
Verified Reviewer

On August 14, 2018, LifeWalker shipped an upright walker to my 95-year-old mother. She tried to use it for several days, but it was too wide and cumbersome for her. It is a well-made device, but she just could not use it. On August 28th, I emailed LifeWalker for a return authorization, and over the last two weeks I have sent two emails, one USPS Priority Letter and a Facebook request for a return. Clearly customer service after the sale does not happen. I will protest the credit card payment, and get my money back, but a simple response to my four communications is all that is needed. I can recommend the product, but if you need service, I can't recommend the company.

Bottom Line: No, I would not recommend this to a friend

---

UpWalker wheel configurations

By Kay K.

,

Billings, MT

,

Aug 29, 2018
Verified Reviewer

My main issue involves several back surgeries. I bought my UpWalker (only used a few times and truly like new) from a lady who didn't feel comfortable trying to use it after her purchase. Being fairly tall, I was excited about being able to use a walker where I wasn't all hunched over because it hadn't taken long to discover my old walker put so much pressure on my wrists and arms that it tended to become painful after only a short time.

I love the UpWalker except for one big thing...those back wheels turning exactly like the front wheels! They make one feel very unstable and when trying to turn can also make one feel like the walker is going to suddenly slip sideways and/or go flying out from underneath one. They can also tend to run over one's feet easily, especially while going into or coming out of a turn, which if wearing softer footwear is very uncomfortable to a person!

If the back wheels were stable and turned straight forward and backward with only the front wheels turning side to side like my old walker, I really feel I'd never want to use any other brand. I say this because I personally did like how easy the UpWalker is to use otherwise plus to fold. If one walks straightforward as it's currently built, it is much easier on the back, wrists, and arms. As it now stands with those full turning back wheels, however, and with that flyaway feeling, I'm afraid I don't feel I could recommend buying an UpWalker to anyone else. IF they ever change the back wheel configuration, I'd immediately change my rating and easily give the walker 5+ stars!

Bottom Line: No, I would not recommend this to a friend

---