US-Quote.com Reviews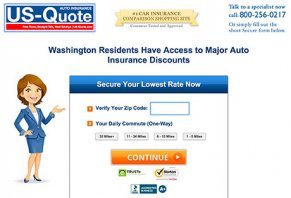 US-Quote.com is an online service that claims to provide you with up to 8 different auto insurance company quotes after entering your information just once.
About US-Quote.com
Billing themselves as a way to obtain "one dollar per day auto insurance," US-Quote.com is a lead-generation website that claims to help you receive auto insurance quotes from up to 8 different companies, after entering your personal information just one time.
According to US-Quotes.com, their quotes come from some of the biggest companies in the insurance industry, including American Family, State Farm, Progressive, AARP, Esurance, and more. Because of these features, US-Quote.com claims to provide customers with "free tools, straight talk, and real savings."
But is this really the case? In other words, can you expect to receive quotes directly though US-Quote.com? And if so, will they be the cheapest options? When it comes down to it, should you spend your valuable time trying to obtain a quote through US-Quote.com?
We'll answer all these questions (and more), but first, let's take a look at how US-Quote.com works:
The US-Quote.com Car Insurance Comparison Process
On the US-Quote.com home page, you'll begin by entering your zip code and number of miles commuted. Then, on the following page, you'll add year, make, and model for any vehicles in your household, along with annual miles, primary use (commute or pleasure), and whether or not they're leased.
Next, you'll enter the information for any drivers in your household, including name, date of birth, and gender. You'll also be asked to indicate the highest level of schooling you (and other household members) completed, occupations, credit ratings, marital status, and whether or not you've had any accidents or tickets in the past 3 years. If you indicate that you've had either, you'll then be asked to provide additional details, including dates and incident descriptions.
Finally, you'll need to indicate your current insurance company and your policy's expiration date, your desired coverage level, and your address and contact information.
Once this is complete, you'll be presented with a list of up to 8 different carriers. You'll notice from the screenshot below there aren't any quotes provided at this point (we'll talk more about this in a moment), so you'll need to click on each link in order to receive a quote from that company.
Note: Interestingly, the information you previously entered doesn't transfer over to the insurance carrier's website, which means you'd have to re-enter it all over again in order to receive an actual quote. In our mind, this makes us wonder about the usefulness of US-Quote.com in the first place.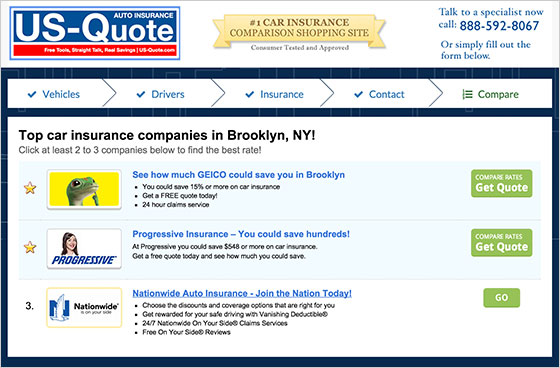 An example of US-Quote.com's "quote" results.
Who's Providing Your US-Quote.com Auto Insurance Quote?
On US-Quote.com's home page, you might remember seeing the big banner graphic advertising that they're the "#1 car insurance comparison shopping site." But is US-Quote.com actually a comparison shopping site?
As you can see from the previous section, US-Quote neither allows you to compare quotes from different insurance companies, nor to "shop" for the best price. Instead, it appears they're simply gathering your information, displaying ads for insurance companies (that may or may not have any relevance to your needs), and then leaving it up to you to contact these companies directly (and giving them your information all over again).
With this said, most companies like US-Quote.com make money in 2 ways:
First, when you click on one of the sponsored insurance carriers' links, you'll be redirected to their site, and US-Quote.com will make a small commission for each click that occurs. This is a form of affiliate marketing.
Second, US-Quote.com may sell your information (known as a "lead) to independent agents and brokers. This is something known as lead generation.
Because of this "lead generation" business model, it is these independent agents and brokers, who represent larger insurance carriers (e.g. GEICO, State Farm, Nationwide, etc.), that will contact you to provide an actual quote.
Not All Insurance is the Same
When purchasing insurance, whether it's for auto (as with US-Quote.com), home, your personal belongings, or anything else, keep in mind that getting the lowest price isn't always ideal. Why?
Because like with most things, when it comes to insurance, it's very often the case that you get what you pay for. In other words, the price you pay is almost wholly dependent on the coverage you're requesting. In addition, some insurance companies provide free "bonus" coverages on their policies, such as towing, roadside assistance, replacement cost (should your car be totaled in an accident), and glass replacement coverage, which can provide more benefits for your money, even if the premium is slightly higher.
In short, although some auto insurance companies may charge a slightly higher premium, they could very well offer more value for your hard-earned money. This is where the professional advice from an insurance agent can help guide you in the right direction.
Misleading Advertising?
Finally, on the US-Quote.com home page, you'll see a graphic claiming to give you the "best rates, based on your zip code." However, keep in mind that this is just a generic image, and doesn't mean you'll actually be eligible for any kind of "discount" pricing.


Keep in mind that this is a generic image and doesn't mean you'll actually receive any "discounted" quotes.
And as we noted in the previous section, price should only be considered a minor factor in your overall insurance needs.
Are Consumers Happy with US-Quote.com?
Although the US-Quote.com URL has been around since February 2013, there weren't any online customer reviews. In addition, the company is not listed with the Better Business Bureau.
Thankfully, according to US-Quote.com's Privacy Policy, the company won't sell or give your information to third parties, unlike some other insurance comparison sites such as Best Quotes and Get My Insurance (although you may receive marketing material (emails, etc.) from US-Quote.com directly). And excessive sales calls/emails from these third parties are often the most common complaints associated with insurance comparison sites.
US-Quote.com Pricing
The US-Quote.com website is completely free to use, and you won't be charged until you've spoken with a representative from an insurance company and formally issued a policy.
With this said, if you need help with the quoting process, you can contact US-Quote.com's customer service department at 800-256-0217.
Will US-Quote.com Help You Obtain Cheap Auto Insurance?
Chopping to the point: Considering all of the information above, it doesn't appear that US-Quote.com provides much value for your time (and time is money, right?). In other words, since:
You'll just be provided with a list of sponsored insurance companies after you've entered all your information, and
You'll have to re-enter your information again after clicking on the links,
…you might as well contact a local independent agent directly who represents multiple auto insurance carriers. Then, they really will take your information once, and then provide you with several quotes from multiple insurance companies.
21 out 21 people found this review helpful

Onerous fishing

By Mre

,

IA

,

Jun 18, 2015
Verified Reviewer

Was curious after seeing numerous ads offering reduced insurance rates. Went to the site thinking clarity on the issue would be found.

Wrong. Rather presented was an elaborate array of questions ranging from inane to basic to personal to more personal than the initial question warranted.

That halted that portion of my process and a search for credibility ensued ending up with Highya - of which I know nothing but whose face validity seems solid thus this writing.

I choose not to provide information not needed for the purpose - especially personal information - and that will be given on a limited basis on the Web only when there is assurance as to who and where it is going.

None of the above was available so I respectfully withdrew from the process - ending up here - and presenting my recommendation: don't go there.

Bottom Line: No, I would not recommend this to a friend

---

Advertisement

---